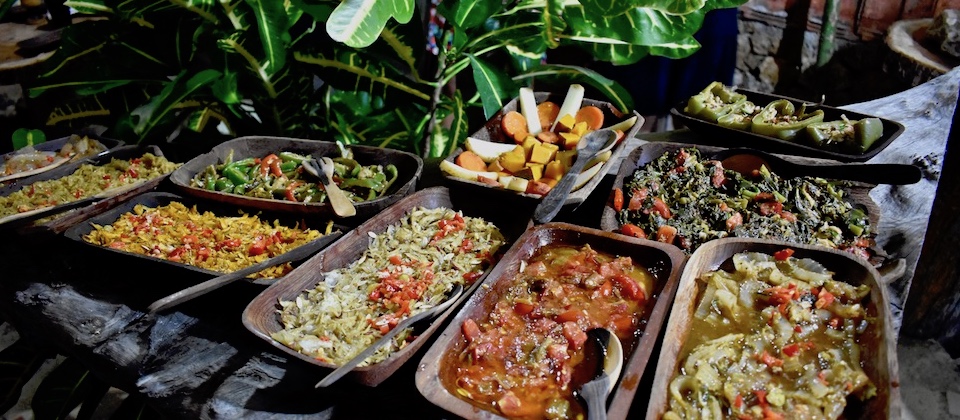 Published on 11 January, 2020.
---
In Cuba, Baracoa is known to travellers as the region with the best cuisine. A wider range of ingredients and flavours graces the local culinary tradition – and innovation. No wonder the travel experts at Rough Guides have branded Baracoa "Cuba's uncontested culinary capital"!
If you're wondering where to eat in Baracoa, in this post we take you to five amazing tables in our region – at the beach, on a river's shore, at a farm, by the road, in town… Bon appétit!
Tato's cool vibes and memorable dishes at El Manglito Beach
The Caribbean vibes at Tato's colourful restaurant are simply unbeatable. Your chairs and table are set under coconut trees right on the beach, you hang out there in your swimsuit, your bare feet playing in the sand…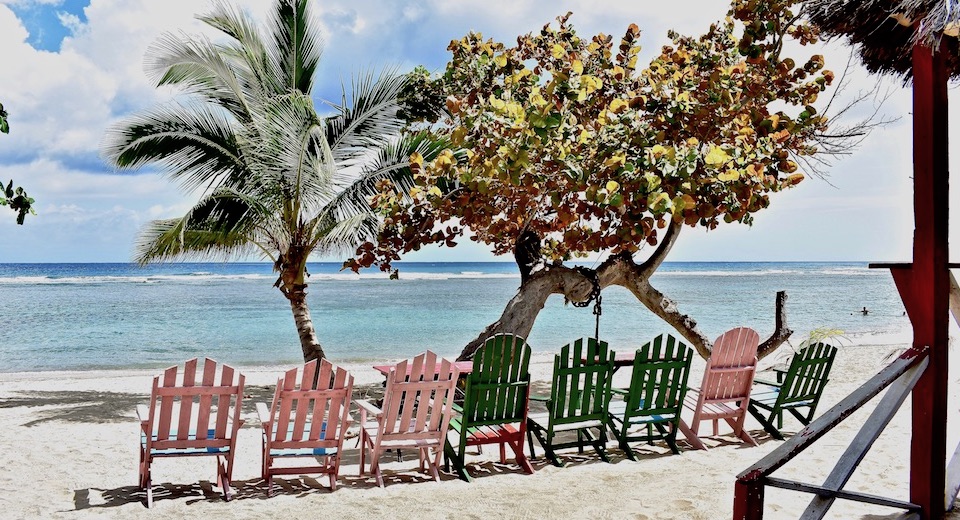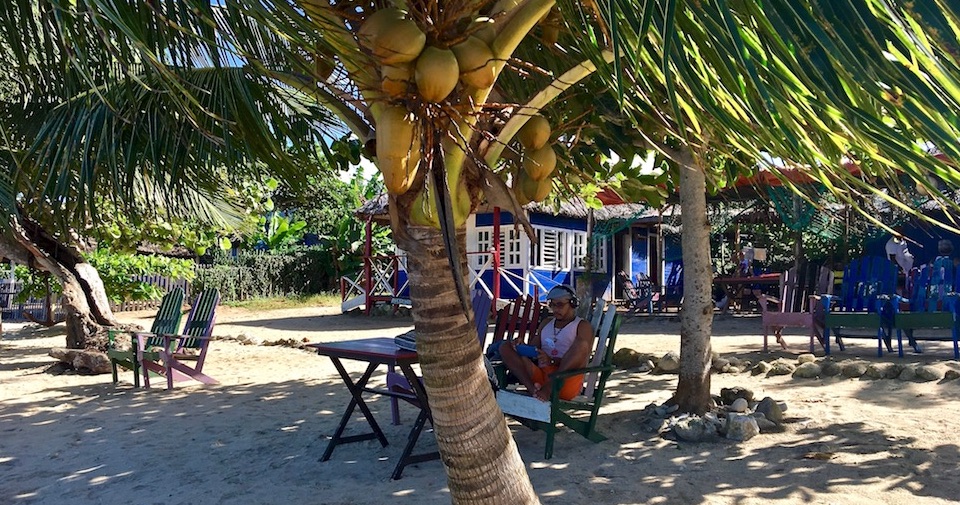 An unpretentious, laid-back fishing community, El Manglito beach entices you to take in the atmosphere and forget there's a thing called time… Start by ordering a fresh fruit juice, a good Cuban rum-based cocktail or a chilled beer!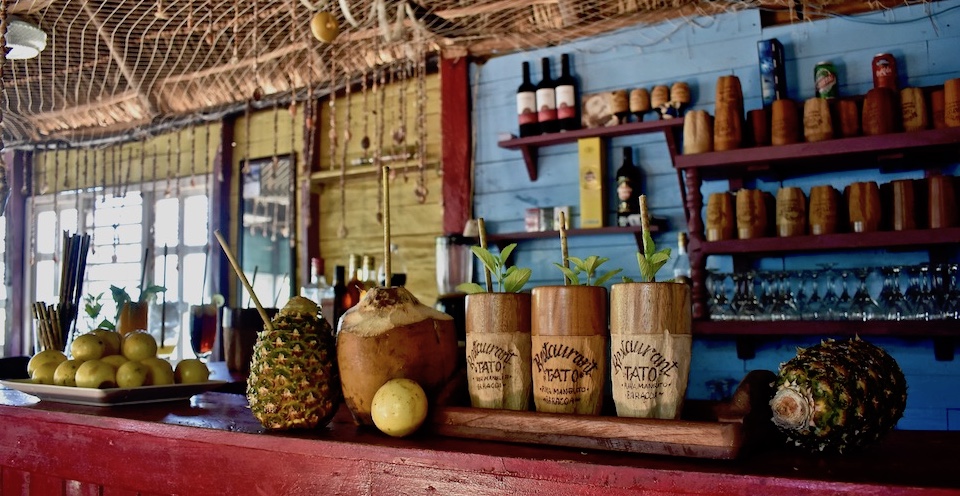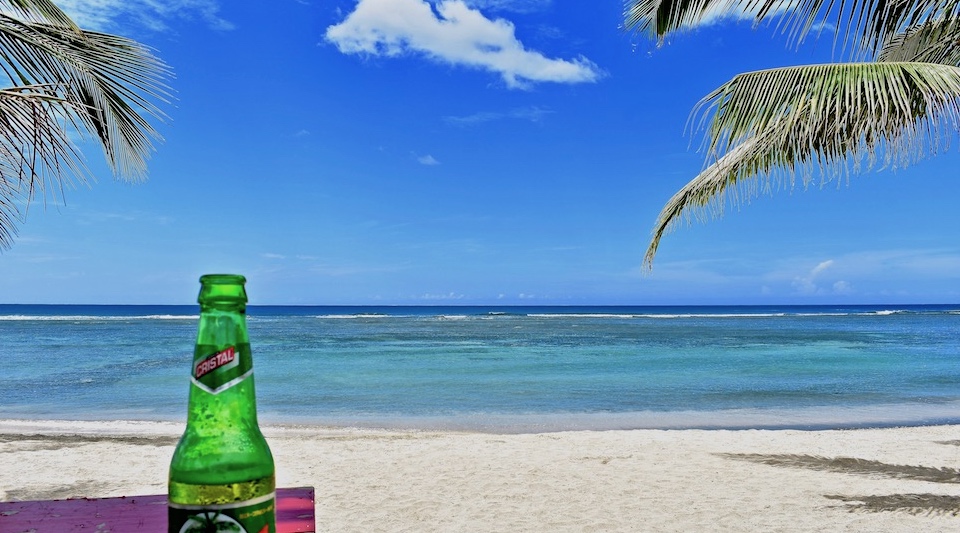 Drinks arrive, dishes are served and you feel the breeze caressing your skin. You take a first bite at the super fresh fish, the delightfully grilled octopus, or the perfectly done al ajillo lobster, with the quintessentially Baracoan coconut milk sauce on the side and you think you're in heaven as you watch the sleepy fishing boats float by…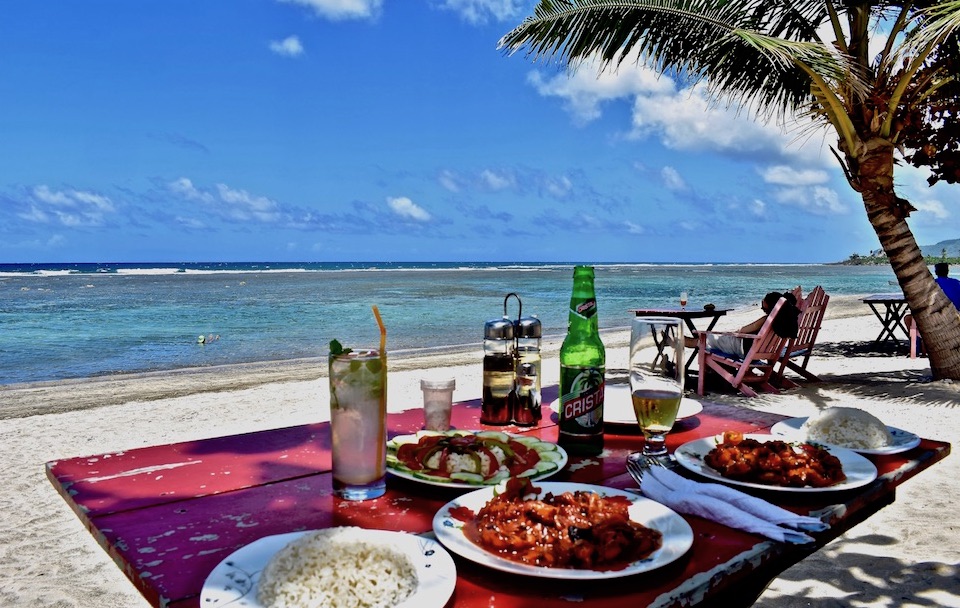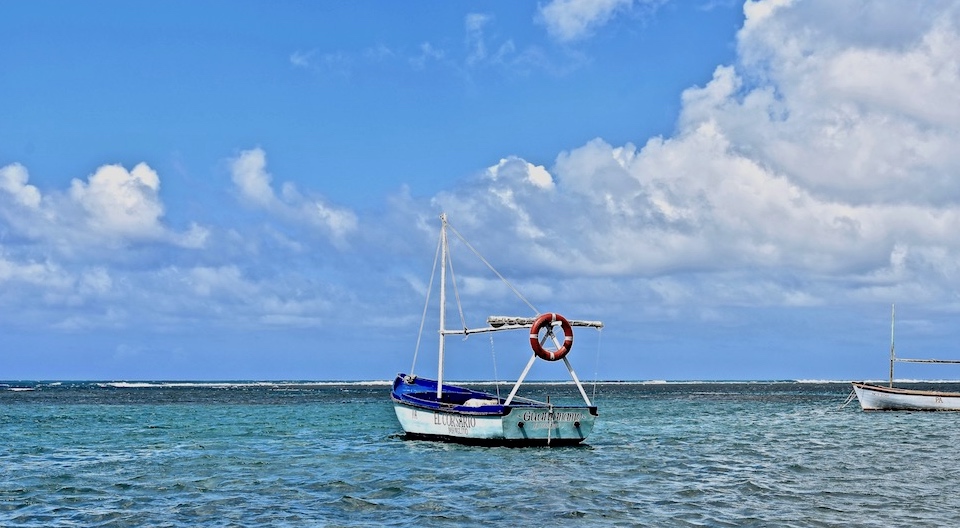 You can also eat inside, if you prefer to, and still enjoy the seaside atmosphere. Tato's is simply the best fresh fish and seafood served in the region! The owner (smiling on the picture below) and waiters are kind and cool, making you feel at home. Most of the year the vibe here is serene.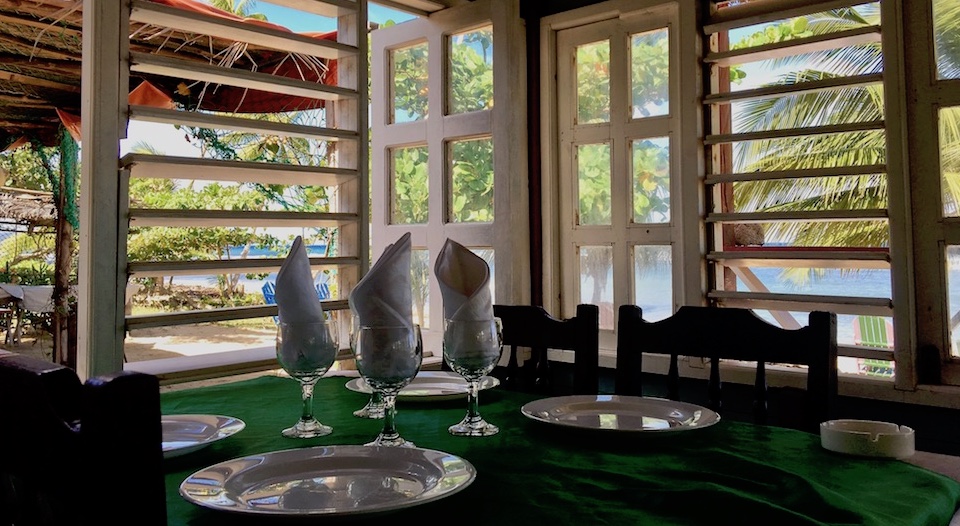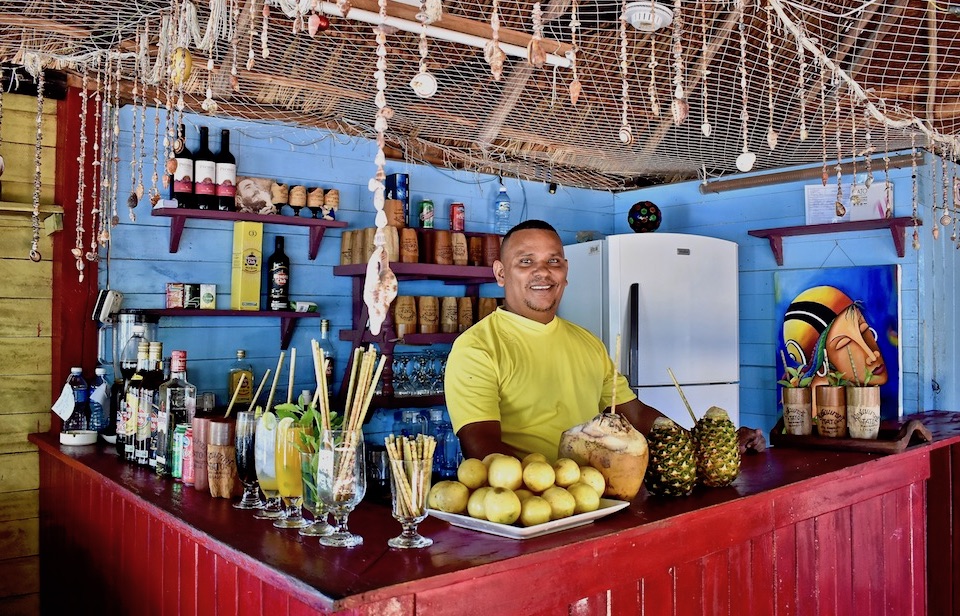 In the summer time (July and August), Cuban families do enjoy a day at the beach and El Manglito becomes party central with music, dance and drinks!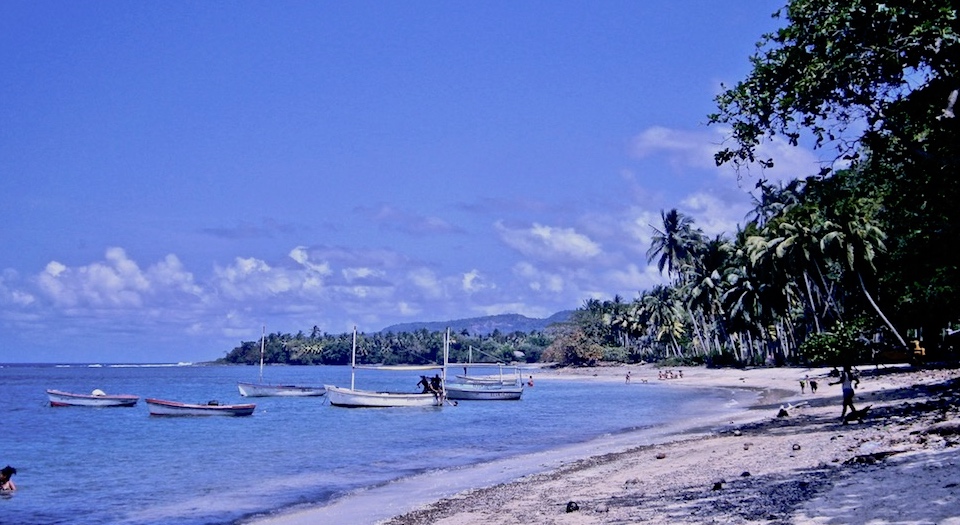 5 cool things about Tato's
Best seafood in the region – we go there for our birthday, 'nuff said! (Seriously: Tato's octopus is to die for!)
They can stew, grill, deep-fry, wood-fire cook… and shake great cocktails too.
One of the very few restaurants in Cuba to be located right on the sand: the beach is thoroughly cleaned every single day – just look at the pictures!
A meal at Tato's is the best reward after a good hike into the Yumuri Canyon– or after cycling here 21 km up and down green hills from Baracoa!
There's some pretty nice snorkelling at El Manglito too!
Permaculture never tasted better – El Eden farm in Quibijan
Yet another amazing natural and human setting, perfect for agritourism (or agrotourism) and off-the-beaten-path experience lovers. Take a ride on a 4×4 up the mountains along river Toa and into the heart of the Cuchillas del ToaBiosphere Reserve. Get off the vehicle to a captivating view below: a lush, green valley; a winding, crystal-clear river and, in the middle of it all, a dream-like agroecological family farm!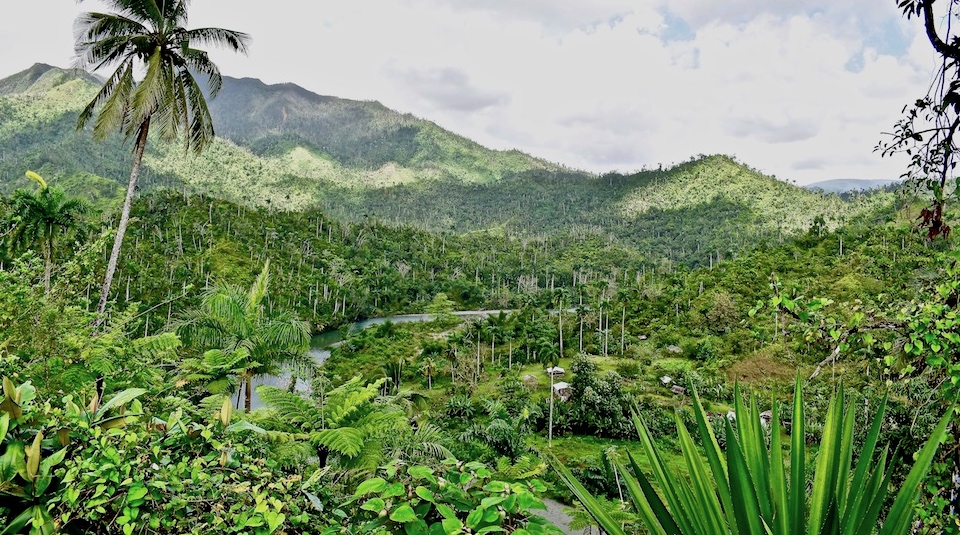 A bamboo raft takes you across river Quibiján to the other shore where Oni and Pincho will welcome you for a tour of their idyllic permaculture farm. They're such welcoming people and they love sharing their knowledge and sense of what makes a good life in harmony with nature.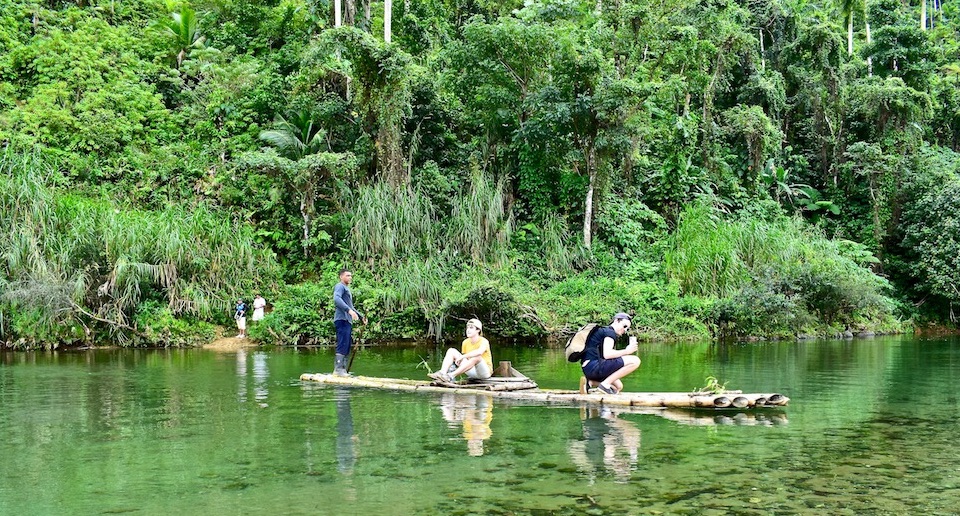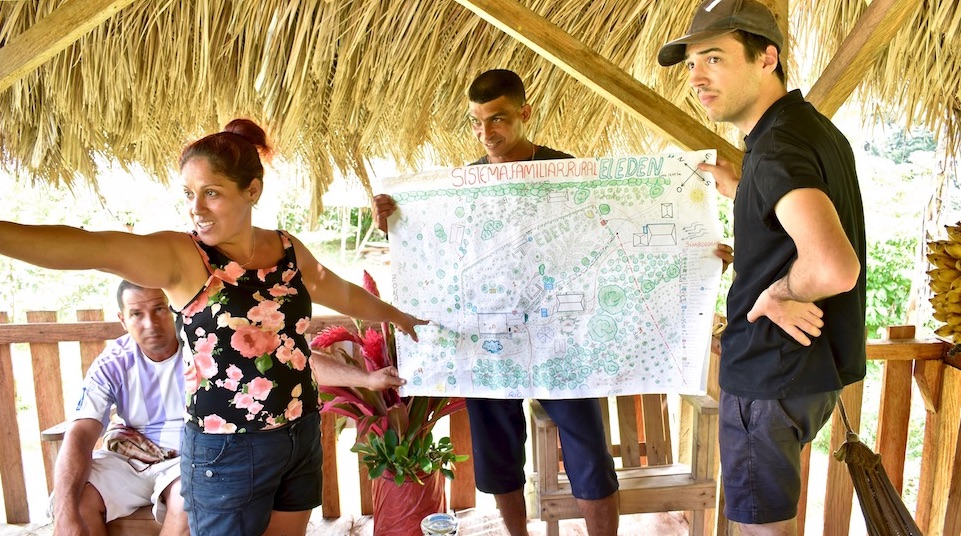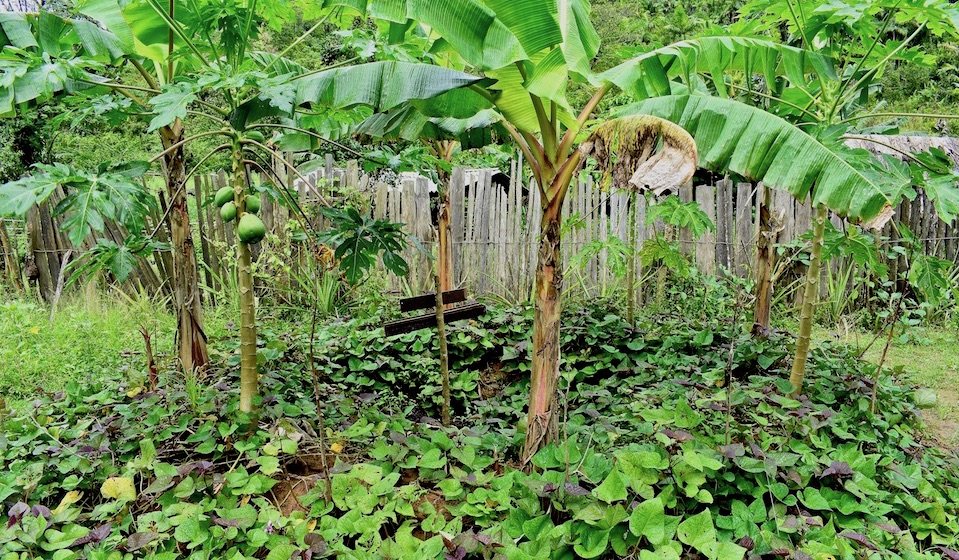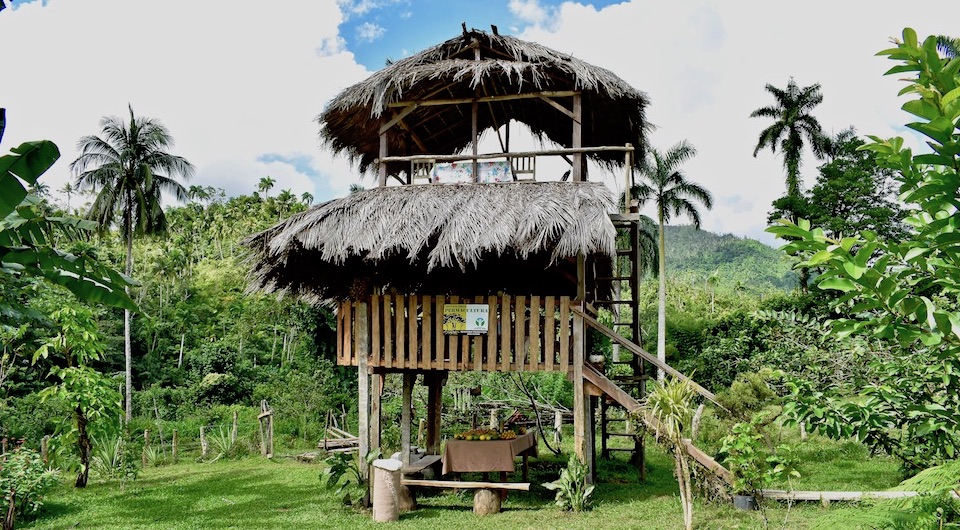 El Eden farm is not a restaurant, but you'll certainly want to taste the hearty, honest food they cook with the family's fresh, organic produce – and their pickled or preserved delights. At the top of a rustic lookout tower in the middle of the valley you'll be able to enjoy a meal, which can be anything from vegan, to vegetarian to mains with river prawns, lamb or rabbit.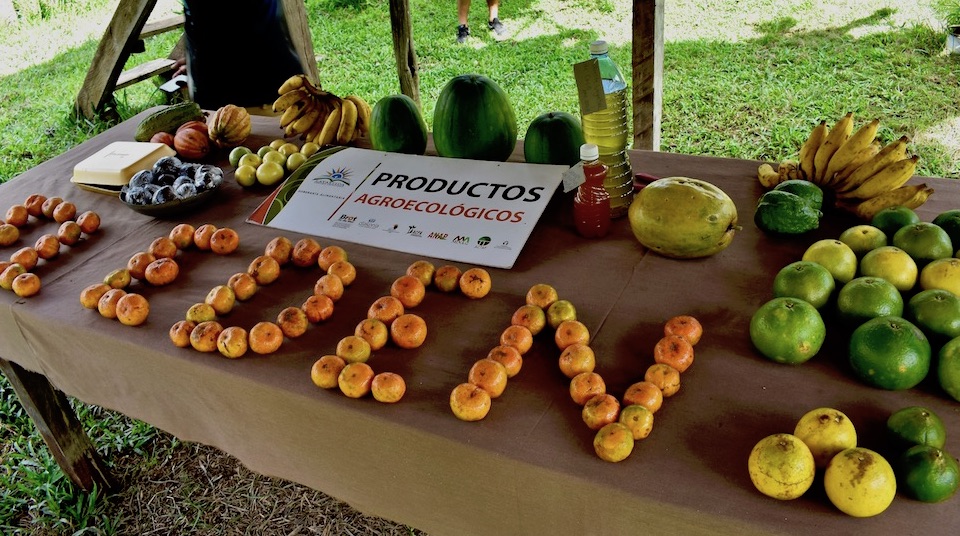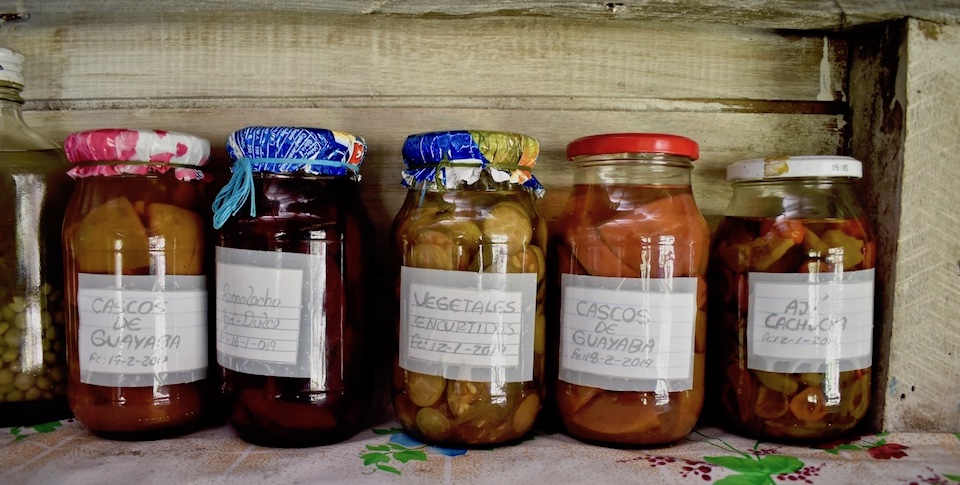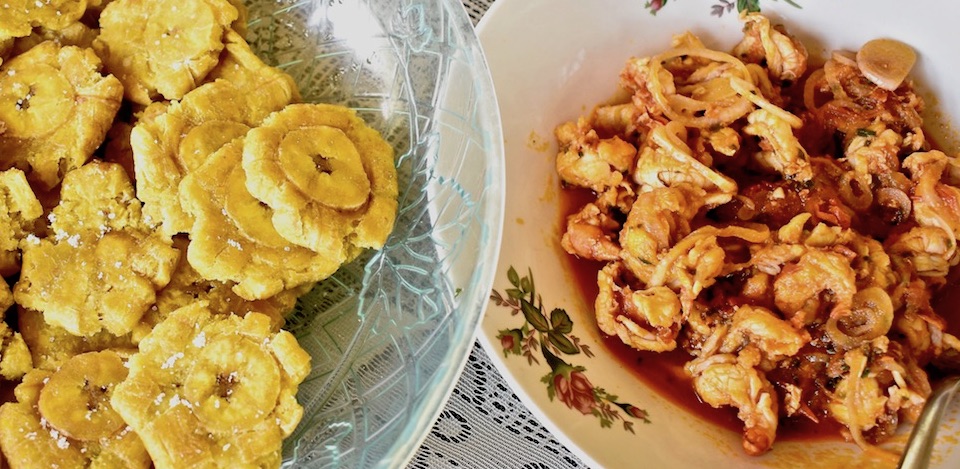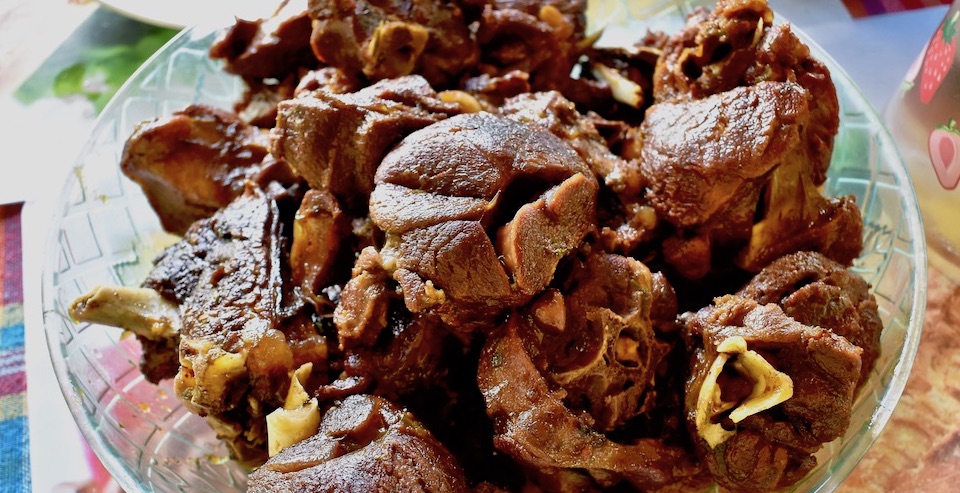 Freshly cropped root veggies, green leaves and other vegetables are always front and centre at El Eden's table. Check out this meal – seven out of nine dishes in the picture are organic, season's veggies.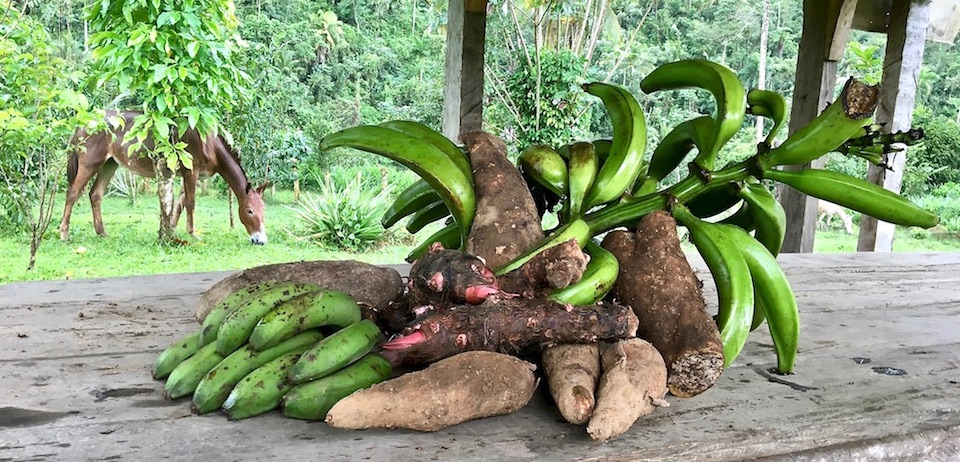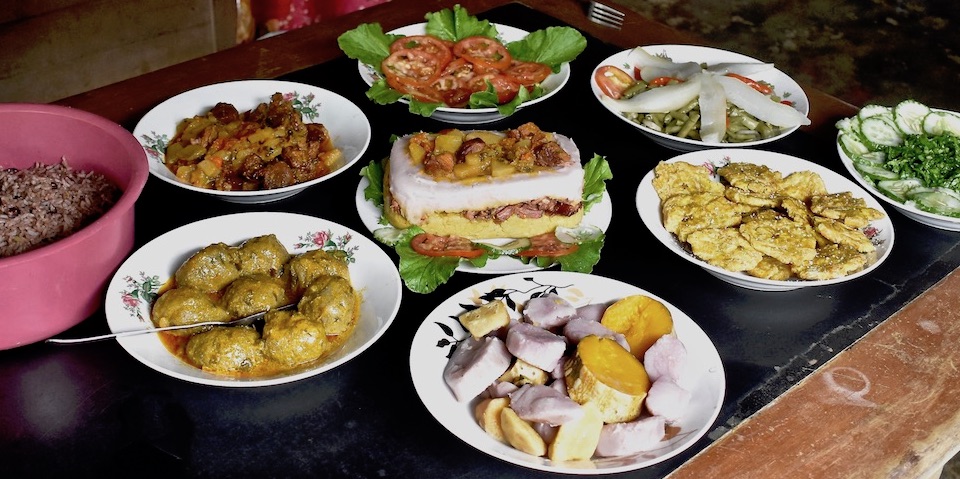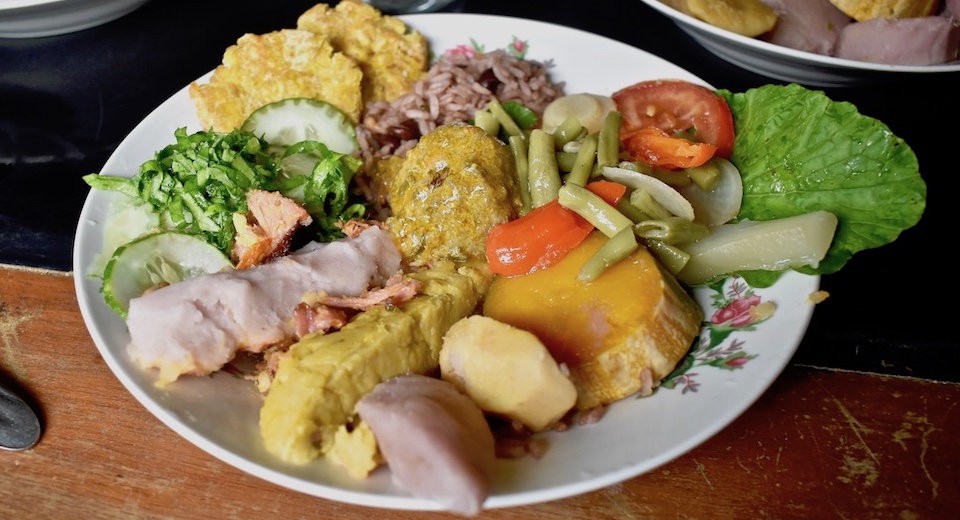 Feel like enjoying a bath in the cool river waters in the afternoon? Why not – a great relief from the Cuban heat! You'll be wishing you could stay at this idyllic place for just one more day…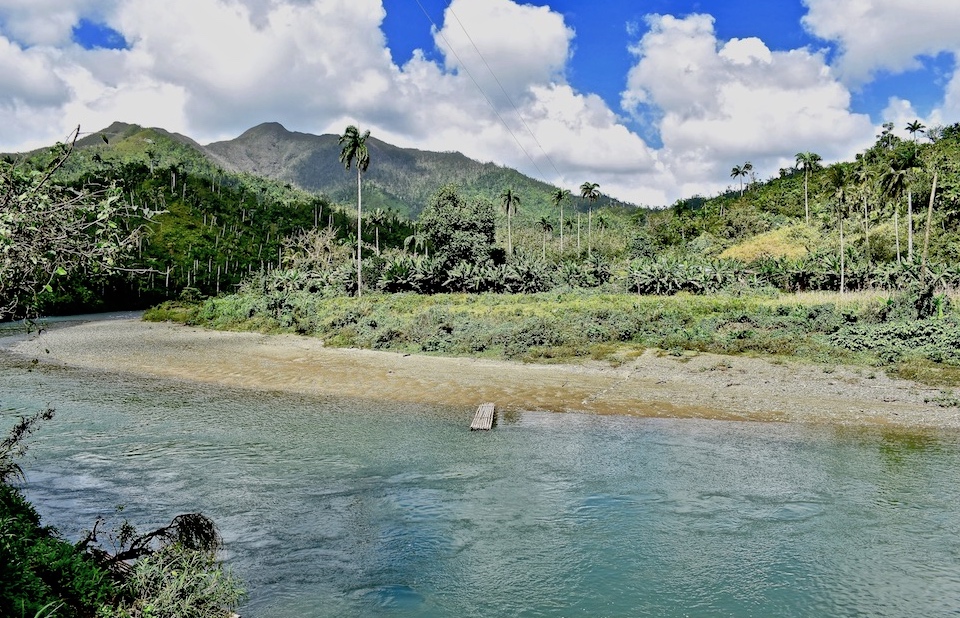 5 cool things about El Edén
Off-the-beaten-path, where deep nature and pure farming meet – a magnificently scenic setting!
A charming and welcoming family of proud, down-to-earth eco farming practitioners – no university degrees here, just big love for the land and the planet.
A true farm-to-table experience: the food is as organic and fresh as it gets, veggies are cropped (you can help doing this if you want to!) minutes before they're prepared and served.
A healthy day and a tasty meal combined – just breathe that air, bathe in the river waters and savour those excellent products.
Some visitors have been seen taking a delightful nap in one of the hammocks in the afternoon placidity…
Ancient, Indigenous-Tinged Dishes at Rancho Kiriba & Nengon
This is not a restaurant either. Instead, the experience here is about Nengon and Kiriba – two old traditional rhythms and dances cultivated by local folk – and which are at the roots of today's son oriental and salsa. Having said that – upon advance request, the cultural event organizers can throw in a tasting of a variety of local, home-made Taino-influenced dishes!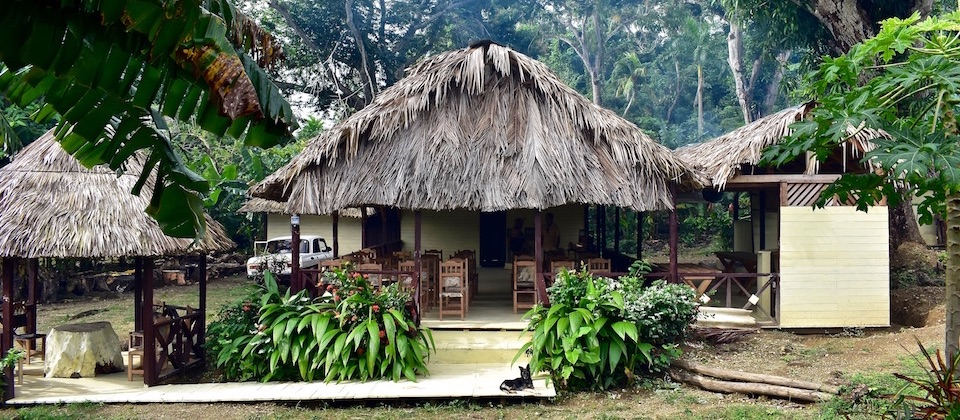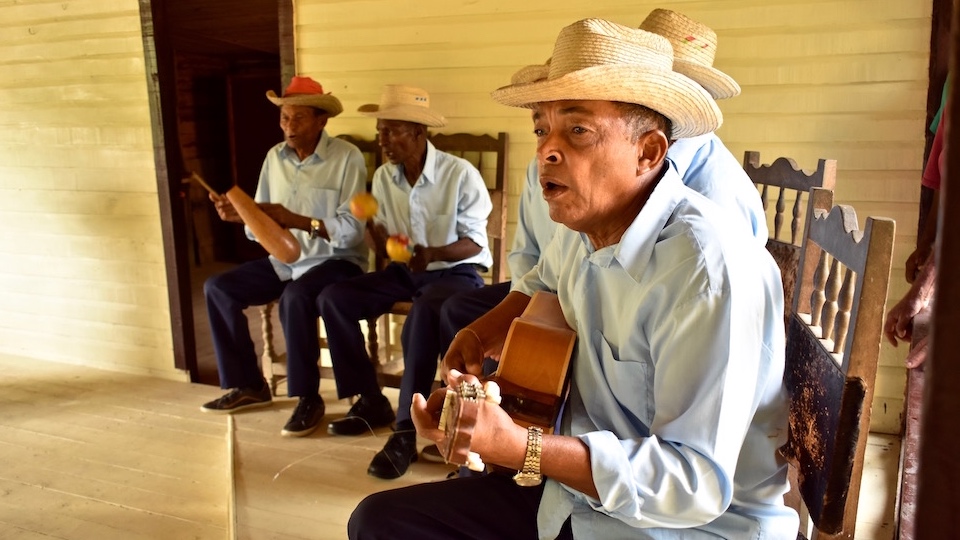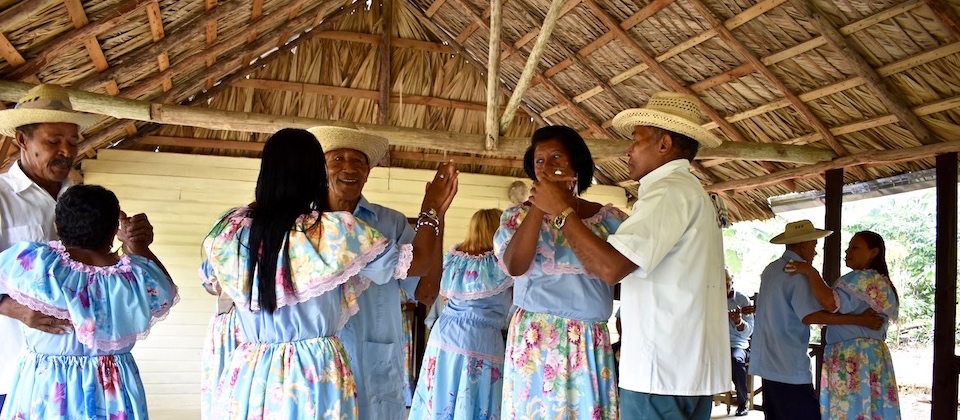 On such pre-arranged occasions, a buffet table is presented to visitors. You eat using a traditional calabash dish and spoon. A variety of plant-based dishes is included – okra, green beans, chard, beans, deep fried root veggies such as cassava or bread fruit…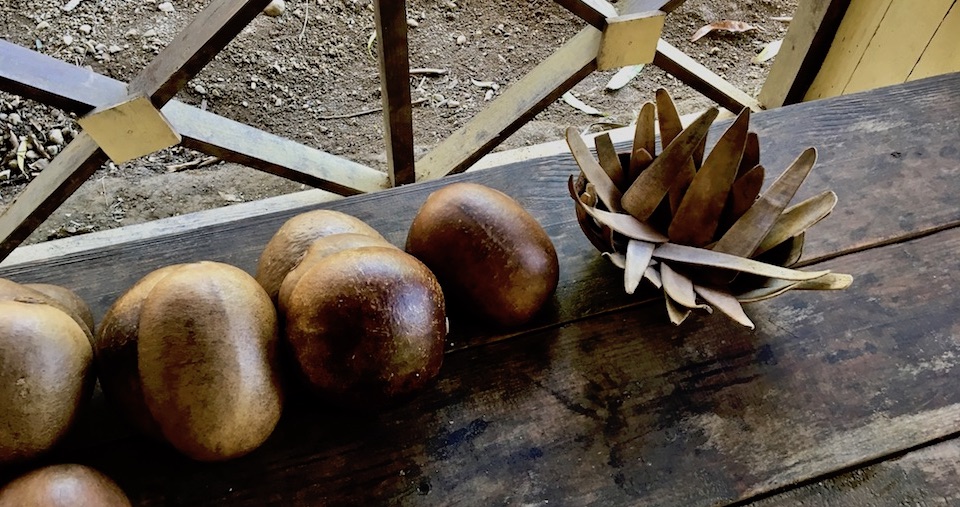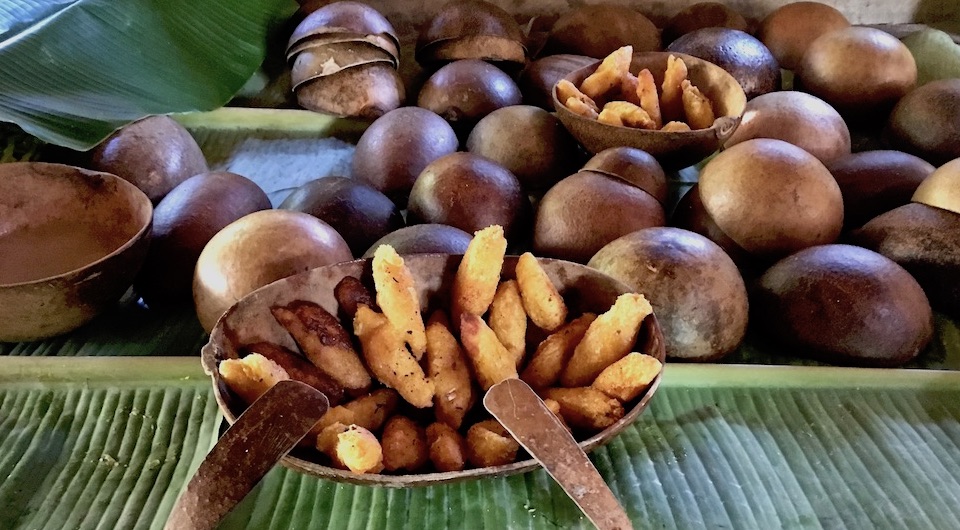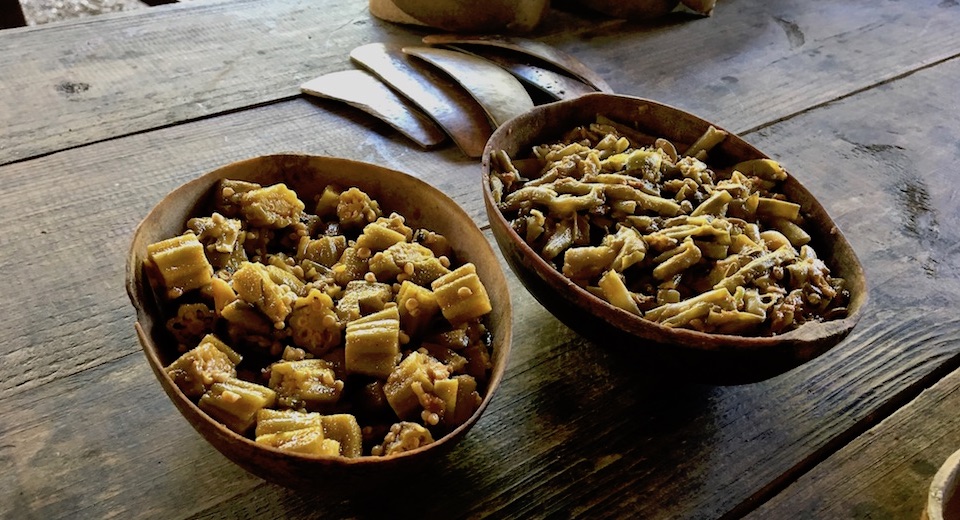 Fish and seafood are also part of the buffet – rice with crab meat, fish in coconut milk sauce.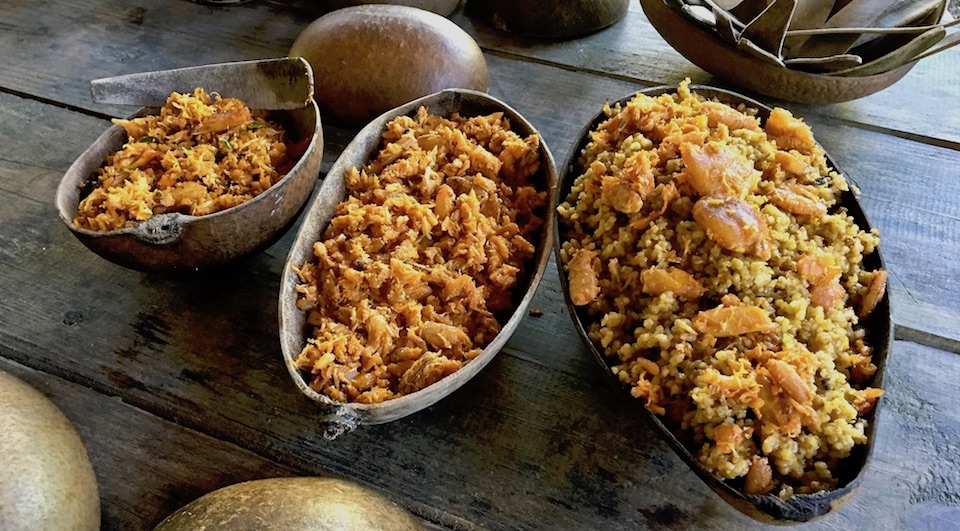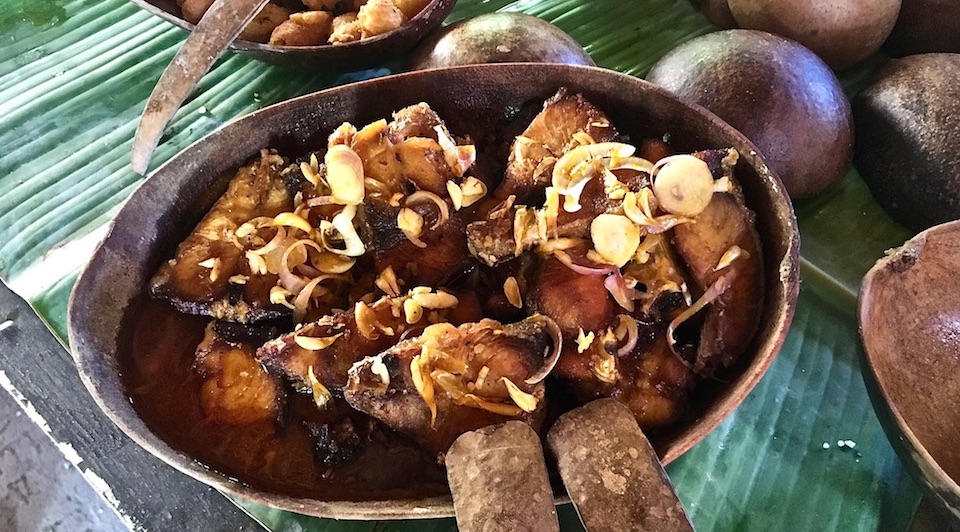 Visitors are invited to join the party and hit the dance floor with the hamlet's dancers, while the dishes are progressively set on a long table. One you've perfected your Nengon & Kiriba steps, you'll be invited to sample the food!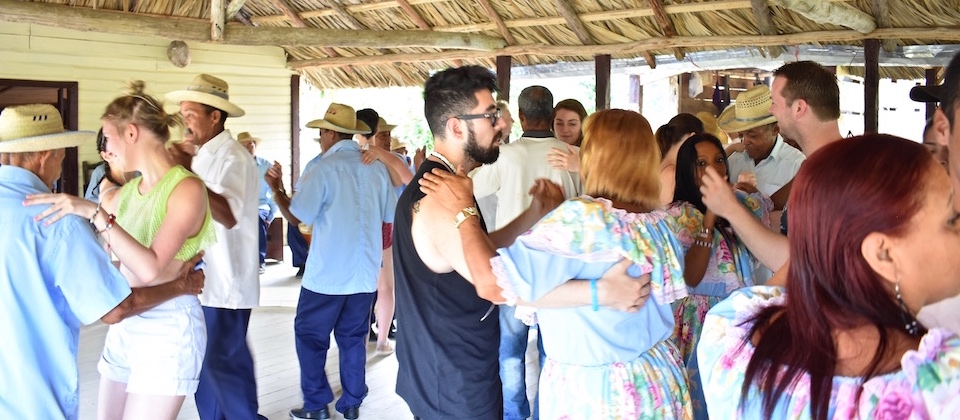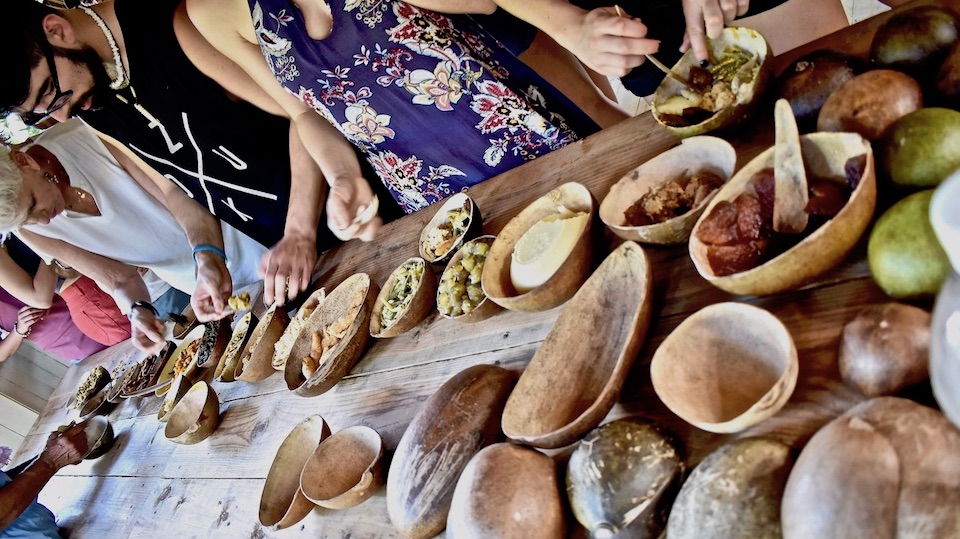 Home-made and lovingly passed from one generation to the next, this is some of the best cooking in the Baracoa region – you'll leave convinced there's no restaurant in town that can match this family cuisine! To finalize the experience, your hosts will offer you a taste of chorote– the typically Baracoan chocolate drink made with coconut milk, locally grown organic cocoa and dried banana flour: simply amazing!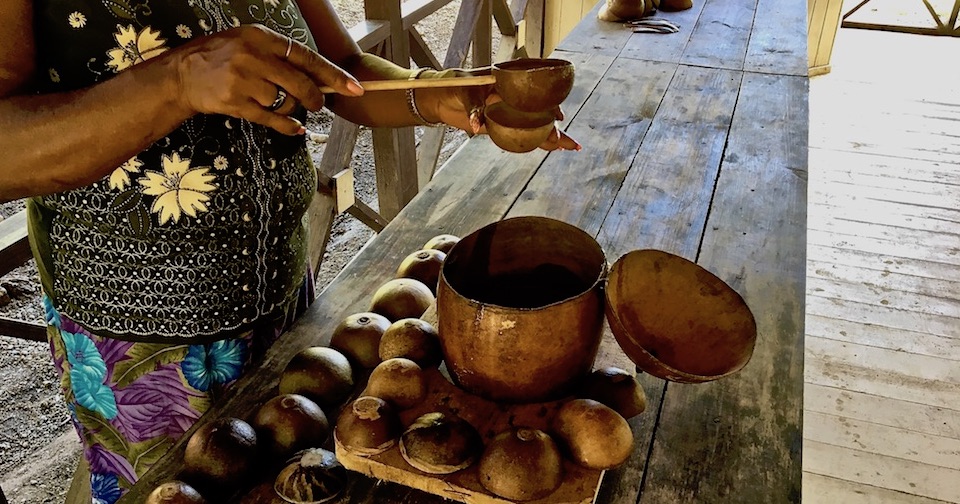 5 cool things about Rancho Kiriba & Nengon
Meet & greet the members of this group of unique and authentically Cuban folk music and dance cultivators! N.B.: Nengon and Kiriba are on their way to being recognized as World Cultural Heritage by UNESCO.
Learn the steps – Kiriba and Nengón have a sweet cadence to them and are easy to join in.
Nowhere else in the Baracoa region is the Taino culinary influence as present as it is here, passed on from the elders to the youth.
Eat and drink out of calabash dishes, spoons and cups!
After the dance and the meal, hit nearby Cajuajo beach!
Veggies, veggies & more lovely veggies – Baracoando
Who says you won't eat good veggies in Cuba! Chef Aristides Smith will show you what Cuba can do with plants only: every evening, a buffet table with 10, 12 sometimes 15 different dishes! Super colourful. Super delicious. No salads – everything cooked using different techniques. To get there, take an evening stroll along La Marina, the bayside street with a view to El Yunque.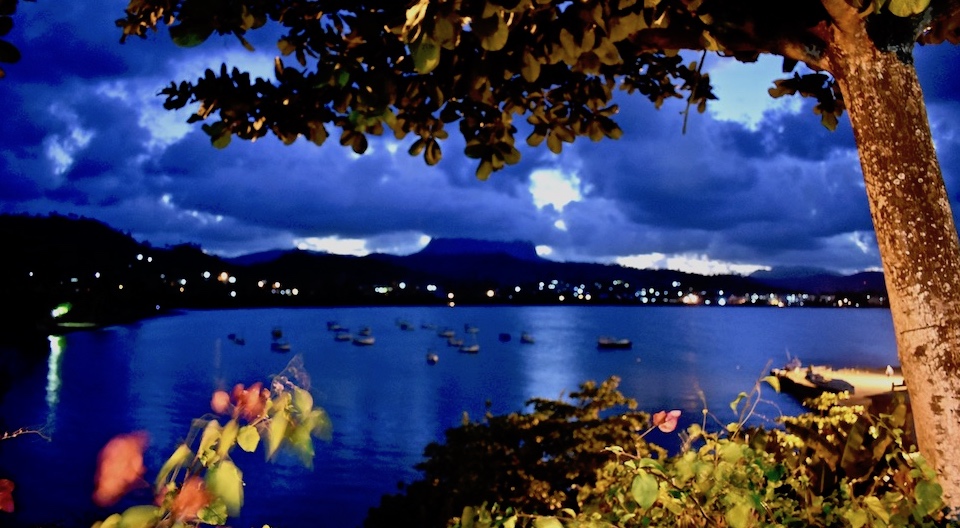 Baracoando is a different experience at many levels. Take the 'restaurant' space itself: chef Smith serves out of his home, which was devastated by hurricane Matthew in 2016. He has lovingly rebuilt it using recovered hurricane debris (e.g. tree trunks), natural (limestone rocks) and traditional (terracotta roof tiles) materials. A charming, earthy look has slowly emerged, with climbing tropical plants all over.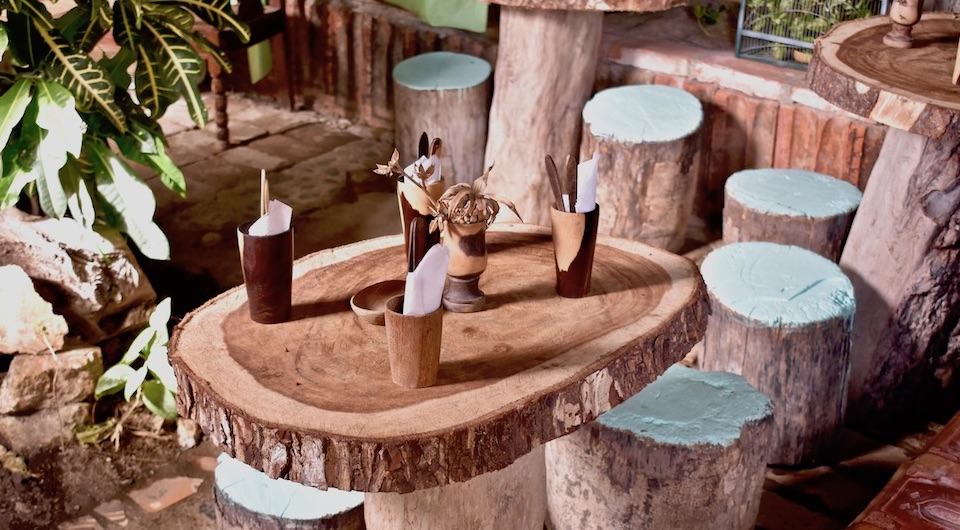 Every morning, Smith scouts Baracoa's surroundings for only the best organic, fresh veggies and herbs. They don't look perfect nor almost plastic as those on supermarkets in Northern countries. It's all simple goodness from the soil – like in the good, old times.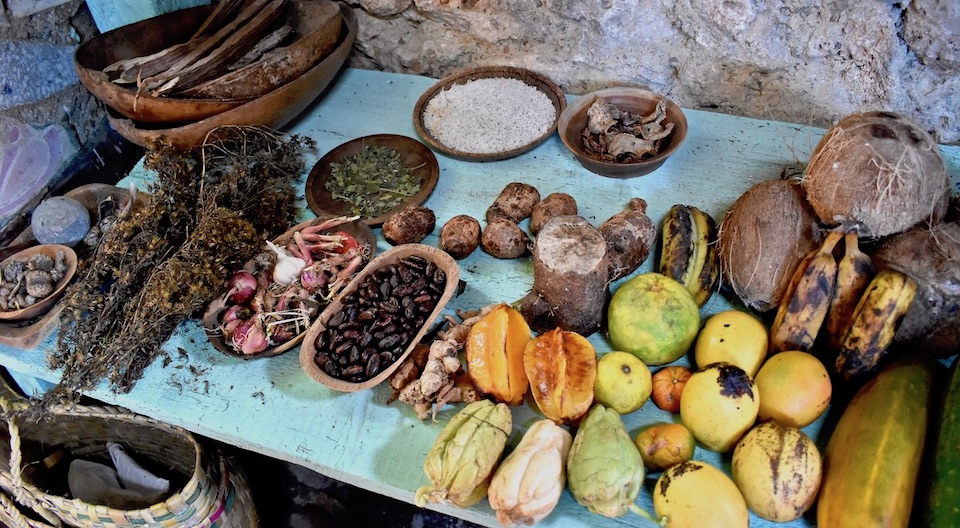 At Baracoando, you'll quickly notice that Smith, a former photojournalist and documentary maker, is quite your people's person. He loves getting to know you and always has crunchy yet meaningful stories to share. He'll invite you into his kitchen and show you what he's cooking – and he'll give you some ingredients, such as local herbs, to taste.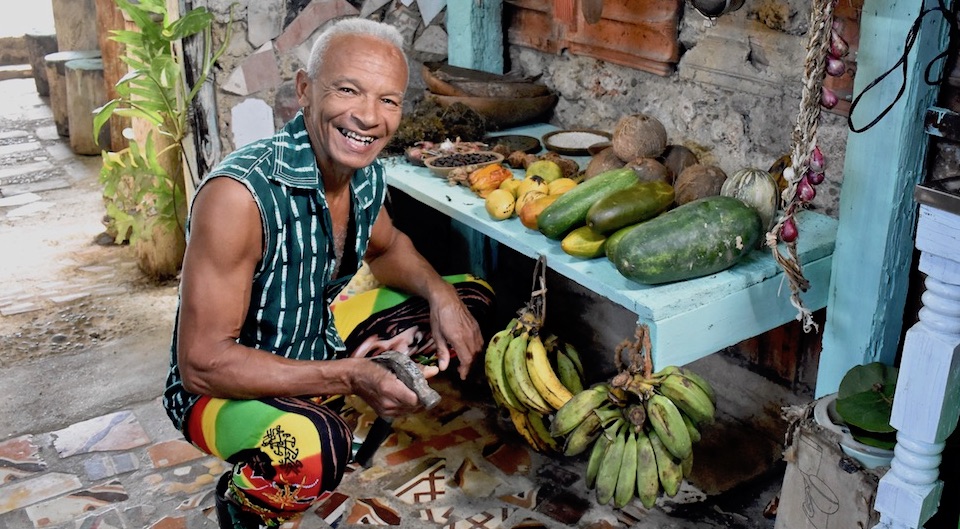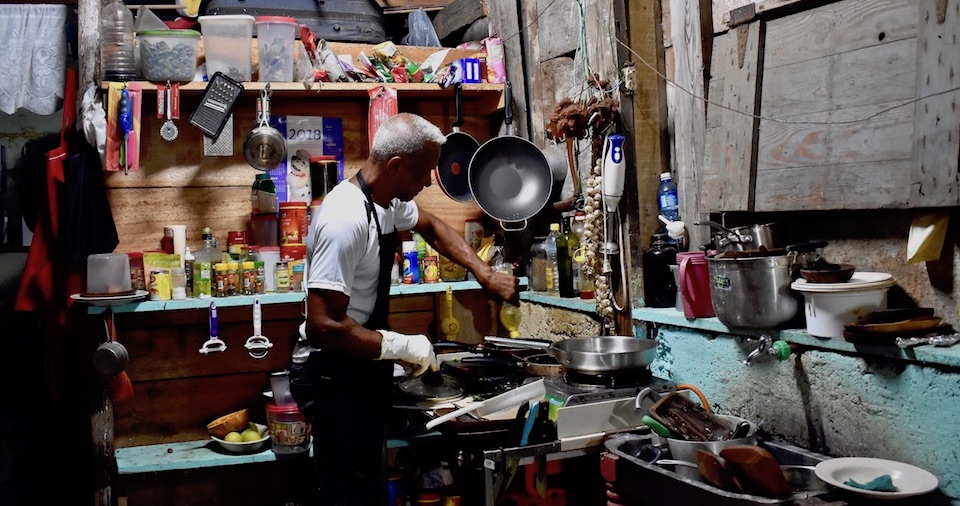 Aristides used to serve plated food, which was a fantastically colourful experience. Nowadays though, by way of a buffet he lets you choose what you want on your plate – it's never the same from one evening to the next! You'll appreciate the variety, the flavours, discovering new veggies, herbs and edible flowers with which you were not familiar!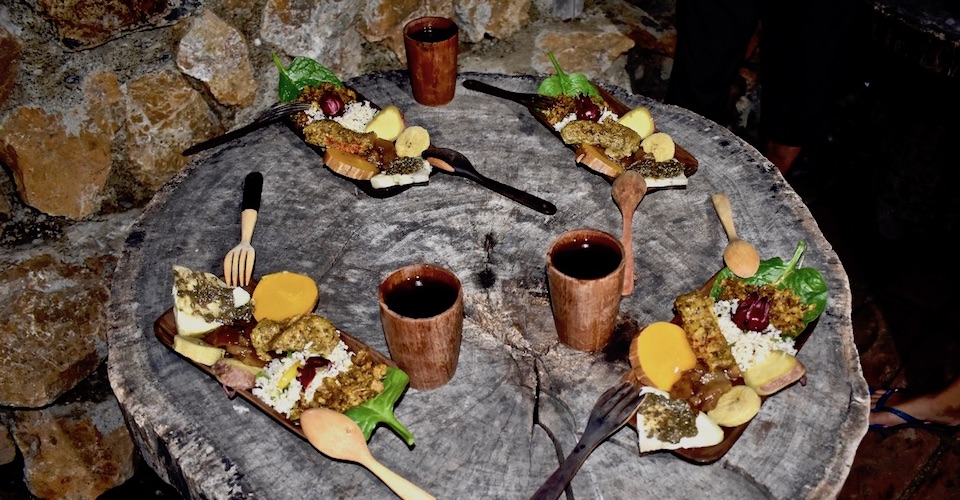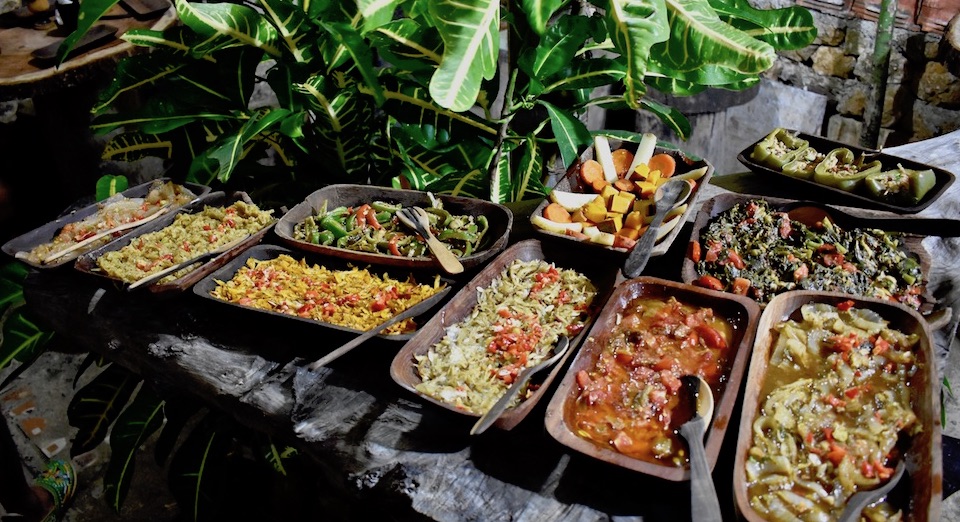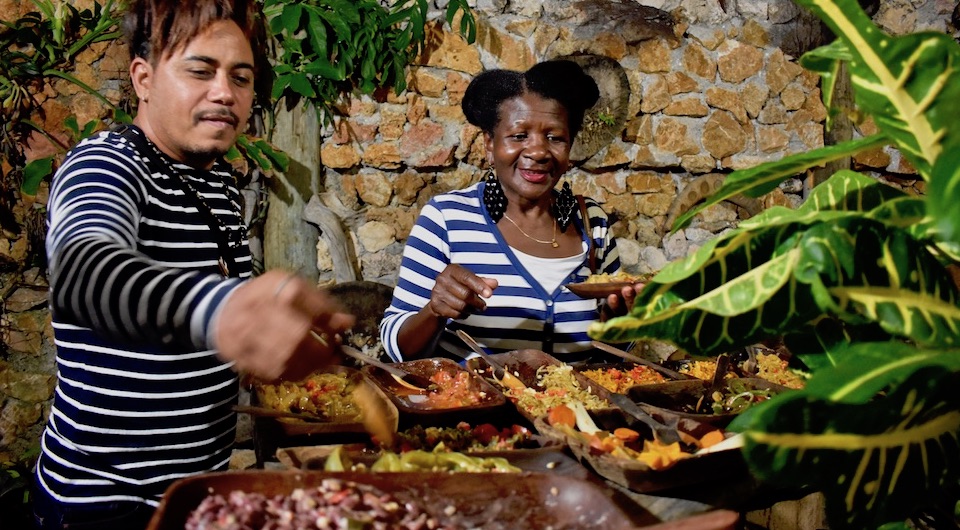 People come back from Baracoando saying they ate incredibly well and quite enjoyed the exchanges with Aristides, a pretty unique, colourful and engaging character! The food is so healthy and the cooking so masterful you'll sleep like a baby and be ready early next morning for your hikeof the day!
5 cool things about Baracoando
Walk into a super creative Baracoan's self-built patio and enjoy the jovial atmosphere.
Enlarge the list of root veggies you know and appreciate.
Discover new herbs, leaves, grains – and learn about their healthy properties.
A buffet like a trip of flavours – a kaleidoscope for your palate!
Some guests have persuaded talkative chef Smith to give them a cooking class too!
A master chef's place – La Cocina de Ortiz
This young chef knows how to blend "classy" and "down-to-earth" in the same menu. Ineldis Trutié Ortiz was born at El Yunque's foothills and grew up closely watching his grandma cook honest, healthy countryside meals. Years later he would work at some of the best kitchens in Havana, only to decide later that he'd much rather come back to his roots in Baracoa to open his own restaurant here.
As we write this, chef Ortiz is about to finalize the construction of his all-new restaurant in downtown Baracoa, just a few steps from the main plaza: La Cocina de Ortiz. It should be ready to welcome you in late February 2020 – we'll post pictures once its doors open!
We show you here (below) a sample menu of what Ortiz is able to place on your table. For starters, this fresh octopus salad with citric juices, herbs and Cuban spinach flowers. Ortiz' zeal for high quality ingredients shows – look at those tangerines and thinly sliced coconut, not to mention the sea creature's tentacles!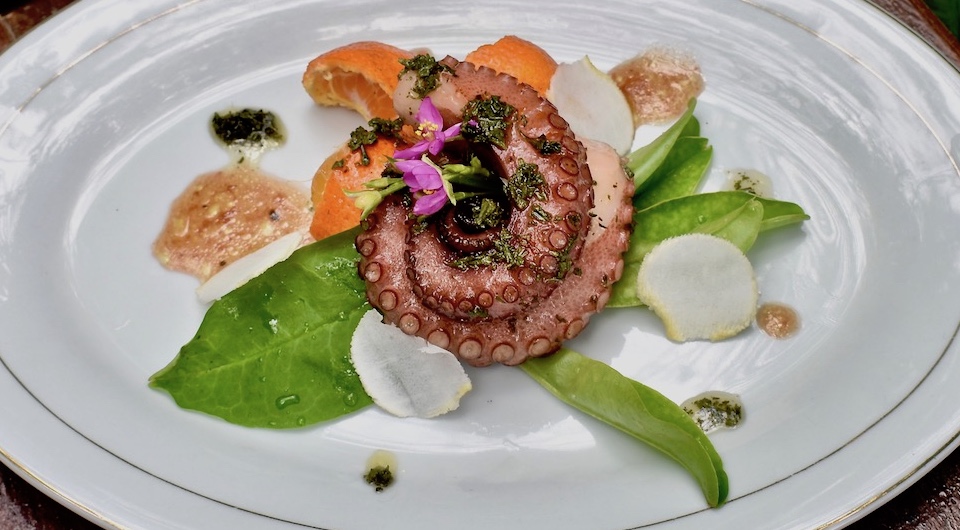 The Wall Street Journal featured Ortiz a couple of years ago as a rising star in Cuba's new cuisine. In his article, the author talked about a Cuban cucina povera and celebrated the Baracoan chef's love, and creative use, of his terroir's products. As a main dish, here's a mahi-mahi fillet in coconut milk. Note the roasted coconut half and shavings. We'll have you know that, although coconut milk sauce is typical fare in Baracoa, this version is entirely his.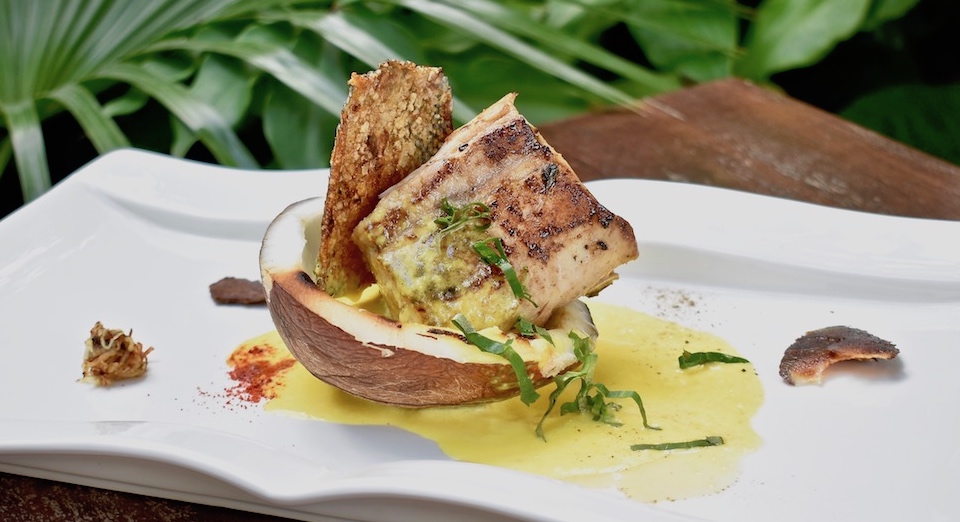 Baracoa is Cuba's cacao capital and chef Ortiz' desserts often include the heavenly ingredient. Today's offering was a chilled chocolate cream, very fruity with ripe banana, grated handcrafted chocolate and roasted cacao beans from a local family farm.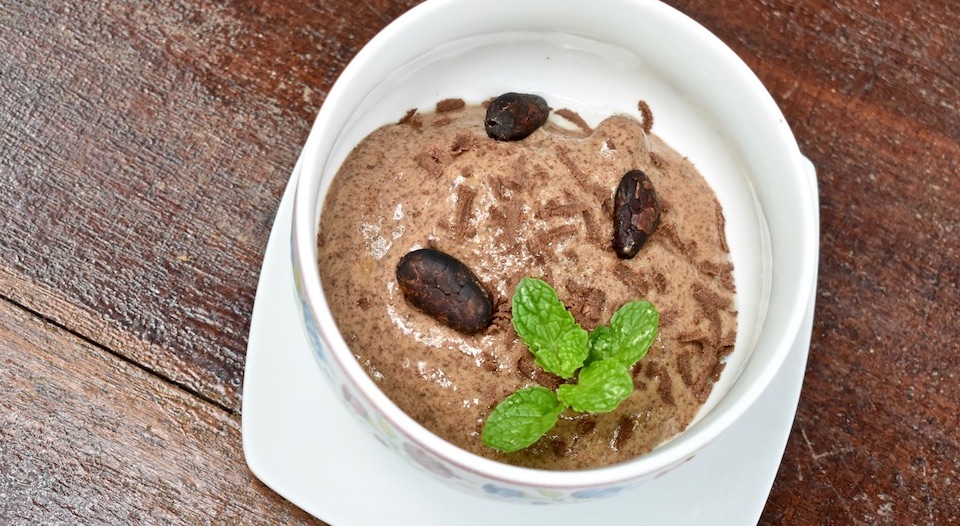 La Cocina de Ortiz will showcase the chef's creativity with constantly evolving dishes and creations. Ortiz wants to keep it cozy and intimate – there'll be only a few tables, which will allow him to put his best skills to play every evening!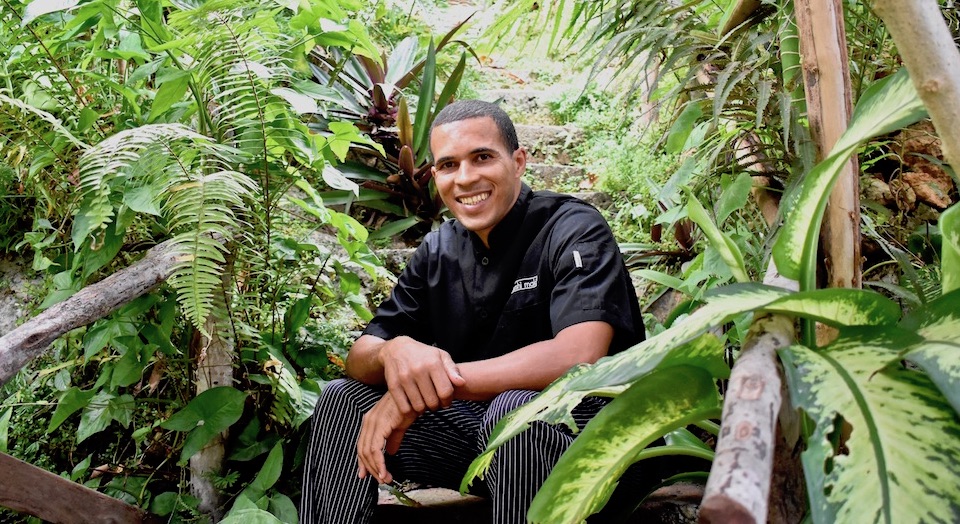 5 cool things about La Cocina de Ortiz
Unique, skillful, creative cooking centred on quality local ingredients. The mastery shows not only in the plating but in the subtle flavours and textures too.
Ortiz purposely favours a cozy ambiance – only a few tables will be set at his restaurant.
A range of different dishes on the menu – including well thought-out and cared-for vegetables dishes or components.
A chef's signature is evident in every dish Ortiz creates.
An honest blend of high caliber cooking and countryside sensibility – the Baracoan landscape and roots do show on your plate!
Other super good spots – you'll have great things to say about these options too!
Made's La Favorita, at Yara-Majayara
Yara-Majayara has been progressively emerging among our visitors as a protected area of choice for hikers, nature lovers and birdwatchers who come to Baracoa. Its river delta, mangroves and dry evergreen flora on karst geological terraces are unique – and its two miradors offer some really beautiful views!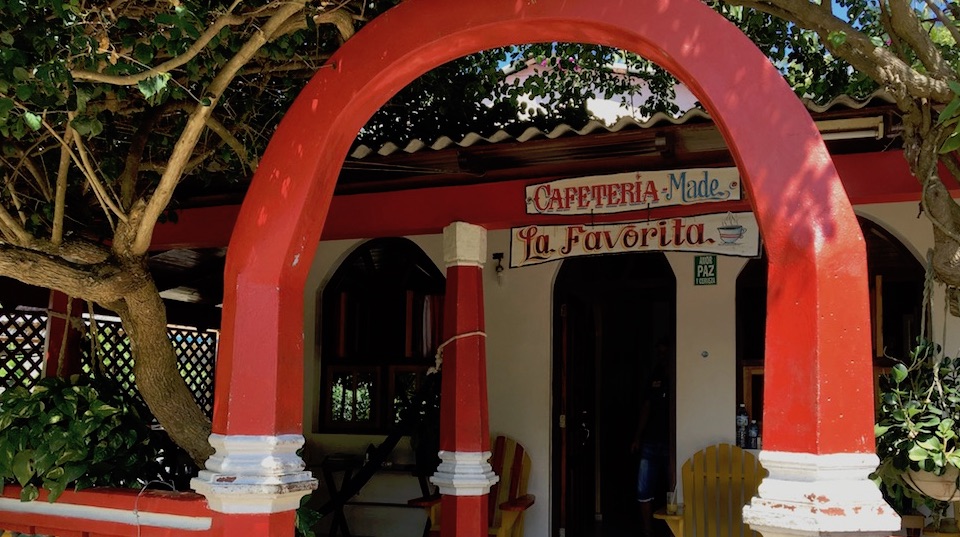 Right by the entrance to the protected area sits the pretty, flowery and shaded La Favorita, where Made will welcome you with flavourful dishes she once cooked for none other than Buena Vista Social Club's Eliades Ochoa. Indeed, Made was Ochoa's resident cook for a few years!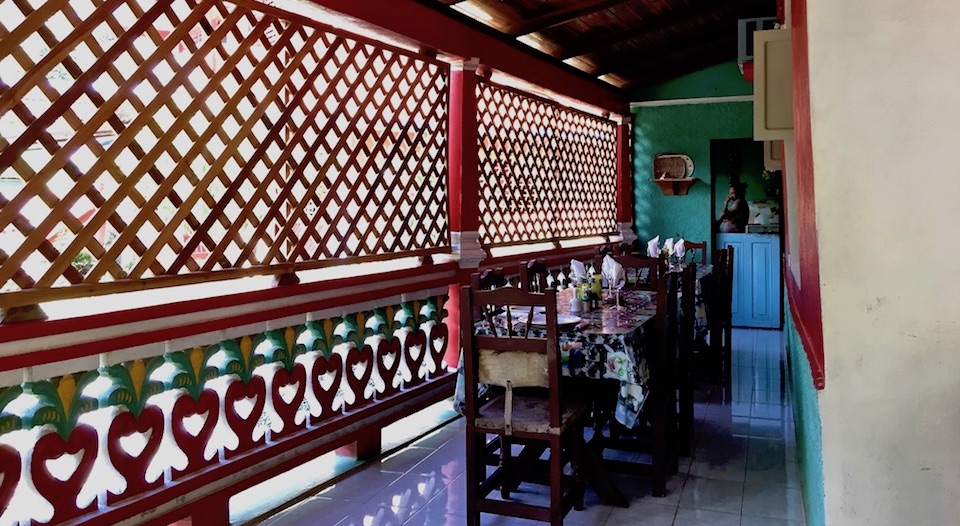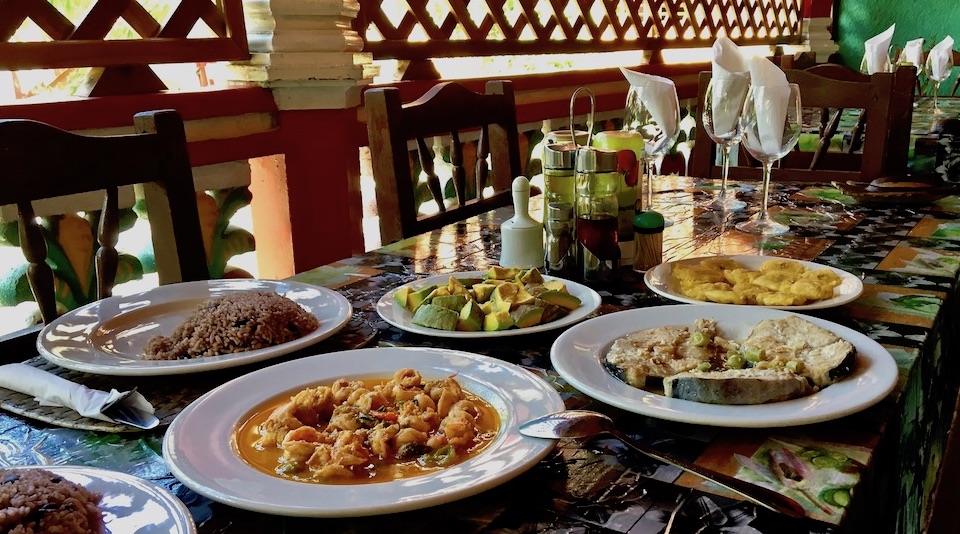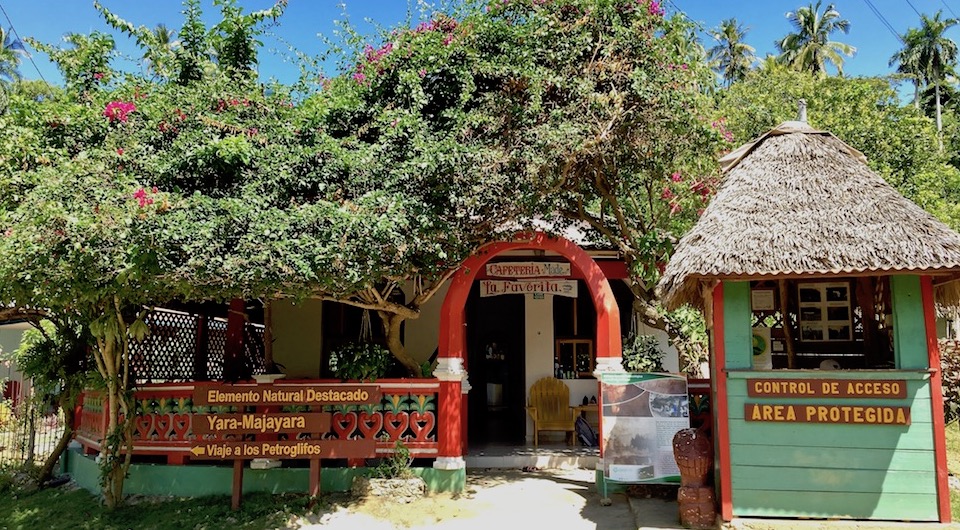 When you arrive at the protected area's access point in the morning and before you engage your excursion, you can ask for Made and place your order for later in the day, after the hike. It's worth noting that she can also offer a nice buffet table for groups, upon request.
Authentic dining in Cuba's far, far east – El Pinito
If you are a road trip lover and enjoy unpretentious yet really good local favourite restaurants, you'll certainly appreciate El Pinito.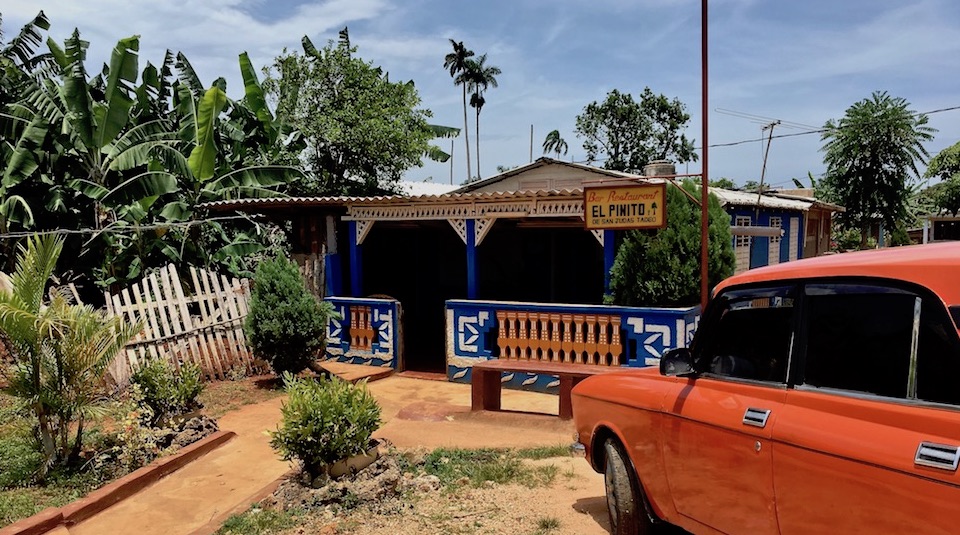 Located at a modest corner in the little town of Sabana, their stewed lamb, enchiladoshrimp or saucy shredded crab meat are super tasty. A great stop on your way back from Pozo Azul, or if you are driven around Cuba's easternmost tip, discovering amazing landscapes and nature!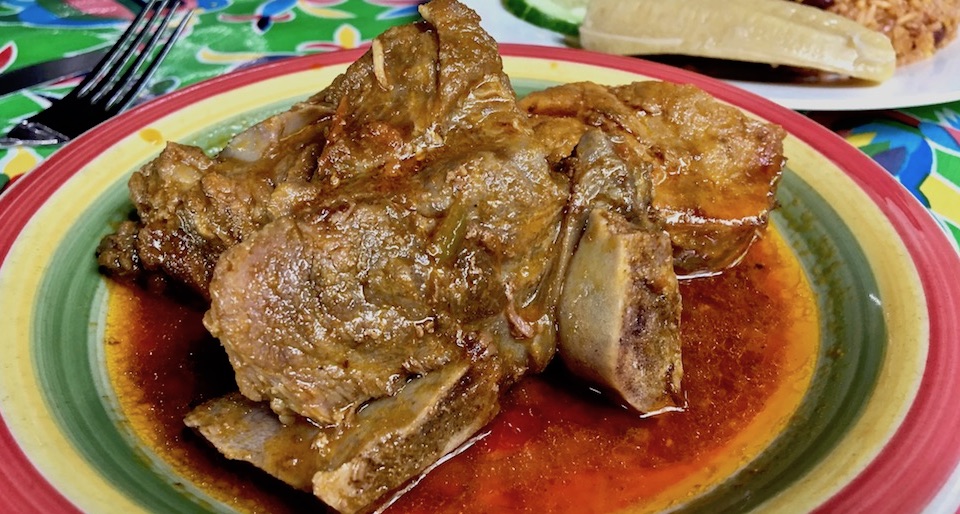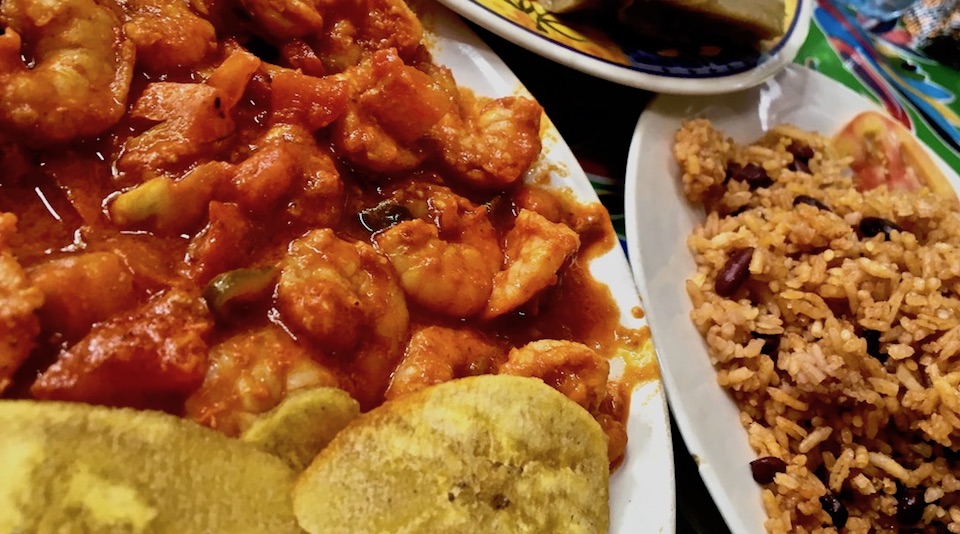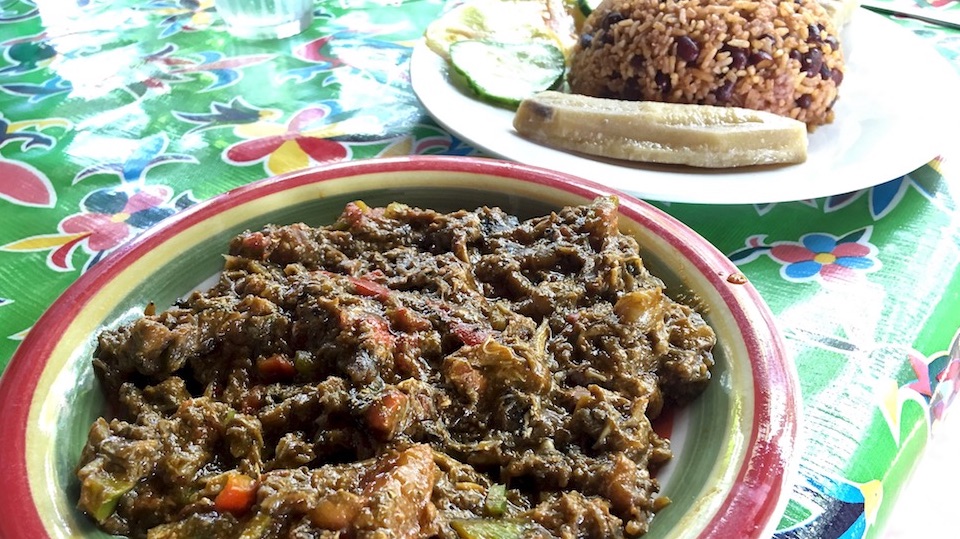 Hearty countryside food by the river: Rancho Toa
A quaint set of thatched structures right by river Toa at its largest, deepest, most voluminous stretch – the very place where it reaches the sea.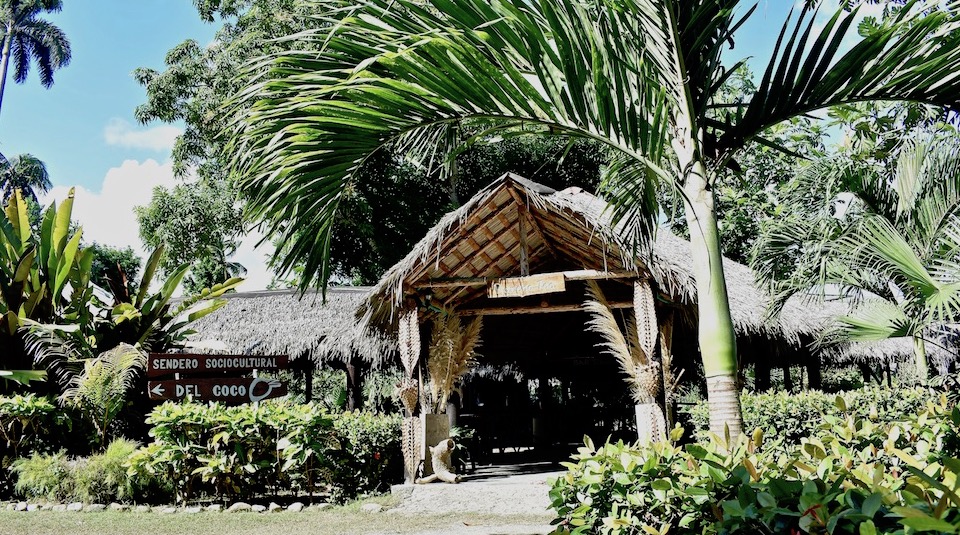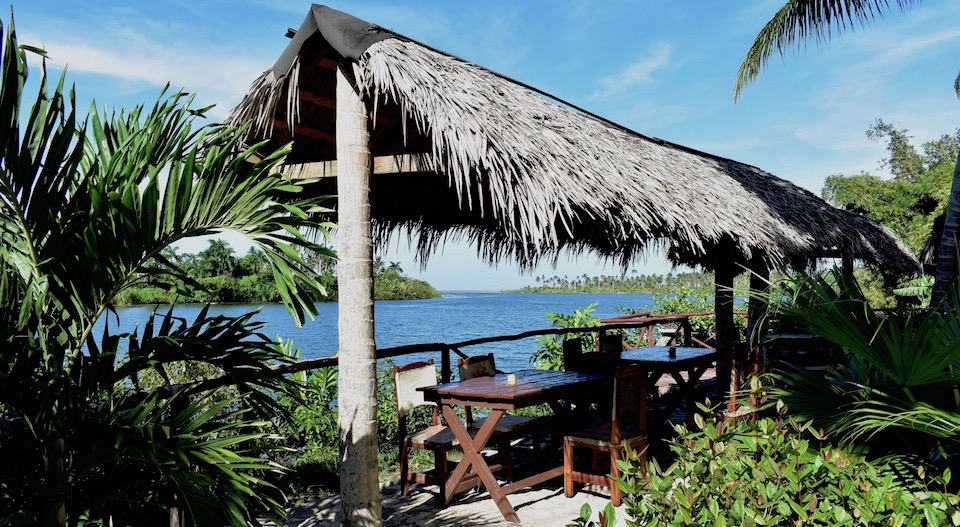 Their house cocktail – orange and passion fruit juice with rum, served on a grapefruit skin with a plant straw – is delicious!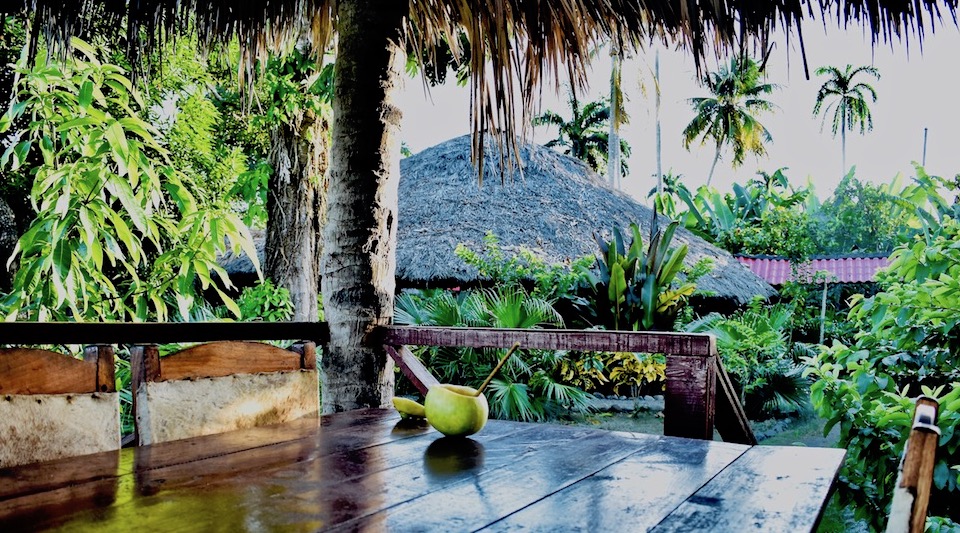 When large groups of people come, a buffet is offered with pit roasted pork, rice, cooked veggies and fresh salads.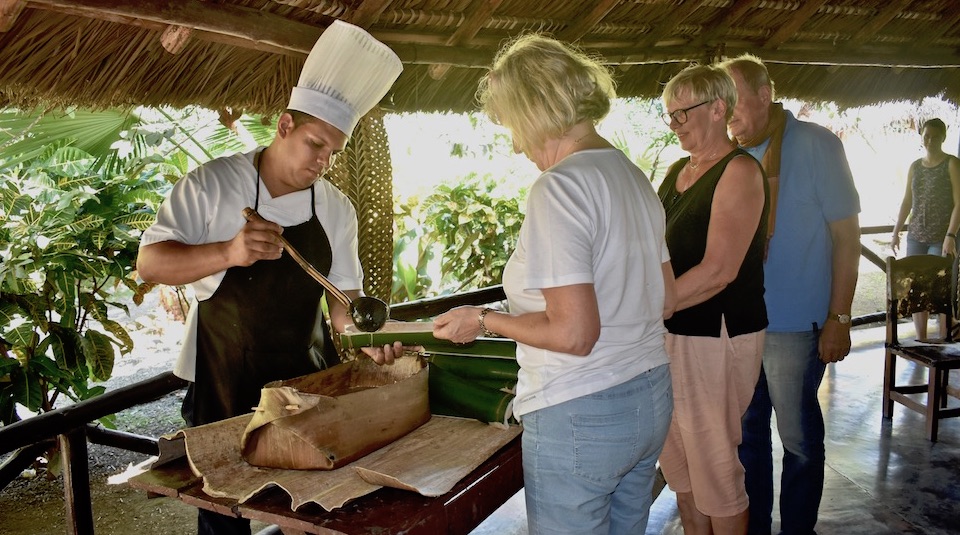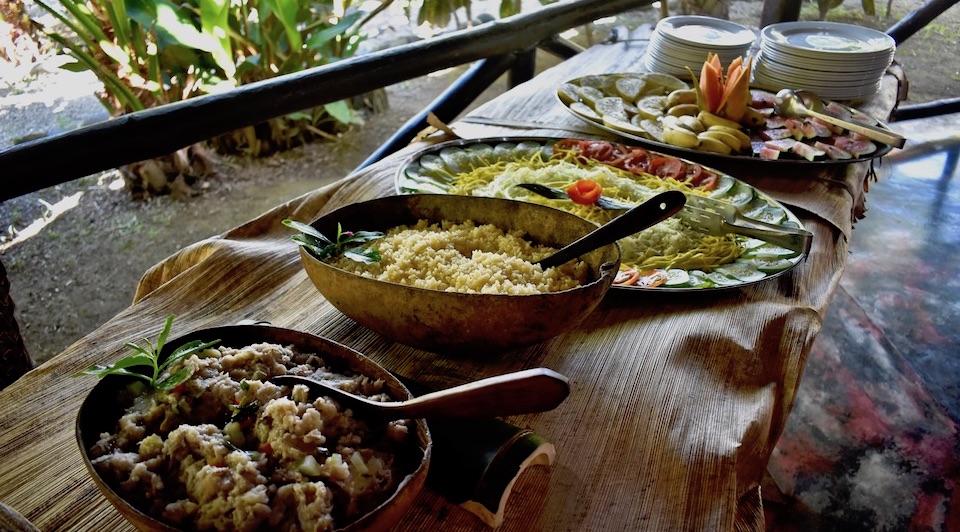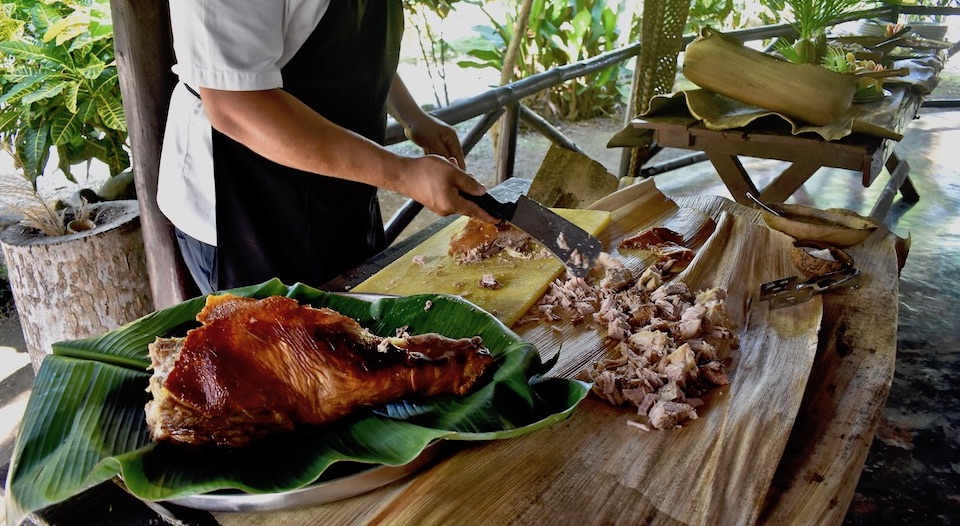 If that's not on offer the day you come, order à la carte– don't miss the traditionally Baracoan (shareable) sides of calalu (vegetable greens in coconut milk sauce) and bacan perdido (little plantain dumplings in coconut milk sauce).
A lovely 40-minute boat ride on river Toa is also on offer, either as you wait for your meal or after having enjoyed it!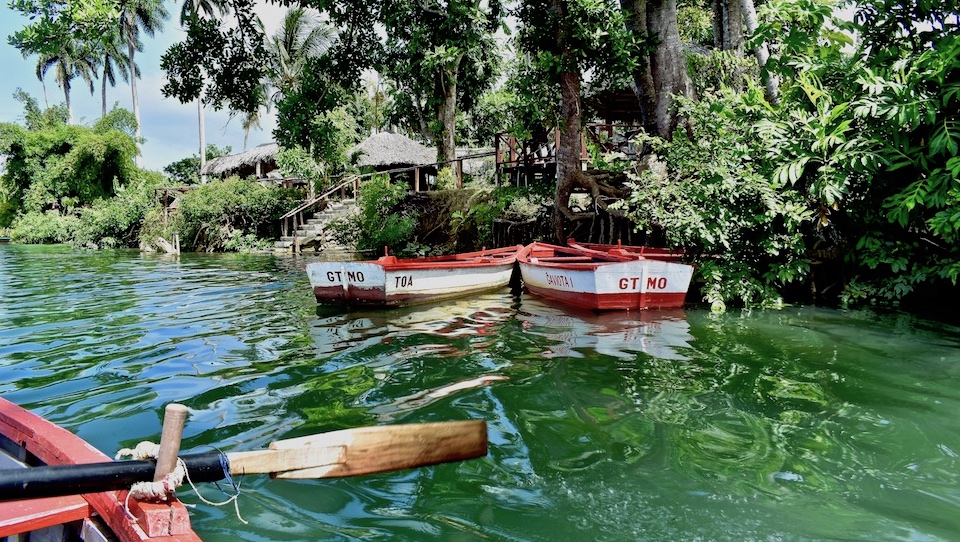 Other flavours and tastings not to be missed
Food travellers will also love tasting Baracoa's delightful honey and organic, export-quality cacao!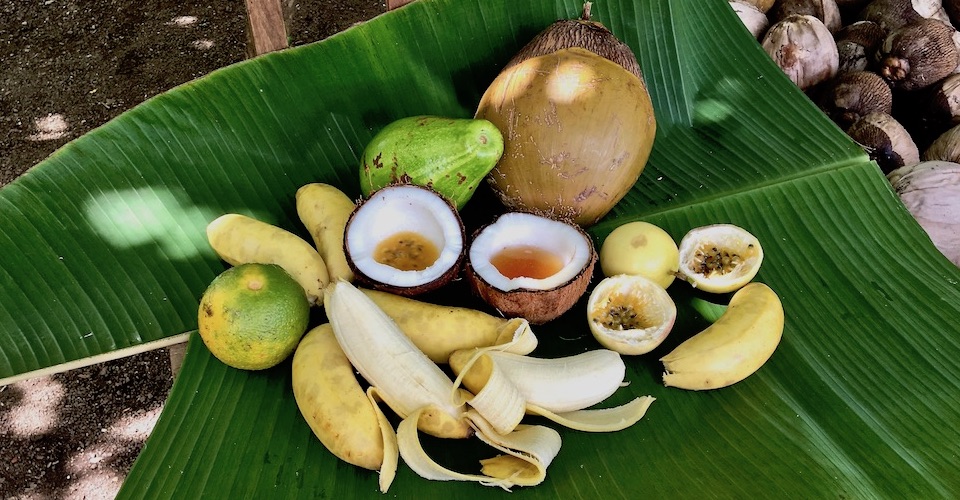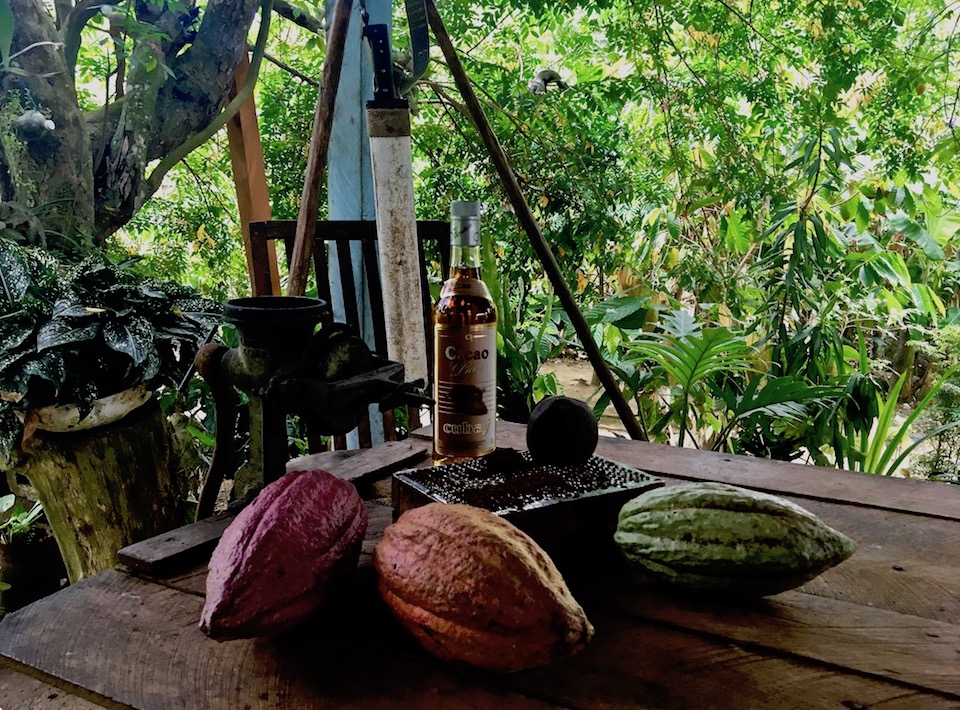 P.S.: breakfast & dinner at Villa Paradiso are also delicious!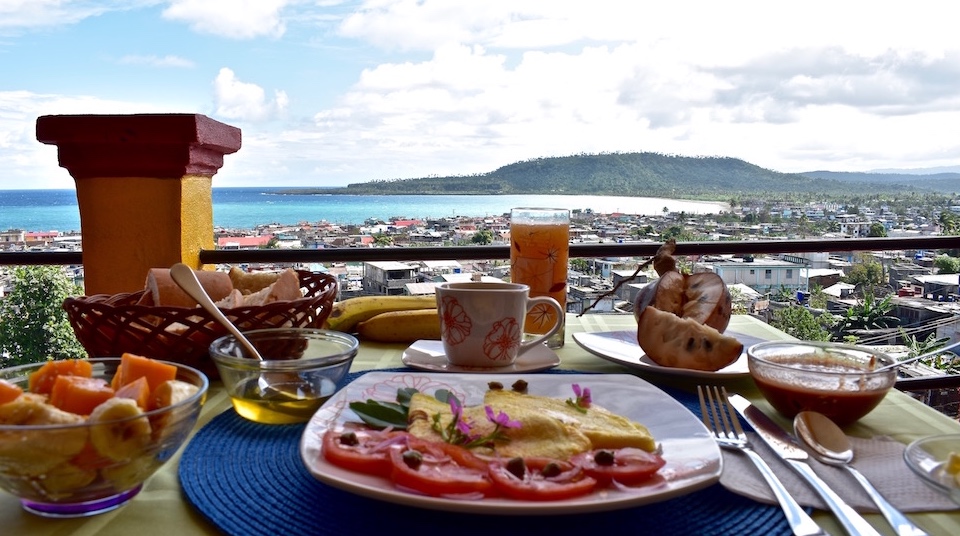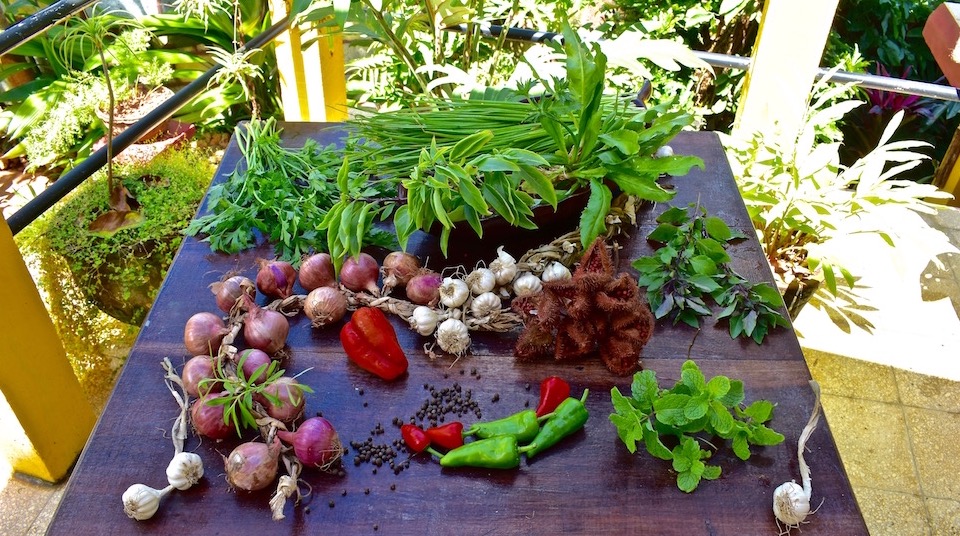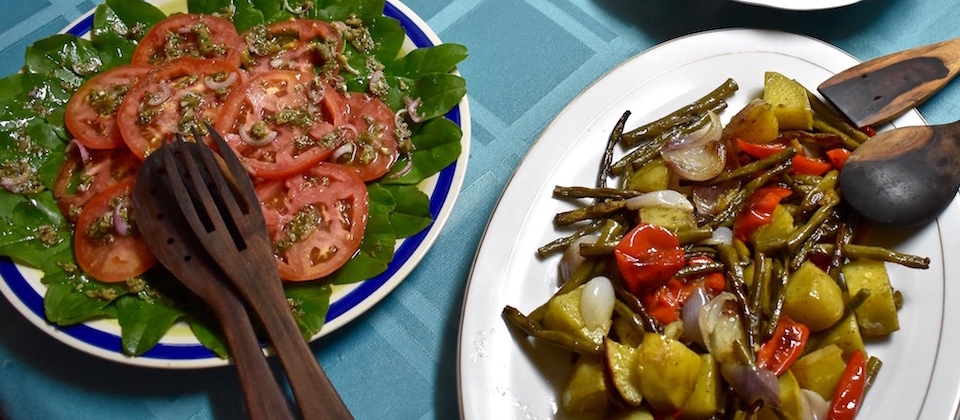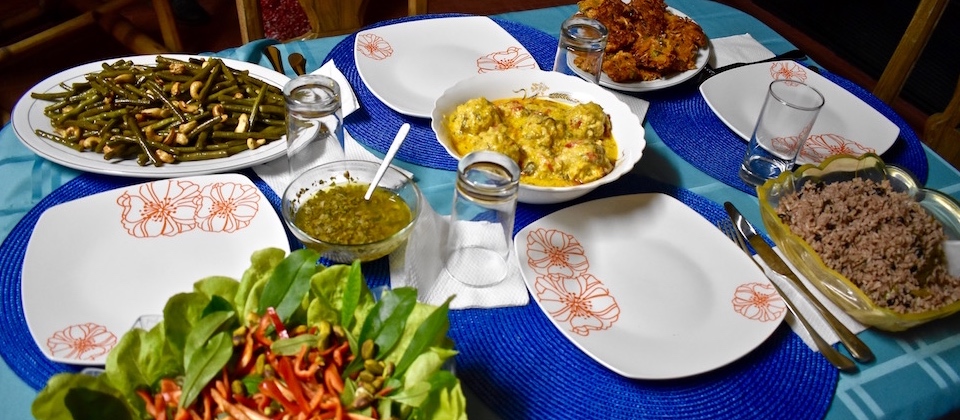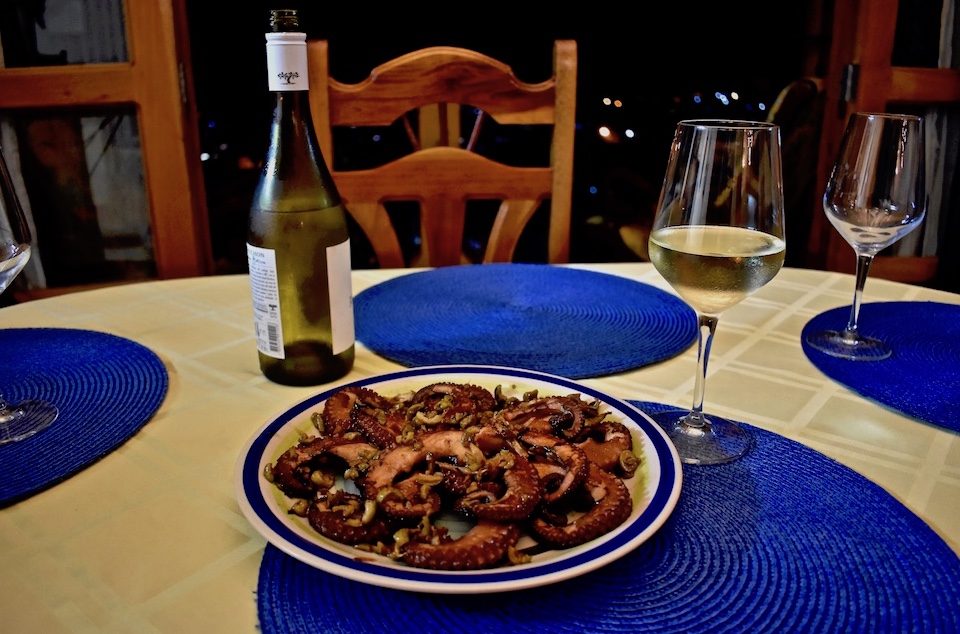 ---
Activities, Baracoa, Sustainable Tourism
Tags: Agritourism, Culture, Food