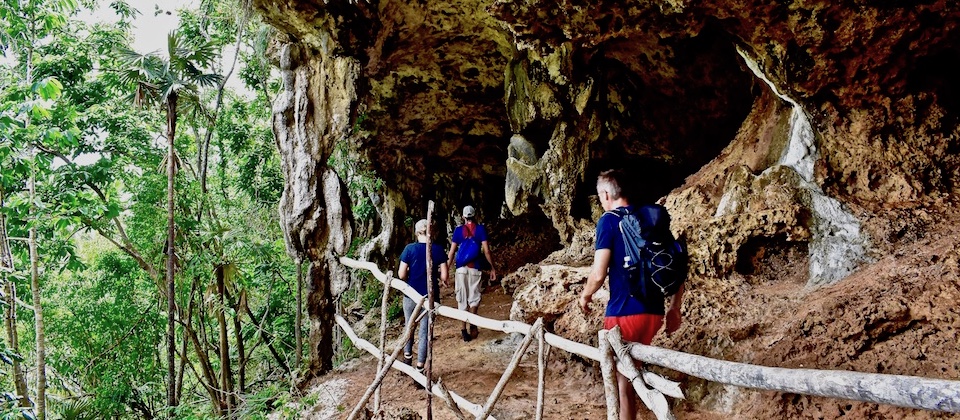 Published on 27 April, 2020.
---
Dramatic mountain silhouettes, whimsical rocky surroundings, rugged geological terraces… Baracoa's karstic landscapes, in Eastern Cuba, will captivate you with their array of uniquely Cuban flora and fauna.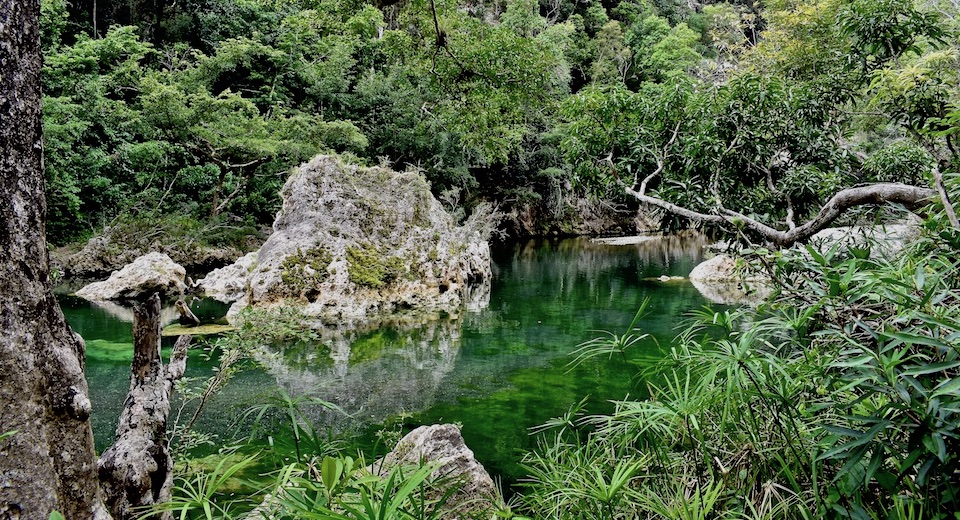 Probably Viñales' mogotes are the most famous and widely known by travellers who come to Cuba, but the Baracoa region features equally memorable (and less touristy) karstic formations such as El Yunque.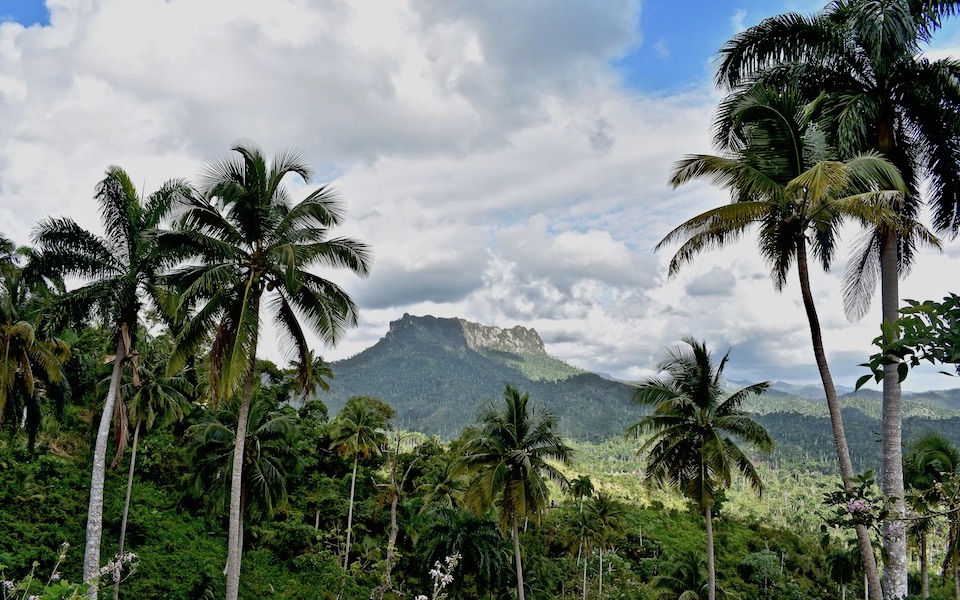 Whether coastal or interior, in the form of plains, summits or caves, karsts are mainly limestone geological formations. They are the result of long erosion processes caused by water filtration, wind friction and natural chemical reactions that affect the shape of rocks.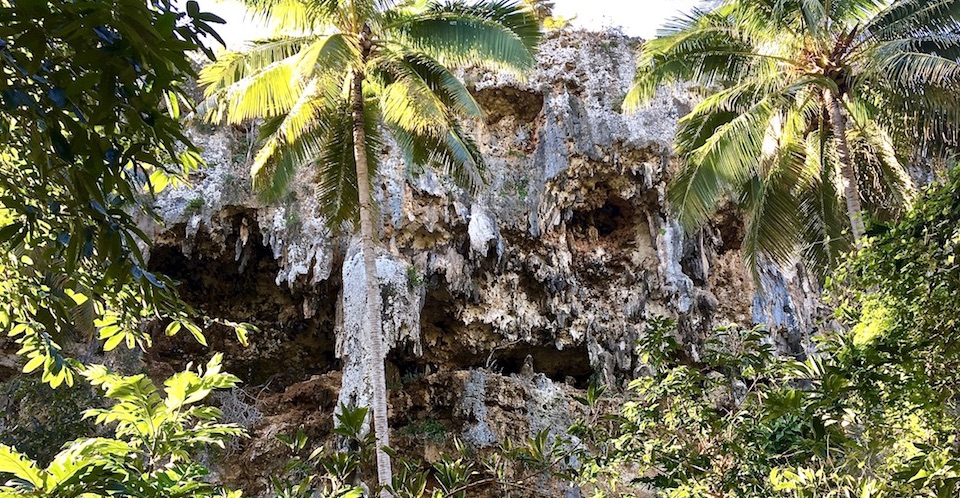 Emerged marine terraces: Yara-Majayara
During past geological eras, the limestone terraces of today's coastal karst in Yara-Majayara were submerged in the sea. Today they are part of a 1,763-ha protected area where you can appreciate dense evergreen forests growing directly on the rocks, as well as fossilized traces of sea corals.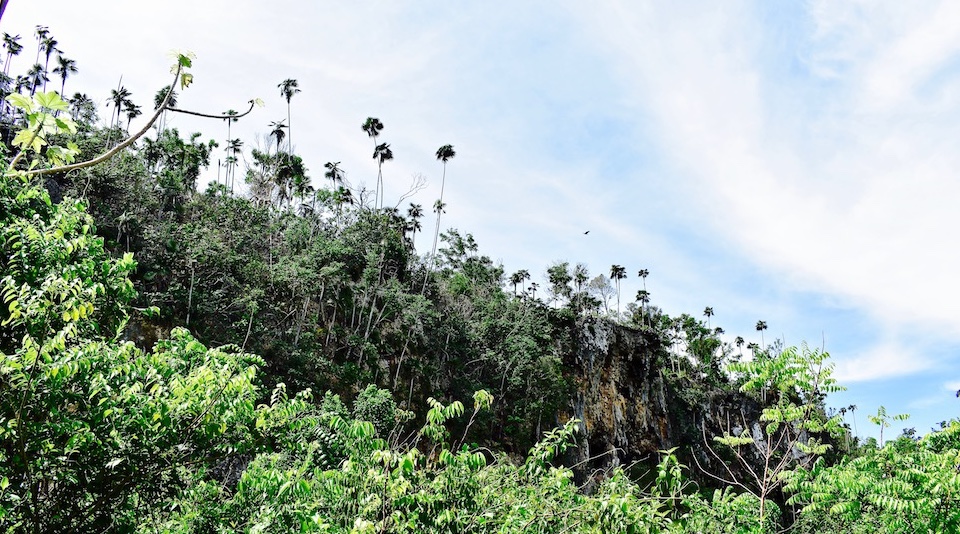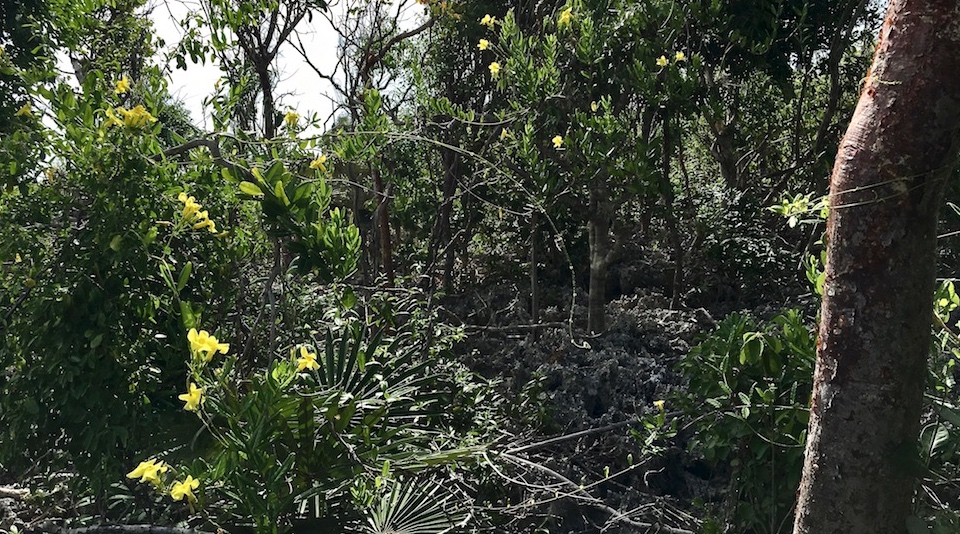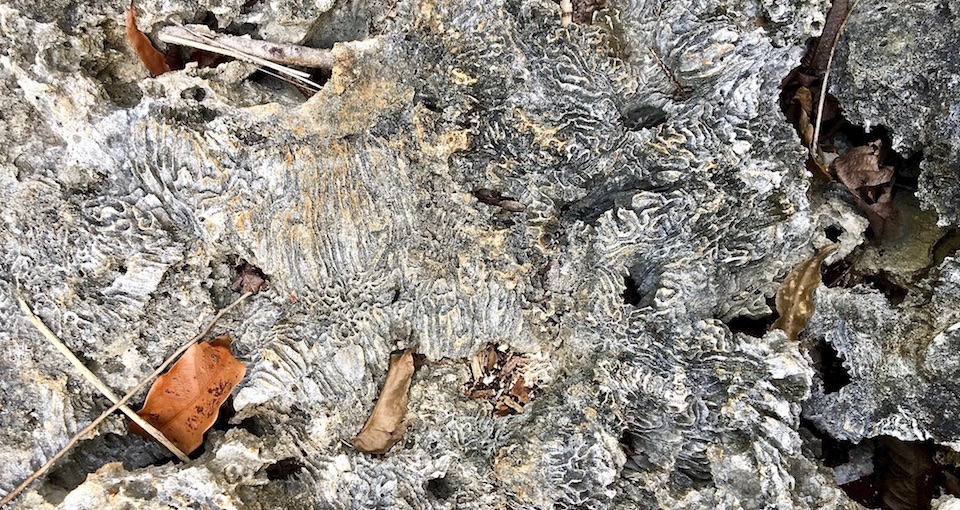 Recommended itinerary in Yara-Majayara
You should not miss the Balcon Arqueologico trail, followed by a splash in the cool waters of "Cueva del Agua".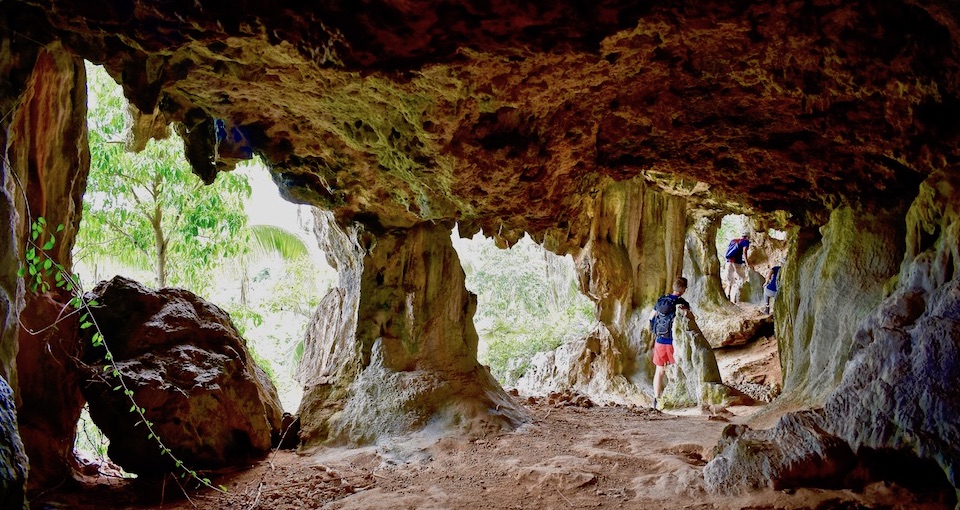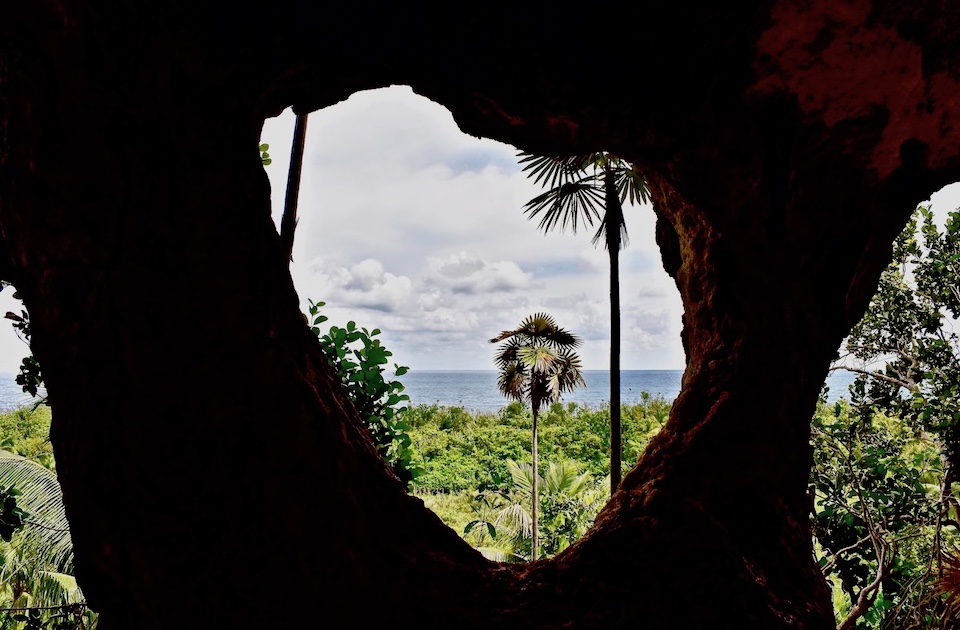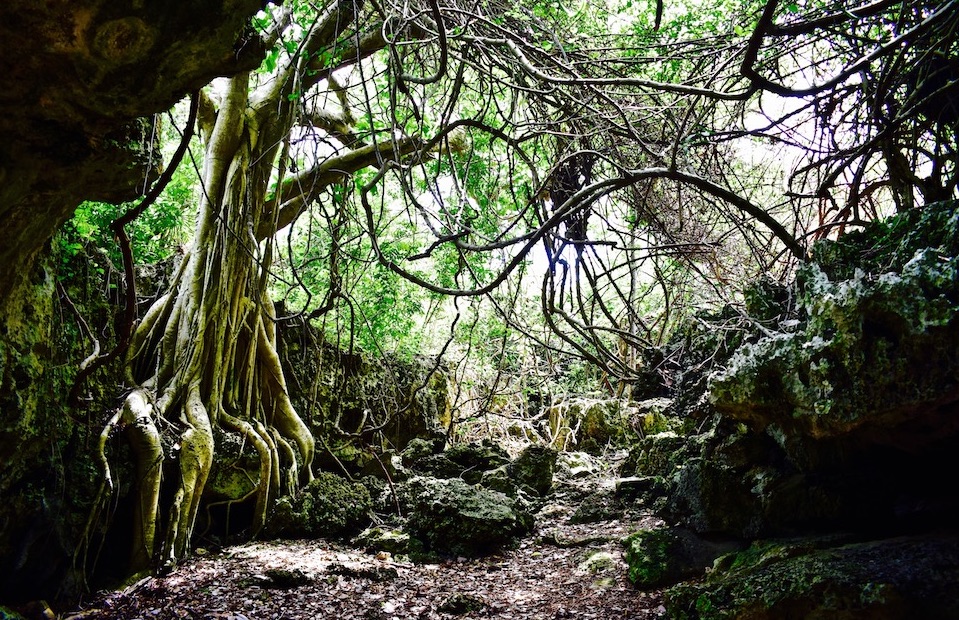 From there, you can climb up to the intermediate marine terrace and enjoy the sea view towards the south-east.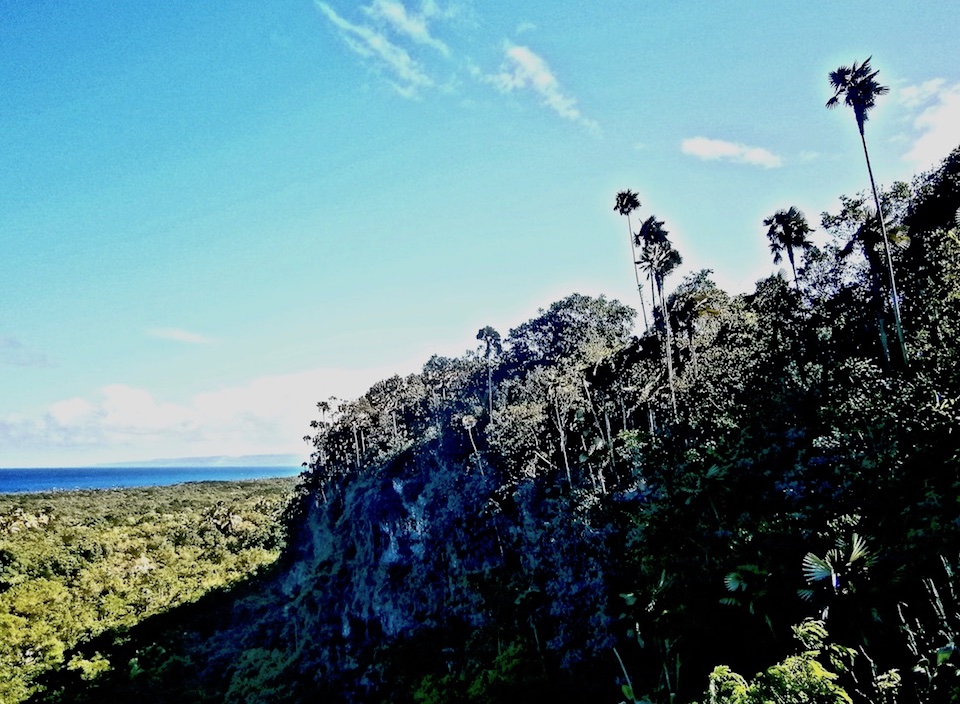 And last but not least, if you continue on your hike to a family farm located on the uppermost geological terrace, an amazing view will display before your eyes towards the north-east: Miel Bay, Baracoa Bay and El Yunque and Sleeping Beauty mountains.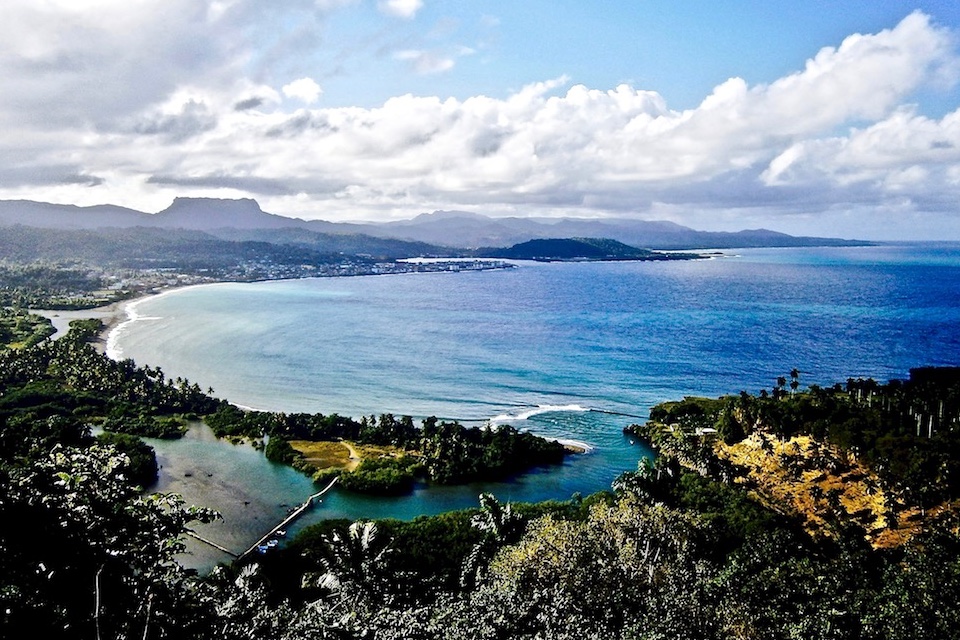 For the rest of the afternoon, some travellers go to the minute Playa Blanca…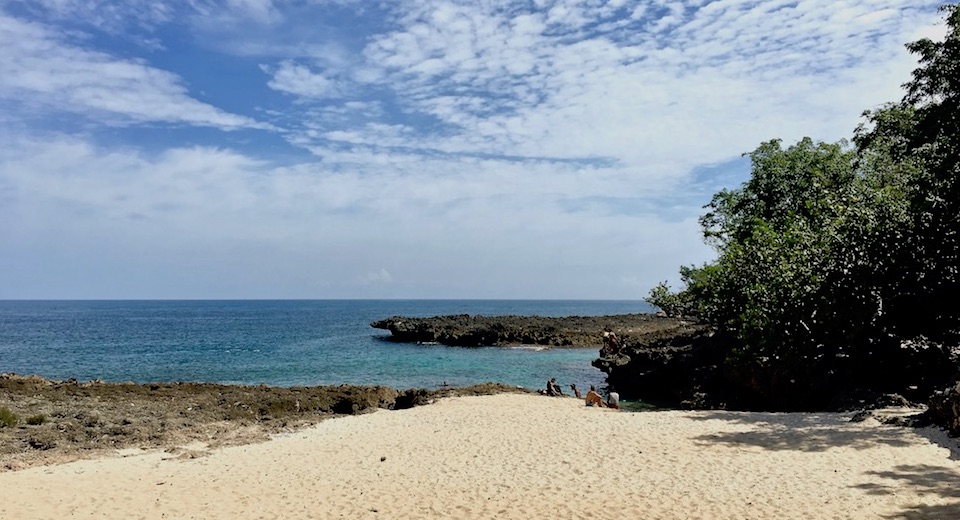 Yara-Majayara's flora and fauna
The local flora has some very nice surprises for you. In terms of orchids, for instance, you're most likely to find a Broughtonia lindenii.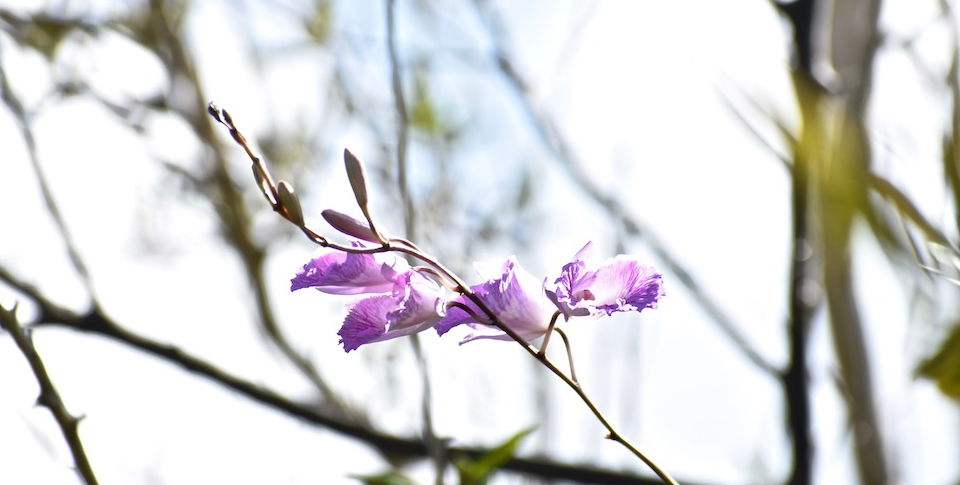 This coastal karst features a large variety of trees. Amongst them, the endemic palm called Yuraguano (Coccothrinax yuraguana) does stand out.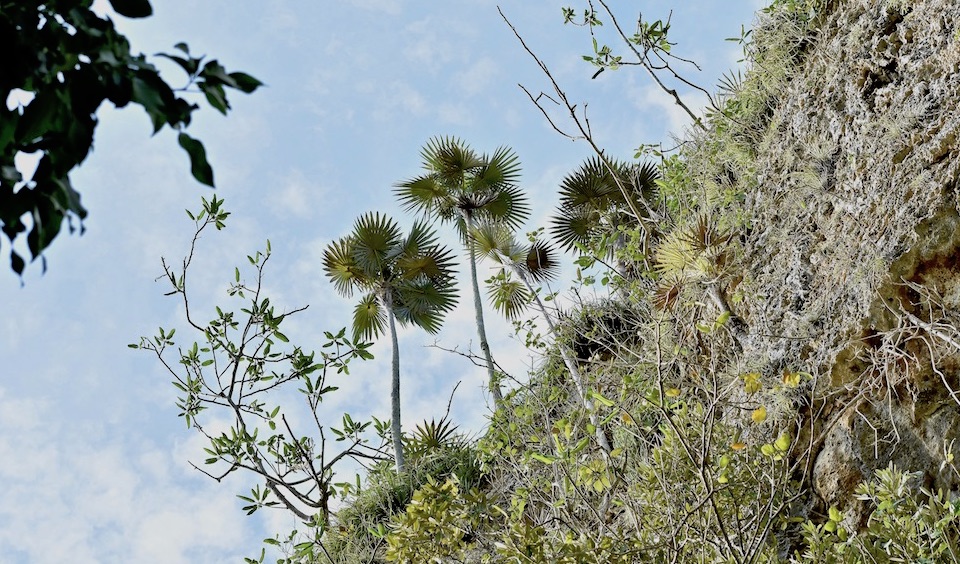 If you enjoy birdwatching, Yara-Majayara will not disappoint you. There are numerous species to be found here and you will certainly see the Cuban Green Woodpecker (Xiphidiopicus percussus), a beautiful endemic bird.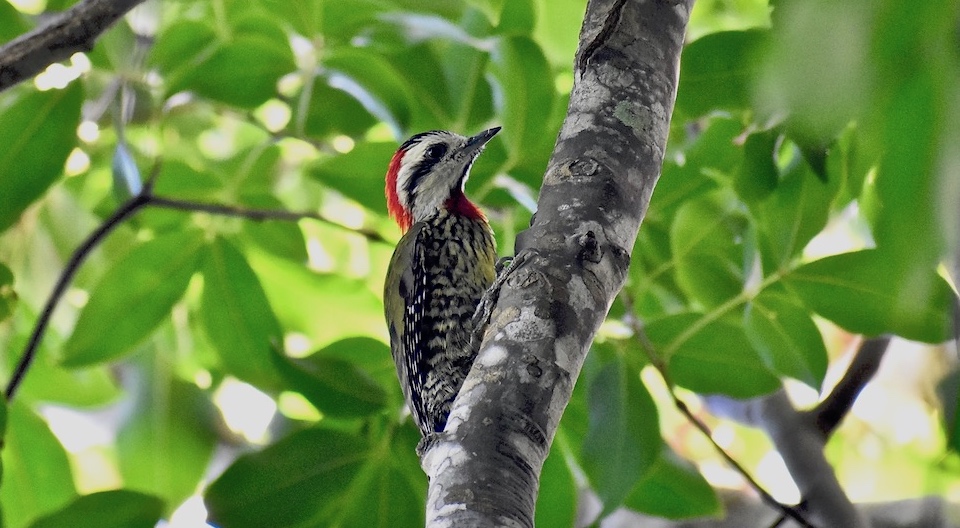 On the rocky cliffs, you'll also spot the equally endemic Cuban Iguana (Cyclura nubila).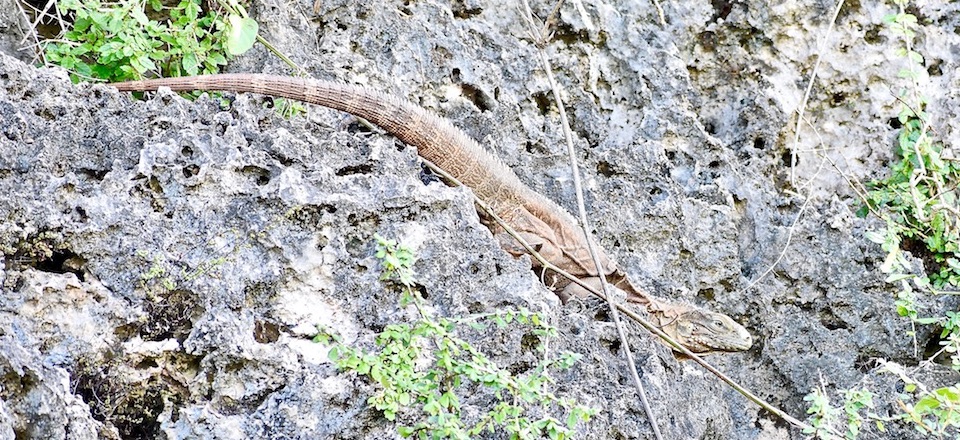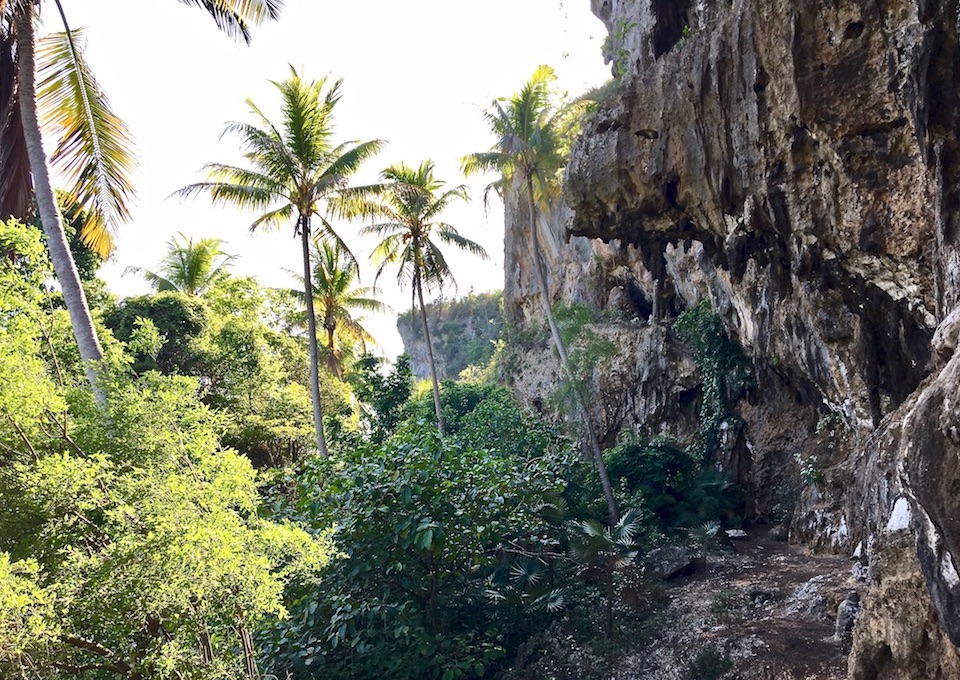 We invite you to check out our post with practical information about Yara-Majayara, including budget details, where to enjoy a great meal, etc.
High forested cliffs: Yumuri Canyon
It's a real pity, but most travellers who come to Baracoa make do with barely a sight of the wonderful karstic environment offered by the Yumuri Canyon.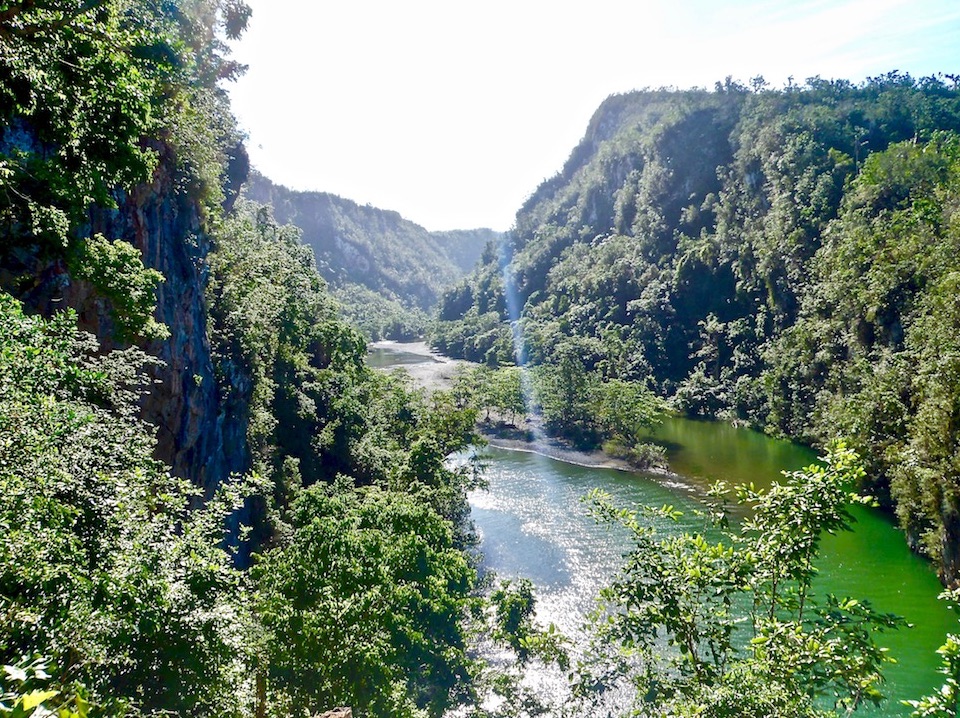 Indeed, the average visit to this 911-ha protected area consists of a 10-minute boat ride on river Yumuri or, at most, a short hike (15 minutes) to its natural pools.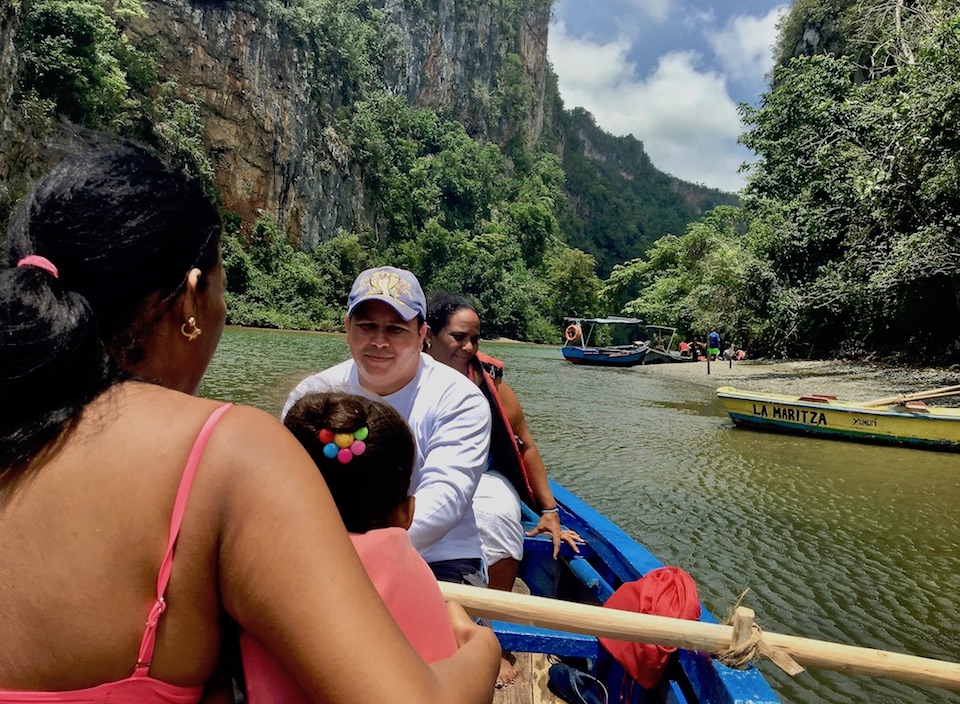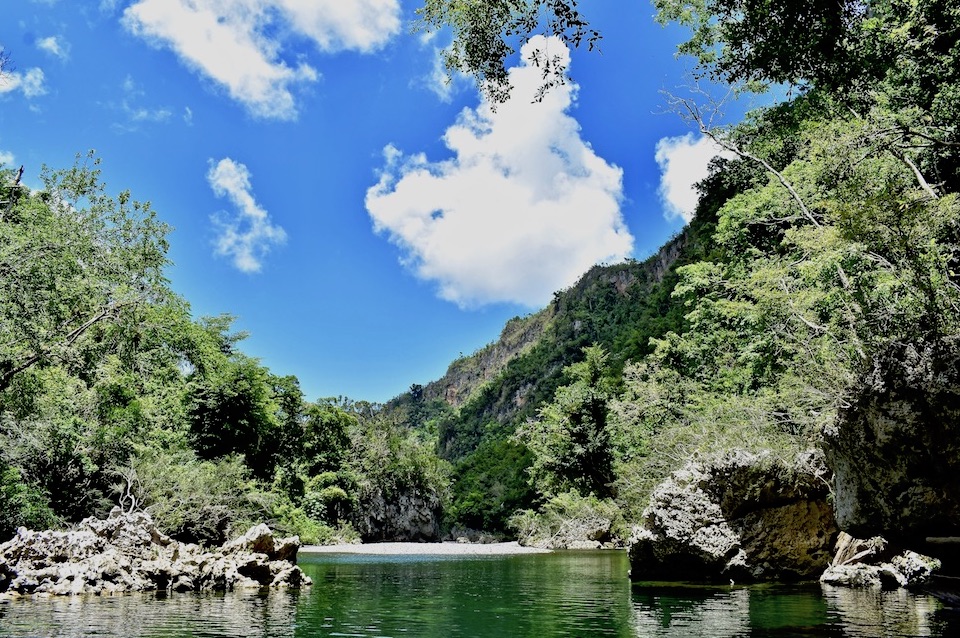 Very few get to find out that the trail continues on for 5 km along the river and into the canyon. The shapes of the rocky surroundings change as you hike in the midst of beautiful endemic flora and fauna. It is quite a leafy trail – very shaded and cooler than many other trails in the region.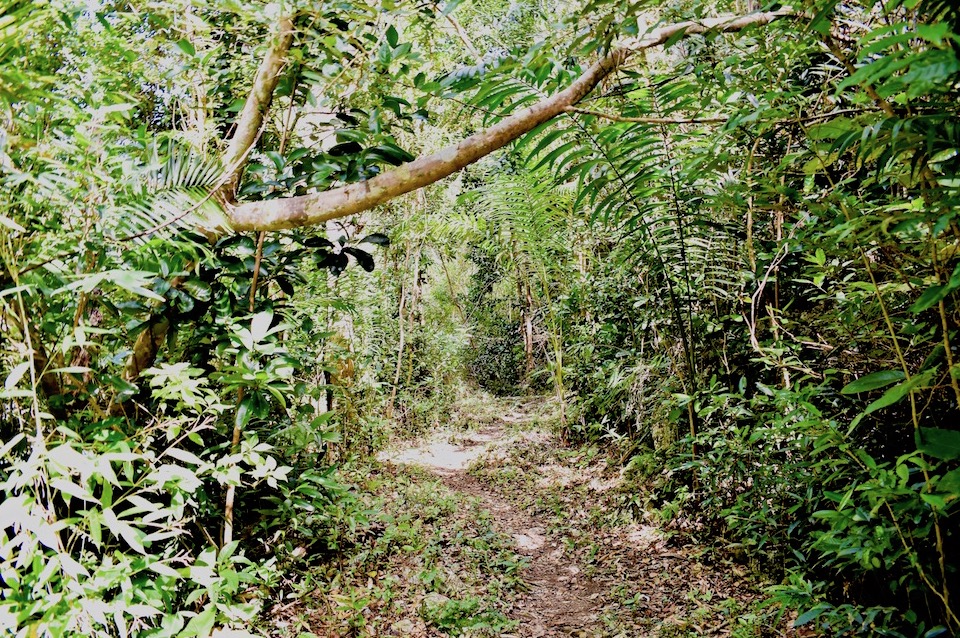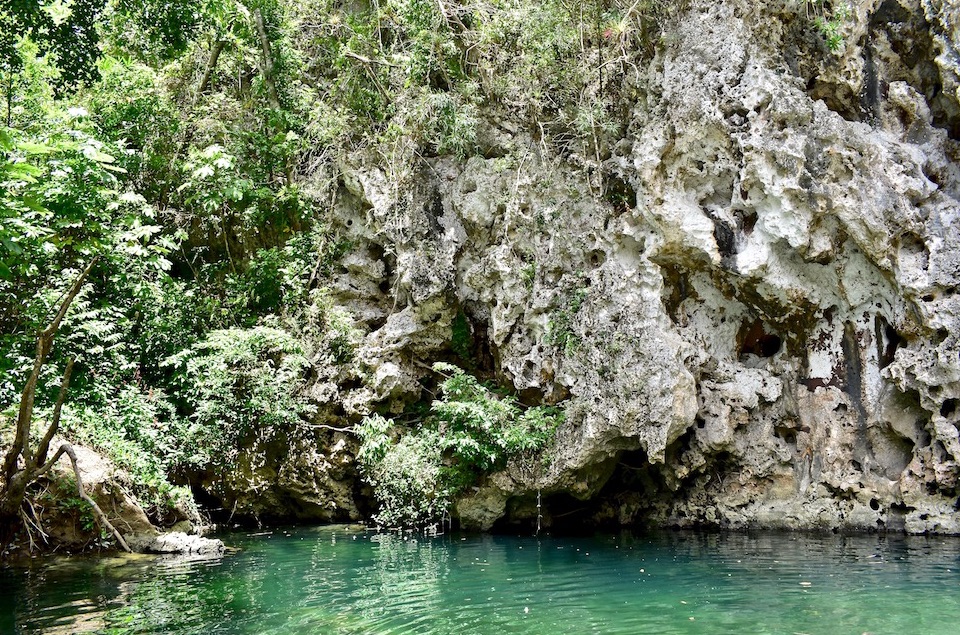 The flora and fauna at the Yumuri Canyon karst
The local flora offers you a significant range of tropical ferns, such as this minute species of the Selaginella genus shown below, as well as wild orchids such as the Epidendrum anceps.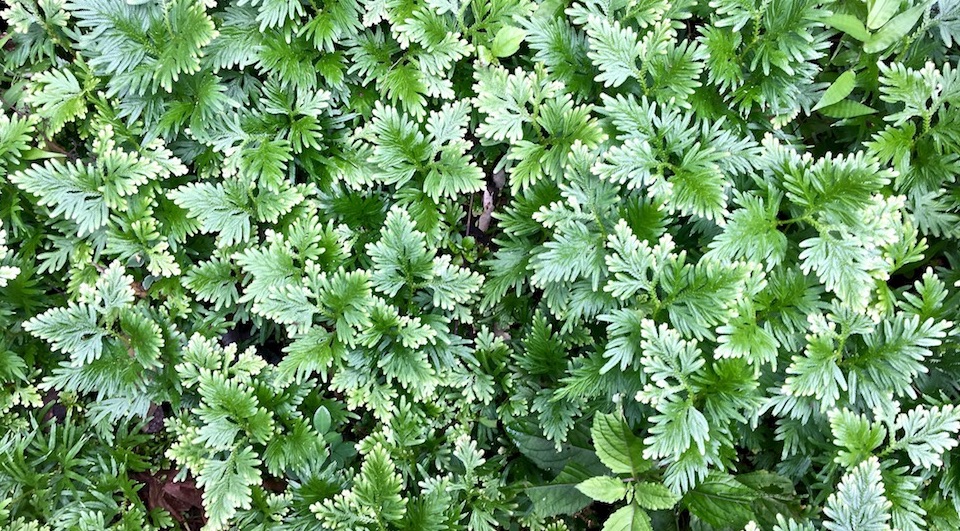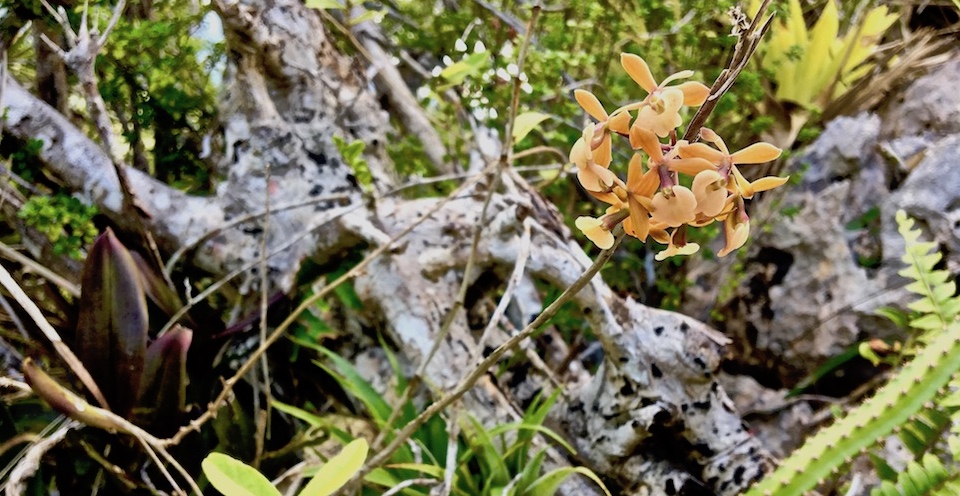 The fauna at the Yumuri Canyon also offers beautiful species. Here you can find the famous Polymita picta, the Baracoa-endemic tree snail with its bright colours, mostly the roseolimbata and nigrolimbata subspecies.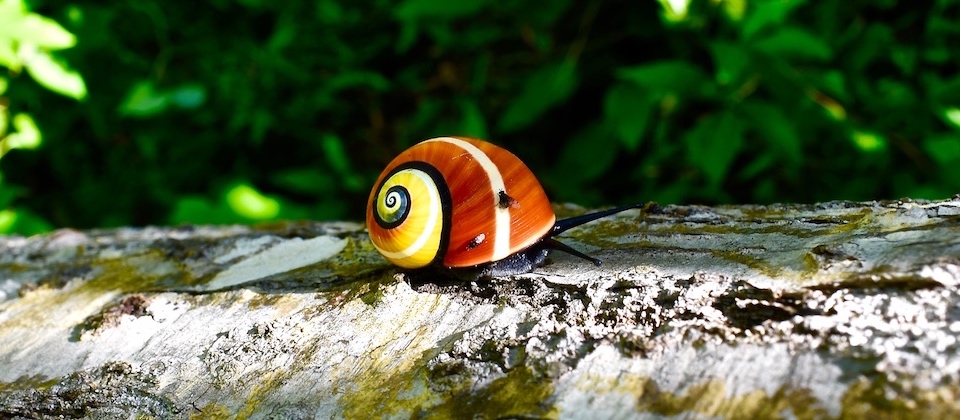 A variety of birds also awaits for you, such as the tiny yet eye-catching Cuban Tody (Todus multicolor), another endemic species.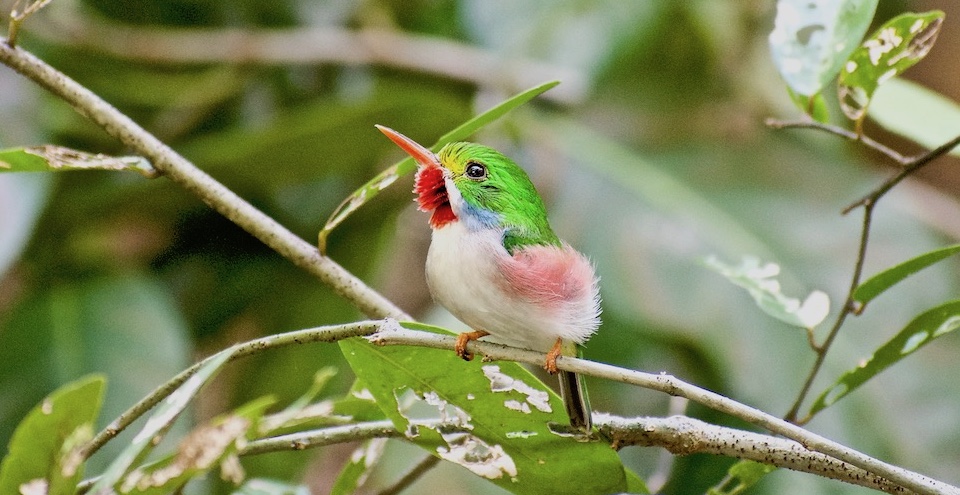 The jewel at the end of this hike through the Yumuri Canyon karst are the Belete Waterfalls. With a 15-meters fall and a cool natural pool where you can bathe and swim, these waterfalls are located in a ravine that's difficult to access – but the effort is certainly worth it!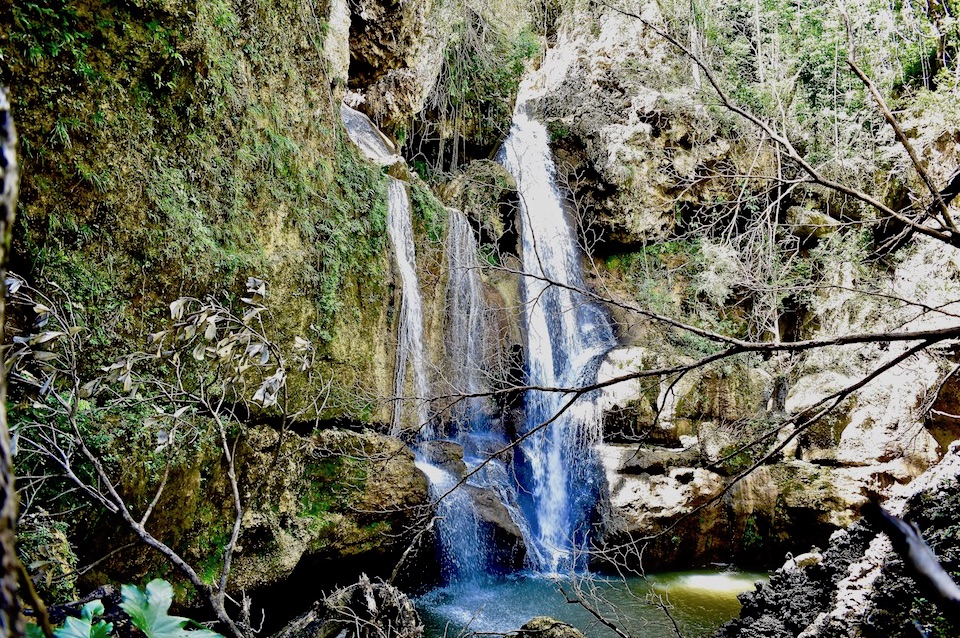 We invite you to check out our post with practical information about Yumuri Canyon, including budget details, where to enjoy a great meal, etc.
Baracoa's fascinating, iconic mount: El Yunque
Mount El Yunque (The Anvil) is recognized as one of Cuba's largest and most beautiful tropical karst formations. Around it, a 46-km protected area has been established.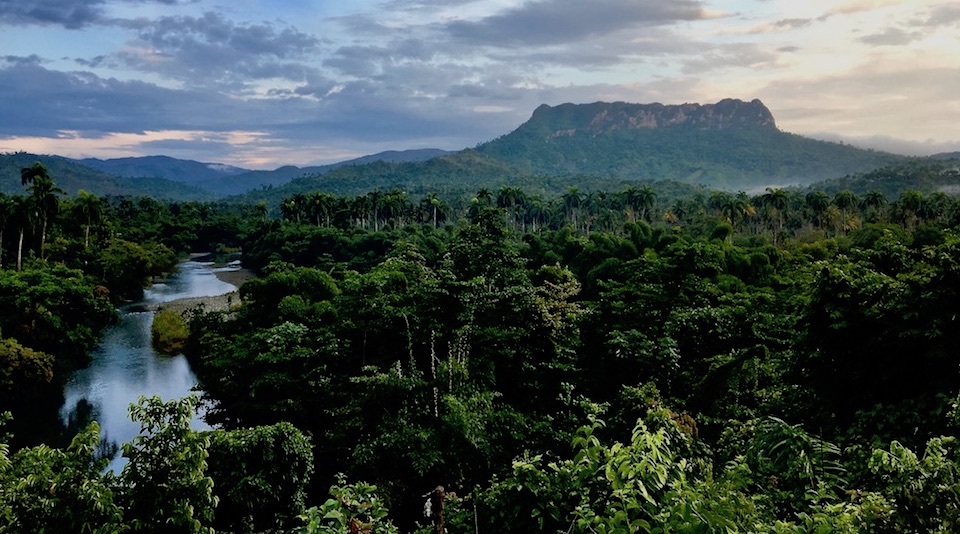 This karst dates back to the Middle Miocene and it features high vertical cliffs. Flat at first sight, its summit is actually composed of salient formations and holes which make it look more like the surface of a molar tooth.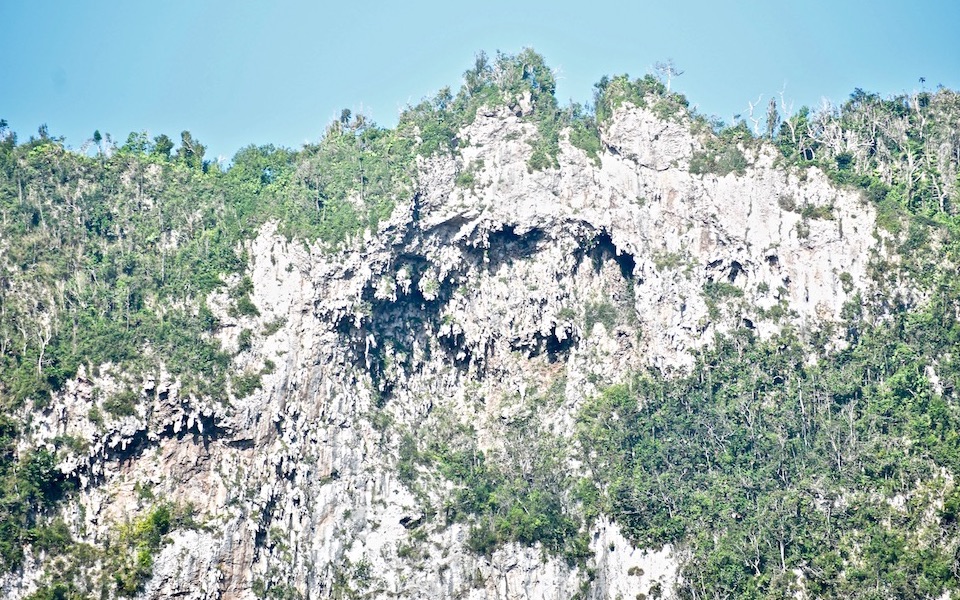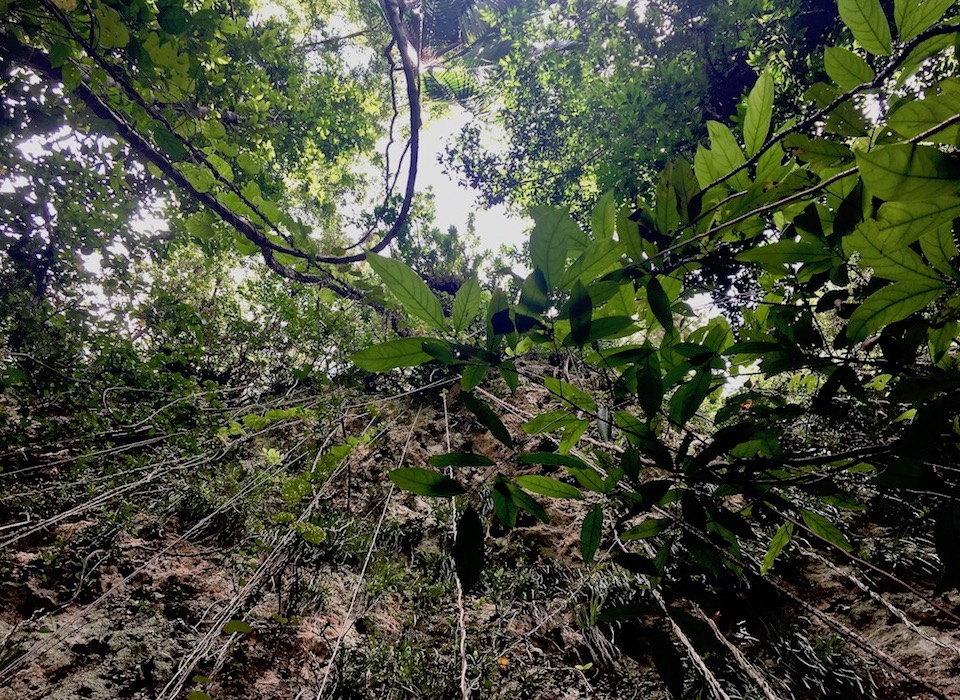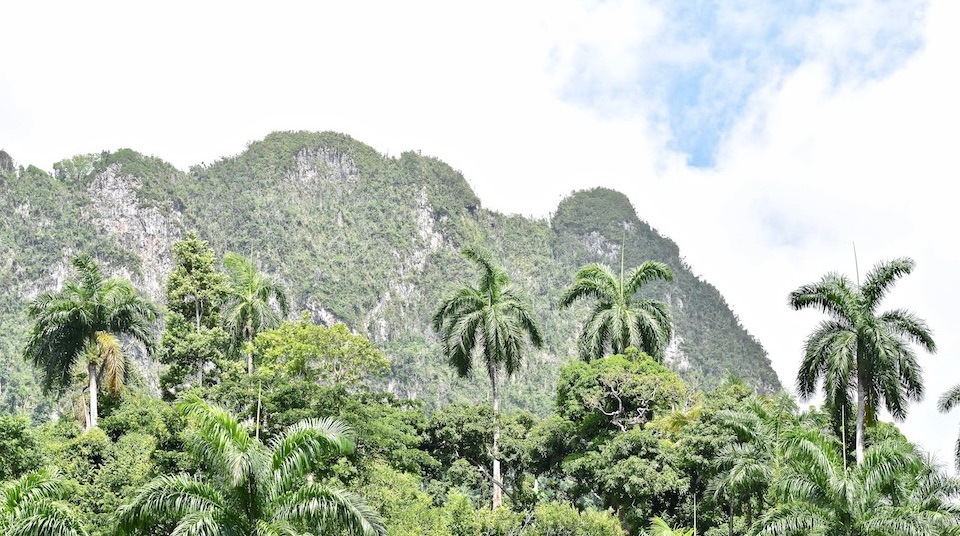 El Yunque's flora and fauna
You can't imagine the high levels of endemism enriching El Yunque's slopes. Among the species living solely on this mount there's the Gesneria glandulosa plant and flower as well as a palm tree you'll be able to see when you get to 300 metres above sea level and higher, called Coccothinax yunquensis.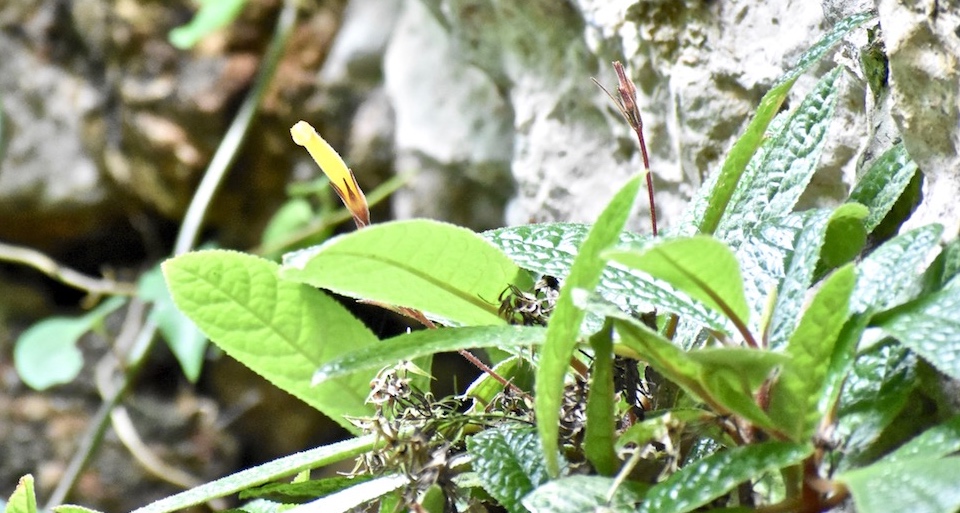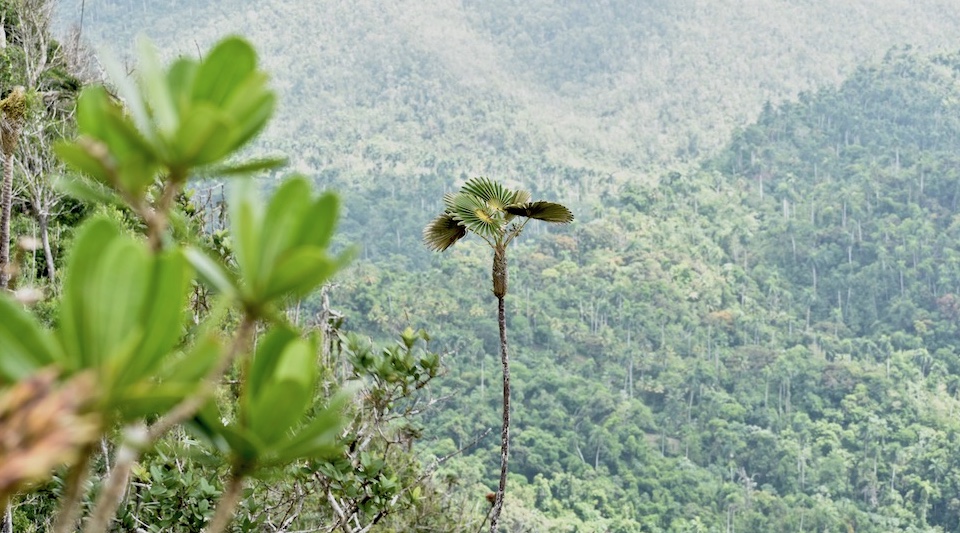 Ferns also show a wide range of species along the El Yunque trail, including tree ferns and other species such as this climber called Lygodium volubile. The hike to the top will also allow you to appreciate other exquisite flora species like the Phyllanthus epiphyllanthus).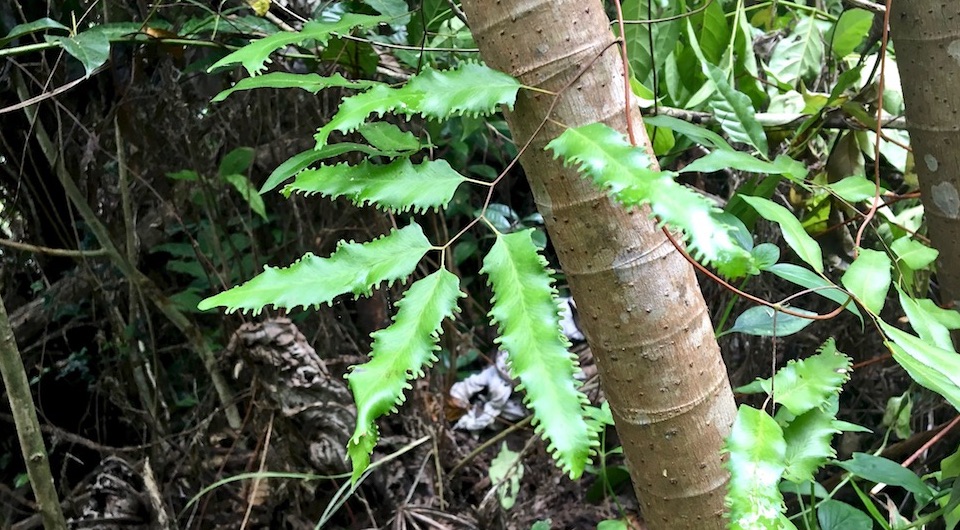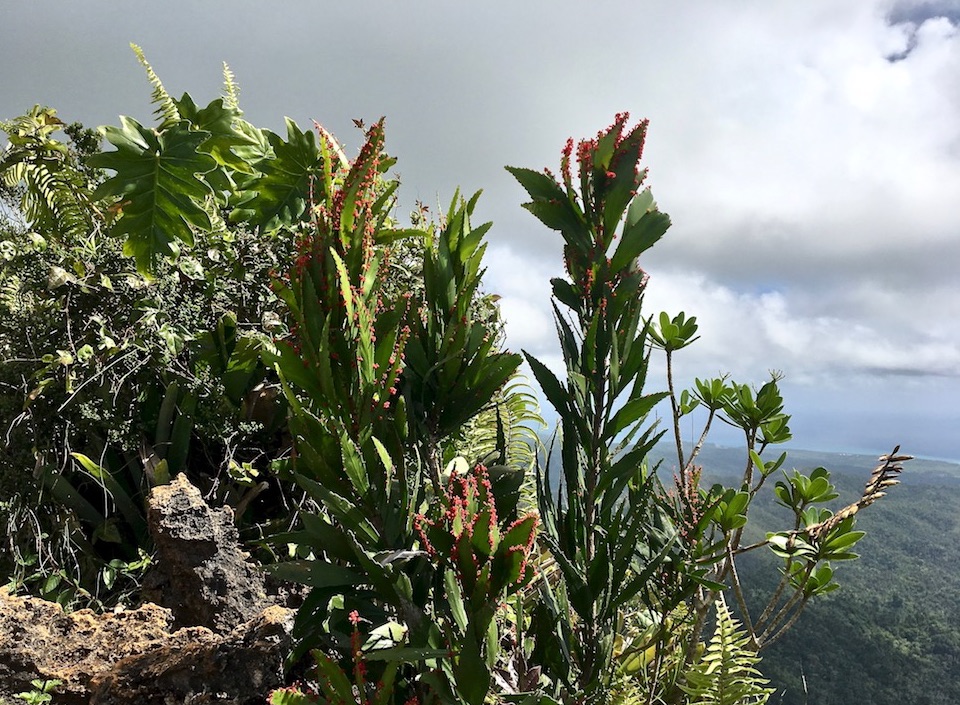 If you like wild tropical flowers, we recommend you check out our post with more information about the orchids that inhabit El Yunque. This one here is minute but beautiful and it is endemic to the mount's summit – it's called Lepanthes grisebachiana.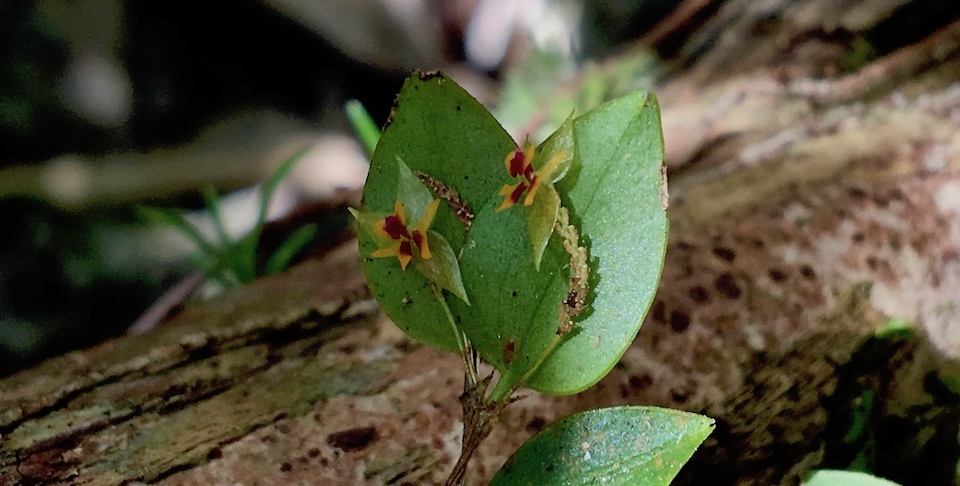 El Yunque Protected Area is home to little critters such as the Cocosi (Rhinocricus sp.). Butterflies also abound, such as this Agraulis vanillae, among many other species. And you'll also be able to see the Saltacocote lizard (Anolis baracoae), another endemic to our region.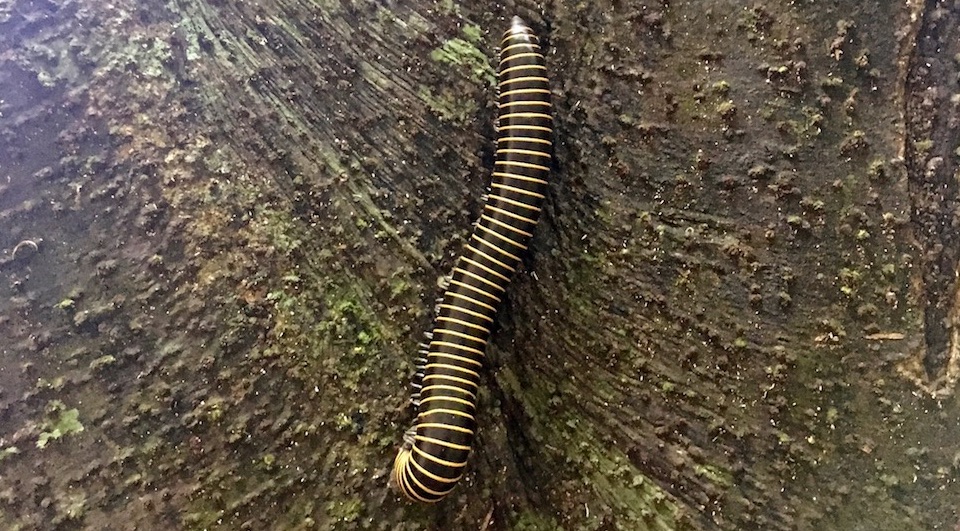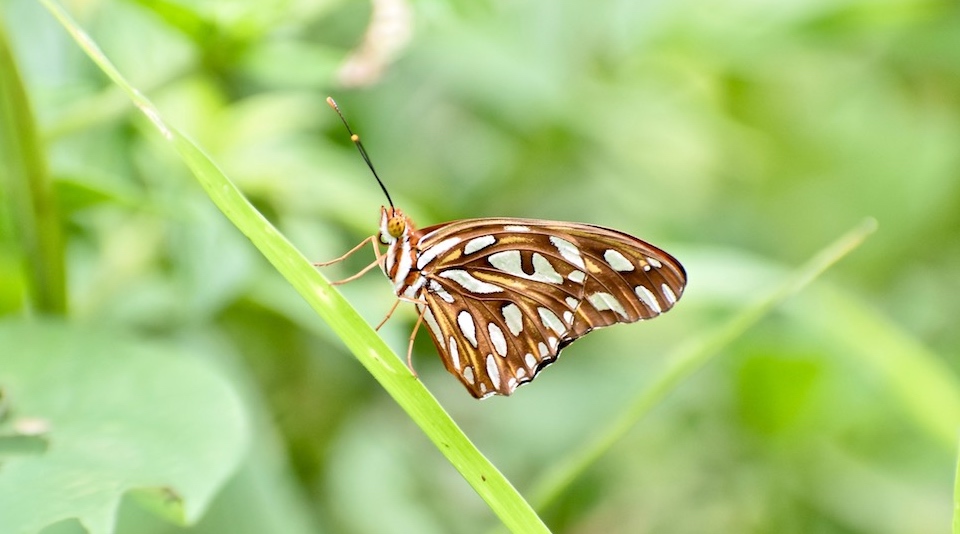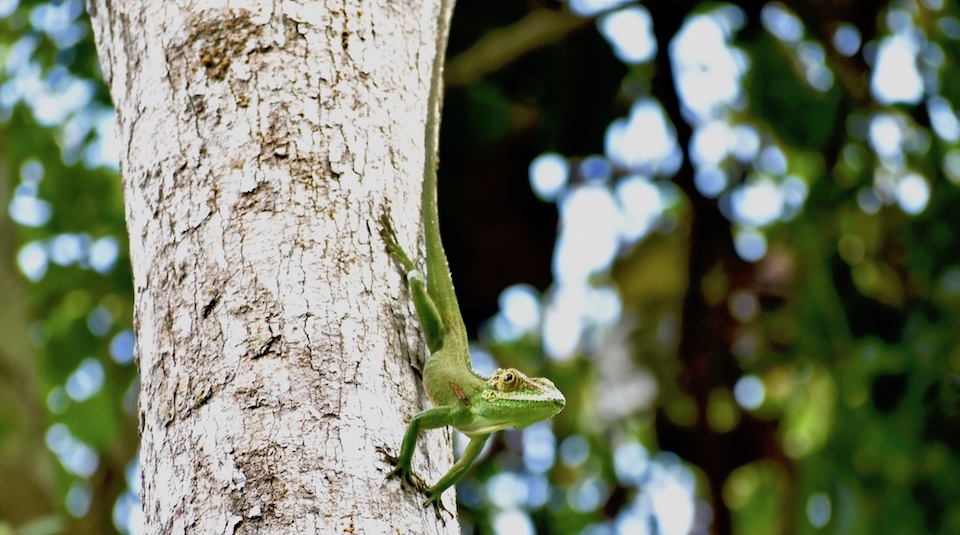 Birdwatchers will certainly love the opportunity to see Cuba's national bird – the Cuban Trogon (Priotelus temnurus), among other species.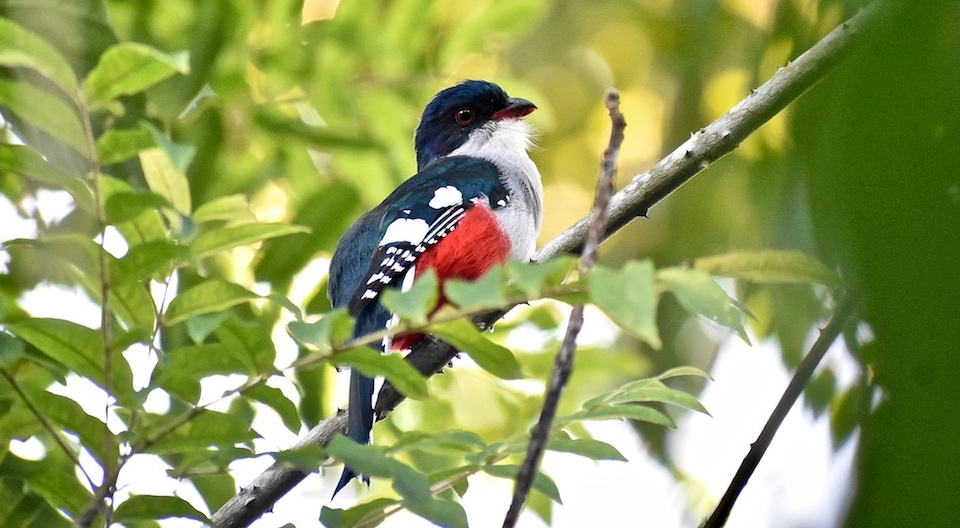 Your reward after the hike – cool down in river Duaba's crystal-clear waters
Make sure to bring your swimsuit to enjoy a good bathe in river Duaba, one of the most pristine in Cuba. You'll be able to visit and wade into river Duaba's waterfalls – an idyllic, not-to-be-missed place. And the Charco de la Piña natural pools, another unmatched spot to jump off the rocks into the deep, clear waters…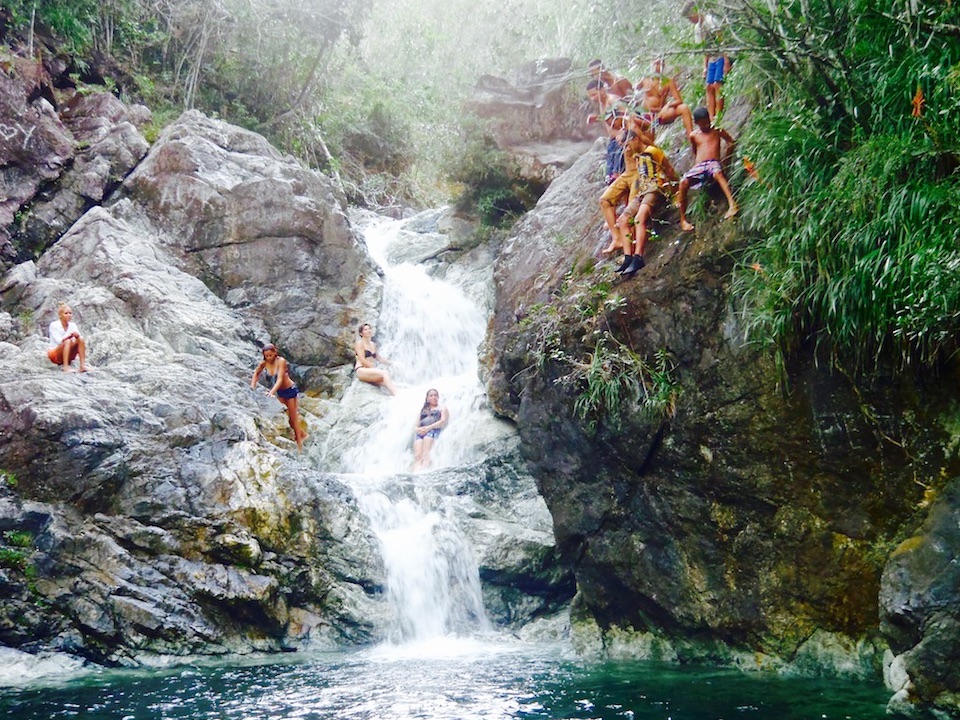 We invite you to check out our post with practical information about El Yunque, including budget details, recommended time to start the hike, etc.
Between turquoise blue and emerald green: the Pozo Azul karst
A 12-km long, off-the-beaten-path limestone trail takes you to a middle-of-nowhere sinkhole – an oasis where you can cool down and swim. These are the luminous shades of crystal-clear Pozo Azul!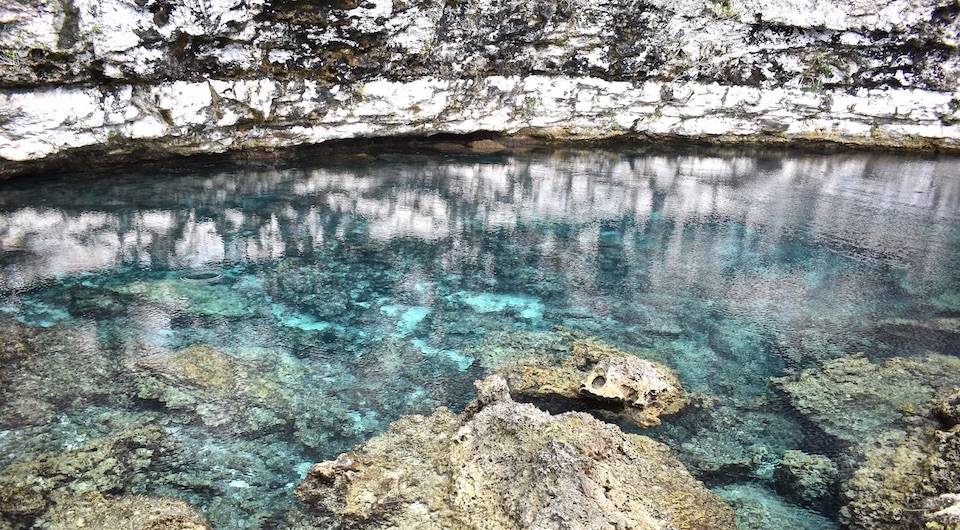 At the 6-km mark on the trail there's a lookout from which you can contemplate the evergreen forest that grows on this coastal karst, as well as Cuba's easternmost coastline right on the Windward Passage.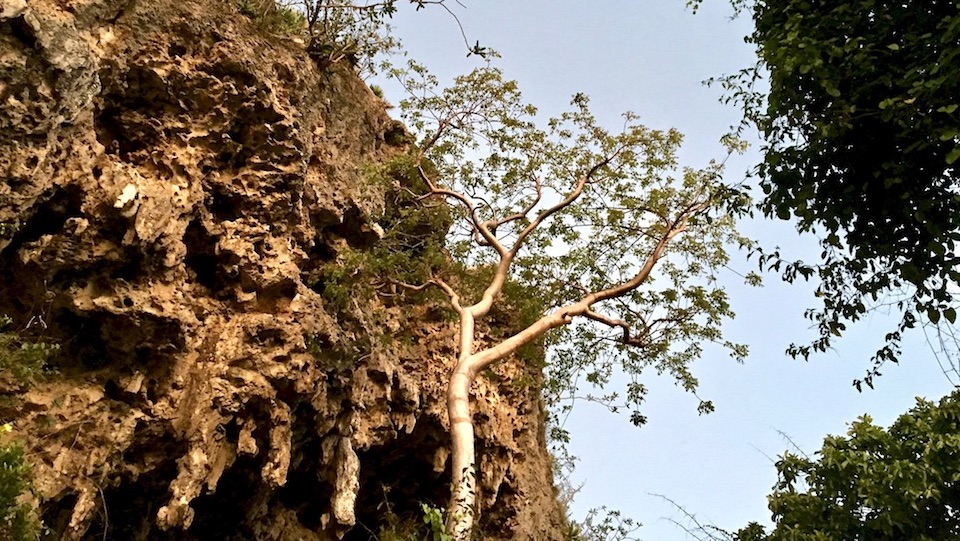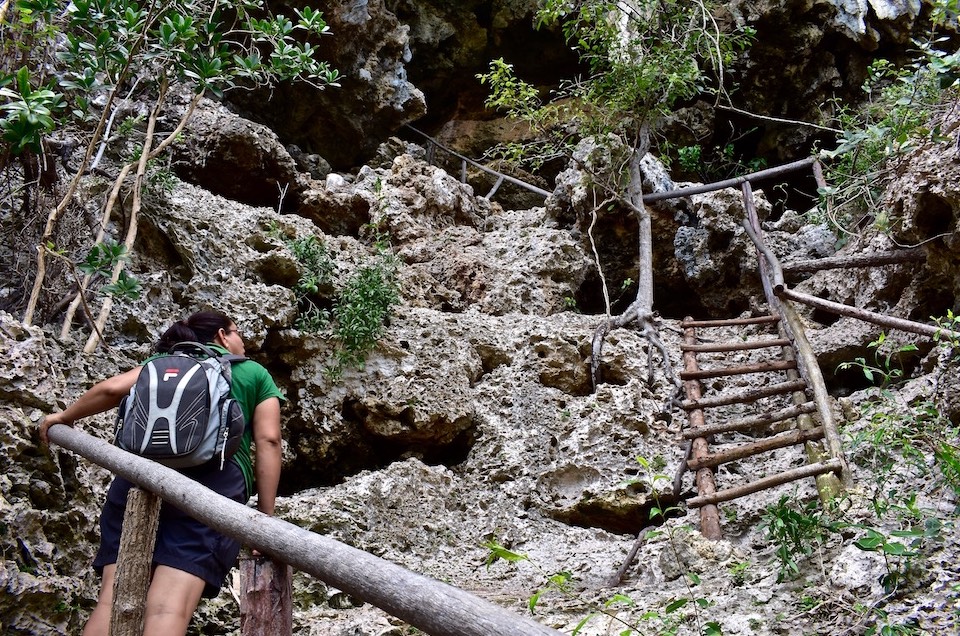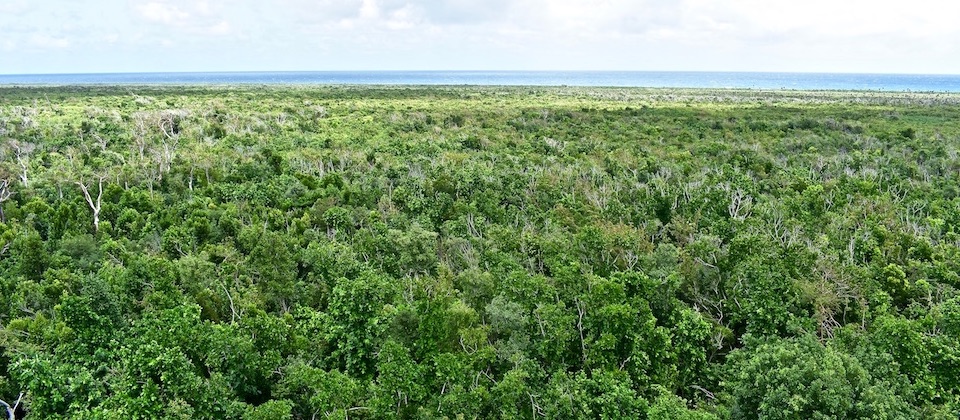 Flora and fauna on the Pozo Azul trail
The flora is dense and rich in endemic species. One of them is this Aristolochia peltata, a climbing plant that we show you here in blooming period.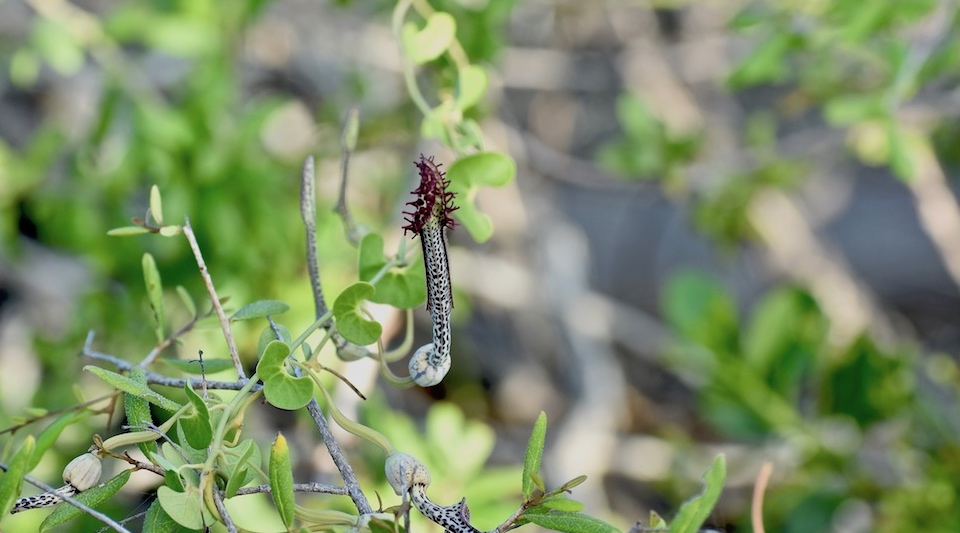 The fauna on this hike includes various species of crabs and a wide range of butterflies, such as the Parides gundlachianus, endemic to Cuba.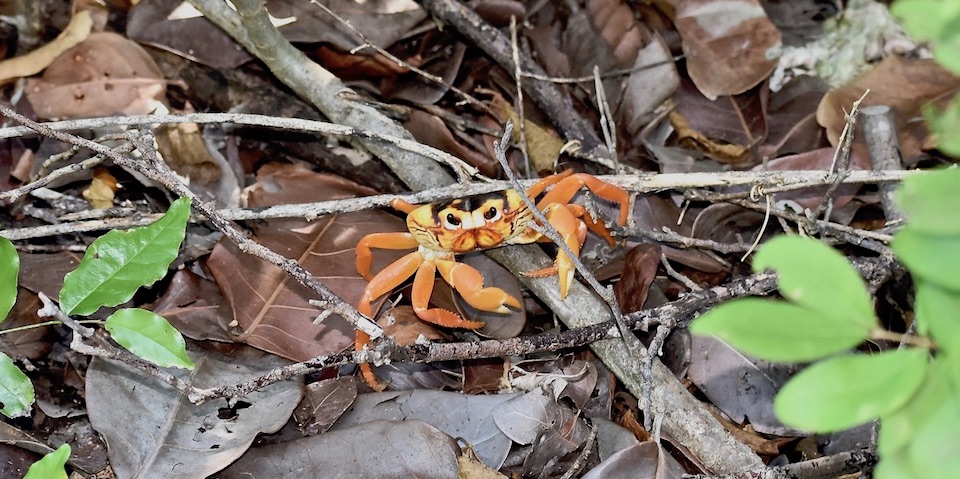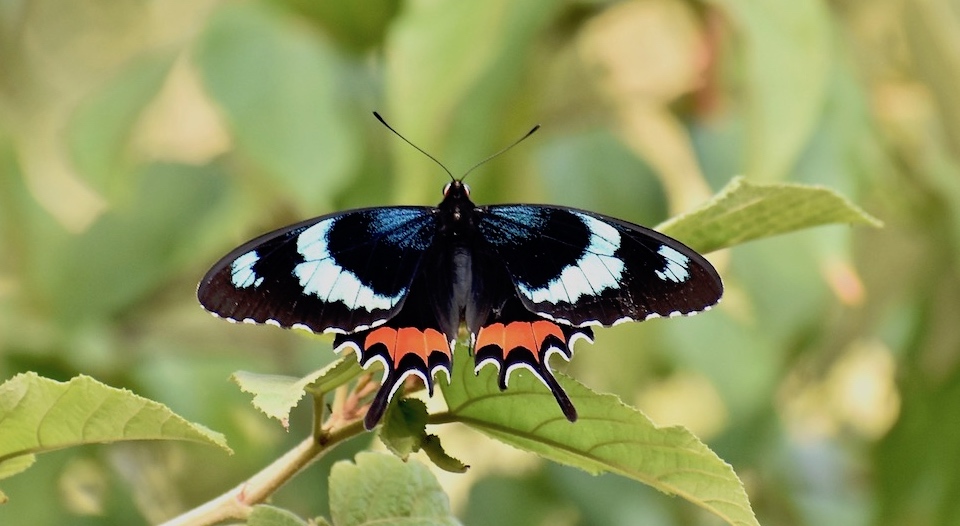 You can find out more about the birds you can spot on the trail to Pozo Azul. Among them you'll see the authentically Caribbean Great Lizard Cuckoo (Coccyzus merlini).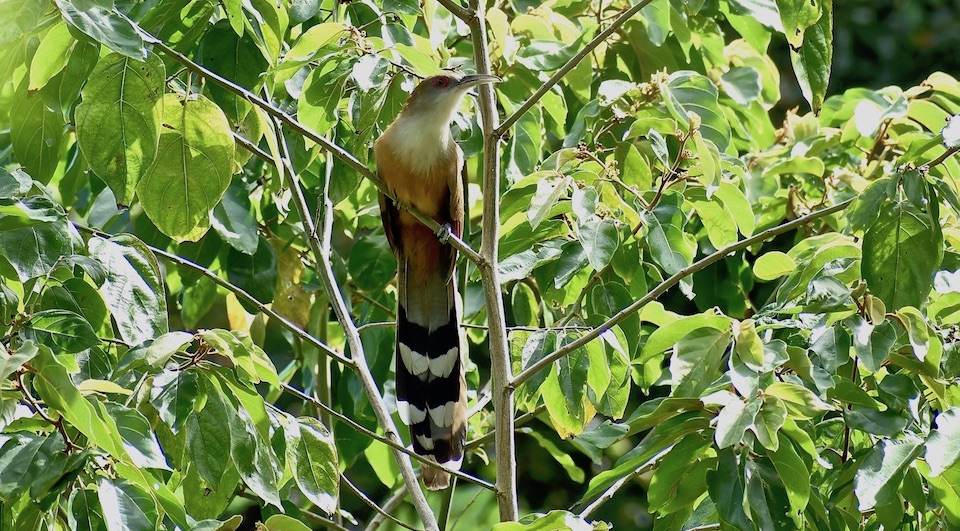 All along the trail, the limestone rock formations and the tree roots will offer you peculiar views.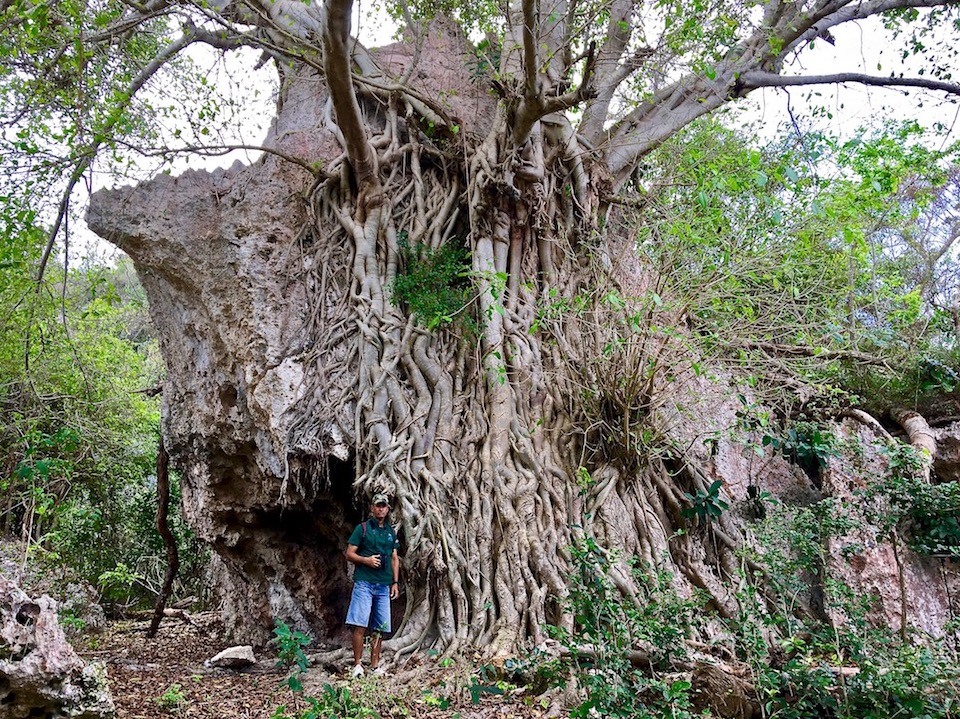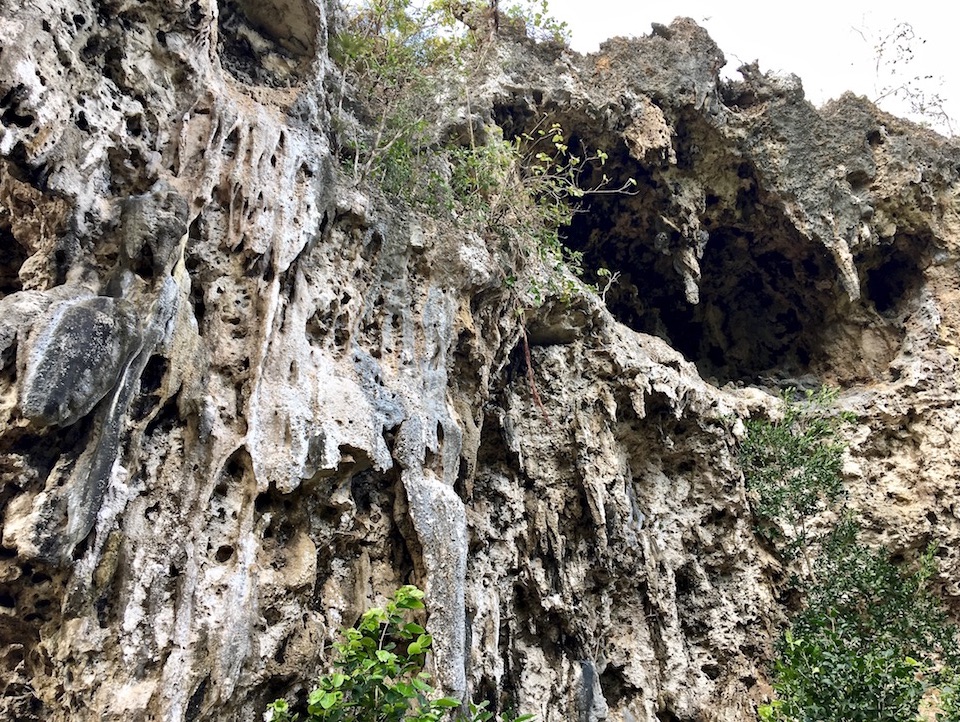 And at the end of the hike, your major reward: Pozo Azul, surrounded by large ferns of the Acrostichum aureum species.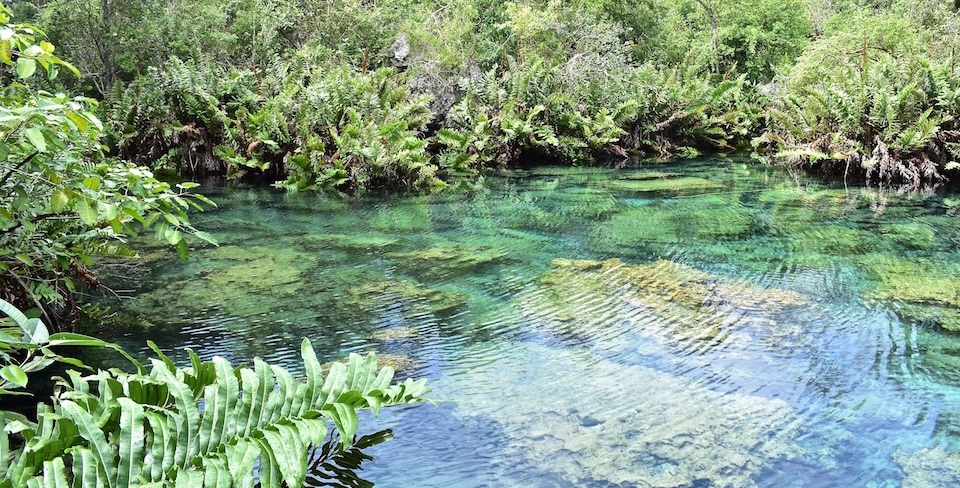 Can you keep a secret? Punta del Fraile…
Here's a secret: just a couple more minutes after Pozo Azul lies Punta del Fraile – and its landscapes are certainly worth a few more steps.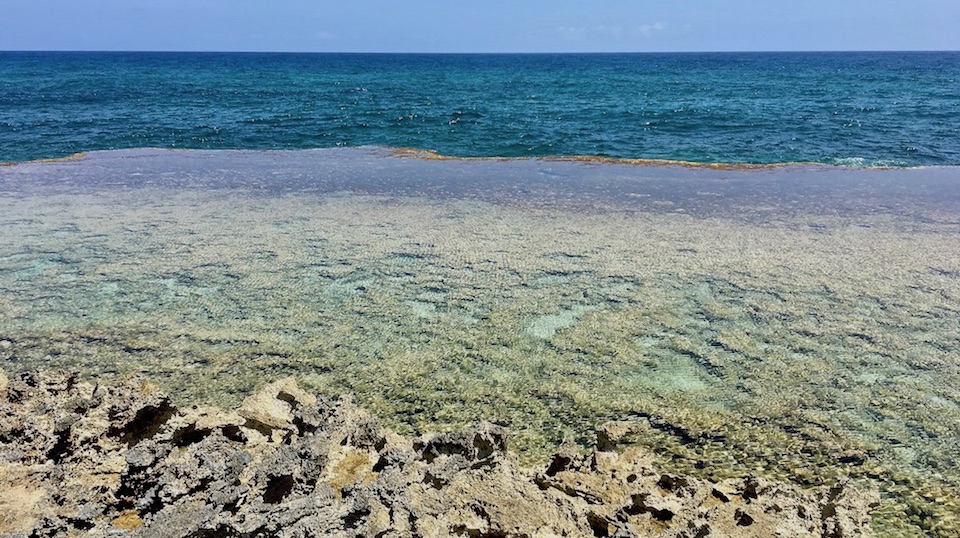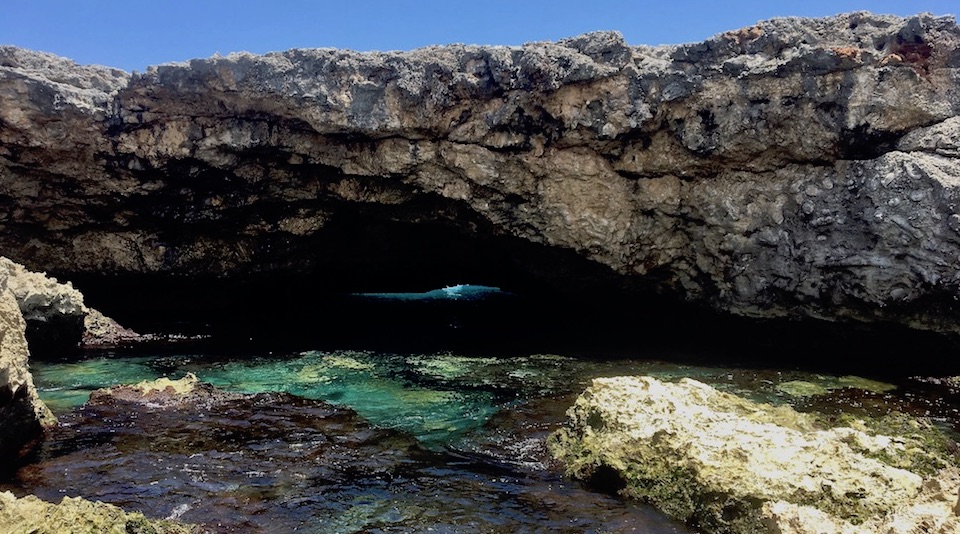 We invite you to check out our post with practical information about Pozo Azul, including budget details, recommended time to start the excursion, where to have a great meal, etc.
On the Caribbean's arid coast: the Maisi-Caleta Ecological Reserve
If road trips are your thing, you shouldn't miss this one-day circuit around the Baracoa and Maisi region, at the island's easternmost tip. The Guantanamo province southern coast between Cajobabo and Punta de Maisi offers you amazing landscapes and karsts, on top of Cuban endemic orchids, birds, iguanas and colourful tree snails!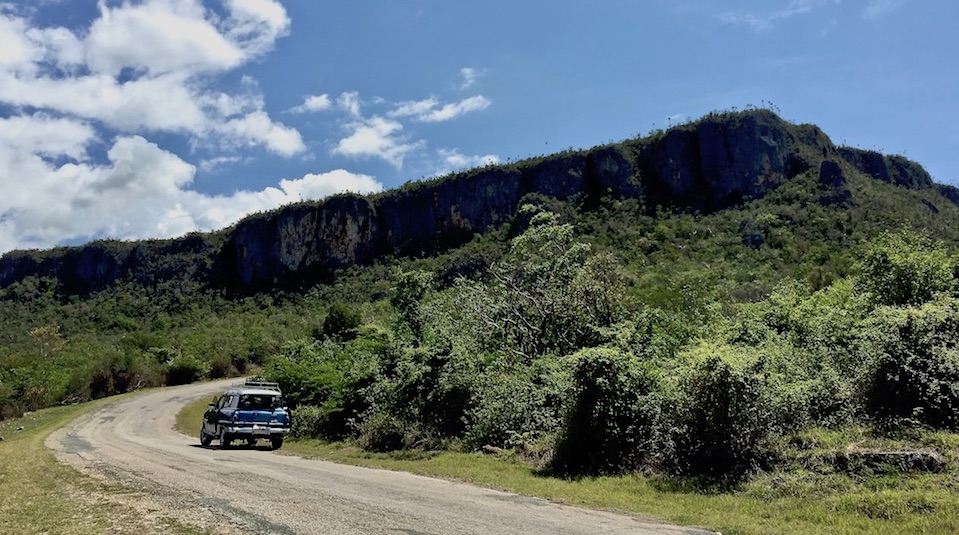 When you arrive at Cajobabo you'll be able to visit the historical site where Cuba's great writer and hero José Marti disembarked in 1895 to relaunch the fight for independence. Besides its historical value, the site features a beautiful karstic landscape: boulders on the beach, sheltered by a 70-meters high, multi-layered cliff.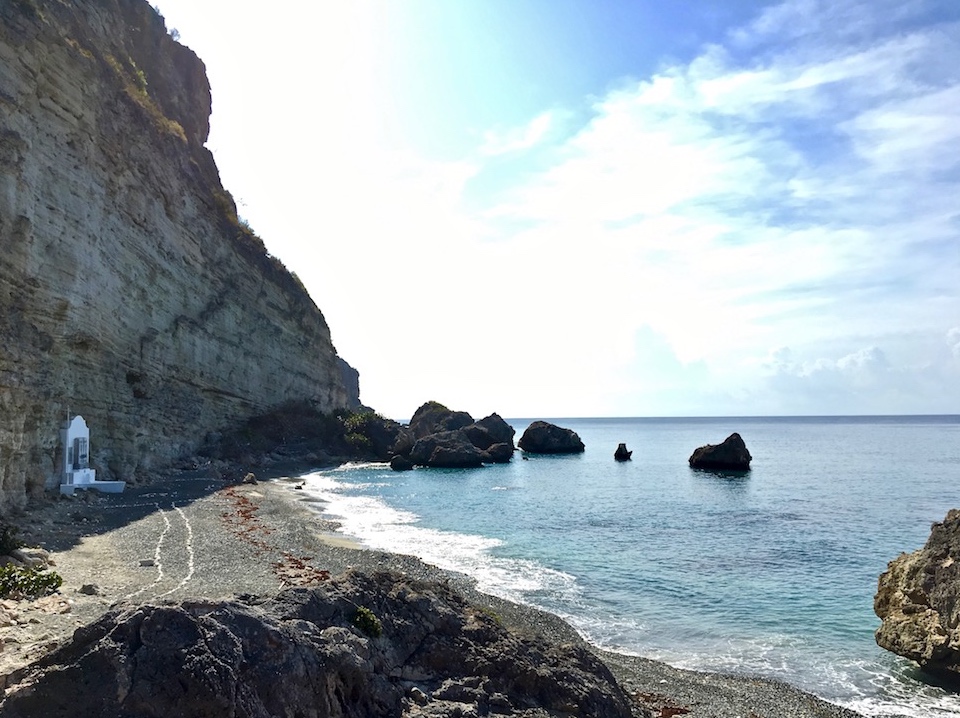 During this road trip you will drive (or be driven) through the Maisi-Caleta Ecological Reserve, arguably the protected area least visited by travellers who come to Cuba. This a zone of limestone terraces by the sea.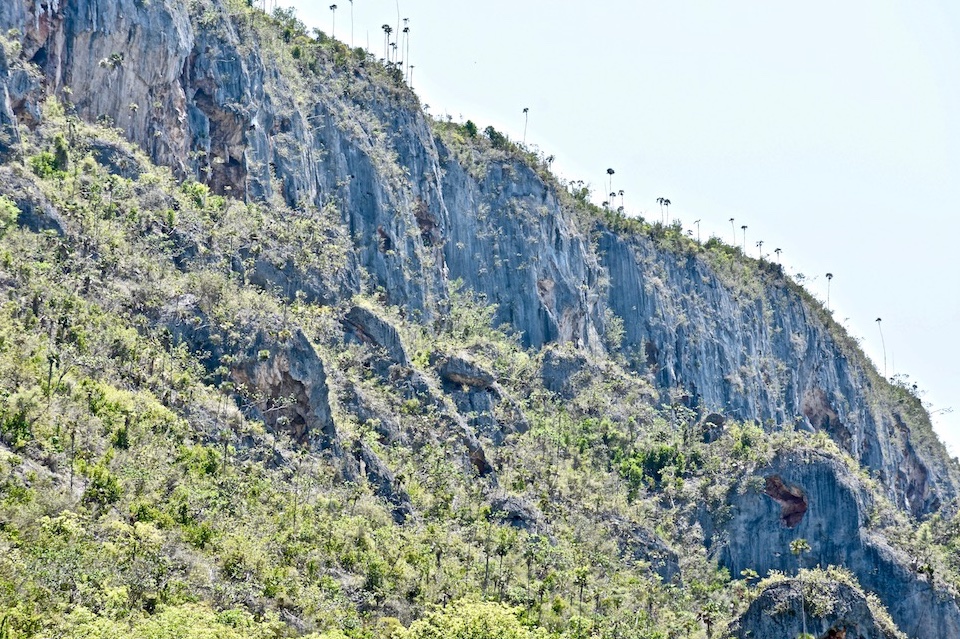 These quaternary uplifted terraces have been recently designated by the International Union of Geological Sciencies as one of the world's first 100 Geological Heritage Sites. Such sites are recognized ask key places with substantial relevance for geological sciences.
Flora and fauna on Maisi's southern coast
The views alone are worth the trip, but the rich endemic xerophytic flora and fauna on these karsts are without a doubt an additional attraction. Here you can see palms of the Coccothrinax genus and, among the local orchids, the Tolumnia guibertiana – all unique to our country.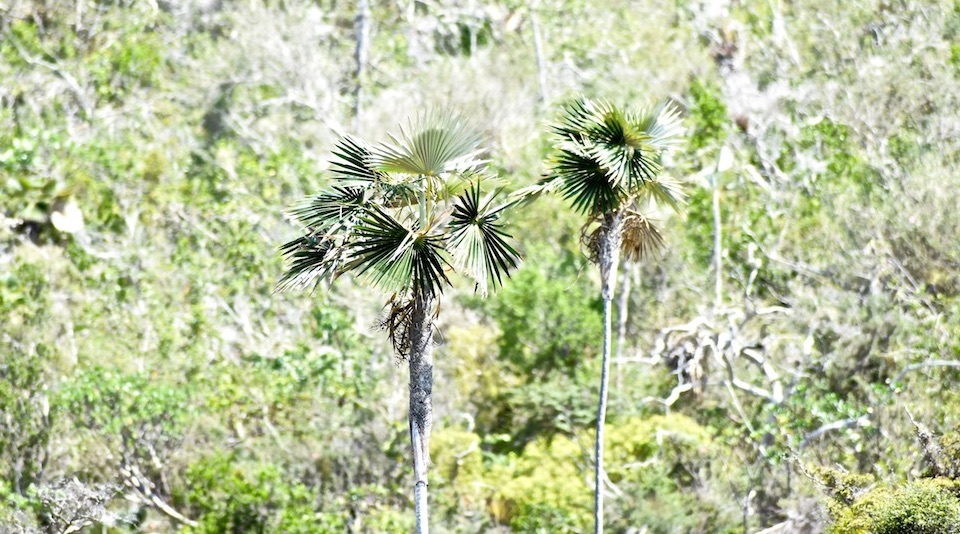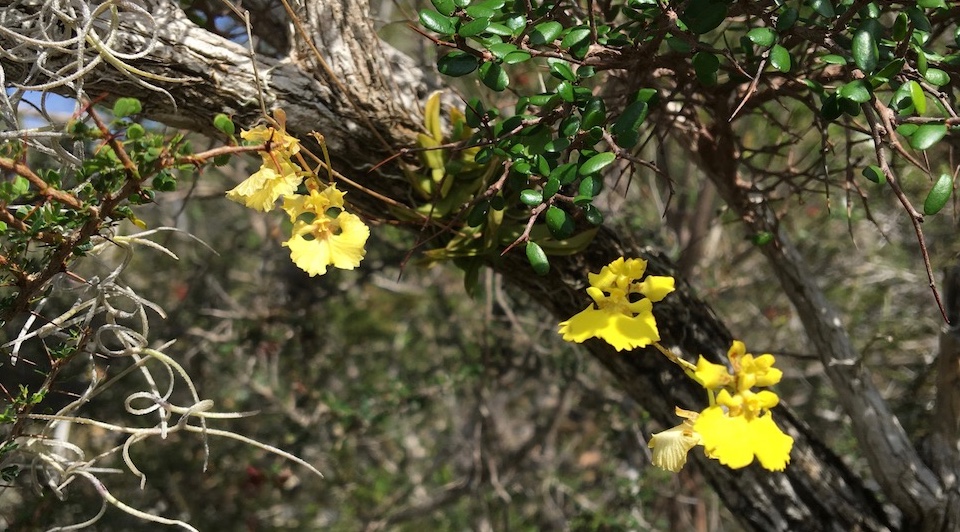 The local terrestrial molluscs include an interesting variety of genus and species. Among them, you'll be able to appreciate snails of the Coryda and Macroceramus genus, but also two subspecies of the famous Polymita picta snail (versicolor and iolimbata), which are unique to Cuba's far east wilderness.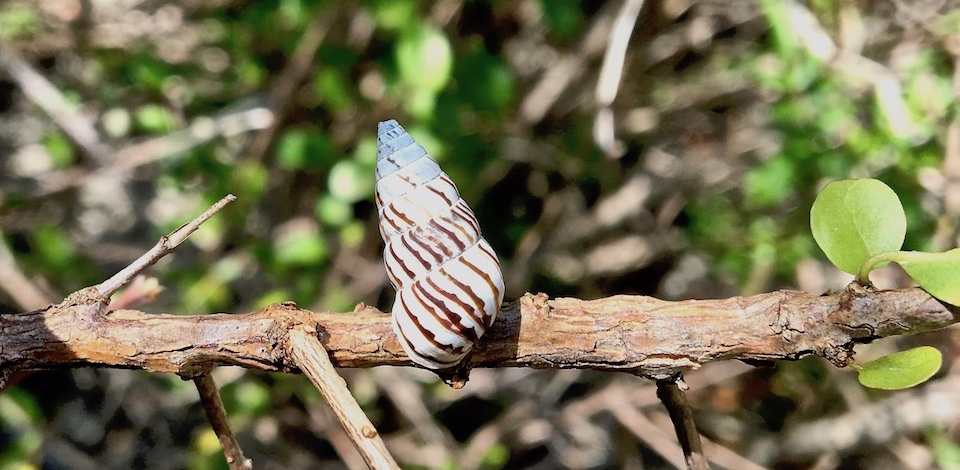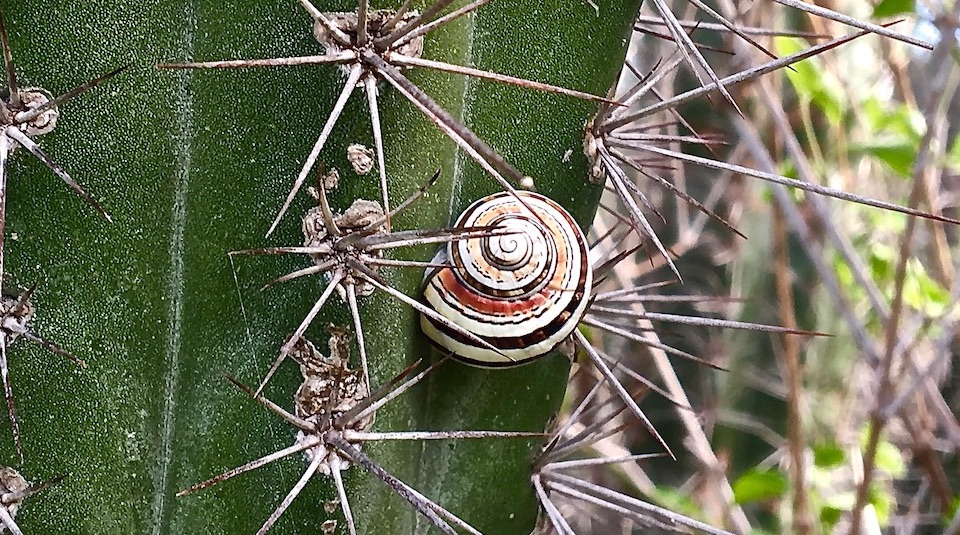 Some uniquely Cuban birds will also be waiting for you. Here we show you two of them: the tiny yet feisty Cuban Gnatcatcher (Polioptila lembeyei) and the graceful and rare Cuban Sparrow or Zapata Sparrow, particularly the subspecies (Torreornis inexpectata sigmani) you can only see on Guantanamo's southern coast.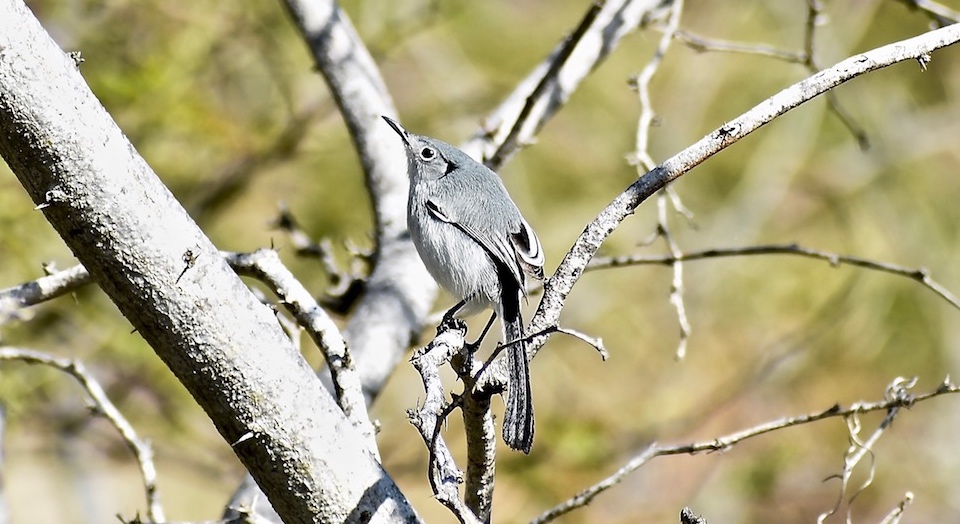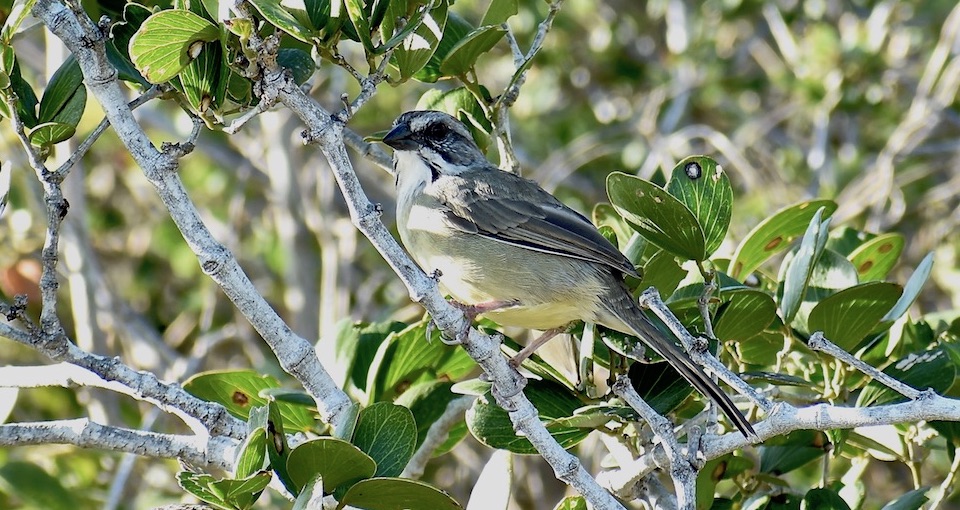 An adventure at the islands' end
Exploring these coastal karsts in thinly populated areas is an authentic adventure in some of the wildest lands in the country – a true frontier experience for those coming to Cuba!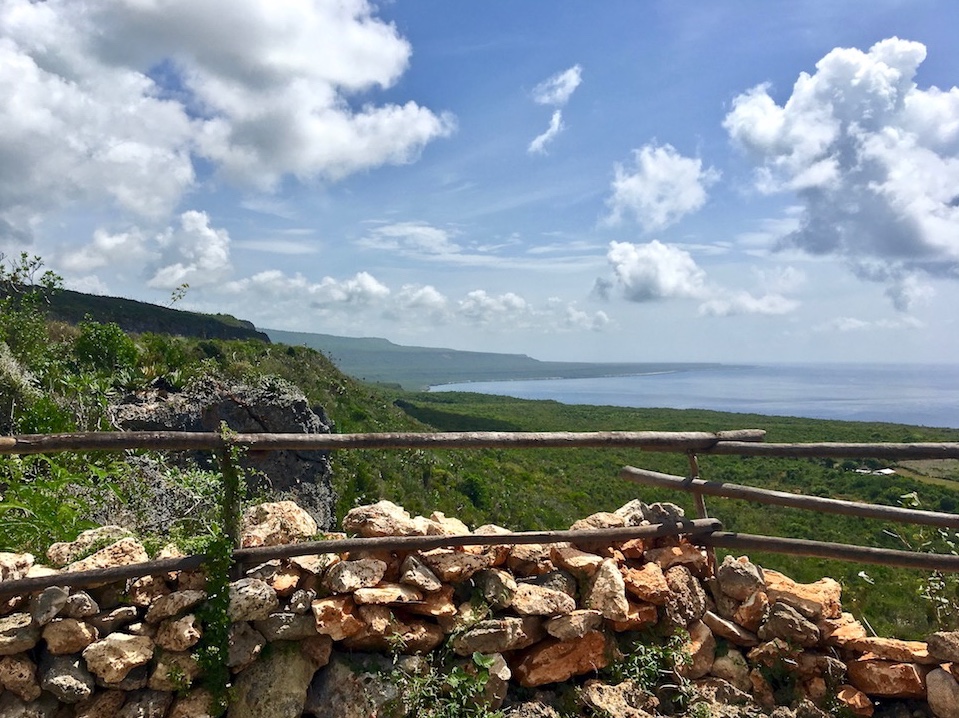 When you undertake the itinerary that we recommend for a one-day road trip in the region, the initial segment along the famous La Farola road meanders through the Sierra del Purial, where the rock substrate is serpentine. The subsequent two thirds of the itinerary are along mainly coastal and karstic areas.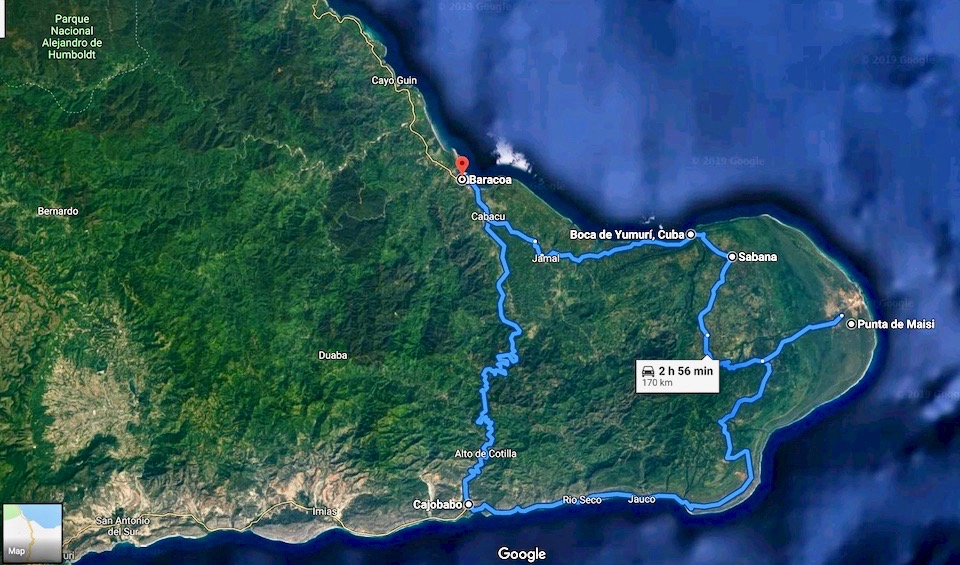 Here's the article where you can find more information and details about the one-day road trip around Cuba's easternmost tip, including budget details, a couple nice places to enjoy a drink or a great meal, etc.
Other beautiful karstic areas in Baracoa
Two more beautiful karstic areas can be discovered in the context of other one-day excursions. If you go to Cajuajo Beach or to Alexander Humboldt National Park you'll be able to appreciate these spectacular sites.
Boca de Boma
There's Boma Bay and the Cueva de la Vigía archaeological site (also known as Cueva del Cacique), which can be part of a very special morning stop on your way to a nice afternoon at the little visited Cajuajo beach.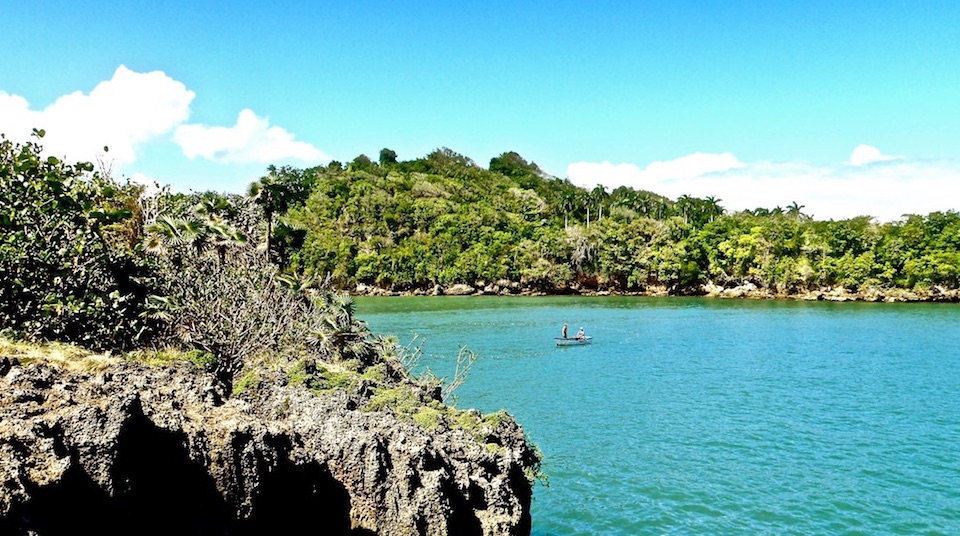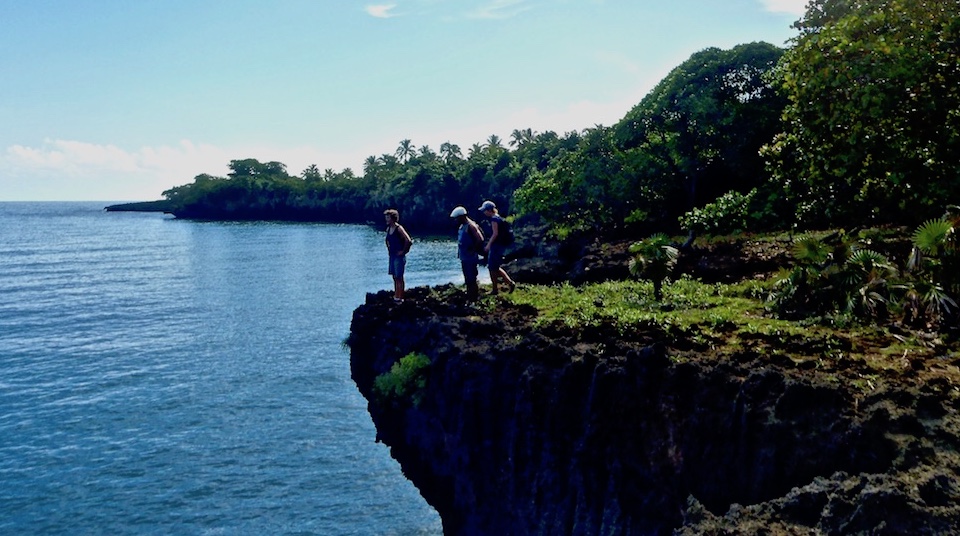 If a day of cyclotourism in Baracoa sounds like an attractive thing to do, this excursion is an excellent option.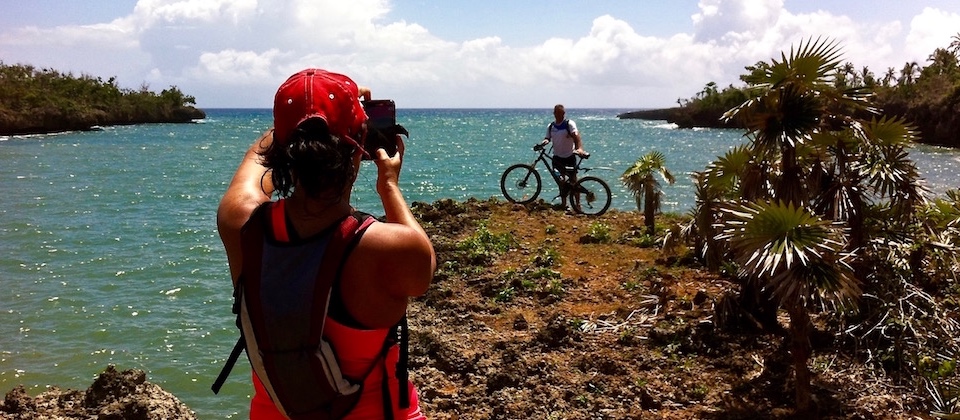 Taco Bay
As the maritime portion of Alexander Humboldt National Park, Taco Bay is a biogeographic jewel.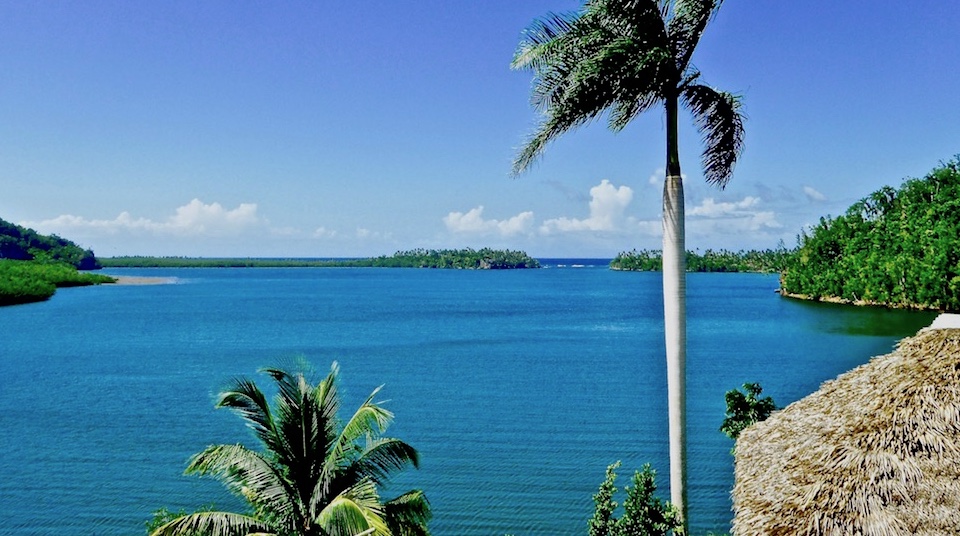 A boat ride takes you to mangroves and to the bay's karstic mouth. This can certainly be combined with a short trail in Humboldt Park's forests, such as the El Recreo trail.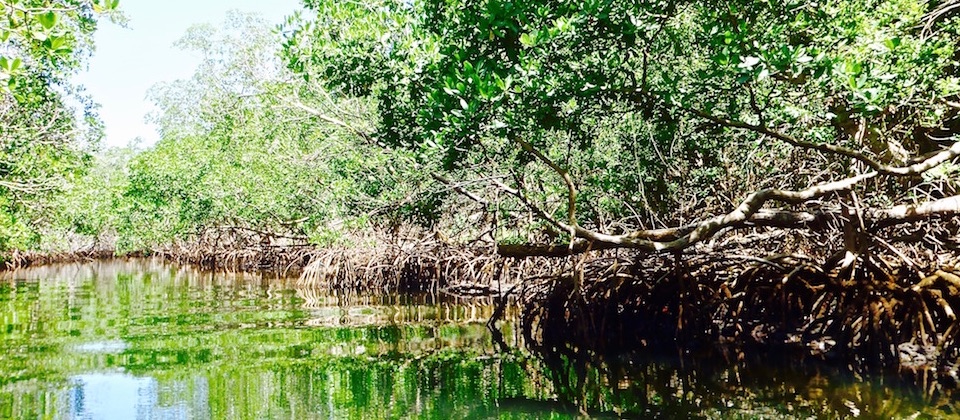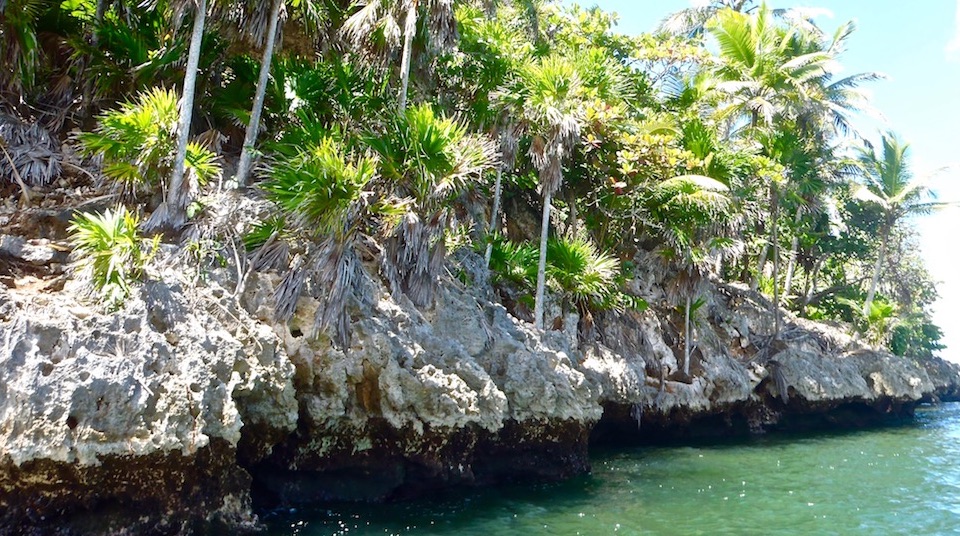 Did you know?
Limestone rock is ubiquitous in the terraces, plateaus and mountains of Baracoa and Maisi. In his book La Cuenca del Toa, the great Cuban geographer and ecologist Antonio Núñez Jiménez describes the Great Karstic Plateau of Baracoa, which encompasses all the areas we have highlighted in this post and that you can visit when you come to our region.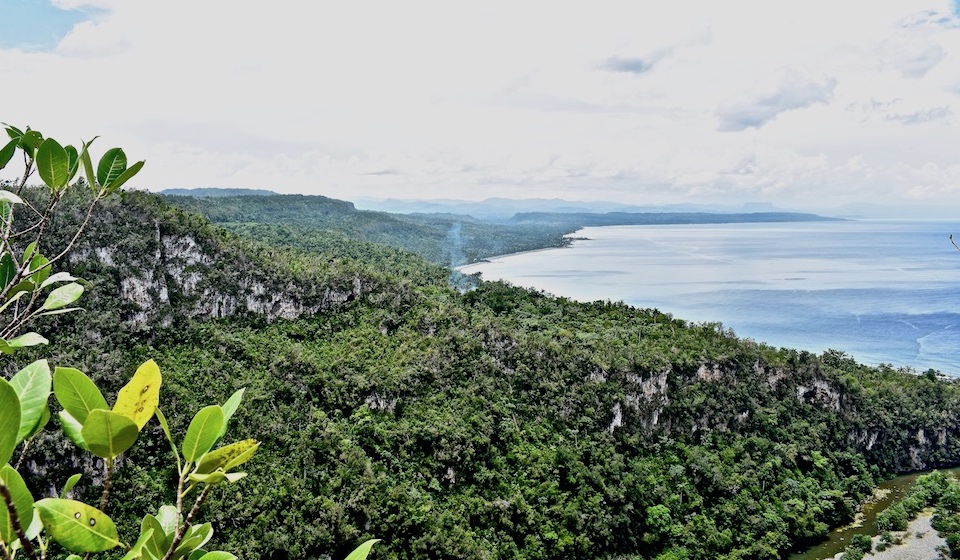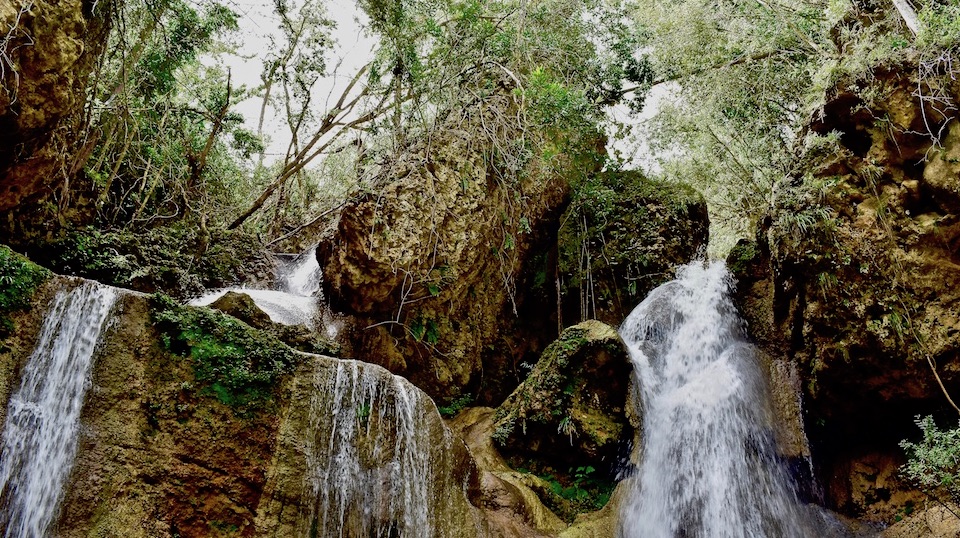 The limestone formations of the Great Karstic Plateau of Baracoa go back to the Miocene. They feature terraces laid out as 'stairs', in some places up to 15 levels of them and with cliffs up to 70-meters high.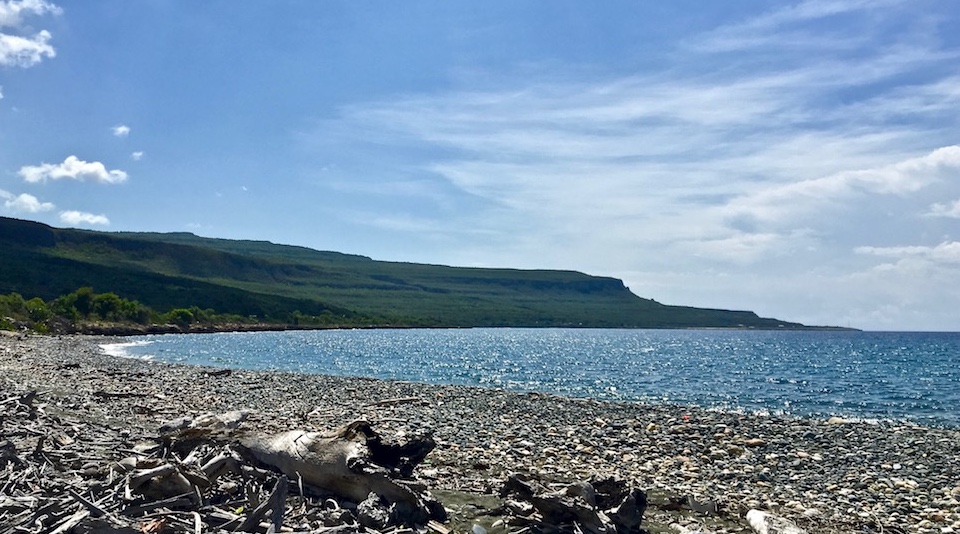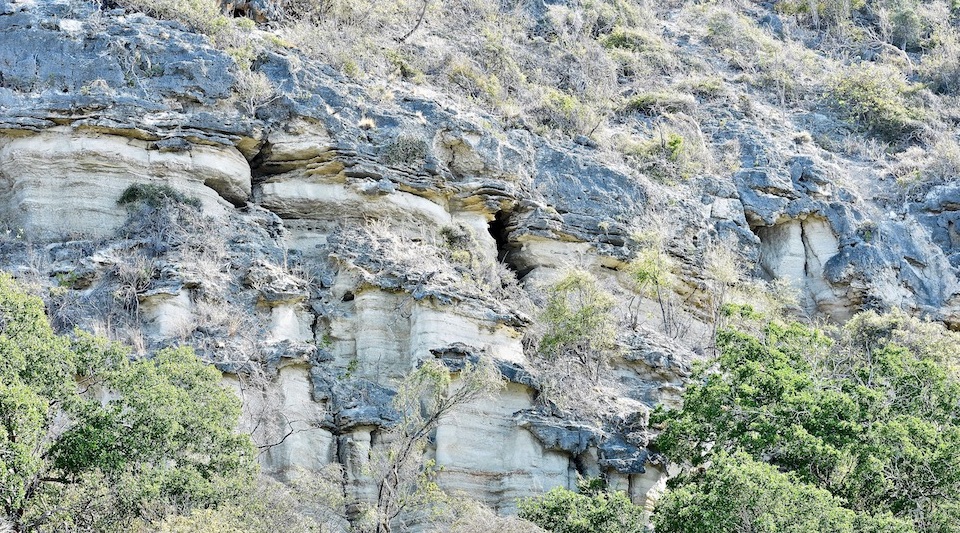 Archaeology in Baracoa and Maisi's karsts
These karsts, both coastal or in the hinterland are rich in archaeological remains that speak to the life of the Taino people before the Europeans came to this continent.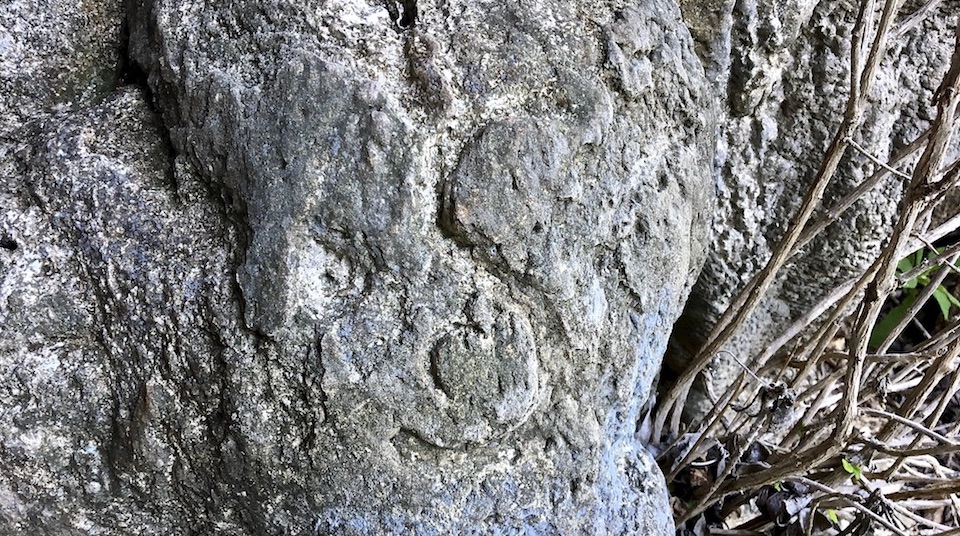 By the way: the Cuevas del Paraiso Archaeological Museum is located within a natural cave system in the Seboruco karst, right in town in Baracoa – a visit can take 30 minutes.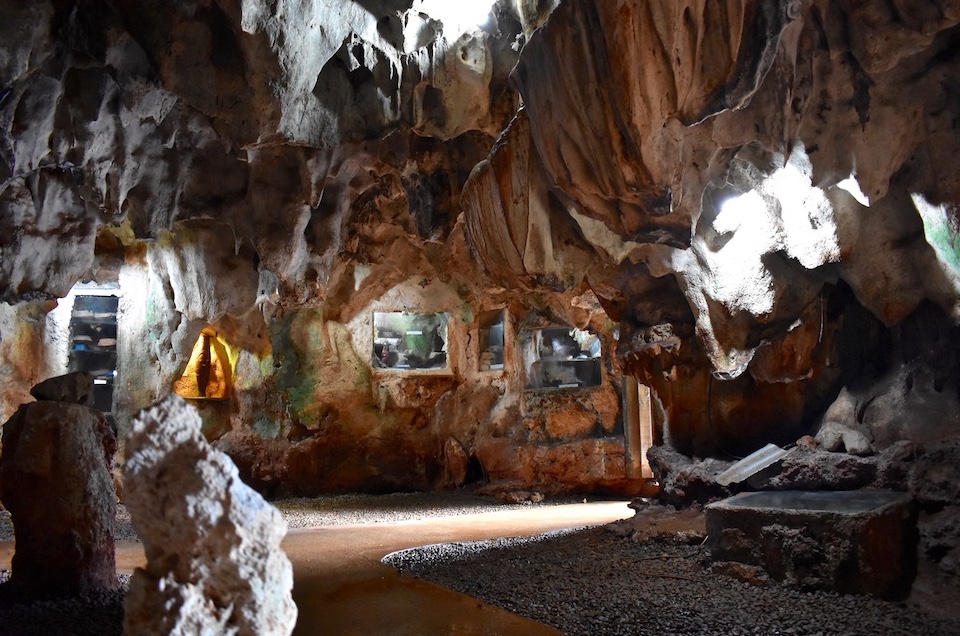 Here's some good advice
While the terraces and karsts on the northern coast of Baracoa and Punta de Maisi feature dense evergreen forests, the southern coast between Cajobabao and Punta de Maisi is extremely arid, but it deploys a unique and very beautiful thorny, xeromorphic flora.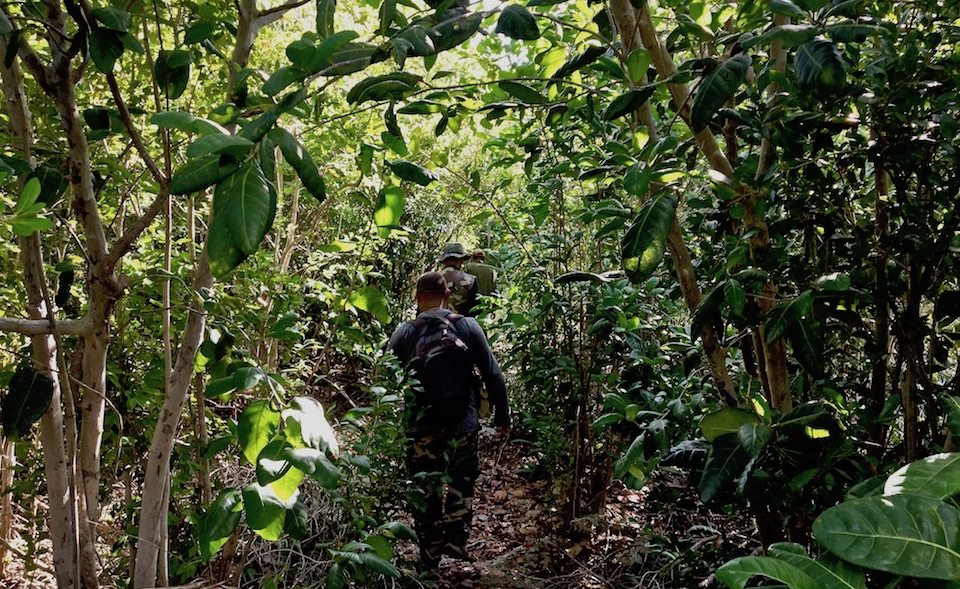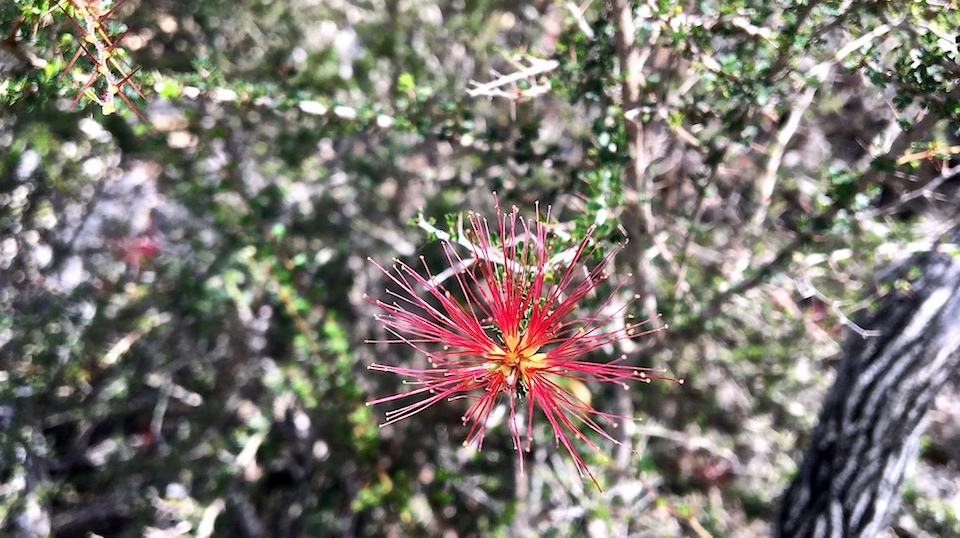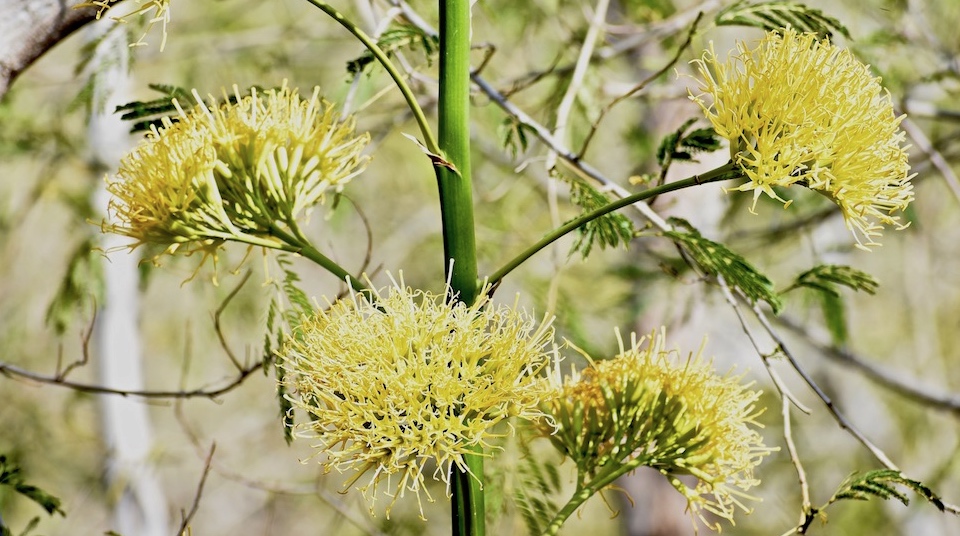 In order to truly and thoroughly appreciate the flora and fauna riches on which we have barely touched in this post, we recommend you use the services of a specialized guide. In Baracoa, we have excellent experts in birds and flora observation, including orchids – and they'll be able to show you species you would otherwise miss.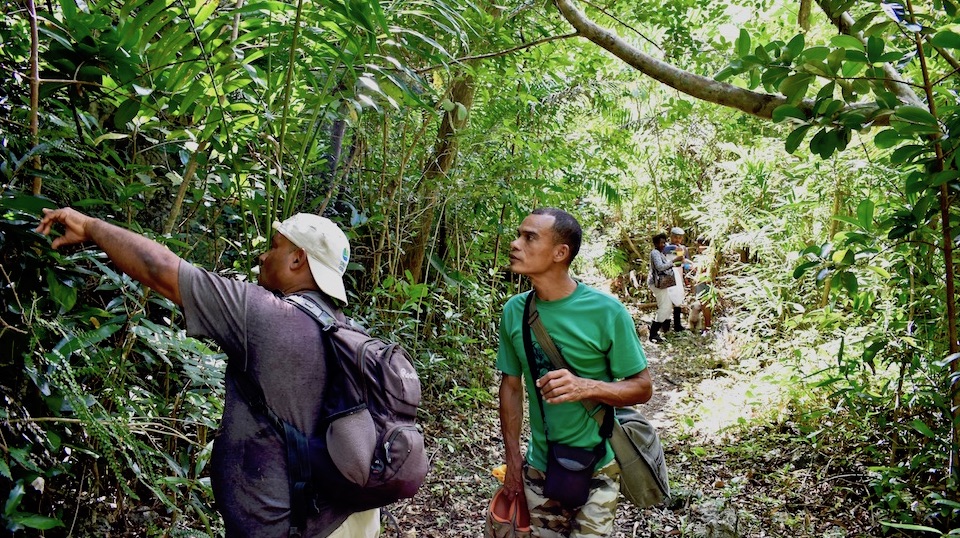 ---
Activities, Baracoa, Sustainable Tourism
Tags: Adventure Tourism, Ecology, Forests, Hiking, Nature Tourism, Off the beaten path, Trails