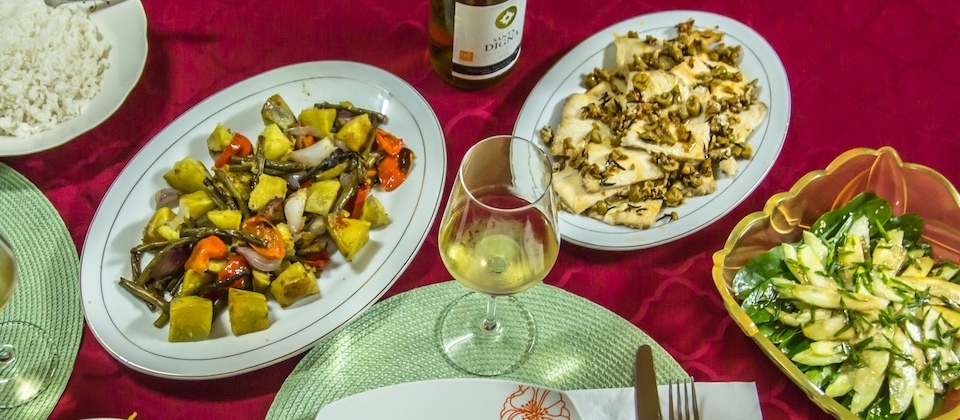 Published on 11 March, 2018.
---
Who says Cuban food is bad! Our guests will tell you otherwise – in Baracoa (and at Villa Paradiso!) food is delicious and there's something for everybody – vegetarian, vegan folks or meat and seafood lovers.
Villa Paradiso offers its guests breakfasts and dinners with the best of Baracoa and Eastern Cuba's traditional and creative cuisine, all prepared with fresh, organic ingredients from the region.
Start the day with fresh fruit and great coffee, tea or hot chocolate…
A good breakfast is key to fully enjoy your vacation, the more so if your day includes a hike in one of Baracoa's protected areas or a cycling excursion to explore the region.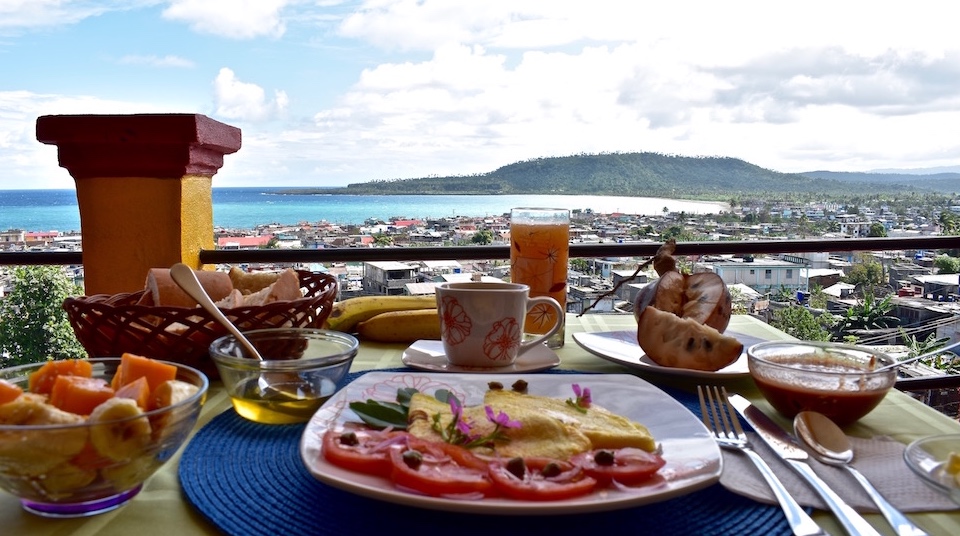 Nothing like waking up to enjoy an amazing view of the Miel Bay with a nice juice, fresh seasonal fruit, bread, home-made jam (no chemicals added), honey brought to town by nearby apiarists, butter, cheese, eggs any style…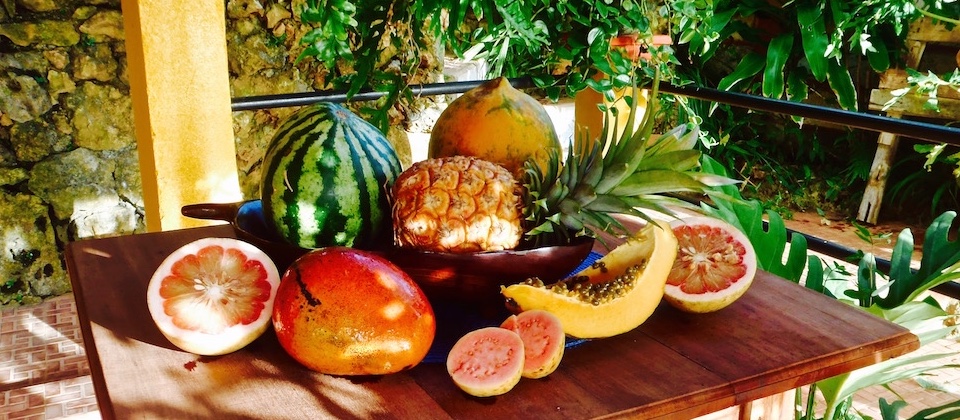 You can enjoy a delicious hot chocolate prepared with the excellent Baracoa organic cacao, a product that fine chocolatiers from many countries come here to look for.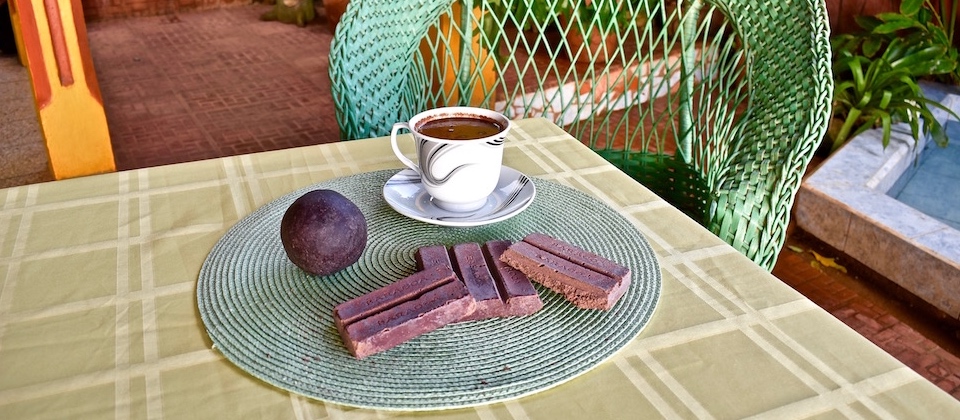 Or a green or black tea that we infuse with a fresh herb from our garden (such as anisito, sweet mint or peppermint) or other natural products from the region's farms – cinnamon, ginger, etc.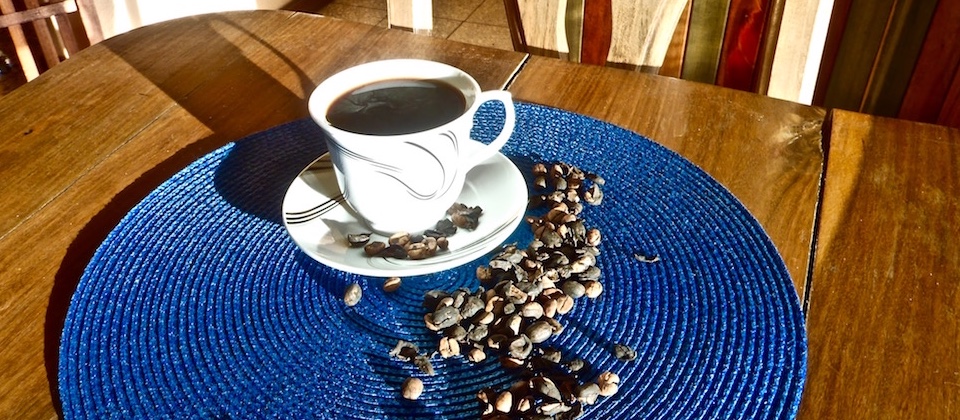 It can also be an exquisite organic coffee, locally roasted and ground in the traditional guantanamera manner, passed along for centuries from one generation to the next – in a cast iron cauldron on top of a wood fire.
Traditional (and creative!) Eastern Cuban cuisine
Straddling tradition and innovation, we prepare dishes to please all our guests whether they're vegan, vegetarian or meat, fish and seafood lovers. Oftentimes, our guests arrive in mixed groups of friends and our table will always offer a range of plates for everybody's tastes and preferences. (N.B.: if you'd rather not read the section on meat and seafood, we recommend you skip it and go directly to the part on veggies.)
Eastern Cuba's countryside cooking is one of our specialties. This style of dishes cannot be found at hotels nor on bigger cities' bed and breakfasts. We offer food you won't have tasted so far during your trip exploring Cuba, such as lamb stew, eggplant chicken or oven-roasted herbed pork.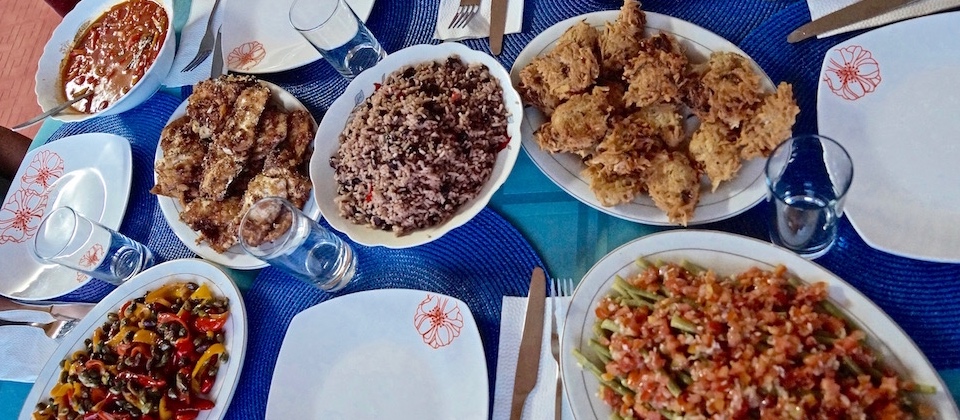 Baracoa has been unanimously lauded by travelers and travel guide books for its original and unique cuisine in Cuba. Here we use ingredients that are absent in other provinces' kitchens, including coconut and cacao. And at home, we creatively use a wide range of spices, herbs and condiments: basil, tarragon, parsley, chives, coriander, annatto, oregano, cumin, pepper, hot peppers…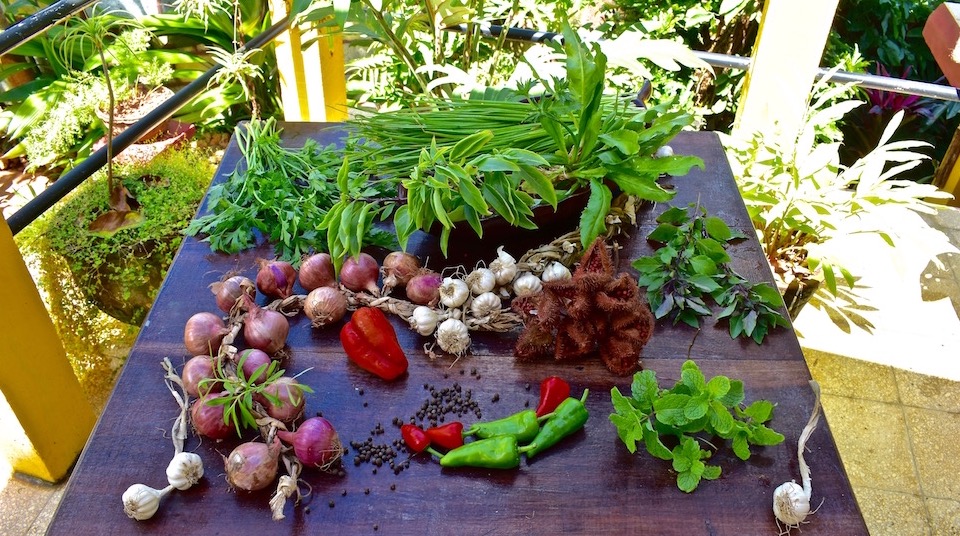 Gifts from the waves – fresh fish and seafood
Seafood and fish in Baracoa are prepared in various manners. One of them is the classic Baracoan coconut milk sauce that draws (with reason!) so many travelers all the way to the Easternmost tip of the island. But we also prepare our seafood "al ajillo" (grilled with garlic and smoky dried peppers), or flambéed in rum, or bathed in other kinds of sauces…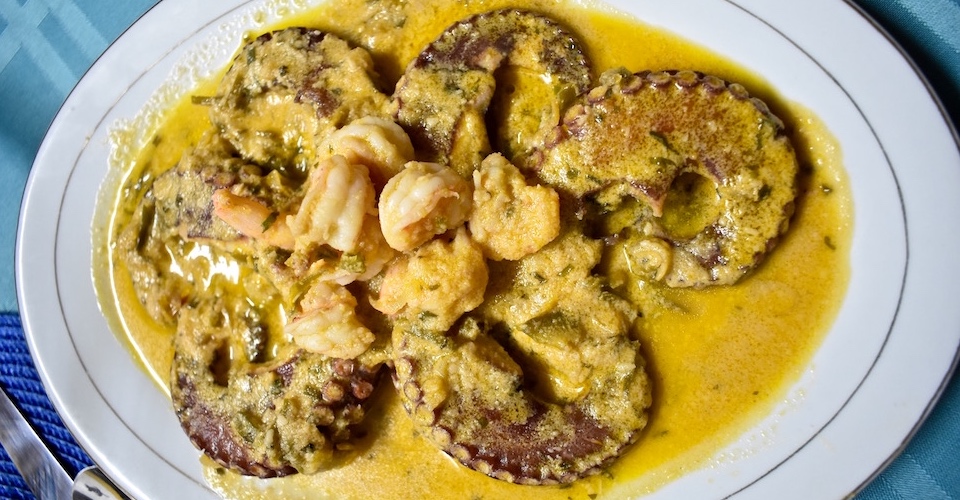 Most restaurants and casas particulares tend to serve swordfish (and other similar types of fish), whose flesh is rather dry and too compact. Although we may prepare it upon request, we prefer cooking mahi-mahi or red snapper instead, whose flesh is more tender and juicy.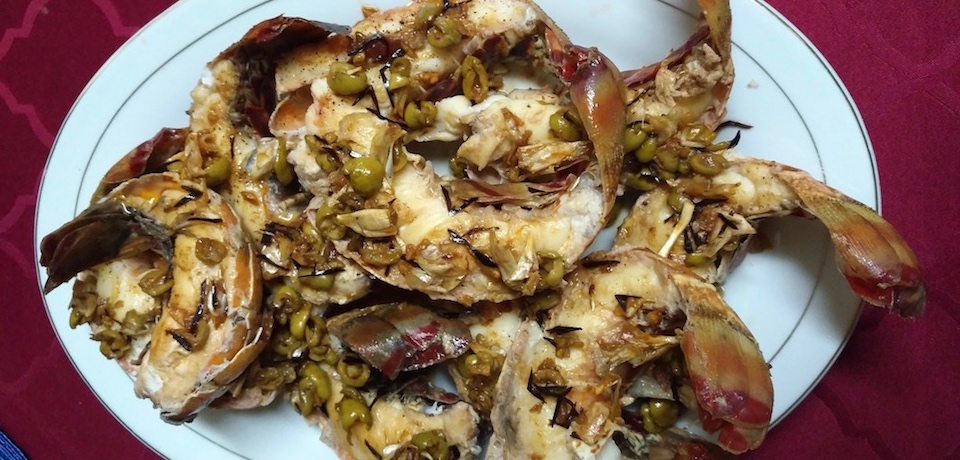 When it comes to seafood, our specialties include shrimp, octopus and lobster. Other options could be conch and the legendary tetí – a minute fish (not to be mistaken for fingerlings) that surges shoaling in the region's main rivers (the Toa, the Duaba and the Yumurí) when there's a full moon on certain months. Exquisite!
Vegetables are our specialty too!
Enough talking about meat and animals. Let's hear about the outstanding, delicious and healthy veggies we offer at Villa Paradiso. All of it is organic and produced at the region's gardens and farms. (N.B.: needless to say, our guests who eat meat and fish will also enjoy excellent vegetables at their table!)
Cuban traditional (and creative) meals always feature what we call "viandas". Viandas are vegetables comprising carbs, many of them rich in dietary fiber and a range of vitamins or potassium, such as sweet potato, squash or plantain, for instance. A large part of the viandas are root vegetables like cassava, taro or yam.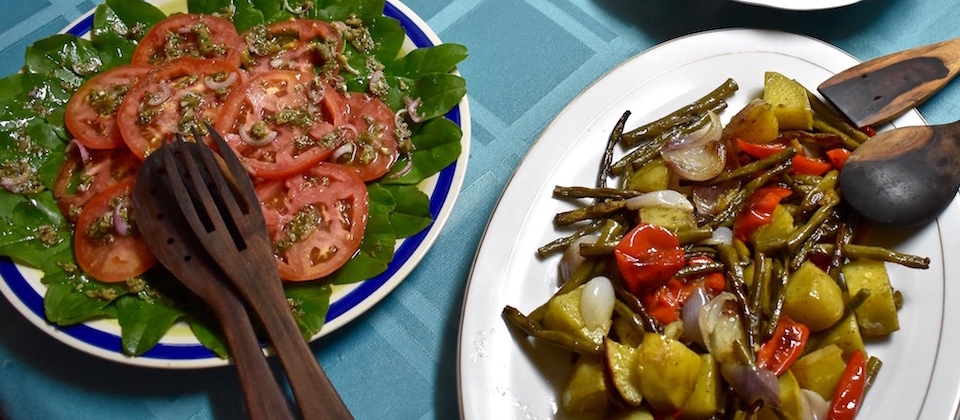 Other vegetables in Baracoa include spinach, chard, cabbage, green beans, eggplant, green and red sweet peppers, tomatoes, beets, carrots, okra or gumbo, various kinds of beans, chickpeas and peas… And let's not forget nuts and seeds such as almonds, sesame and cashew nuts.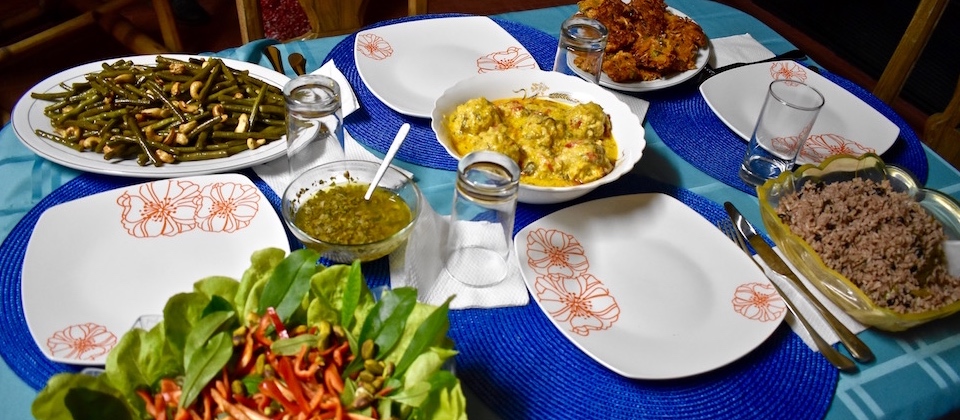 Baracoa's classic coconut milk sauce is often used in our region to prepare veggies too, such as "bolas de guineo" (plantain balls) in coconut milk or the local version of callaloo. Traditionally made with sweet potato or taro leaves, Villa Paradiso's creative callaloo may incorporate other vegetables such as chard, cabbage, green beans…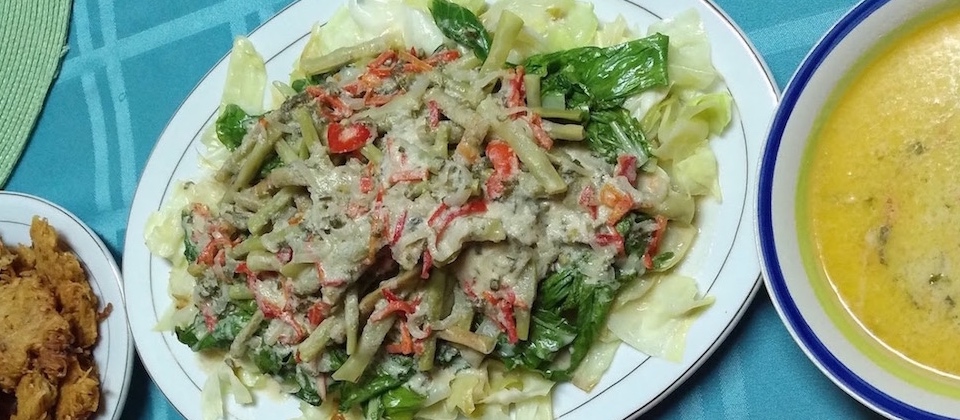 Our dinners always include both raw and cooked veggies. We use different techniques to prepare them. There will always be a nutritious, well-dressed salad. Sometimes we offer vegetable soups such as taro cream, ajiaco, or vegetables escabeche, or oven-roasted veggies. And we always go for creative ways of using herbs and other natural condiments.
And for dessert…
Not everybody likes desserts, but we always offer guests the option. Baracoa's typical and most sought-after ingredients are coconut, various types of plantains and cacao. We can serve you home-made ice cream or sorbet, made with fresh local ingredients, such as our popular chocolate & almond ice cream or our mango or soursop sorbet (no dairy at all!). Or baked desserts such as our also popular ripe plantain cake.
Cuban music for a nice dinner ambiance!
Dinner at Villa Paradiso is a special experience not only from the gastronomic point of view, but as well as in terms of the ambiance and atmosphere. To round up the pleasure of a nice sea breeze that caresses our terraces, we may add a playlist (that could be serene and romantic or more lively and joyful) featuring the best Cuban traditional music (bolero or filin, or danzón, or cha-cha, salsa or guaguancó…). And always with a strong Eastern Cuban component – son montuno, the changüí guantanamero, Baracoa's nengón and kiribá… All delightful to your taste buds as well as your ears!
Did you know?
Cuban cuisine, and Baracoan cuisine particularly is a fusion of indigenous, African and European influences and traditions. The use of banana leafs, annatto and the strong presence of viandas, for instance, indicates the influence of aboriginal people and African descendants.
The vegetables that we bring to your table are fresh from the day and they come from what we call in Cuba "organoponicos" – a model of agriculture using organic matter to fertilize and prepare the soil and natural substances to control diseases. Zero chemicals. This model was born in Cuba in the 1990s when urban agriculture was being strongly stimulated.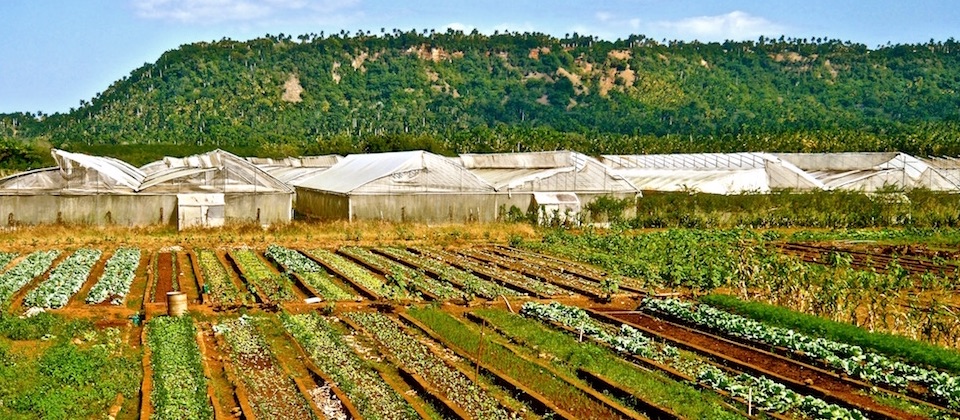 At Villa Paradiso, we source our veggies from municipal gardens and nearby small farms, as well as family organoponicos in the city of Baracoa itself, thus supporting such families in the context of our sustainable tourism practices.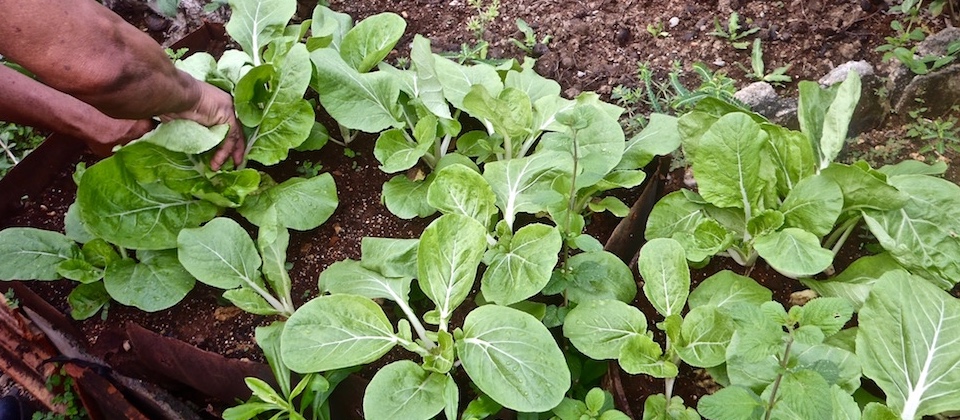 The meat we serve our guests is from locally raised animals that grow in humane conditions and are not nourished with chemicals nor given hormones. It is also meat from the day, thus it has not been treated with artificial conservation agents.
A good nutrition = ideal vacations, better experiences and excursions
Villa Paradiso offers healthy, balanced and nutritious meals.
This is a very short list, nowhere near exhaustive, just to give you some sample details…
We serve carbs that give you energy while avoiding refined flours. For instance, root veggies such as taro (rich in dietary fiber and B6 vitamin) and cassava (rich in potassium and magnesium). Squash contains beta carotene, while sweet potatoes offer lots of A, E, B7 and C vitamins.
In our dishes we always include abundant green leafs and other fresh vegetables high in phytonutrients and amino acids, such as chard, beets, cabbage and green beans.
Often served at Villa Paradiso, what we call spinach in Baracoa (Talinum triangulare), as well as okra or gumbo are rich in dietetic fiber, pectin and mucilage.
Cashew nuts, which we add to certain salads for instance, contain phosphorus, magnesium, zinc, iron, proteins and antioxidants.
Our desserts too avoid refined flours. And for our vegan guests, we have non-dairy desserts.
https://www.instagram.com/p/CqX4tVBrkpM/
---
Baracoa, Sustainable Tourism, Villa Paradiso