---
Welcome to Villa Paradiso!
Villa Paradiso is your "casa particular" of choice in Baracoa, Cuba. Similar to a guesthouse or bed and breakfast, "casas particulares" are family homes that rent out bedrooms to travellers looking for a private homestay, closer to the authentic country, in the middle of its neighbourhoods and people.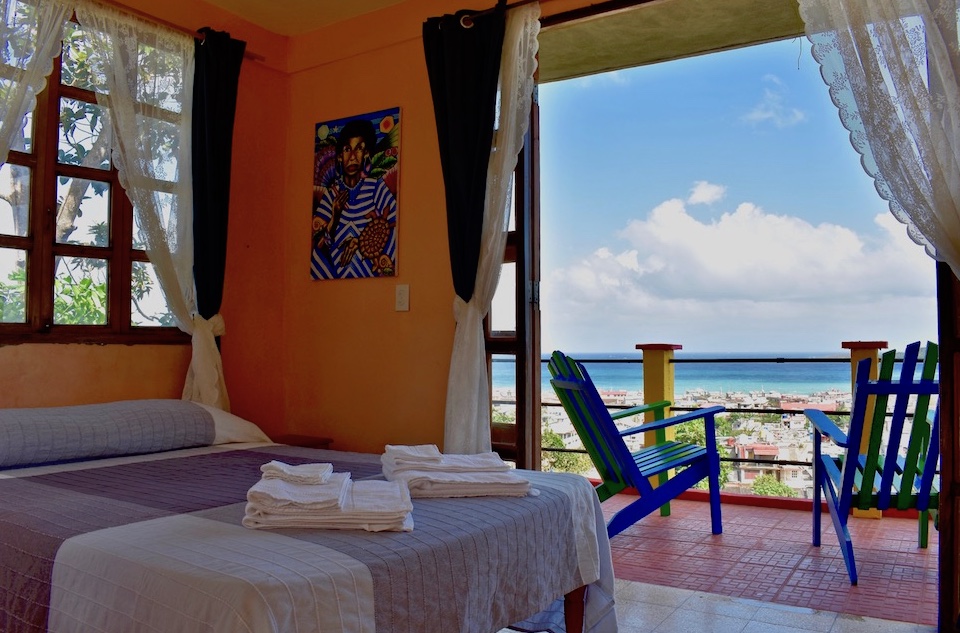 Villa Paradiso sits on a little hill caressed by the sea breeze and with a beautiful view over Miel bay, where the Miel river meets the sea.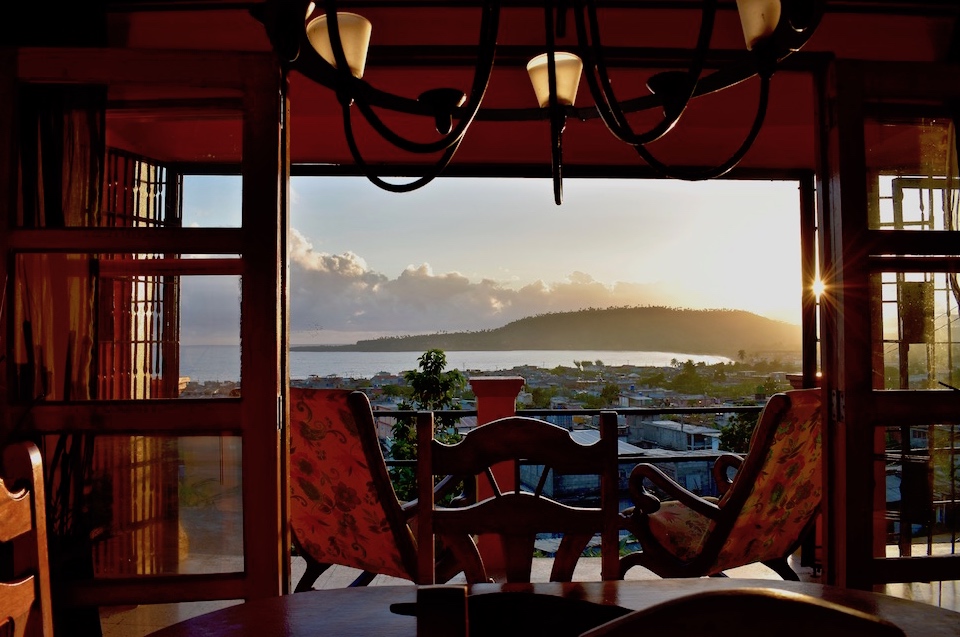 Our casa particular is only six blocks from Baracoa's vibrant downtown yet on the hill there is a relaxed, almost countryside feel.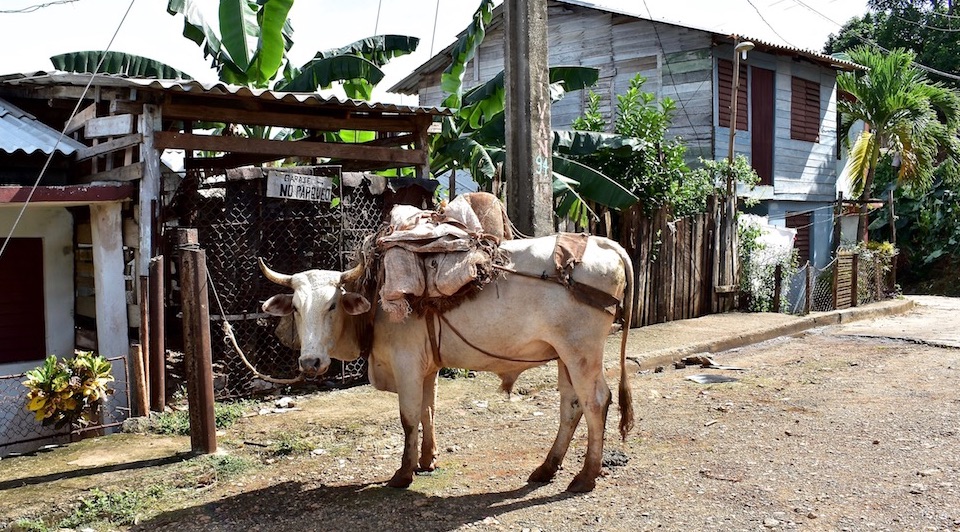 At Villa Paradiso you can spend a few days or even a season in a welcoming and uniquely located house, fully immersed in one of Cuba's most scenic, green and pristine regions.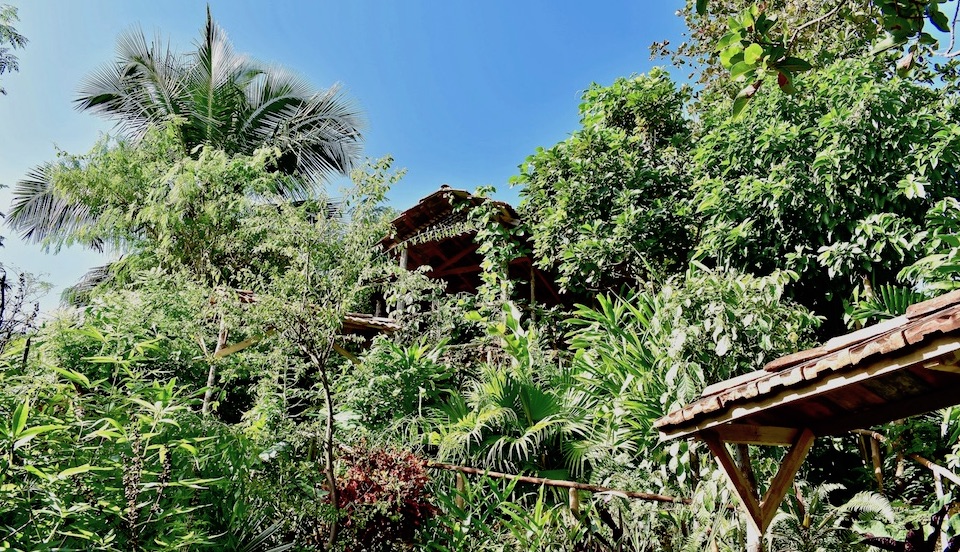 For more pictures of our house, the bedrooms, the garden and the views, please don't hesitate to visit our photo gallery.
Meet your hosts!
Hello! We're Manuel & Roberto. We'll be delighted to host you at Villa Paradiso!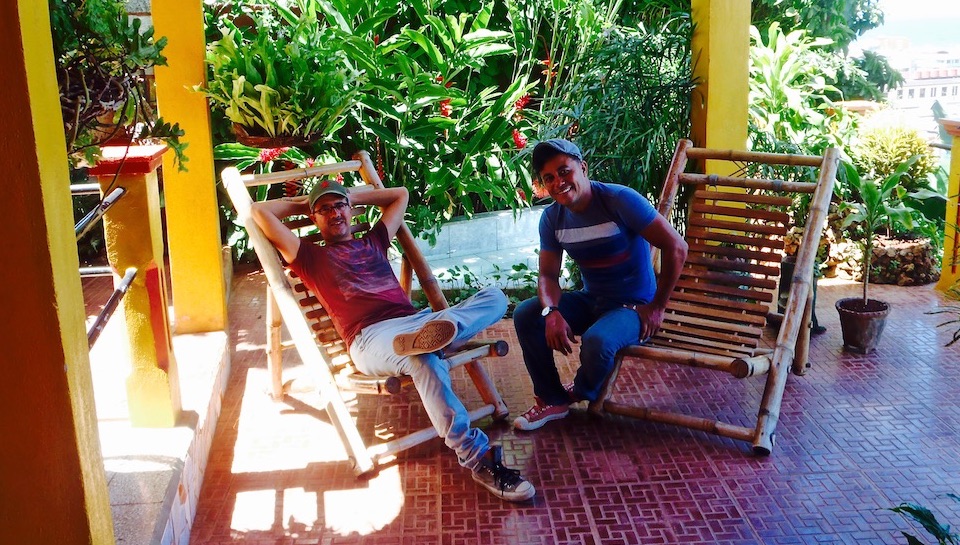 Manuel  is a former professor at Universidad de Oriente's Agricultural Sciences Department, in Santiago de Cuba, where he was responsible for the evaluation of education methods. His husband Roberto works in the field of social justice and divides his time between Canada and Cuba.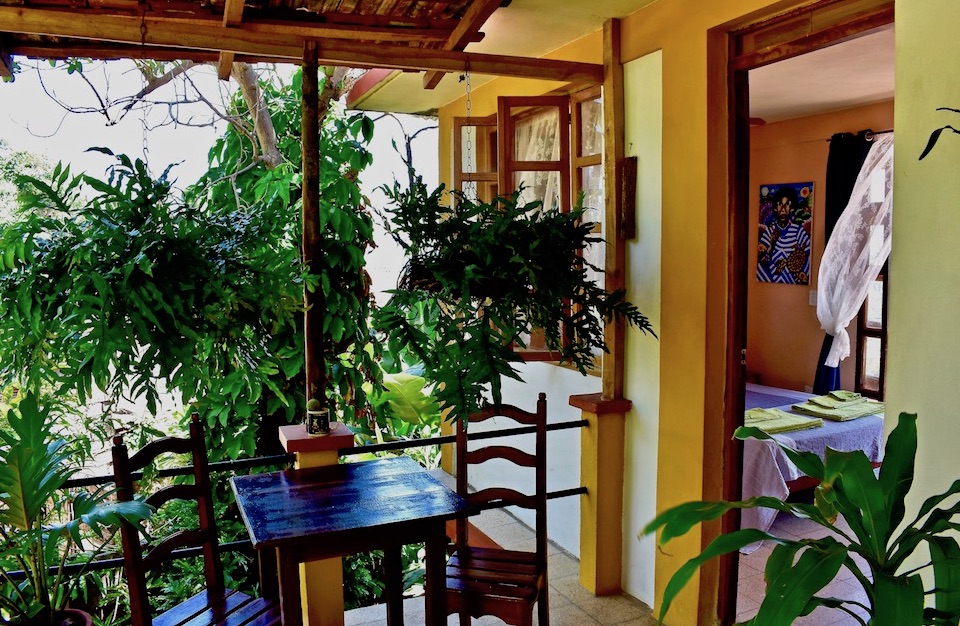 It will be our pleasure to offer you information about the region and suggestions or recommendations so you can make the most of your stay, whether you like Cuban cultural life, lush natural parks, unblemished beaches, crystal clear rivers, hiking in tropical forests, ecotourism, agritourism or agrotourism, cyclotourism – or a mix of it all! For more about things to do and see in our region, visit our blog, A Taste of Baracoa.
We also offer breakfast and dinner upon request – traditional and creative Baracoan & Eastern Cuban cuisine, with options for everyone, including those who eat meat/seafood and those who are vegetarian or vegan. Just tell us what you'd like!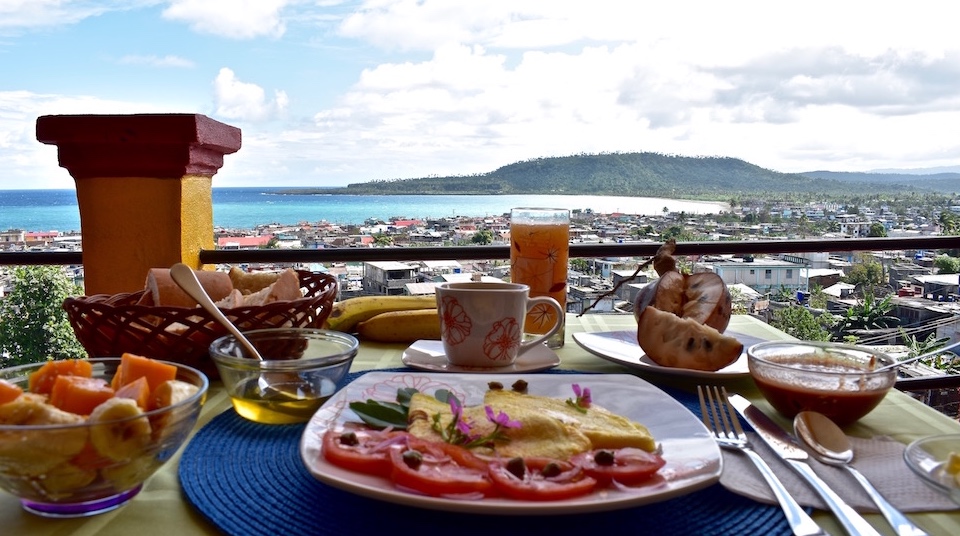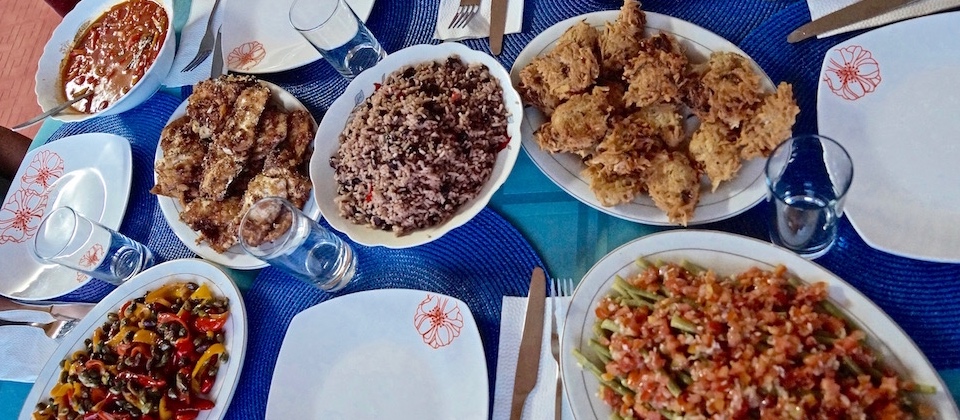 Sustainable tourism, inclusiveness, languages spoken… and pets!
At Villa Paradiso we strive to offer you a stay in Baracoa that's informed by sustainable tourism.
Our family and home welcome LGBTQI (lesbian, gay, bisexual, trans, queer, intersex) travellers. We support gender justice and anti-racism.
Manuel speaks Spanish and intermediate-level English. Roberto speaks Spanish, English and French.
Please note: we have a small Havanese dog, a cat and a rescued parrot.
The experts are talking about Villa Paradiso…
Seasoned travellers, travel bloggers, travel guide authors and other Cuba travel experts and writers have had a word or two to say about Villa Paradiso either on their blogs or websites – or as the authors of articles for highly reputed travel magazines and media.
Topic: Adventure Travel
"Set aside several days to explore [Baracoa] … Cuba's eastern capital of adventure … Stay at Villa Paradiso, which can organize bikes for guests and has commissioned a series of biking maps taking you off-road." – The UK's Claire Boobbyer (author of Frommer's EasyGuide to Cuba), in her original piece 25 Cuba Adventures, for Wanderlust Travel Magazine.
Topic: Best Views in Cuba
"Rather than stay at a hotel …, opt for a casa particularand particularly the wonderful Villa Paradiso, which amongst its many attributes, can also boast superb views of its own." – The UK's Jon Kelly, Cuba tailored travel expert, writing about Cuba Hotels With A View – 10 Of The Best, in his blog Beyond The Ordinary.
Topic:  Family Travel
"In Cuba, Baracoa is the place that makes you wish to stop your trip and just let yourself live… We finally made it to our pretty casa on the Baracoa heights (oh, Villa Paradiso, you bear your name so well!) … The best casa particular of our stay in Cuba. Nothing less." – France's Caroline Krauze, family travel expert and the author behind Voyage Family.
Topic: Young Travel Writer's Perspectives
"A labour of love and pure joy … Manuel and Roberto have created a miniature paradise … Nothing has been forgotten, nothing is too much trouble; every detail of every guest's stay is carefully considered, including the personal touch of welcoming you by name." – London, UK'S food, travel and lifestyle blogger Yasmin Dick, author of Generation Avocado.
"A wonderful guesthouse set on a hill above the center of Baracoa. Our room was amazing and had its own balcony with a view over the entire bay. No wonder this casa particular is aptly named Villa Paradiso … I felt happy and comfortable. I didn't know much about Cuba yet, but I felt Baracoa could become one of my favorite places." – Brussels, Belgium's Sophie Lenoir, the author of Everything Brussels blog.
Topic: Nature & People Travel
"I was completely on empty upon my arrival, short on sleep and in desperate need to stretch my legs. However, with a fresh guava juice and a strong Cuban coffee at Villa Paradiso, I put myself in gear to explore the green hillsides …I would call Baracoa paradise indeed … My hosts of Villa Paradiso opened the doors for me with introductions to their neighbours … Baracoa welcomed me with open arms … Mil graciasVilla Paradiso and hosts Roberto and Manuel!" – The USA's Heidi Siefkas, Cuba travel expert and tour organizer, in her blog post Three Reasons To Travel To Baracoa, Cuba.
Topic: Chocolate Travel
"The gem of Cuba's cocoa country." – Canada's chocolate & travel writer Doreen Pendgracs, the author of the Chocolatour blog who visited Baracoa as part of her research for an upcoming book on chocolate adventures around the world.
Topic: Cuban Beaches
Topic: Cycle Touring
"A shout from a balcony tells us we have found our lovely casa … We couldn't have hoped for a warmer welcome. Our bikes are quickly stored and we are heartily greeted and fed. It feels as if we are being brought into a family." – Nottingham, UK's sportswoman and healthy life promoter Cadi Lambert, the author of An Adventurous Girl blog, and who cycle-toured 1,000 km around Eastern Cuba in 22 days.
Topic: Gourmet Travel
"While we are only six blocks from Baracoa's downtown, the hummingbird-filled garden of ornamental plants, lemon, guava, soursop, plantain and avocado trees are countryside-worthy. Best of all, it's run by … foodies who have taken to Baracoa like ducks to water. … [Their] suppliers: a tiny urban farm for chard and beets; local permaculturists for ginger, cinnamon, fennel; … Alexander Humboldt National Park eco-farmers for fruit vinegars. Everything they prepare is inspired locally, from the organic cocoa and herbal teas infused with mint from their garden, to the chocolate and almond ice cream, mango or soursop sorbet, and ripe plantain cake. There are river prawns flambéed with Cuban rum or poached in coconut milk, … dressings and condiments made with smoky dried peppers, chives, coriander and the liquorice-like anisito herb." – The UK's Lydia Bell, Cuba travel expert, in Food and Travel Magazine (Gourmet Traveller, June 19, 2019 issue).
Topic: Eastern Cuba Travel
"Once the door opens and you are welcomed by the sympathetic owners Roberto and Manuel, you are sure that you are at the right place. The three rooms each have a terrace with a view of the bay. Those who are tired of that view can retreat to the jungle garden behind the house." – The Netherlands' Stephanie Pander, for Vogue Living Netherlands (in Dutch, printed format, please don't hesitate to request a PDF copy using our Contact page).
Topic: Cuba Travel Primer
And then other tried-and-true travel lovers like yourself!
Yes – you can also check out what our guests are saying on TripAdvisor…