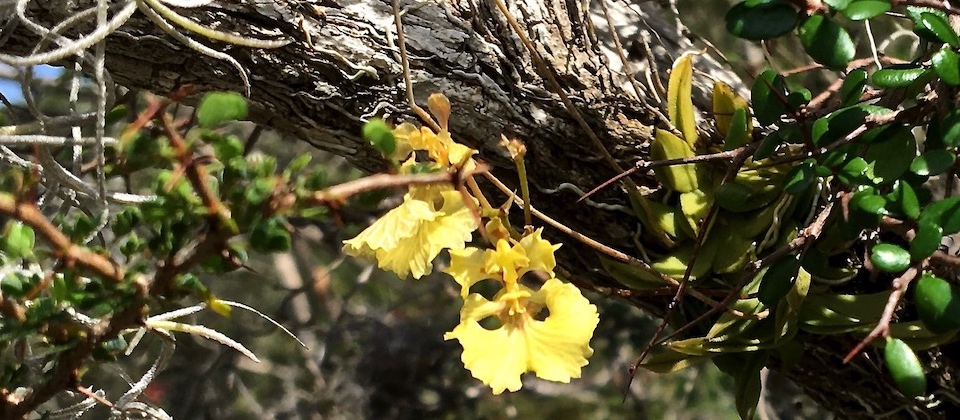 Published on 17 November, 2019.
---
Introducing a constellation of over 20 orchid species living in the Baracoa region, in Eastern Cuba – strange, delicate beauties that will captivate the caring eyes of wild flower lovers!
For starters, we offer this Cuban endemic Encyclia hamiltonii floating high, attached to a palm tree trunk along Loma de Piedra trail, in Alexander Humboldt National Park.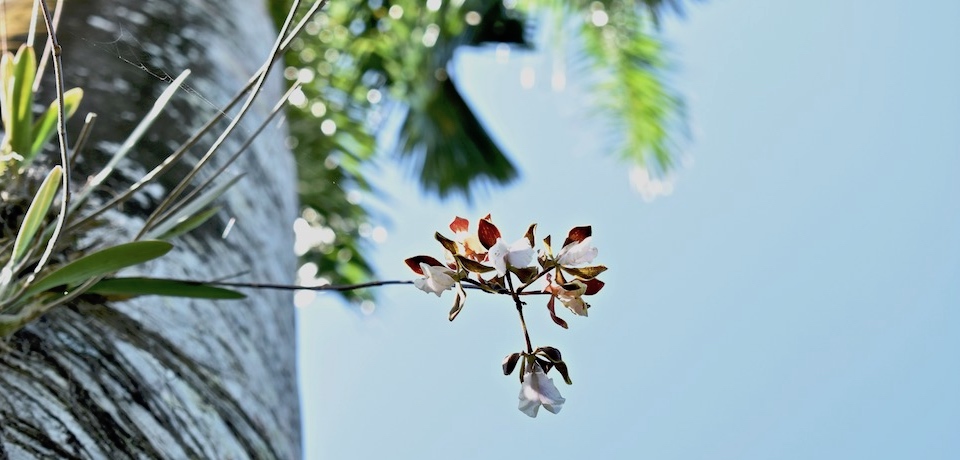 Spotting and appreciating orchids in Baracoa's protected areas
A few of these flowers are relatively easy to spot – but others grow in shady humid corners, on specific types of rock or tree species – or even on the ground, but in the least suspected places.
For instance, this Cuban endemic Encyclia howardii was blooming in a steep rocky area, covered by extremely leafy vegetation by river Duaba.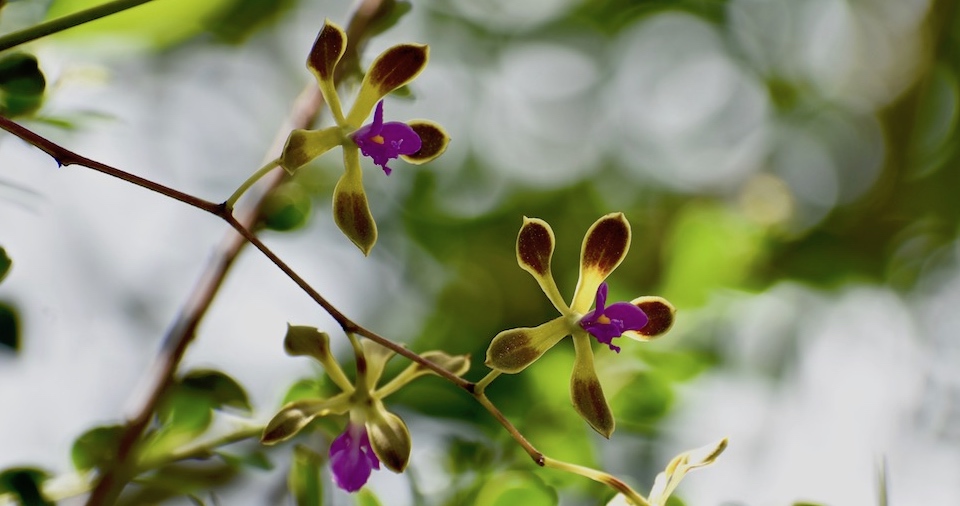 As you will have noticed, for each species pictured in this post, we'll let you know the type of environment in which it grows, providing a link to specific protected area where we found them and/or where they can be seen. But we won't pinpoint their specific location – a qualified environment conservation guide will be able to show them to you.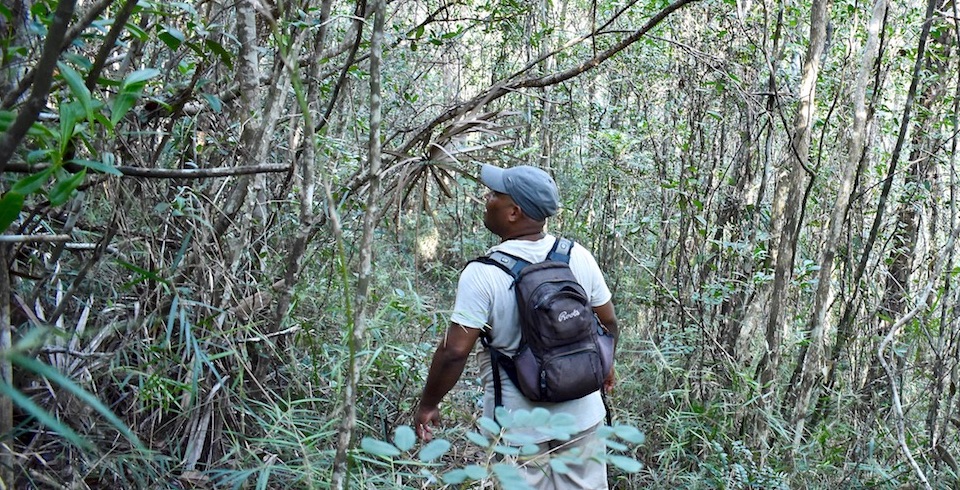 Some species are so tiny and hidden you'd never see them unless you were an expert botanist and an excellent observer. Check out this minute Specklinia grisebachiana, a Cuban endemic orchid which grows on the trunks of certain types of trees as you approach the top of flat top mount El Yunque.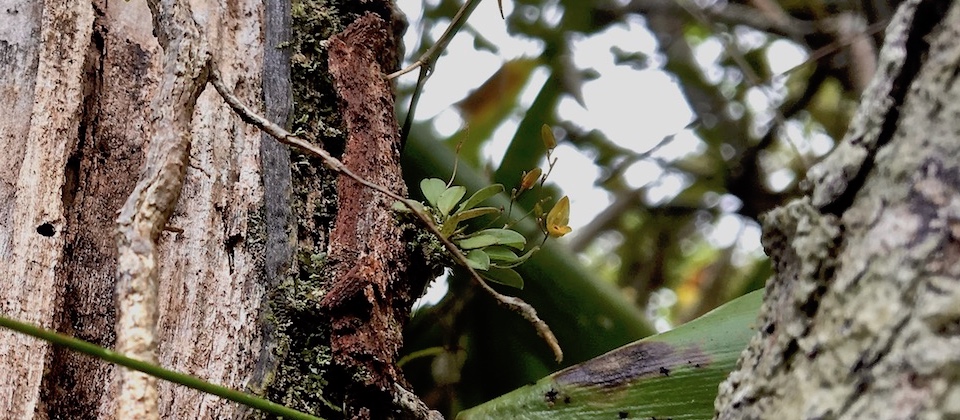 The kinds of orchids you will find in Baracoa
Orchids can be classified according to the type of material where they take root (the substrate). Thus, in Cuba you have epiphyte species (those that grow attached to a tree trunk or branch), lithophyte species (taking root on rocks), terrestrial (growing directly on the soil) and vines or climbers (these may float, hanging from branch to branch).
This Bletia purpurea is a terrestrial orchid stemming from a pseudobulb. You can appreciate it in and around UNESCO-listed Alexander Humboldt National Park or along the amazingly scenic La Farola road.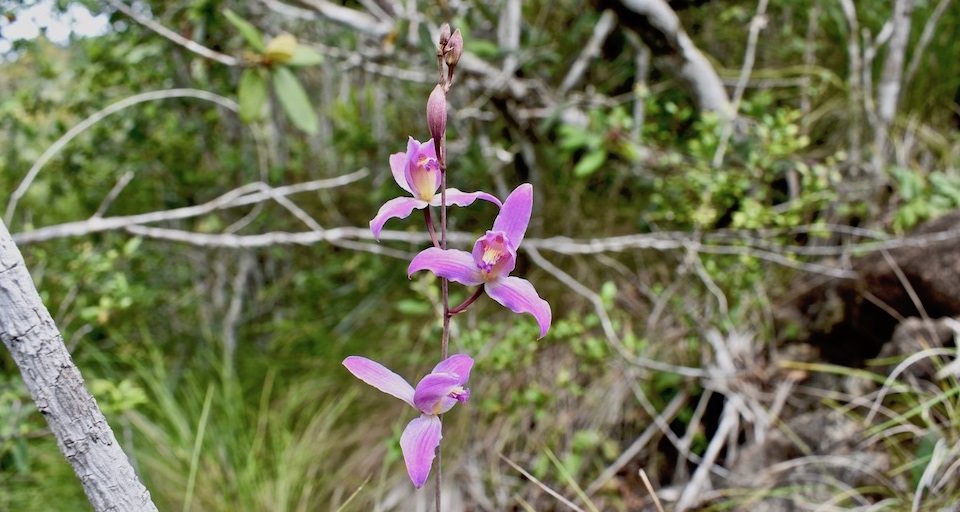 A beautiful example of climbing orchids is this Vanilla claviculata. Its prime blooming time is in July. It can be found on charrascal forests on serpentine rock soil (we'll tell you more about this flora environment).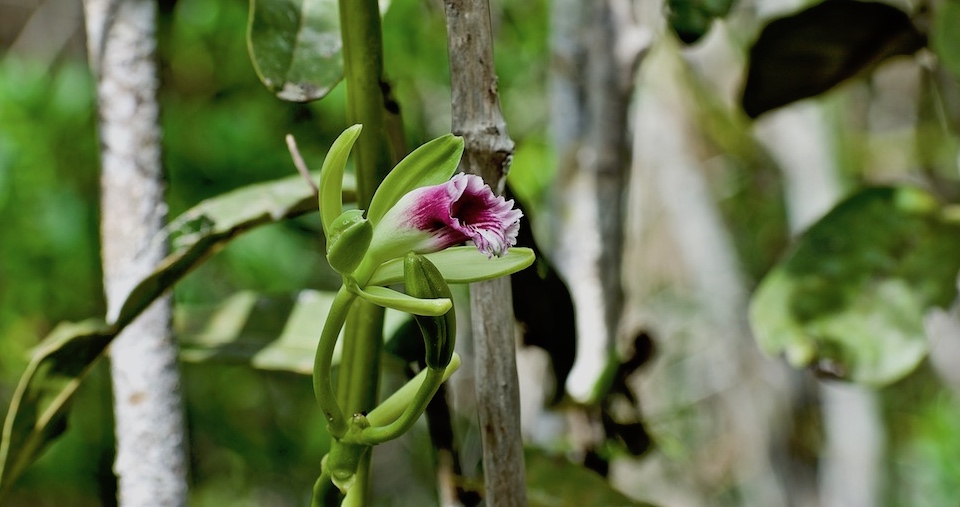 Some other species are able to live attached to more than one type of substrate – for instance, orchids that can grow as epiphytes or lithophytes. An example of this would be the Encyclia phoenicea, a Cuban endemic species.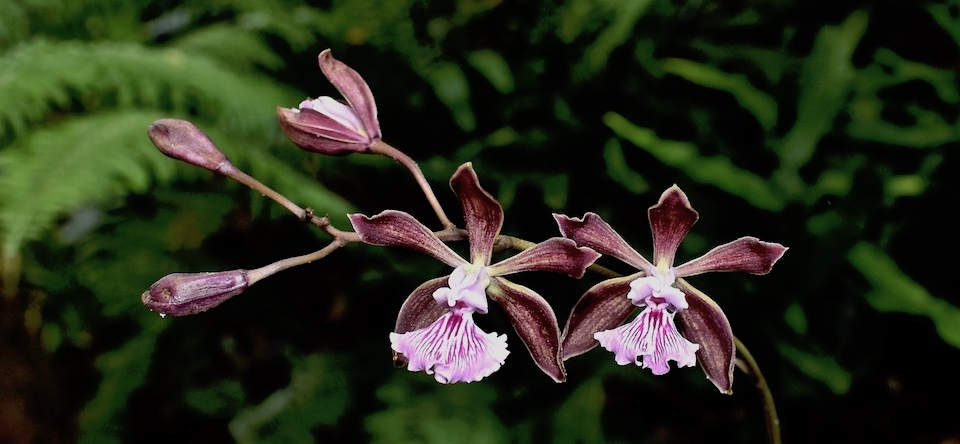 Orchids also tend to vary according to altitude and the type of vegetation surrounding them. For instance, this Tolumnia sylvestre grows several hundred meters above sea level, in pine forests, apparently on the soil but actually attached to fallen pine branches, needles and other bushes. We saw this one on La Farola road in the Sierra del Purial mountains.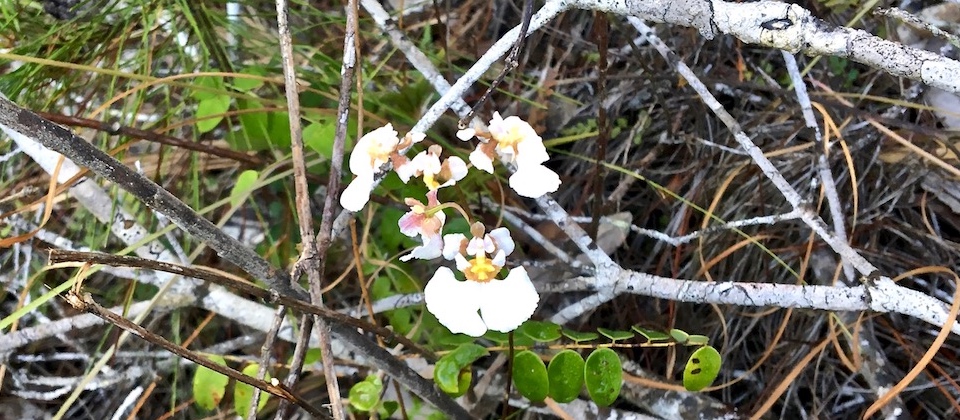 Another mountain beauty is Campylocentrum micranthum. We saw this one at an eco-farm in the Quibijan hamlet, on river Toa's basin. As you will see further down, peasant lands usually have a variety of orchids. So, if you like agrotourism or agritourism, you'll be able to find and appreciate a few ones.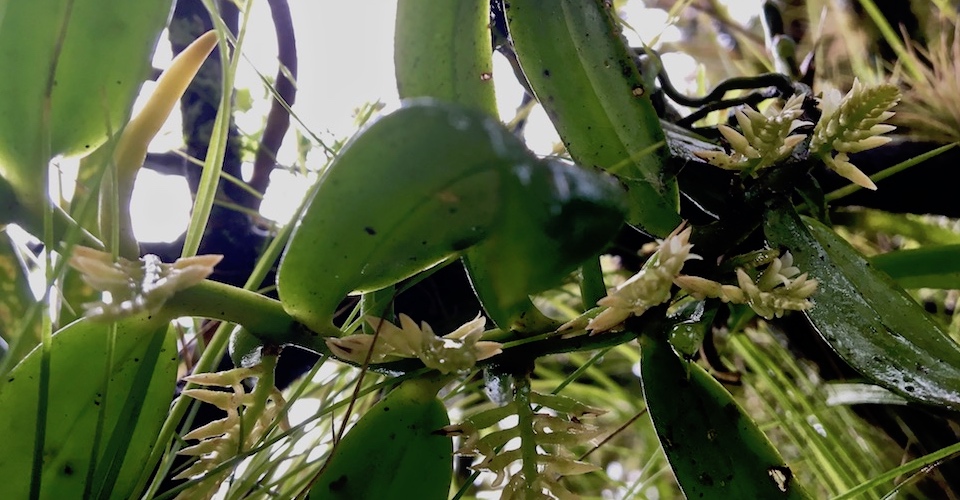 You'll see different orchids depending on whether you're exploring areas near the coast or in the hinterland. Take this delicate-looking but extremely hardy Broughtonia lindenii, which can grow by the sea as well as in farm lands or woods near the coast. The one pictured here was seen at the Yara-Majayara Protected Area's lowest rocky marine terrace, but you can also find it in the lands right before you enter the El Yunque Protected Area and in Alexander Humboldt National Park's visitors centre.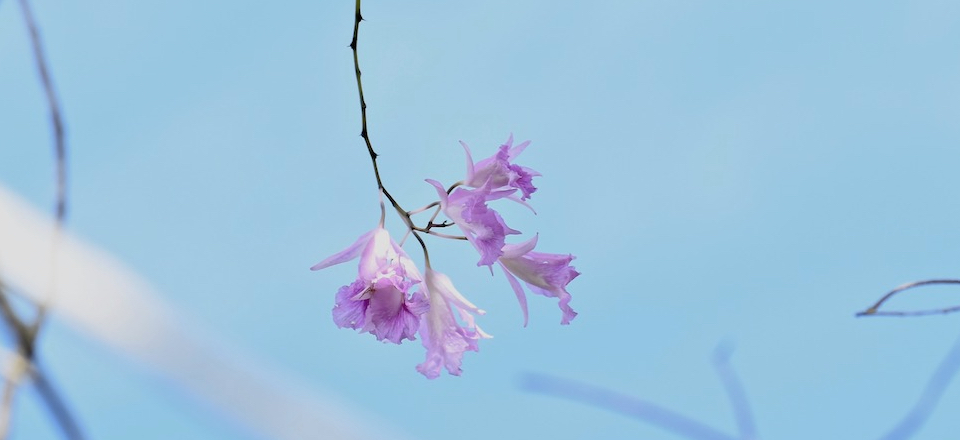 The species you'll find will also vary depending on whether you are in a very humid, rainy forest or on dry evergreen flora. The Tolumnia guibertiana in the picture below thrives in the dry xerophytic bushes of the Maisí-Caleta Biological Reserve, which we visited during a one-day road trip around Cuba's easternmost tip. It's endemic to Cuba.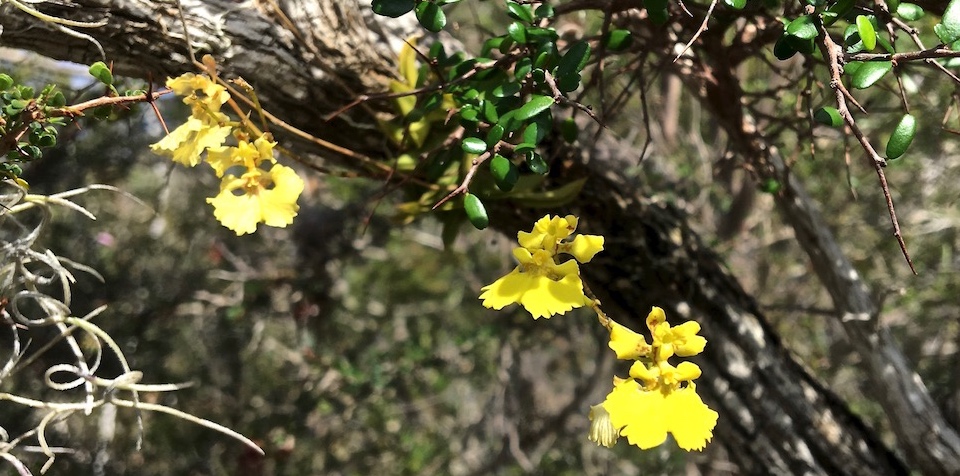 For agrotourism lovers, orchids in farmers' lands
If you visit Baracoa's farmers, don't hesitate to ask them whether there are any orchids in their land. They will be able to point you to a couple of species growing naturally on some of their trees – or maybe one or two that they are cultivating in the garden by their house.
The Ionopsis utricularoides loves the thin branches on citric fruit trees. We saw this one at a small family farm on river Toa's shore.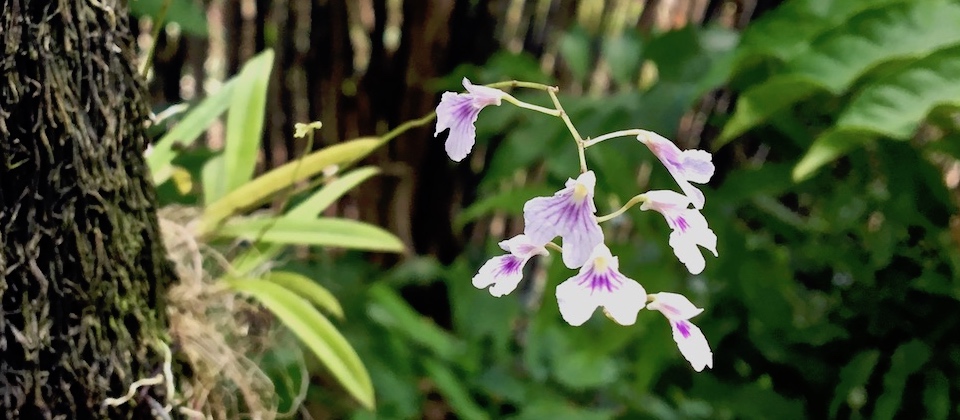 Here you have an Epidendrum orientale we spotted in farmlands just a couple of miles south of Baracoa. You'll notice it's lightly translucid.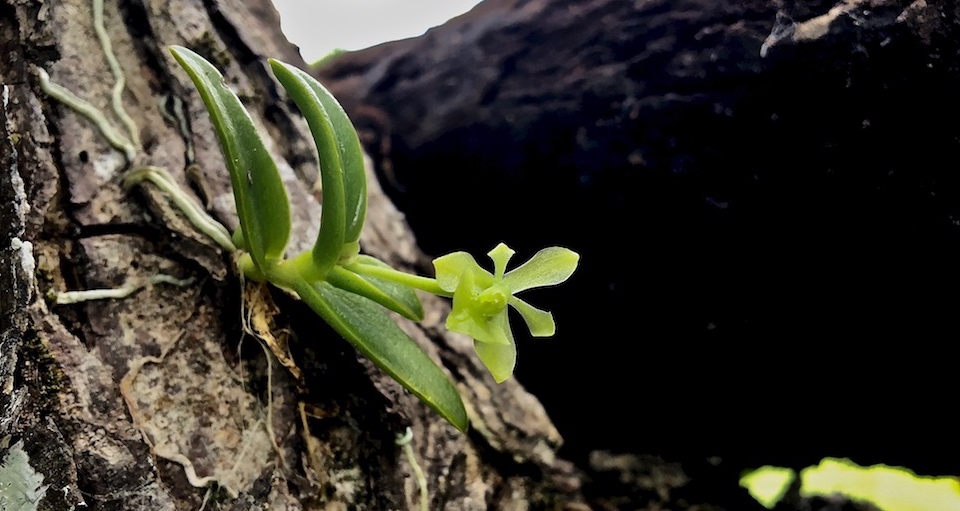 The Prosthechea cochleata is quite a bloomer and it's widely distributed in the Baracoa region, with its dark burgundy, shell-like labellum and its pale petals and sepals that resemble an octopus' tentacles.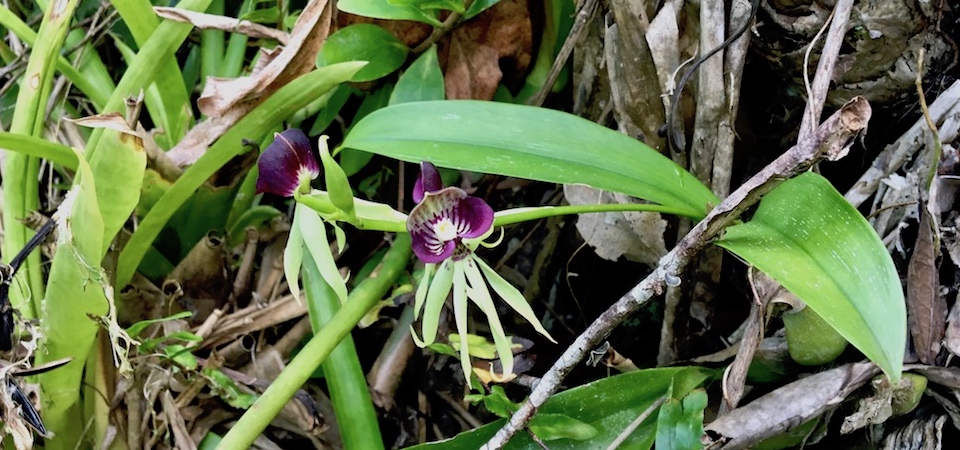 We saw this Polystachia concreta in a farm near El Yunque. This species can grow on trees or on rocks.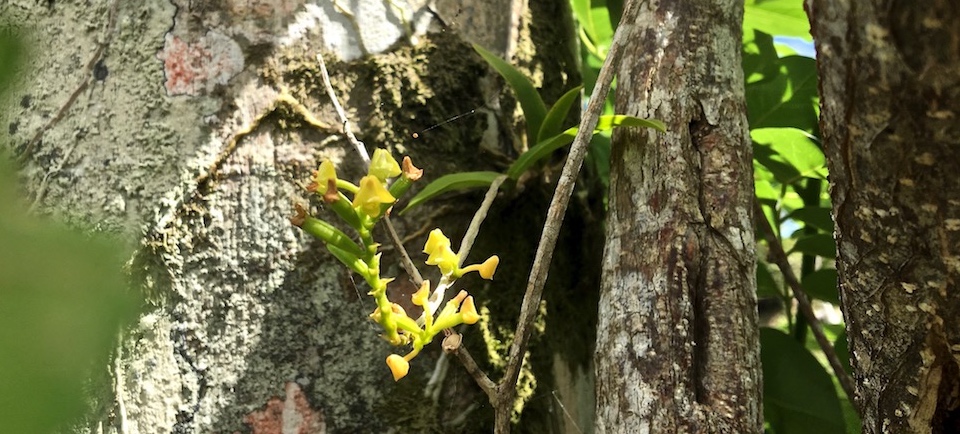 Both the Prostechea cochleata and the Polystachia concreta can also be appreciated in different wild areas, during your various hikes.
Baracoa's karstic areas have their own orchids
Baracoa's karstic landscapes are known for their diversity and appeal to nature lovers. A range of species of orchids graces such calcarean formations. For instance, this Bletia patula blooms near Barrancadero, between El Güirito's cacao farms and Mata Bay.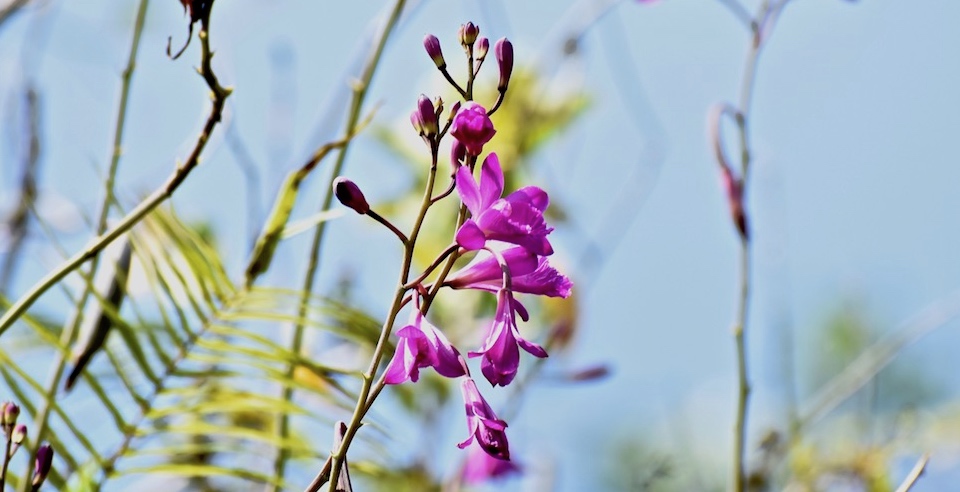 This lovely, peach-coloured Epidendrum anceps thrives in karstic landscapes away from the coast. It can grow as either an epiphyte or lithophyte. The bouquet-like blossoms can be seen in places like the Yumurí Canyon or mount El Yunque.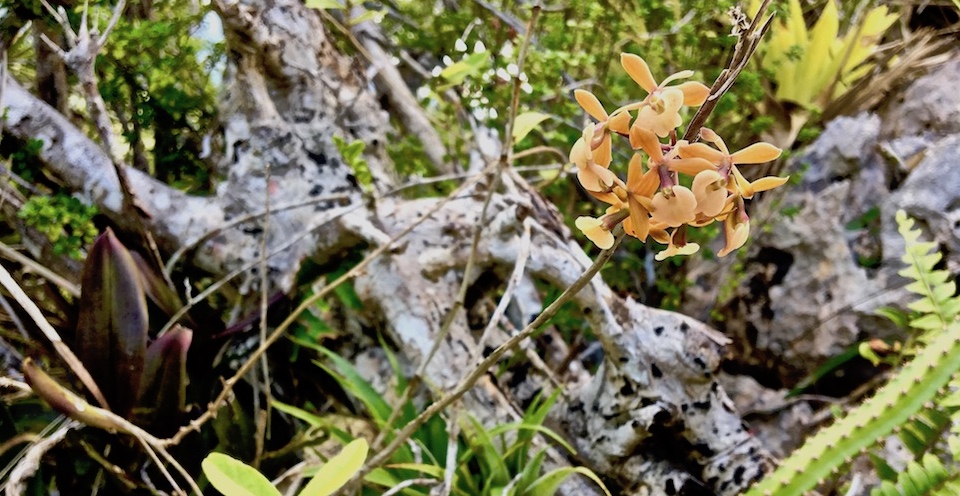 Some orchids are pretty special as they do not have leaves, such as this Wullschlaegelia aphylla. We were delighted to bump into it on the trail leading to the top of mount El Yunque.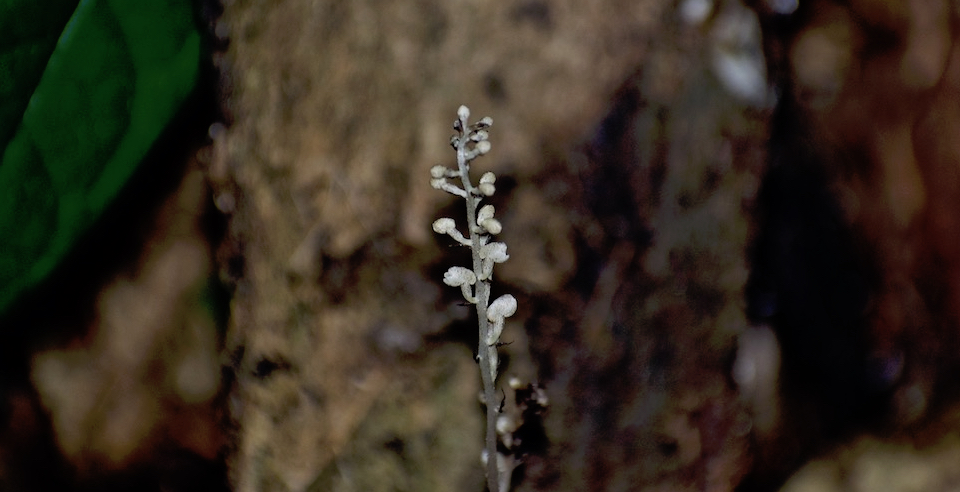 Orchids thriving on serpentine rock territory
Baracoa's mountains include ample serpentine rock areas. Although serpentine rock can hardly be considered fertile, a beautiful flora called charrascal has managed to grow and evolve over the centuries on such an unyielding, difficult substrate. Here are some orchids you'll find in these areas.
A terrestrial orchid up to 50 cm tall, Spiranthes torta looks like a spiraling asparagus yielding dozens of white flowers. It grows on grassy areas as well as on riverbank sands. We saw this one on river Duaba's basin.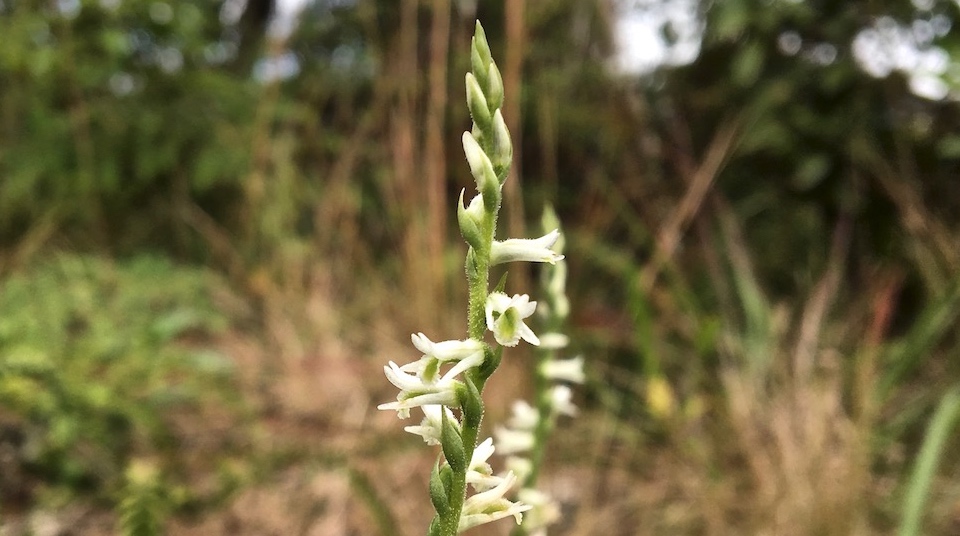 One of our favourite orchids growing in this type of environment is the Tetramicra tenera. They are terrestrial, growing on red soil near pine or charrascal forests. It's an endemic beauty only found in Eastern Cuba's northern mountains! We saw this one along the Loma de Piedra trail in Humboldt Park.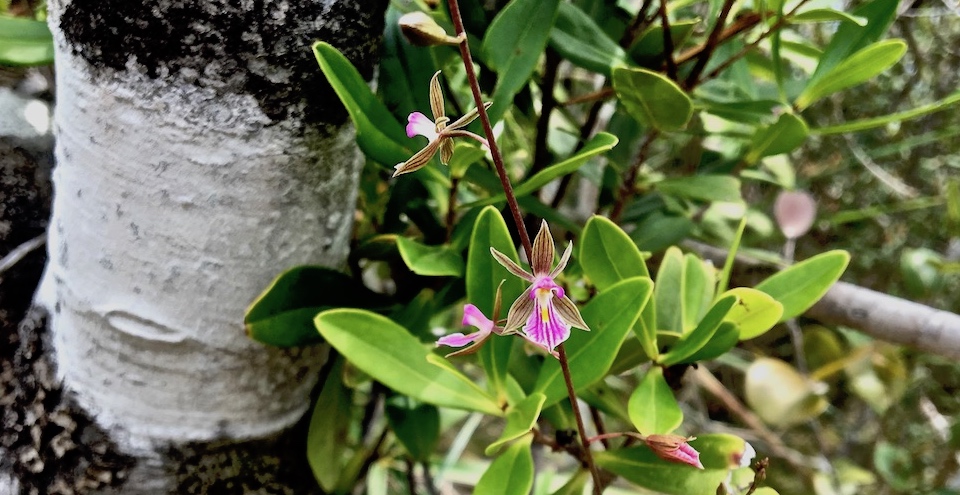 Encyclia moebusii orchids can be conspicuous in Baracoa during their blooming period. The higher stretches of La Farola road are ideal for this Cuban endemic species. The one one next picture was on the hills by river Las minas.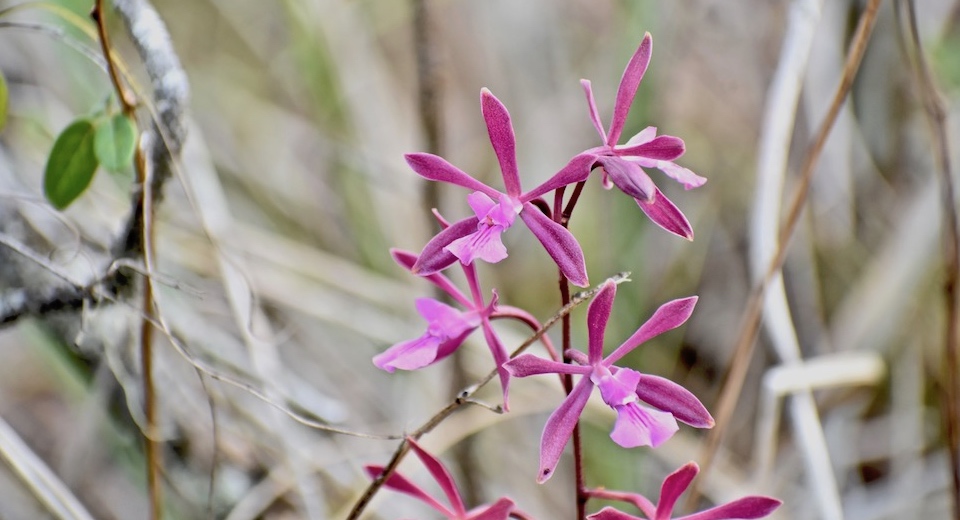 Two orchids endemic to our region
The following two orchids are not endemic to the whole of Cuba, but specifically to its north-eastern mountains. The first one is a Bletia antillana. It thrives in the flooded sands of certain rivers in Baracoa.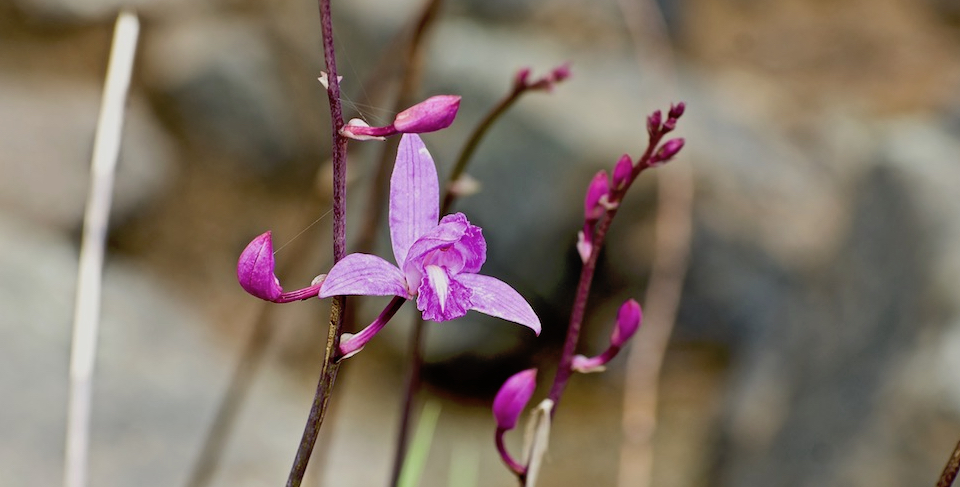 And the next one is not easy to spot, as its colours (from a dark olive green to brown) do not stand out in the middle of the vegetation. It's a blooming Basiphyllaea volubilis in the El Recreo area of Alexander Humboldt National Park.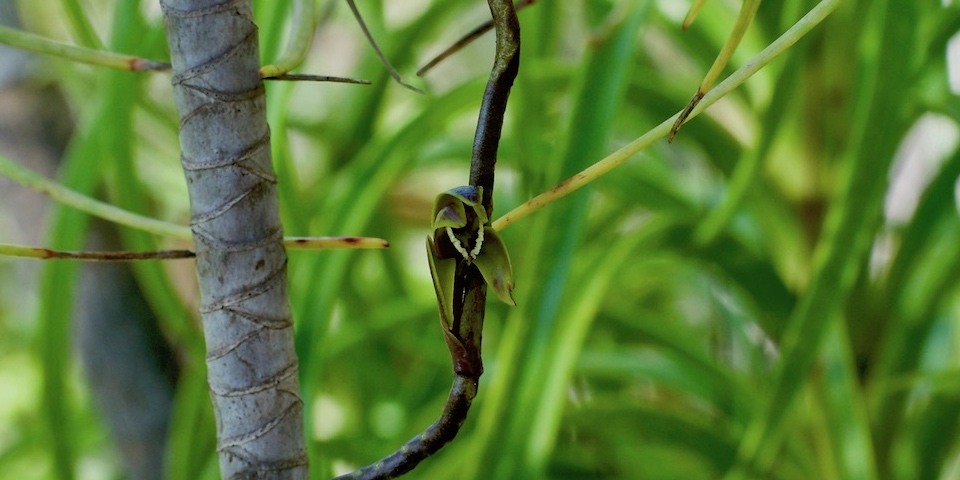 Minute orchids high in mountain summits
Here's a Pleurothallis tribuloides (formerly known as Tribulago tribuloides), which we've spotted several times attached to endemic palm trees in hinterland karst at El Yunque and other local summits.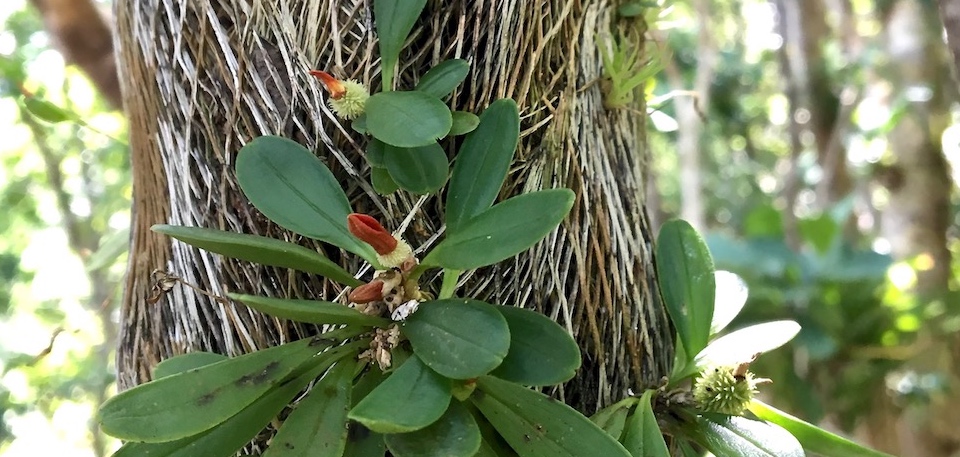 The Dichaea hystricina surprised us at around 600 meters above sea level, high in the Iberia plateau in Alexander Humboldt National Park, in laterite soil.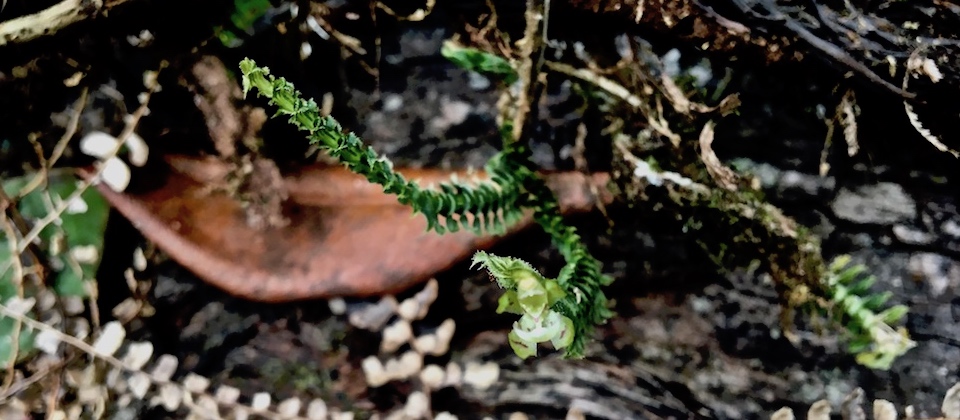 Another delightful finding in the same area, this Specklinia sp forms colonies on tree trunks and it may bloom at any time of the year, specifically after periods of abundant rain.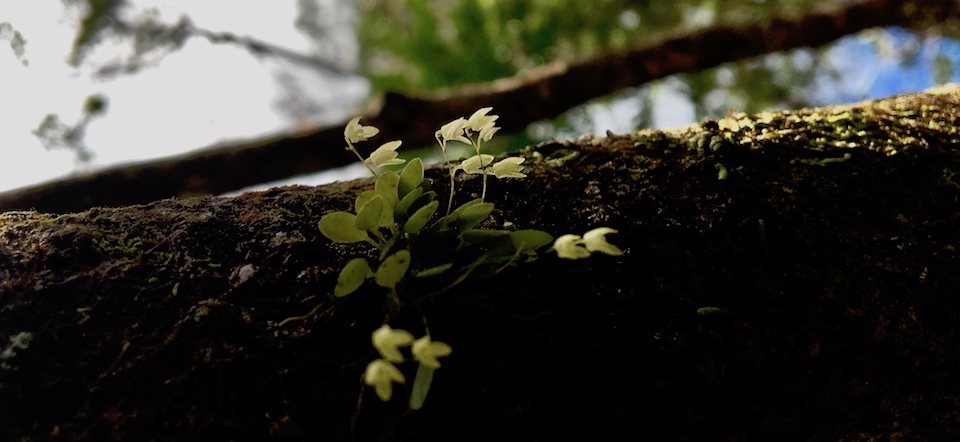 We found these two tiny orchids in the mountains along the Via Mulata road, where tree ferns are abundant. The first one is an Aspidogyne querceticola and the second one, a Prosthechea pygmaea.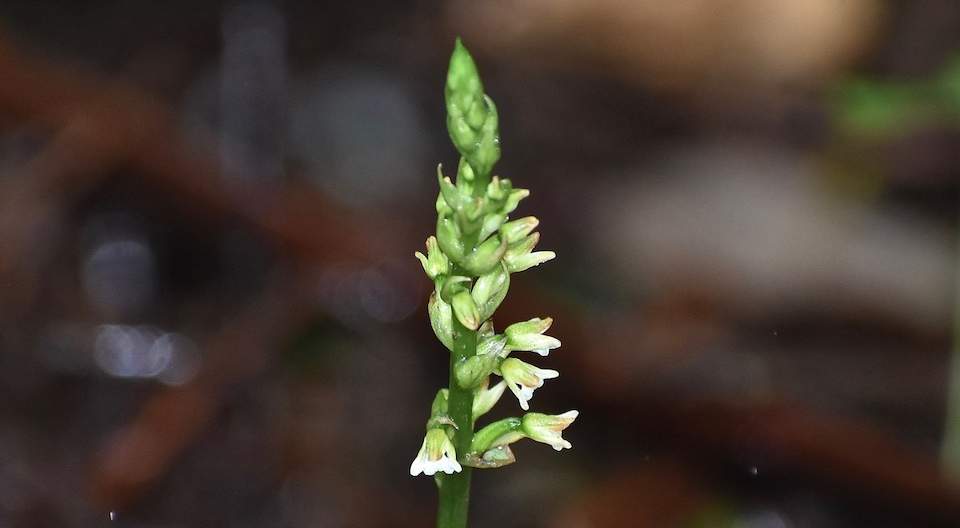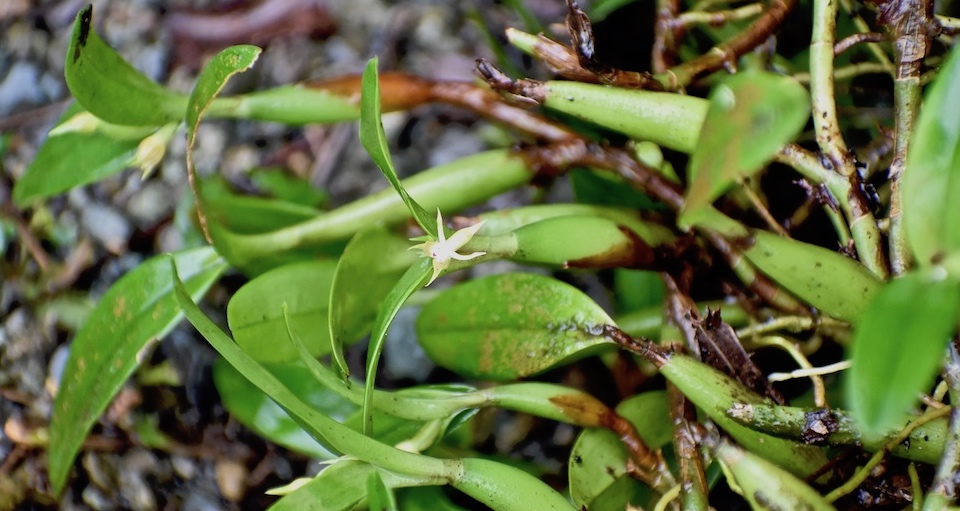 One of our absolute Cuban endemic favourites is this Lepanthes grisebachiana. It's easy to miss for untrained eyes, as the colourful parts of the flower hide underneath the leaf. It thrives at El Yunque's summit.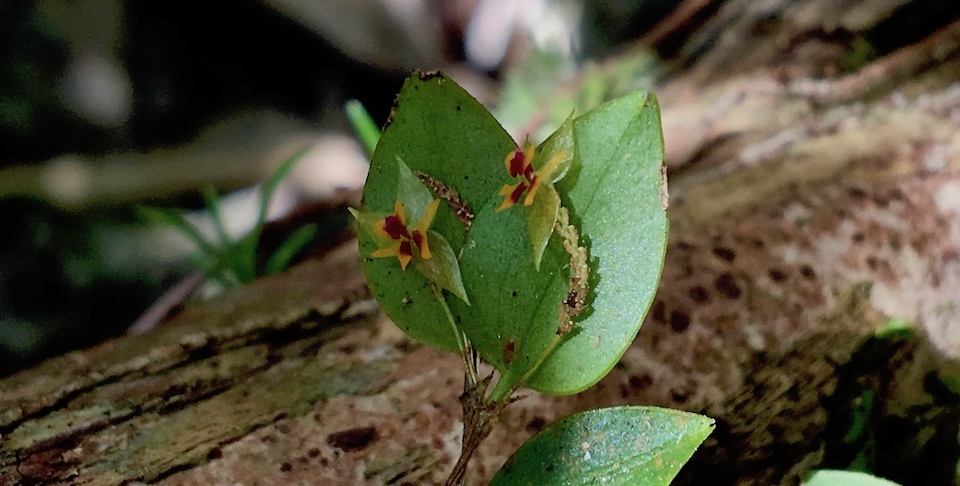 Care to see some more of these beauties?
This orchid sprinkled with spots is popularly called monedita (little coin) after its round-shaped pseudobulbs. It's a Prosthechea boothiana and it grows in both serpentine and karst areas.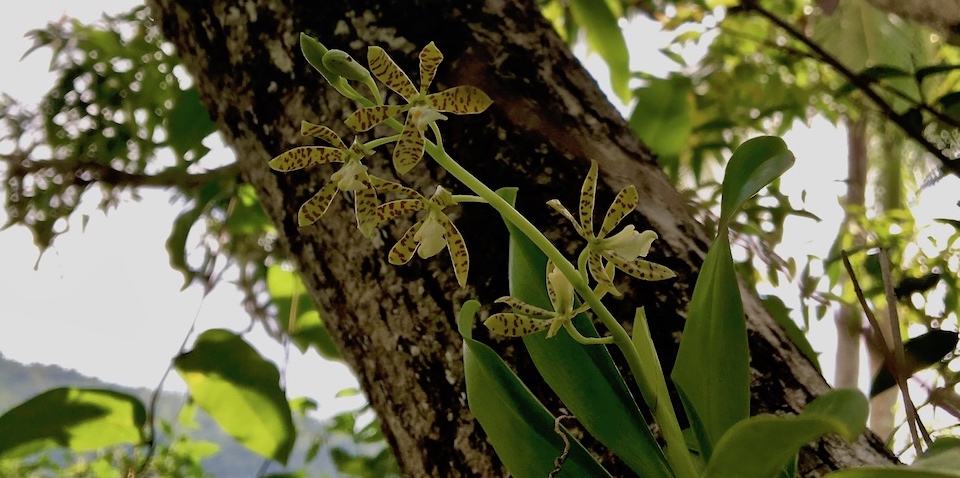 Yet another favourite of ours, the Epidendrum nocturnum with its long, slender sepals and petals grows both as an epiphyte and on grassy substrate near the floor.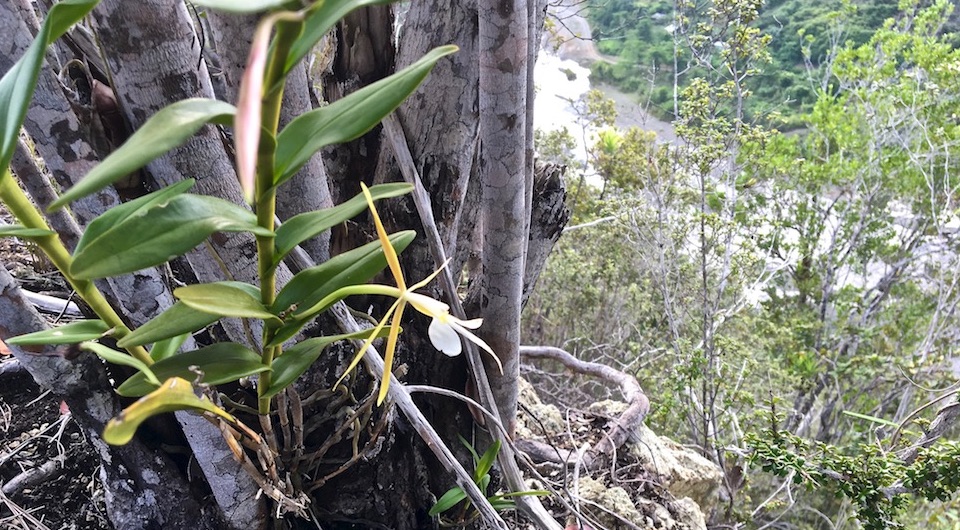 And yet another lovely terrestrial: the Sacoila lanceolata orchid, which grows on grassy areas on hills near farms.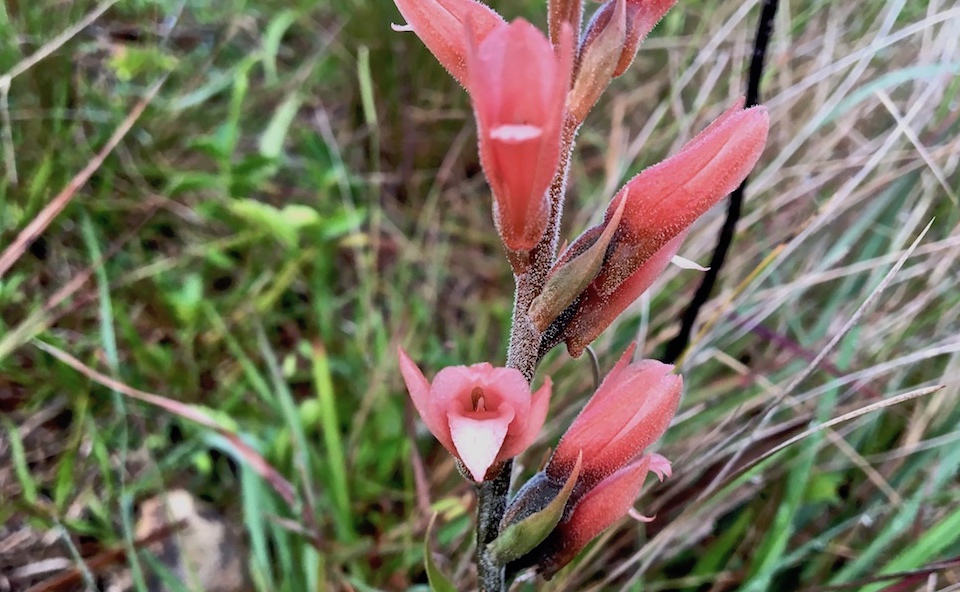 Originally from far-away places…
To conclude, two orchids that came to Cuba from Asia and stayed. One is conspicuous in the region and blooms all year-long: the Spathoglottis plicata.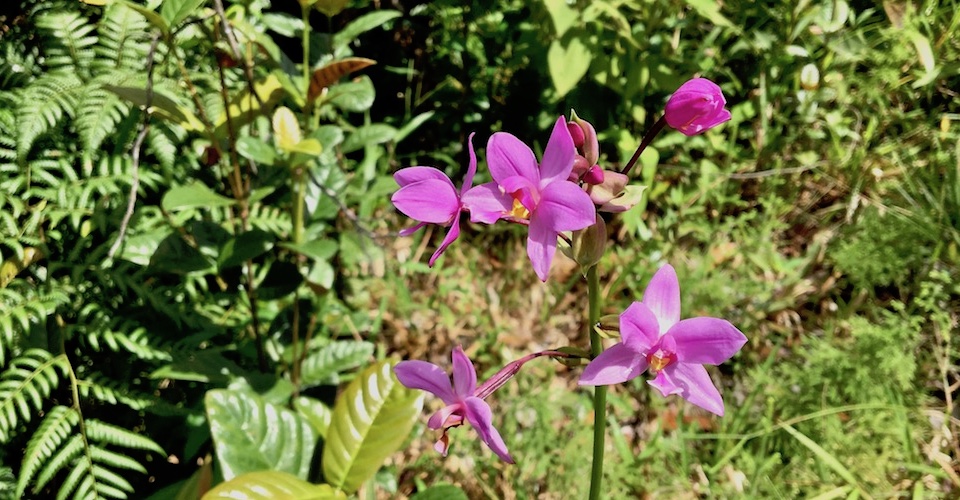 And the other one is the beautiful Phaius tankervilleae, Vietnam's national flower.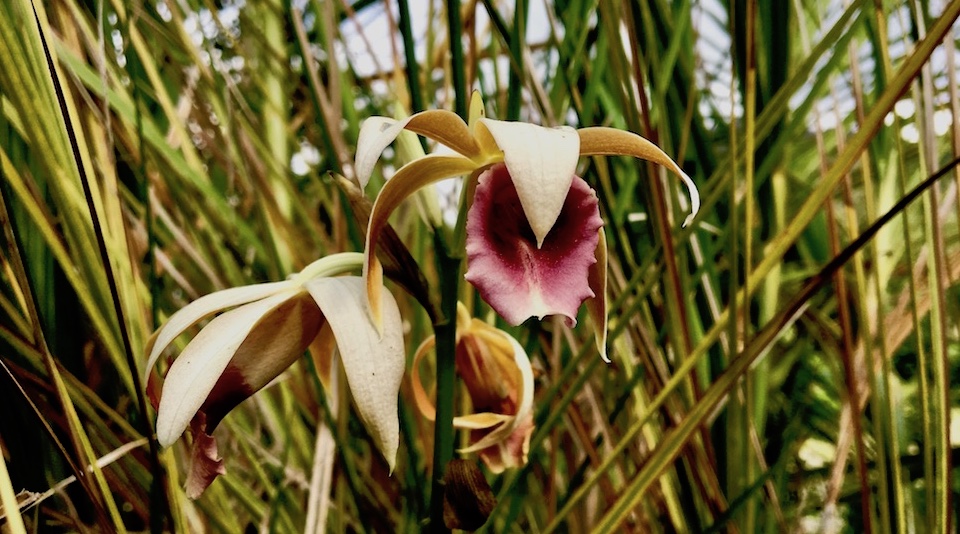 Practical info and budget details
The orchids we've shown you on this post are but a sample of the full range of species that bloom in the Baracoa and Maisí regions.
Wild orchids can be found on almost any trail offered as an excursion in the Baracoa region. You don't have to pick the dates of your stay around orchids in order to see them. But you can choose your excursions according to the month when you're here in order to make the most of the orchid species blooming at the time of your visit.
Not every individual offering guiding services in Baracoa is an expert in orchids (some are stronger in terms of birdwatching, or ferns, for instance). An orchid-knowledgeable guide will make a huge difference for you if your goal is to discover Baracoa's wild orchids.
For budget details about any of the mentioned areas or trails, please click on the correspondent link provided above and go to the "Practical info and budget details" section at the bottom of the corresponding post.
Below we provide you with lists of orchid species according to the type of habitat they thrive in, giving you examples of the excursions where you can find them. Further below, you'll find our calendar indicating the blooming months for each orchid species.
Karstic landscapes
Coastal karst areas
Coastal karsts can be appreciated at Yara-Majayara Protected Area in Baracoa as well as the Pozo Azul trail in Maisí. For Tolumnia guibertiana, we recommend the Maisí-Caleta Ecological Reserve.
Broughtonia lindenii
Tolumnia guibertiana
Hinterland karst areas
Hinterland karsts include mount El Yunque, the interior segment of the Yumuri Canyon and other places close to the main roads of Baracoa, such as the soon-to-be-opened Tetas de Santa Teresa Protected Area.
Bletia patula
Epidendrum anceps
Lepanthes grisebachiana (mount El Yunque's summit)
Specklinia grisebachiana (mount El Yunque's summit)
Pleurothallis tribuloides (mount El Yunque's summit)
Wullschlaegelia aphylla
Serpentine rock environments
This type of environment can be found near the Duaba river waterfalls, on the hills on both sides of river Las Minas, as well as on all the trails at Alexander Humboldt National Park.
Basiphyllaea volubilis
Bletia antillana
Bletia purpurea
Campylocentrum micranthum
Dichaea hystricina
Encyclia hamiltonii
Encyclia howardii
Encyclia moebusii
Spiranthes torta
Tetramicra tenera
Tolumnia sylvestre
Vanilla claviculata
Farm lands
Farms are all over Baracoa – including within the protected areas. Anytime you get in touch with local farmers, you can ask them about their orchids – they'll be happy to show you what they have!
Ionopsis utricularoides
Sacoila lanceolata
Many other orchids from other habitats are also cultivated in farmers' gardens.
More than one type of habitat
Aspidogyne querceticola: hinterland karst and serpentine.
Encyclia phoenicea: hinterland karst and serpentine.
Epidendrum orientale: hinterland karst and serpentine, farmlands.
Polystachia concreta: serpentine, hinterland karst, farmlands.
Prosthechea boothiana: hinterland karst, farm lands.
Prosthechea cochleata: near the coast, hinterland karst, farmlands.
Prosthechea pygmaea: hinterland karst and serpentine.
Specklinia sp: hinterland karst, serpentine, laterite.
Which orchids will be blooming when I visit Baracoa?
Here's a calendar* so you know which species will be in bloom when you come to our region. Alternatively – you can plan your visit to see the orchid or orchids of your choice. Or you can plan to come to Baracoa at a time when larger numbers of orchid species are blossoming! (Remember: this post shares only a limited sample of all the orchids you can find in Baracoa!)
Wild Orchids in Bloom • Baracoa Cuba • English

* This calendar was crafted using the best information available to us, namely from the book The Orchids of Cuba, by Juan Llamacho with pictures by Julio Larramendi (2005), as well as the compilation Orchids of Cuba, by Denis Valet (2016). We've made corrections using information shared by a local orchid expert – and in some cases using our own in situ observations (i.e., sightings at dates different from those stated on both sources).
Acknowledgements
Our heartfelt thanks to our good friend Noel Coutin Lobaina, field expert whose knowledge of orchids in Baracoa is unparalleled and who has been extremely generous in sharing with us, guiding and teaching us. Noel is co-author of the identification of a natural location for the hybrid Encyclia xosmentii (moebusii x hamiltonii), in the Baracoa region. We are eagerly waiting for his book on the orchids of Baracoa to be published. This article wouldn't have been possible without his passion for sharing his knowledge. Needless to say, any errors or inaccuracies in our post are our entire responsibility – not his.
---
Activities, Baracoa, Sustainable Tourism
Tags: Ecology, Forests, Hiking, Nature Tourism, Off the beaten path, Rivers, Trails