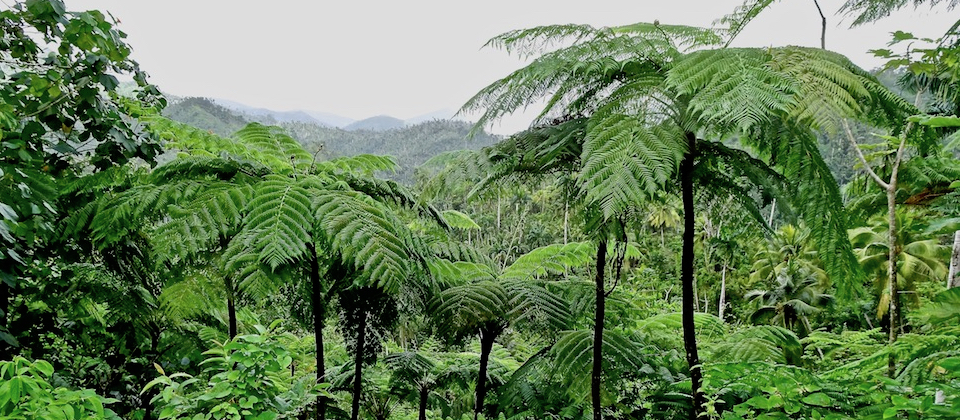 Published on 20 October, 2018.
---
When you come to Baracoa you'll be at the gates of Cuchillas del Toa Biosphere Reserve, one of Cuba's most beautiful and off-the-beaten-path protected areas. River Toa's basin features the most transparent waters and the greenest forests in the country.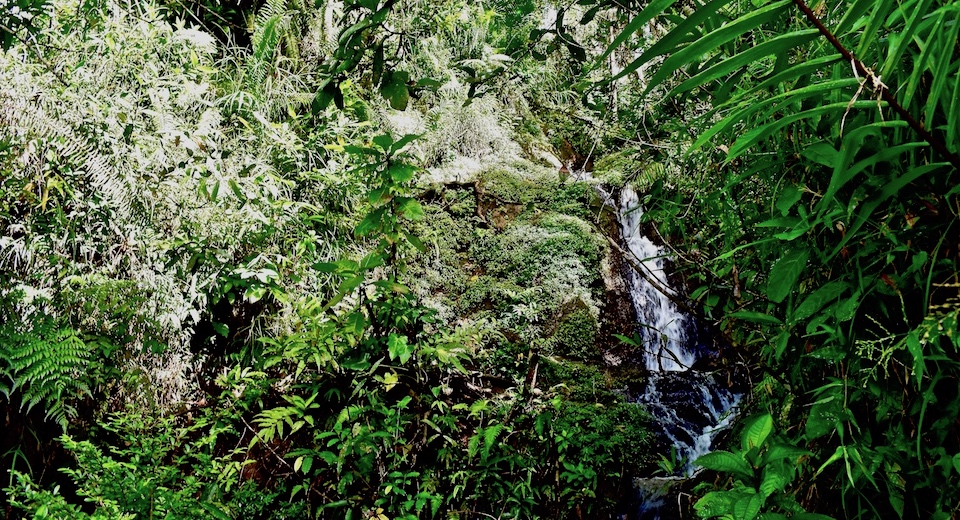 River Toa's last 20 km before reaching the sea are flanked by populated, fertile and accessible lands. A jeep ride to the small community of Quibijan offers you a glimpse of tropical rain forests and local folks' excellent agroecological practices.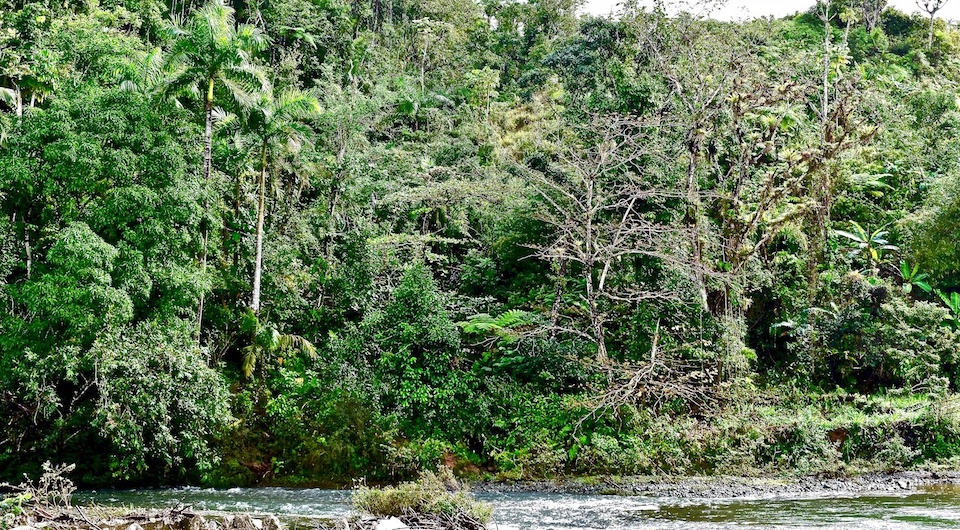 Up the Mountains Along River Toa
With its 124 km, the Toa is not Cuba's longest river but it is the most voluminous. Indeed, River Cauto is longer with 343 km, but the Toa's water volume is four times larger. While the Cauto meanders slowly and ends up as a large swamp, the Toa is all strength and rapids as it descends from the mountains.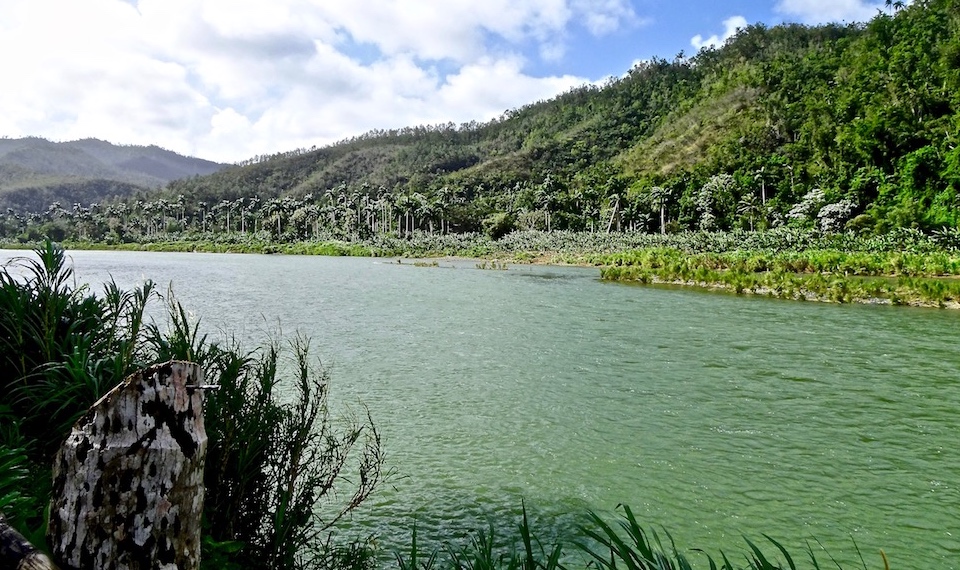 A jeep trip up along the Toa allows you to appreciate the local traditional way of life – the peasant homes, the small cocoa, plantain, coconut and fruit trees farms… Everything is green, everything is bursting with life. When you arrive in Quibiján, you will be able to visit a small family permaculture farm.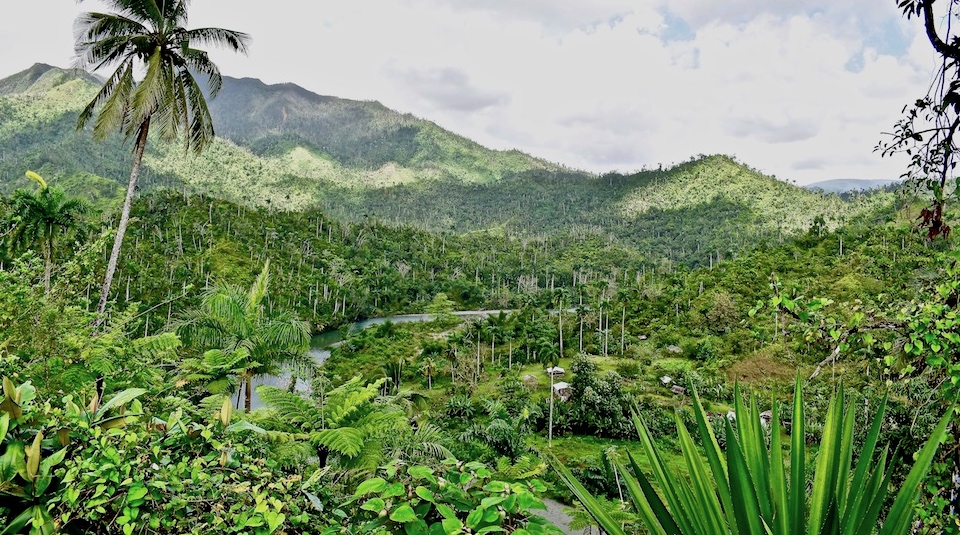 Good Rain, Luxuriant Forests, Generous Agricultural Lands
Such fertility should not be a surprise. If Baracoa is the region with the highest average annual rainfall levels, the Toa basin is one of the areas in Baracoa most blessed by rain. On the same day, the weather may shift from fully clear skies to partially cloudy and then to intermittent rain only to see the sun shine again.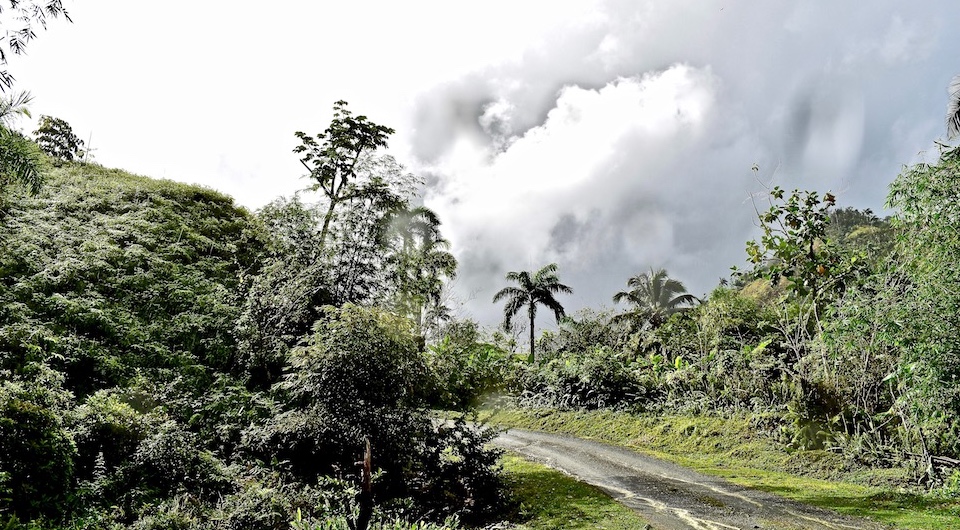 The flora's density protects the soil – and the low clouds' constant friction with the vegetation keeps everything moist. When you explore this type of tropical forest habitat you can enjoy a rich succession of rain and sun light – a balm for the body and soul.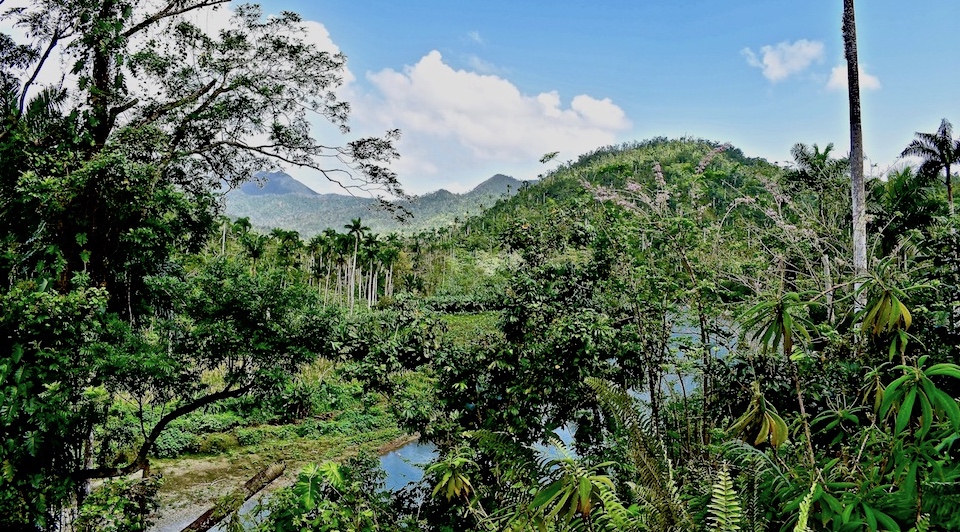 At the Heart of the Biosphere Reserve – the Toan People
Many of the homes by river Toa were built using the traditional palm tree wood materials and techniques.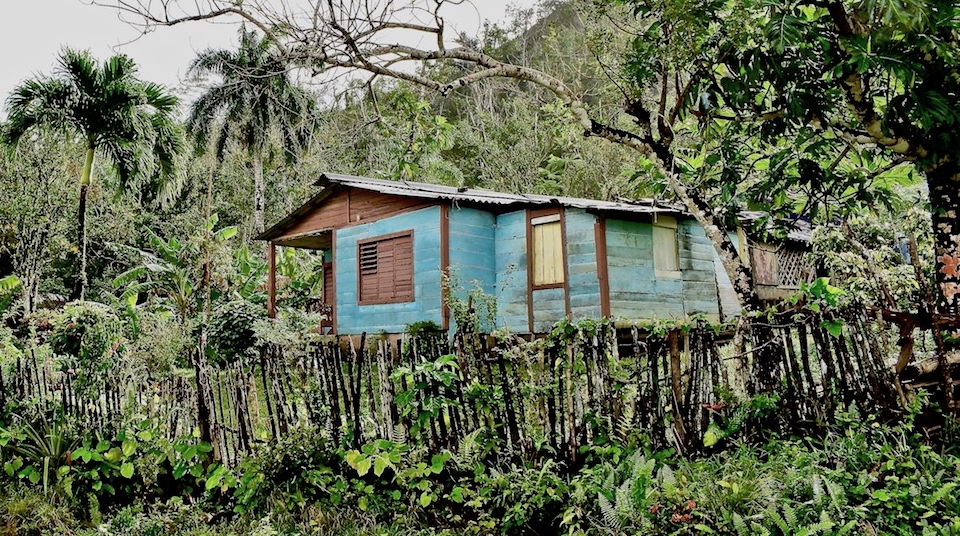 Local folks live of agriculture and raising animals.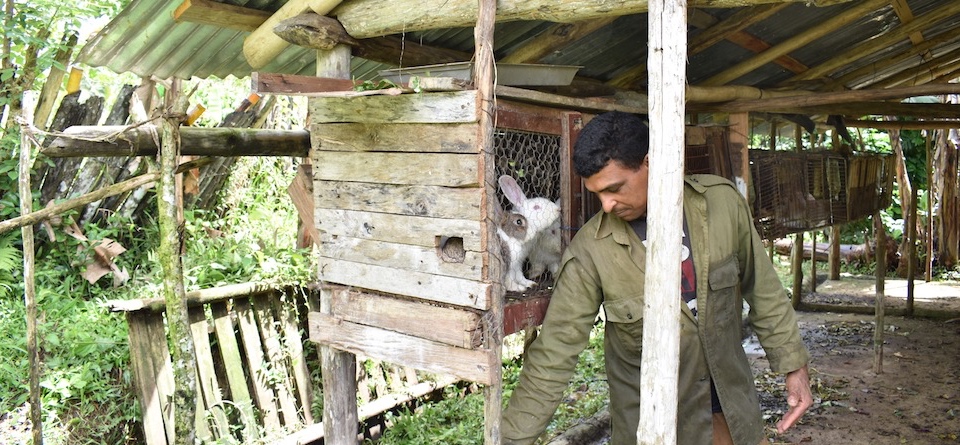 Among the Toa basin's iconic human profiles you will find the cayuqueros (cayuca rowers) and the balseros (rafters). The cayucas are flat-bottom canoes that have been used for generations as a transportation means for both people and agricultural produce.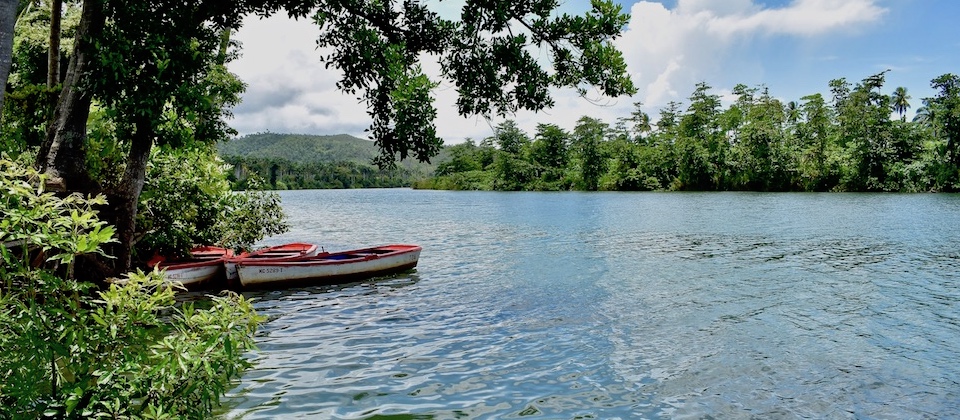 The bamboo rafts are equally typical of river Toa and its tributaries, and local folks learn how to build them when they're kids, using them as well to cross the river when they go to school and back home. Perhaps a cayuquero or a balsero will accept to take you on a short ride on the river…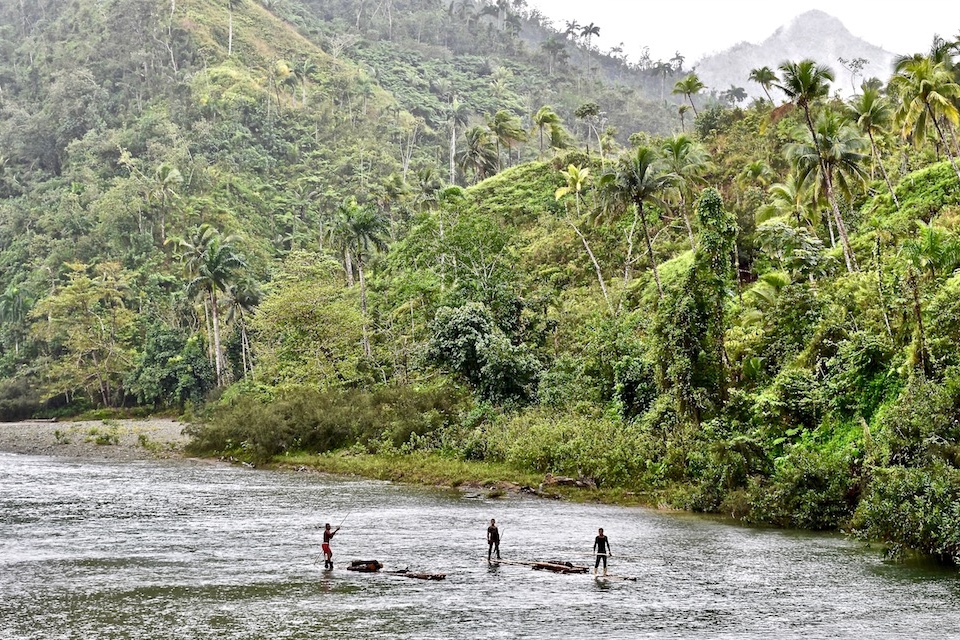 The Cuchillas del Toa reserve and its vegetation
When you go up the mountains on the road along river Toa, you will understand why the region and the biosphere reserve are called Cuchillas del Toa (Toa Knives). The mounts here have this peculiar shape, sharp like arrow points aiming at the sky.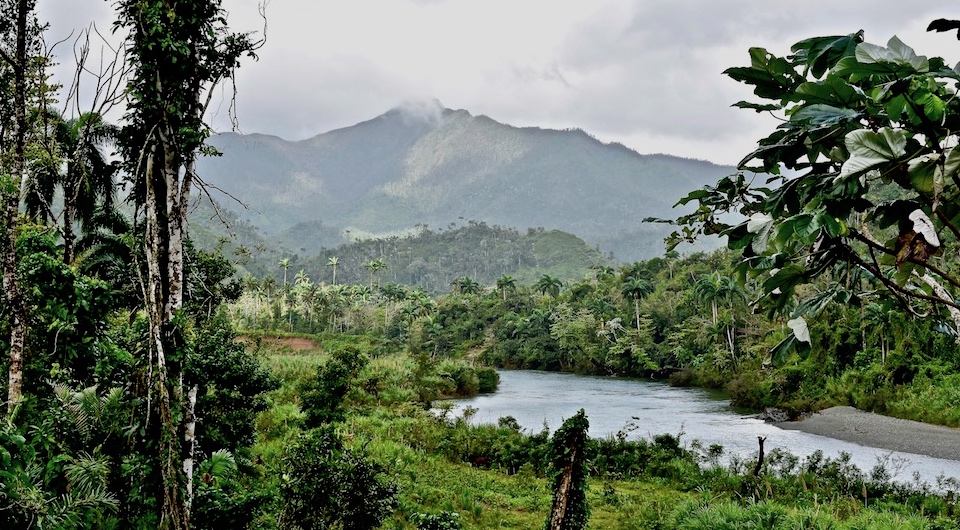 The local flora is quite diverse and it encompasses an important proportion of endemic species, both in the rainforest areas and the charrascal habitat. You'll be able to appreciate whole hills covered in ferns.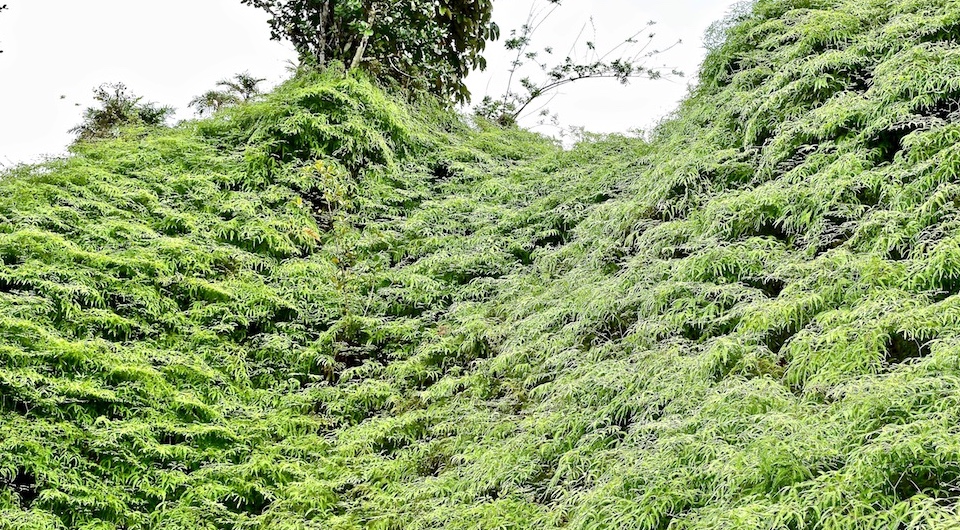 You'll also find spots where clusters of tree ferns of different kinds abound, including the Cyathea arborea species.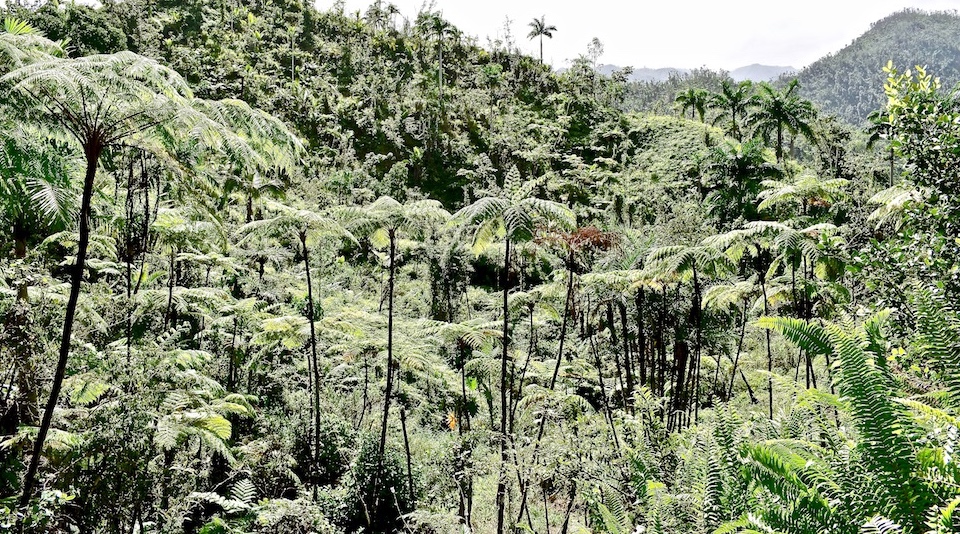 From the road or little trails used by local folks you will also see stretches of dense forests. For conservation reasons, it's better not to try and go inside such flora – it's better to enjoy it from its limits, thus avoiding damaging the delicate balance that characterizes it.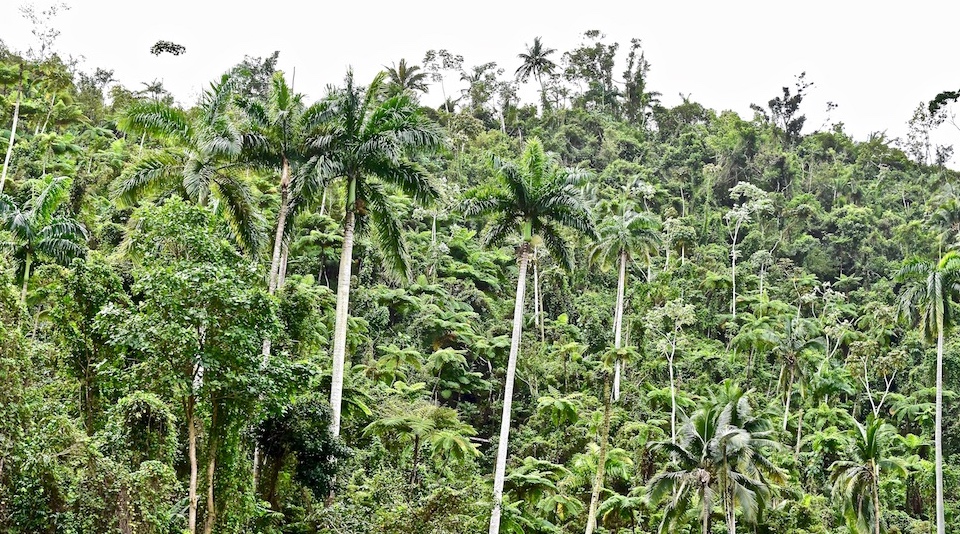 In this protected area you'll also be able to appreciate a diverse fauna with numerous endemic species of birds, frogs and reptiles such as this saltacocote (Anolis baracoae), unique to the Baracoa region.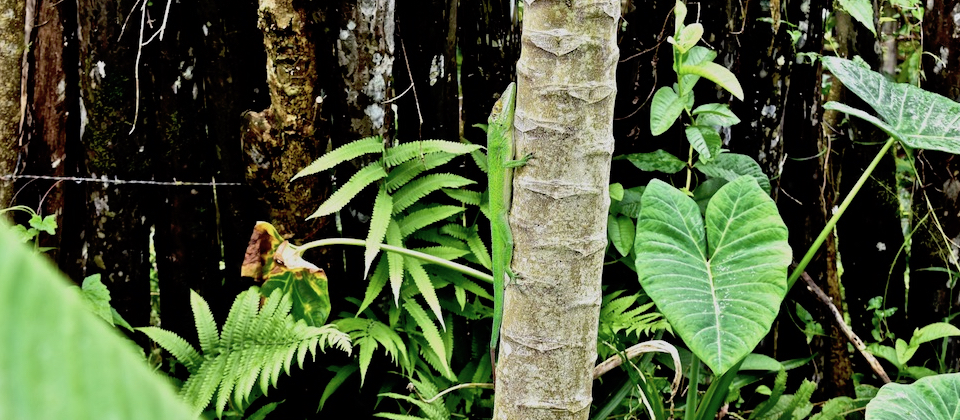 The Toa basin comprises a number of difficult to access waterfalls. One of them is Salto Fino, the highest in the insular Caribbean with a 305 meters fall. Recently, Salto Fino has been designated as a protected area and it will benefit from a specific management approach.
Rivers Quibijan and Barbudo
No less than 71 rivers and streams feed their waters into the Toa. Some of them, such as river Jaguaní, are significantly voluminous. Our jeep arrives at the small community of Quibijan, roughly 16 km up the road, where two tributaries of river Toa converge – river Barbudo and river Quibijan.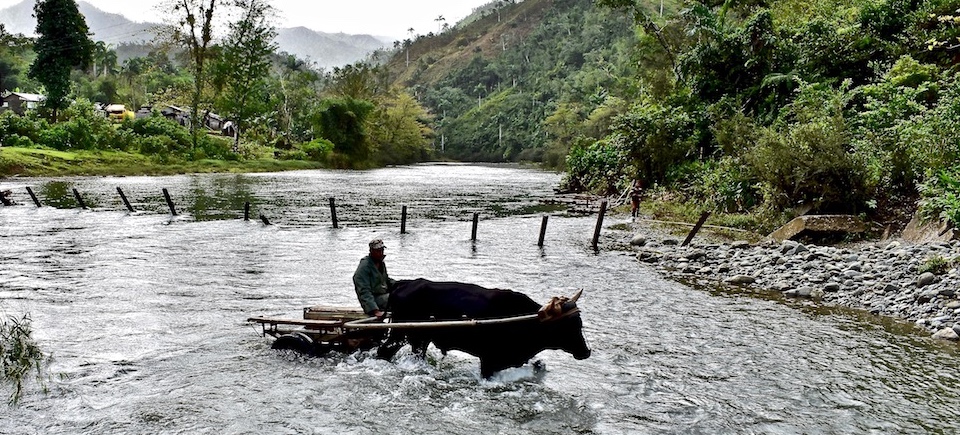 Quibijan is rarely visited by travellers who come to Baracoa, but those who have been fortunate to get to know it appreciate it quite a bit.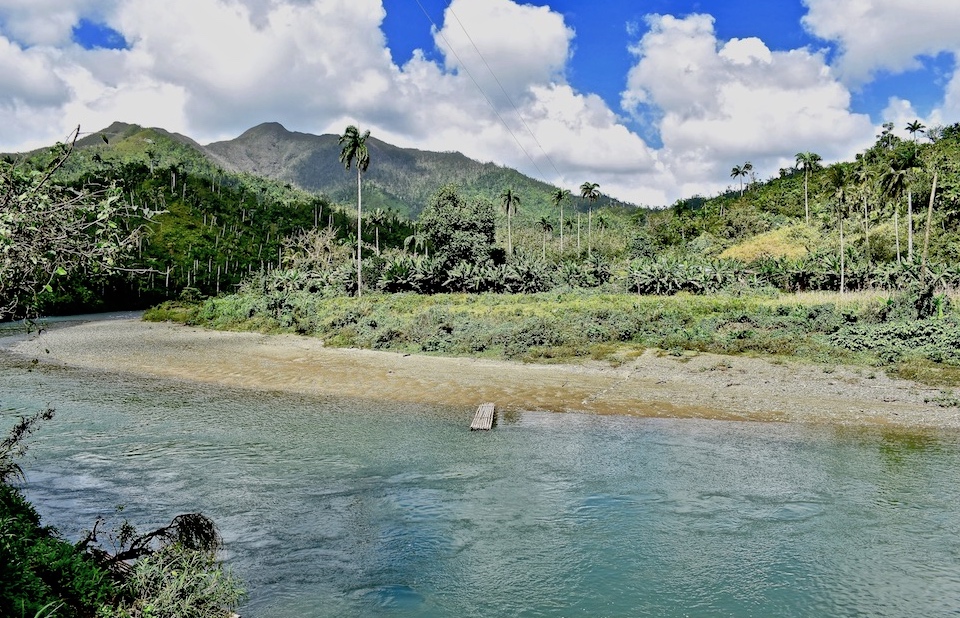 There you can request a good Toan lunch at a local peasant family's home, and thus you can enjoy the delicious traditional food from these mountains.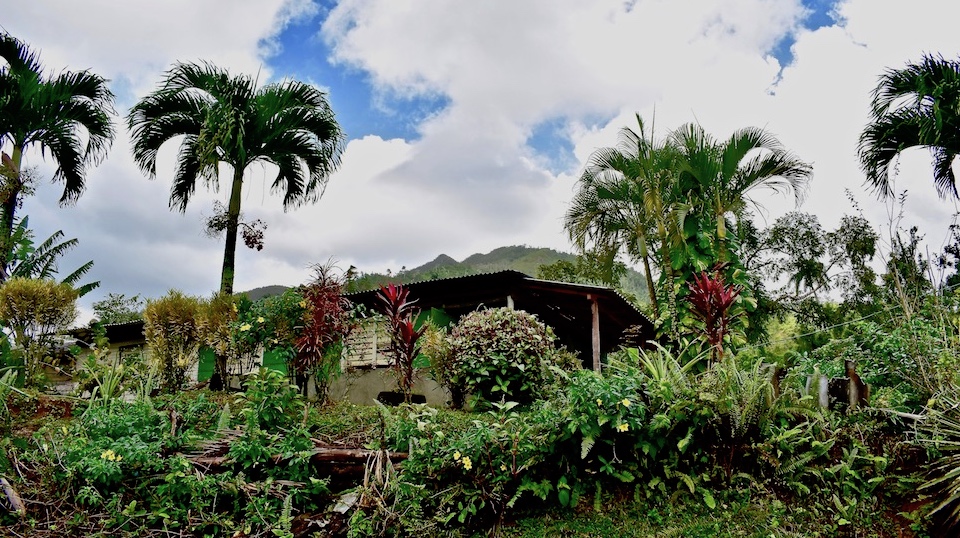 El Eden Farm – A Permaculture Initiative in the Heart of the Toa Basin
The authorities and workers responsible for the protection of Cuchillas del Toa Biosphere Reserve work all year long not only to raise awareness among the local population about nature conservation, but also to develop forward-thinking agroecological practices and culture.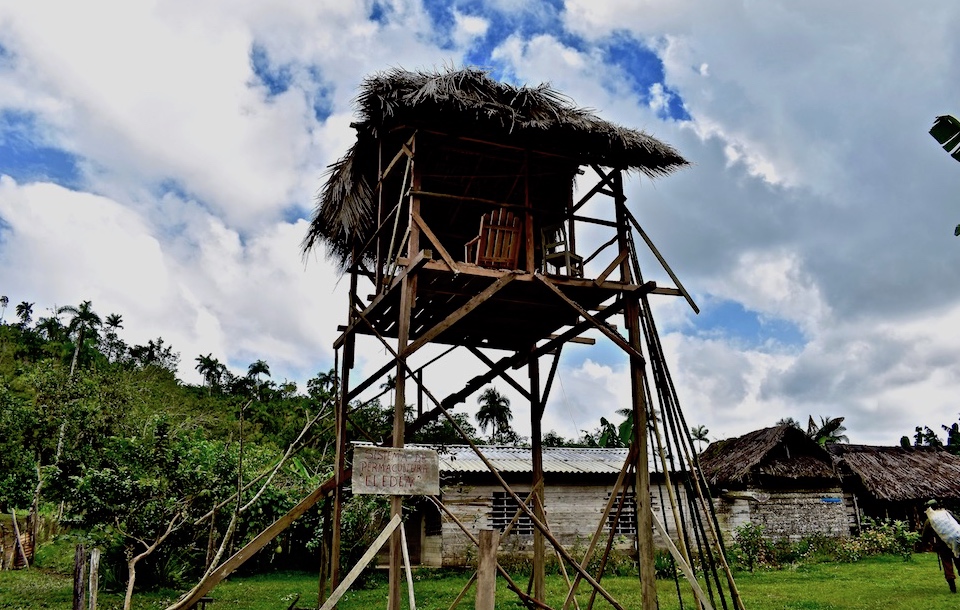 In the Quibijan area, El Eden farm is of particular interest to eco-travellers for its permaculture approach. Located in a small flat valley by river Quibijan, this family farm produces plantains, sweet potatoes, coffee, corn, various types of fruit and raises animals such as rabbits and pigs.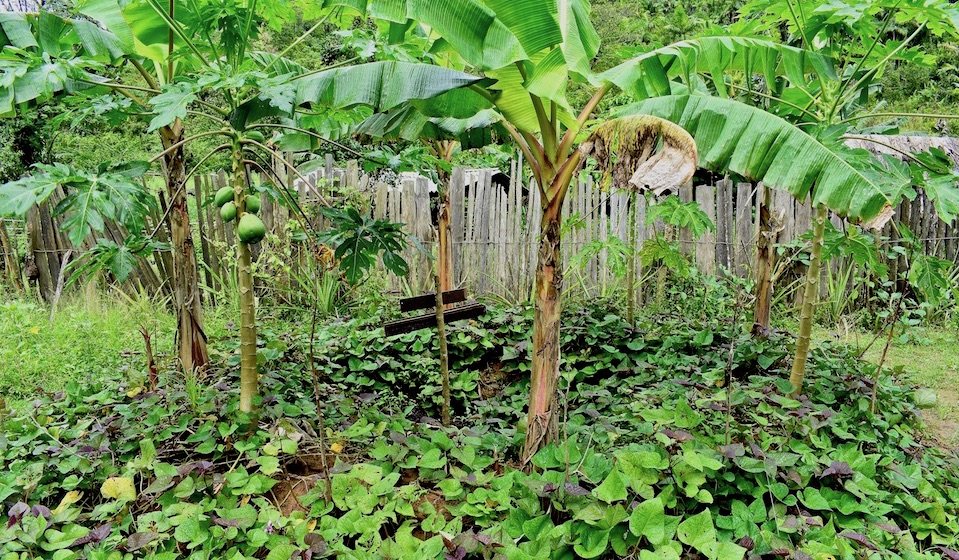 The farm has benefited from significant technical support from government and non-governmental agencies that specialize in agroecology and permaculture, such as Centro Lavastida, an ecumenical organization based in Santiago de Cuba.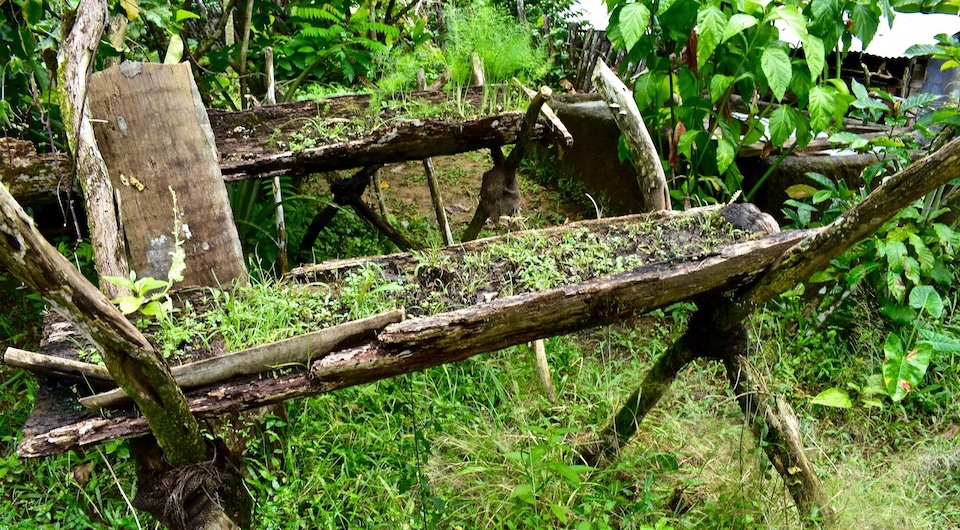 The farm sales its produce at low prices to families in various areas of the Baracoa region. Thus, the ecological mission of integrating agricultural production and natural environment meets the social mission of distributing the benefits of production to the largest possible number of people in the region.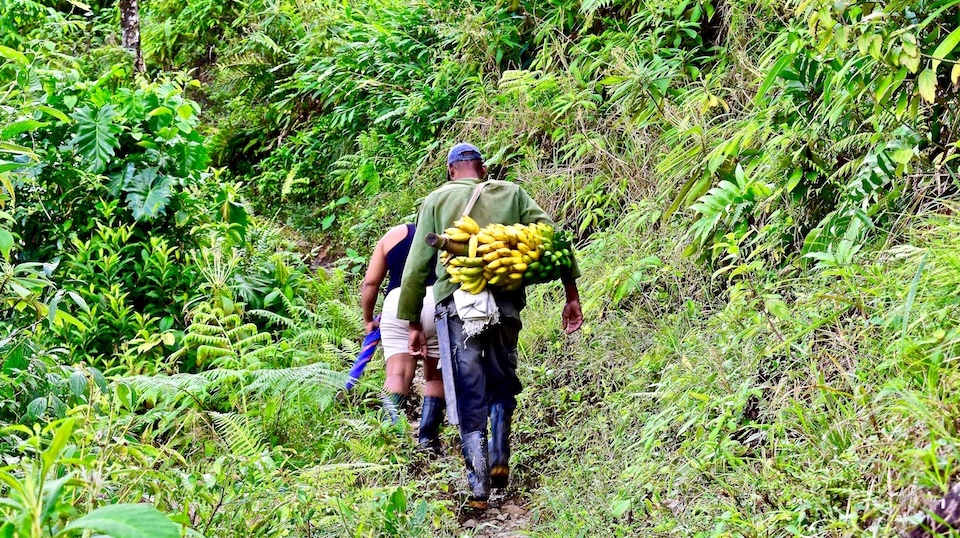 Downstream, Close to the Toa Delta
Over the last 8 km downstream before it meets the sea, river Toa becomes progressively wider and flows through a flat coastal zone featuring small communities on both shores. This area is quite accessible and very enjoyable too, including several spots for bathing such as small waterfalls and natural pools.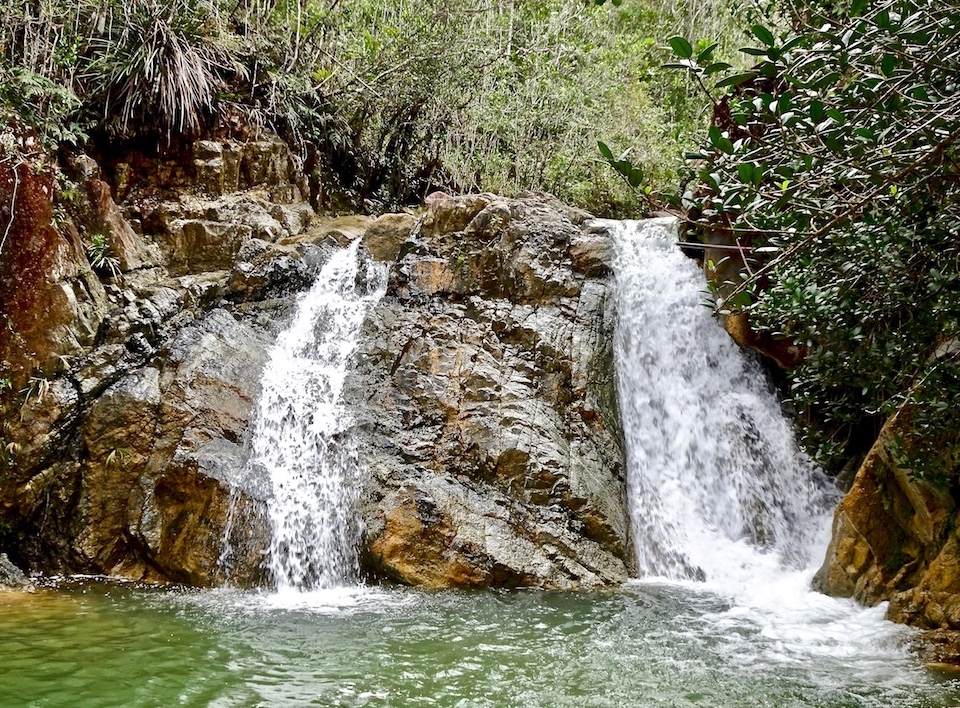 You can go for a nice bicycle ride in this zone, using the cycling maps Villa Paradiso commissioned from Inspirit Cartographics– a set of technically flawless and artistically rendered maps, complimentary offered to ours guests.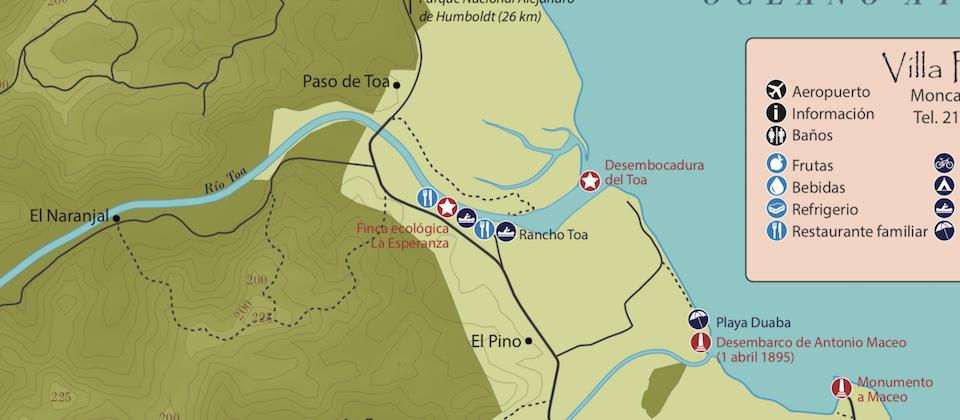 Close to the river delta you will find Rancho Toa restaurant, an idyllic spot right on the river's shore and featuring several traditionally thatched structures.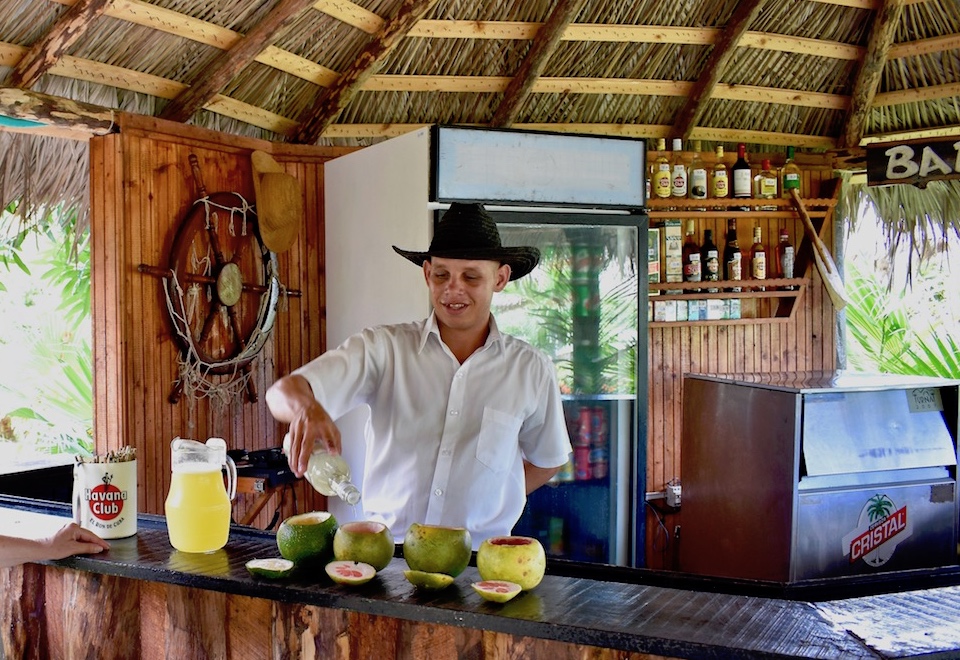 The place offers delightful shade and the cool air and breeze form the river and the sea. Rancho Toa offers à la carte options or a buffet with traditionally roasted pork, with a hearty ajiaco soup for starters – and with all the typical countryside trims.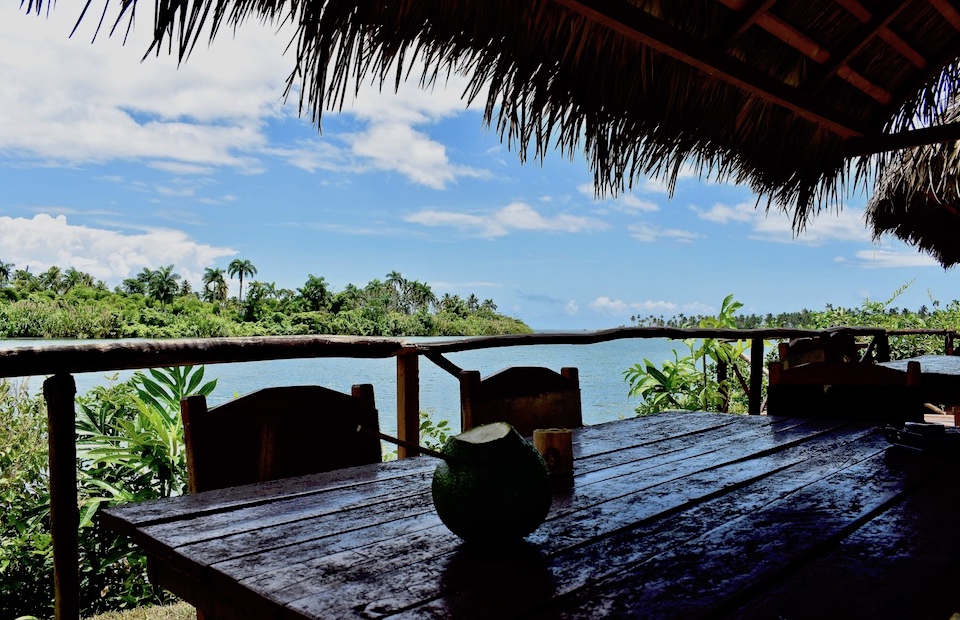 Before lunch, you can enjoy a great seasonal fruit juice, a deliciously chilled coconut water or a perfectly shaken orange juice, passion fruit and rum cocktail, served on a grapefruit skin and using a natural reef straw instead of a single-usage plastic one. Rancho Toa also proposes boat rides upstream or downstream to the delta – yet another way of enjoying the river.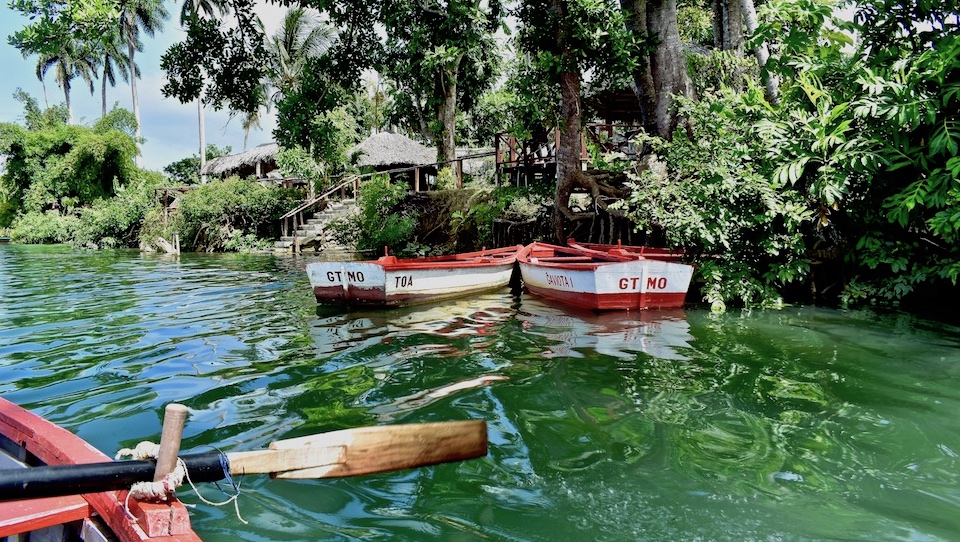 Did you know?
The Cuchillas del Toa Biosphere Reserve covers a 2,083 km2 area and was created in 1987. Within the reserve lies Alexander Humboldt National Park, with its 706.8 km2, as well as the mount El Yunque protected area. Mapurisí beach, near Humboldt Park Visitors' Centre is also within the reserve.
With its amazing tropical rain forests and its numerous crystal-clear tributary rivers and streams, the river Toa basin is considered to be the most important water factory in Cuba, as highlighted by the late Cuban geographer and ecologist Antonio Núñez Jiménez.
Practical information and budget details
River Toa is 9 km away from downtown Baracoa. To get to Quibijan, a jeep will be needed for the remaining 16 km up the road along the Toa.
The Ecotur agency in Baracoa offers a one-day jeep excursion to Quibijan that includes transportation, a guide service and a visit to El Edén Farm. A minimum of 2 people is required and the jeep has capacity for 3 people. The price for an adult is 49 CUC and for children is 37 CUC and it includes a snack (a sandwich and a juice).
A private taxi to Quibijan for the day costs between 30 and 35 CUC. The driver will follow your instructions – where to stop to appreciate the view, take pictures, etc. And he will wait for you wherever you ask him to wait, returning to Baracoa at the time of your choice. Even if you make your own transportation arrangement, you should show up at Ecotur the day before to pay (15 CUC per person) the entrance to the protected area and to get a guide service to come with you on the private taxi – a guide will certainly enhance your experience of the local flora and fauna.
If you request a traditional lunch from a local peasant family in Quibijan, you can plan to pay between 5 and 8 CUC per person.
If you wish to take a short ride on one of the rafts, you can offer a voluntary tip to the rafter – your tips and small contributions in exchange for your exploration experience contribute to a sustainable tourism that benefits local communities.
Unless you are a solid cyclist and in good shape, the excursion all the way to Quibijan is not an easy cyclotourism outing given the distance (25 km one-way), the long, steep uphill stretches as you go up the mountains and the road conditions (significant segments of dirt road).
That said, an option is to enjoy a more modest cycling excursion: 9 km from Baracoa to river Toa, then maybe some 8 km up the panoramic road along the river to the Neblina bridge area. This excursion allows you to visit a waterfall and natural pool where you can bathe. From there you can come back to Rancho Toa for a typical lunch and a boat ride in the river. This excursion can also include a visit to river Duaba's delta, where there's a remarkable view towards mount El Yunque.
Renting a good bicycle in Baracoa costs 6 CUC for the day. Villa Paradiso offers its guests complimentary cycling maps of the region.
We warmly thank Anne & Phil, guests of Villa Paradiso who came with us to Quibijan, who very kindly authorized us to use 3 of their pictures for this article.
Did you like this post? Pin it!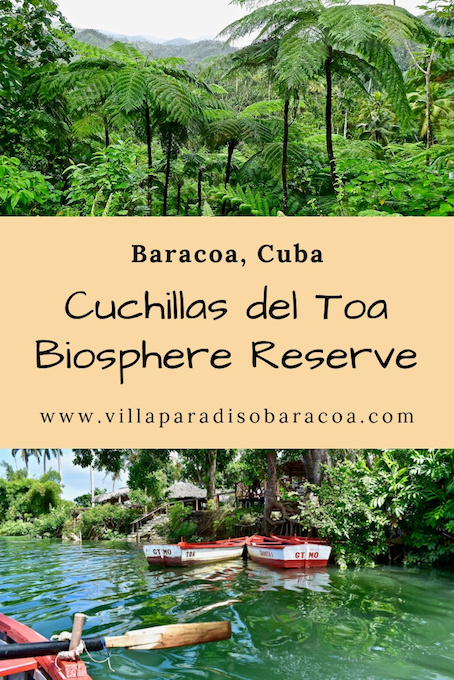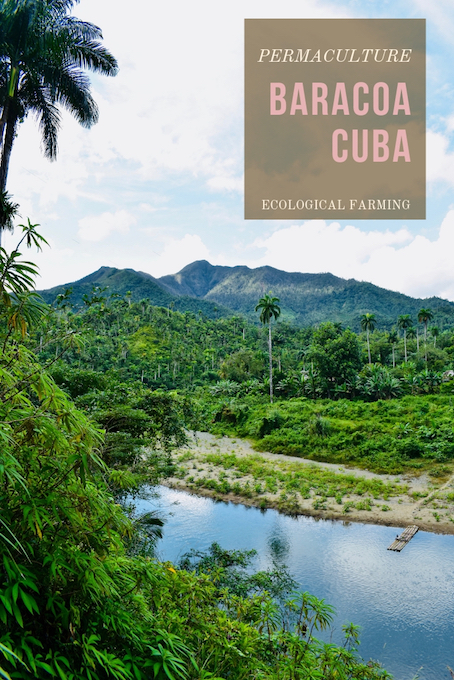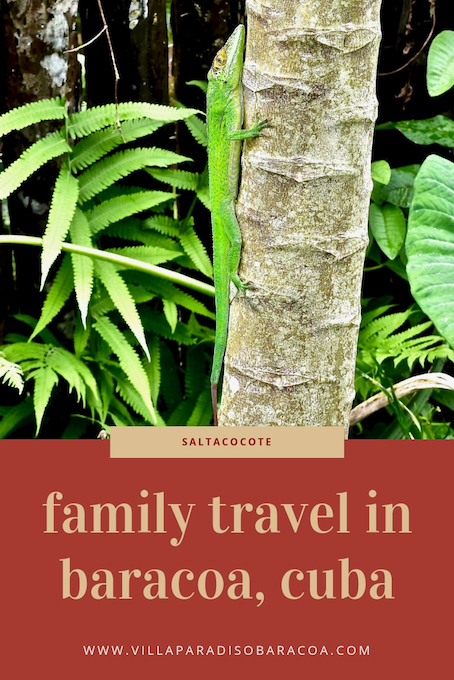 ---
Activities, Baracoa, Sustainable Tourism
Tags: Adventure Tourism, Agritourism, Birdwatching, Culture, Ecology, Food, Forests, Hiking, Nature Tourism, Off the beaten path, Rivers