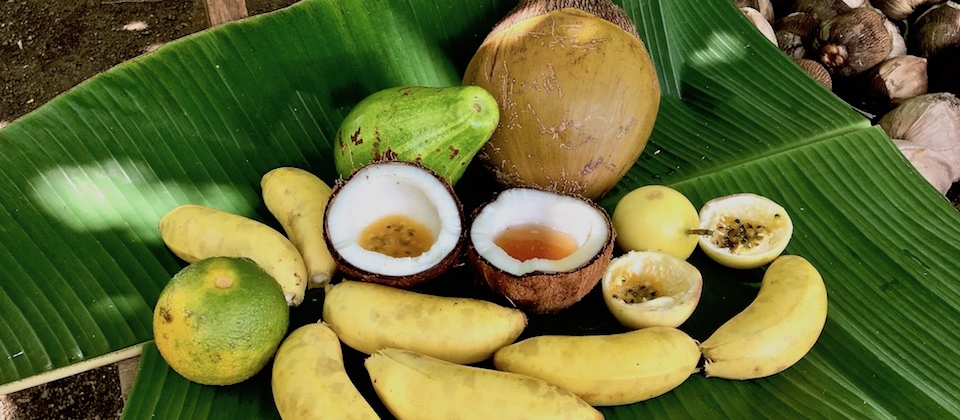 Published on 13 October, 2019.
---
Contrary to the current crisis affecting the bees the world over, Cuban bees are doing very well. Travelers from all continents appreciate the tasty honey produced in our country. We decided to visit the beekeepers in Baracoa.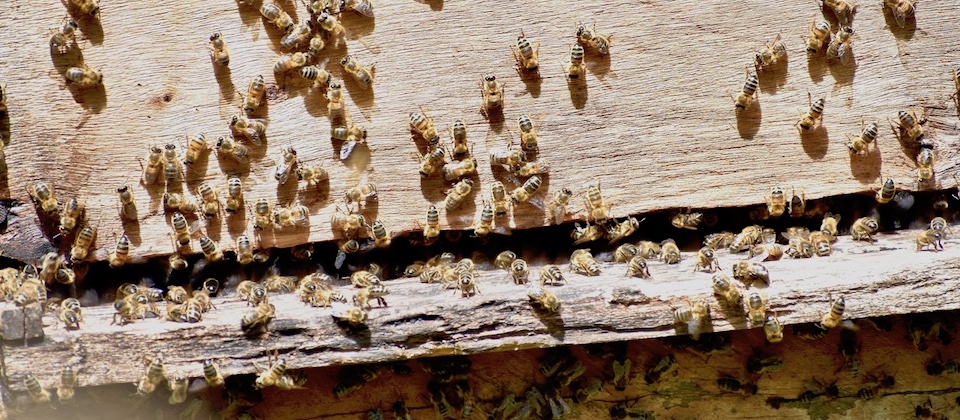 Having enjoyed our region's amazing honey for a long time, we definitely wanted to go and meet our local producers where they live and harvest the exquisite liquid. We invite you to come along with us on hike to the El Yunque apiary, sitting 150 meters above sea level and offering great panoramic views!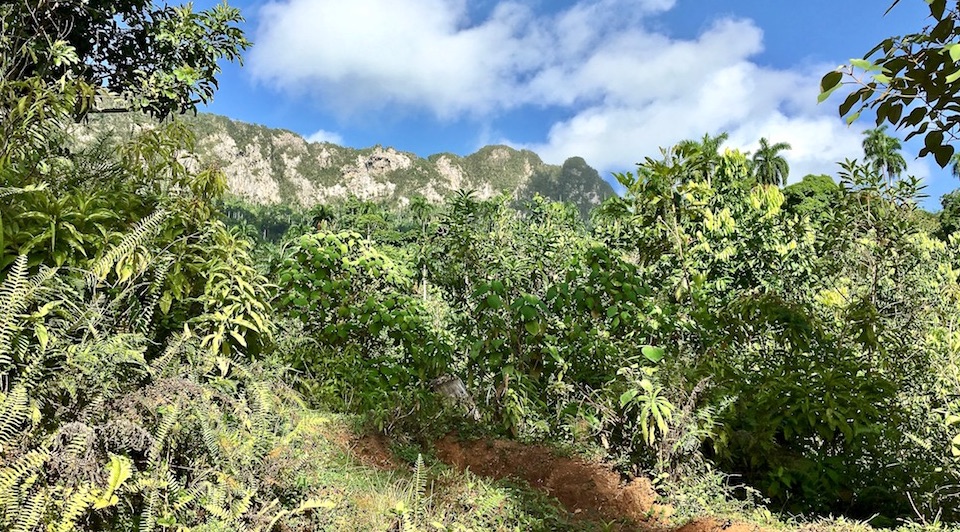 Our source of inspiration – an unexpected visit a few months ago
Last January, two French beekeepers came to discover Baracoa and stayed with us. Yvan and Catherine have a large apiary in France's Massif central, including a museum featuring all things honey – a great attraction for lovers of agritourism or agrotourism. Yvan and Catherine told us about their interest in meeting Cuban honey producers in Baracoa.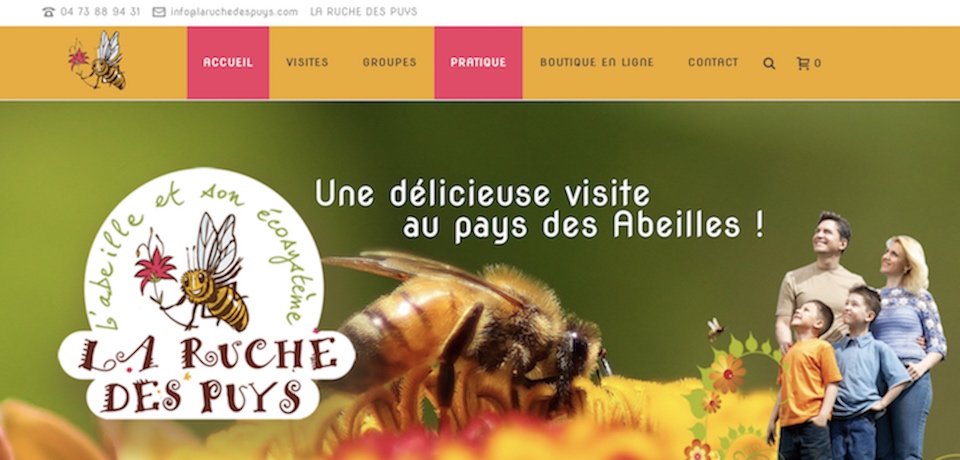 A phone call to our friends at ANAP (National Association of Small Agricultural Producers) led us to contact three beekeepers in the area of El Yunque, the iconic flat top mount that reigns above the Baracoa landscape. The day we visit them, a ceaseless drizzle drenches our region. We stop by first at Tato's. He specializes in reproducing queen bees for other beekeepers.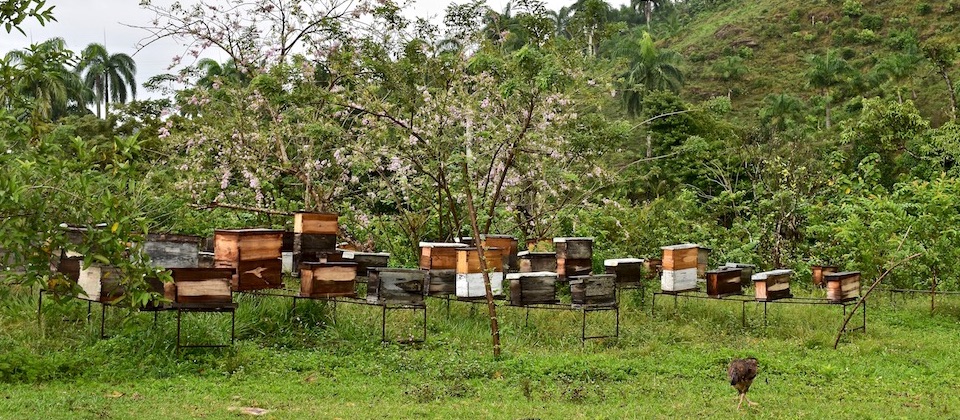 Tato is surprised by our visit when we call at the entrance to his property. Like all Cuban peasants and farmers, he welcomes us whole-heartedly and, thanks to translation, a very nice exchange begins between him, Yvan and Catherine. A sudden increase in the rain forced us into Tato's home for a few moments.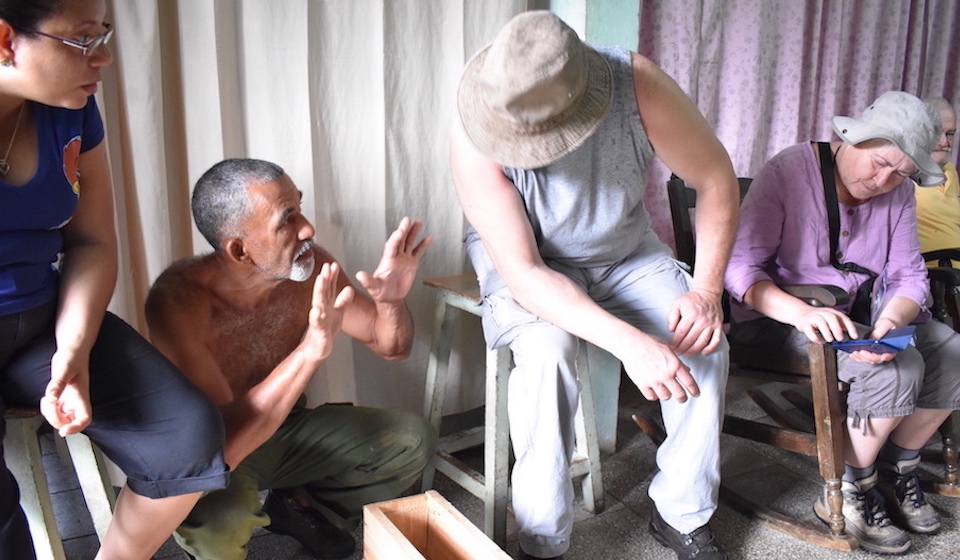 After such a nice meeting, we get back into the car to go visit Roelvis and Eriberto, two cousins who share the passion for beekeeping. There, by Roelvis' hives, a deeper conversation unfolds between honey producers from very different countries.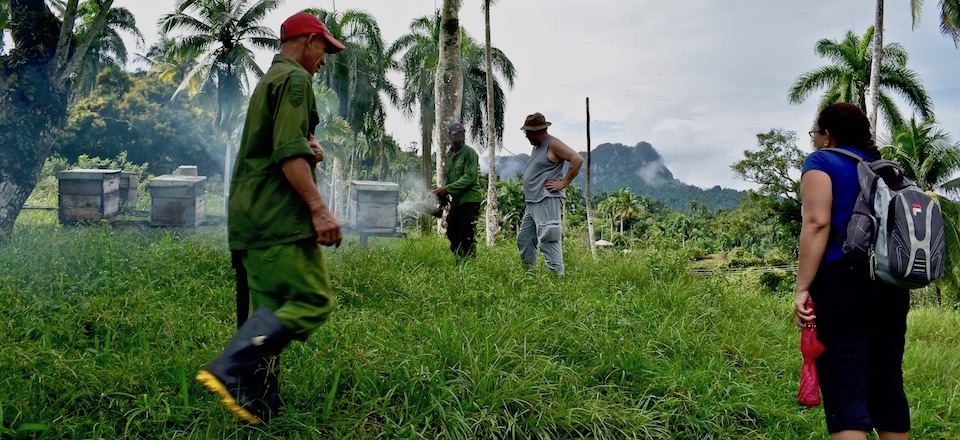 The French beekeeper owns 10 times more hives in his farm but, thanks to Cuba's healthier environment, a Cuban hive produces twice as much honey as a French hive.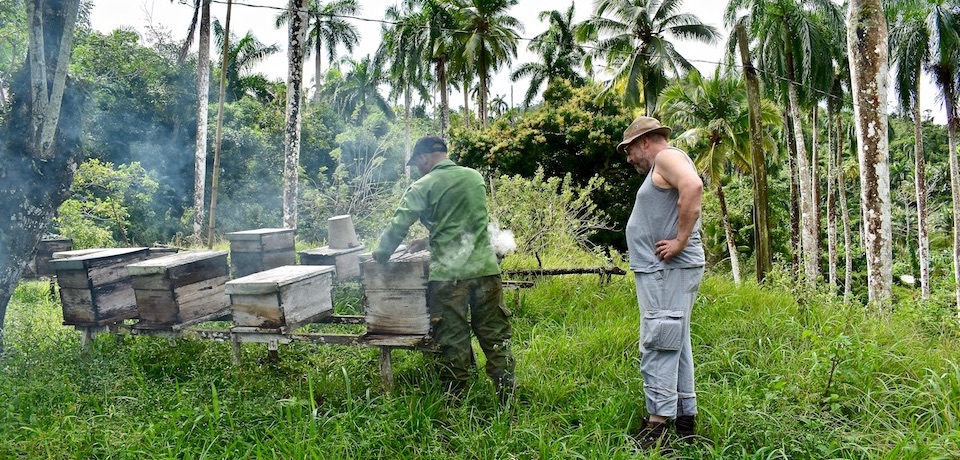 The absence of pesticides in Cuba results in only 1 % of bees dying every year here (from natural death causes), whereas in France between 35 and 50 % of the bees die from the impact of such polluting products.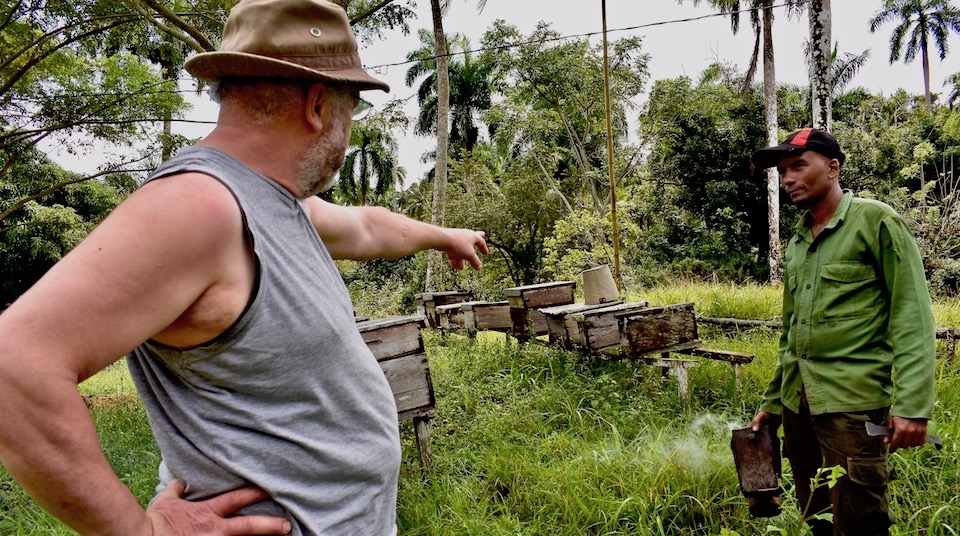 The climate at France's Massif Central allows for only three months of blooming flowers and honey production every year, while in Cuba only one or two months per year see a significant decrease in productivity.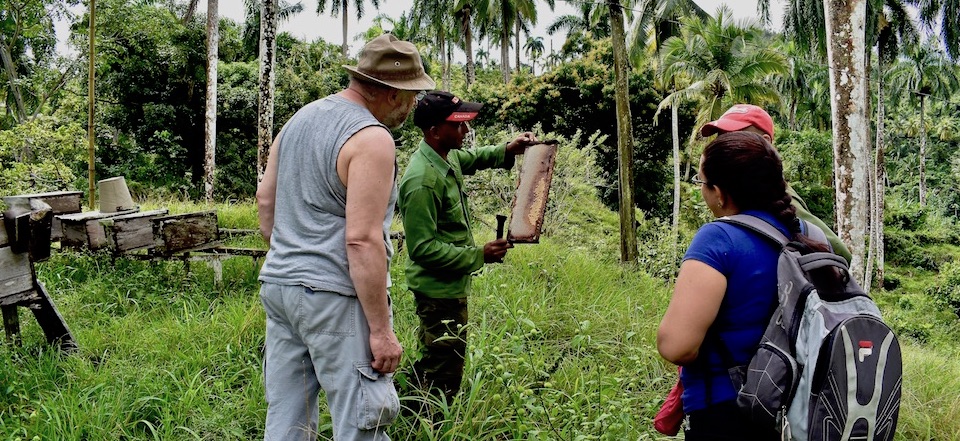 A kilogram of honey sells for more money in France? Yes, but the production costs are significantly higher too… Having shared a few such facts and comparisons, it was time to taste the golden liquid produced by Roelvis' bees – delicious!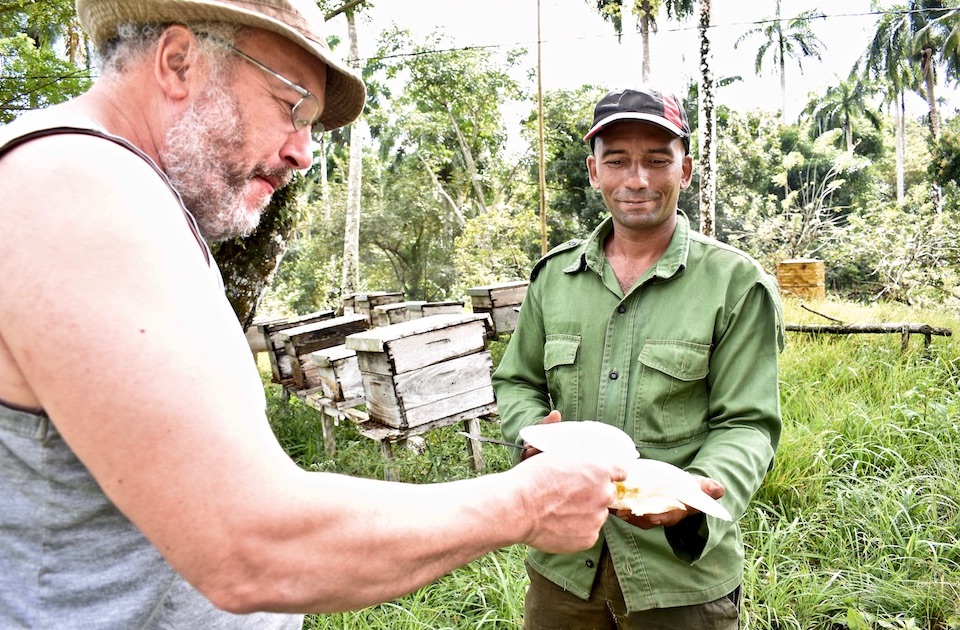 We learned lots from both countries' beekeepers during this visit. The world of bees is fascinating! But we still had to make the trip up the mountain to Eriberto Sourt's legendary beekeeping farm and, for that, we should pick a sunny day…
The hike to the beekeeping farm – a green trail with panoramic views
Eriberto's farm is famous in Baracoa. It's the one sitting at the highest altitude on El Yunque's foothills. For a long time, Eriberto's has been the largest honey producing operation in these lands. We start our hike at dawn with our friend Asunción Garrido, from ANAP – a local leading woman with a huge, bursting laughter and an even larger heart! (Check her out on the short video at the bottom of this post!)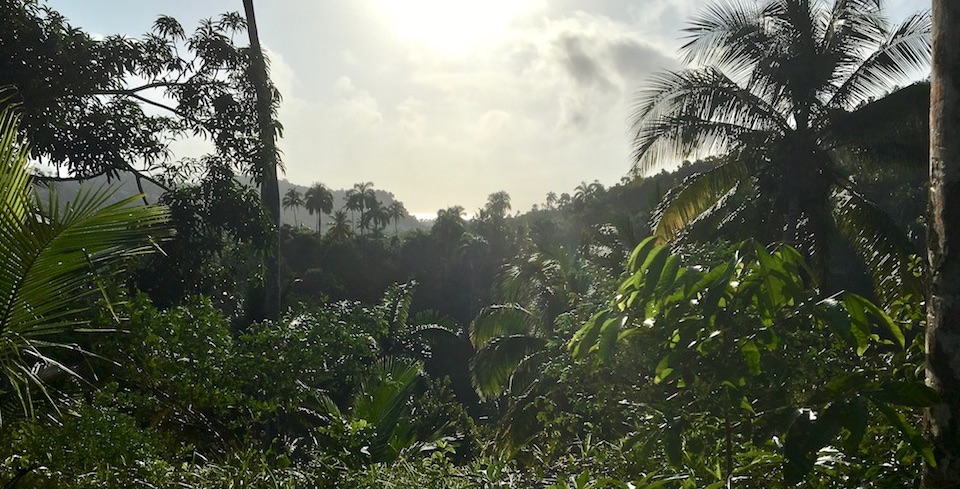 Over the next 90 minutes ascending to the El Yunque apiary, we will bask in the beautiful views of the nearby karstic landscape as well as the mountains of the Cuchillas del Toa Biosphere Reserve.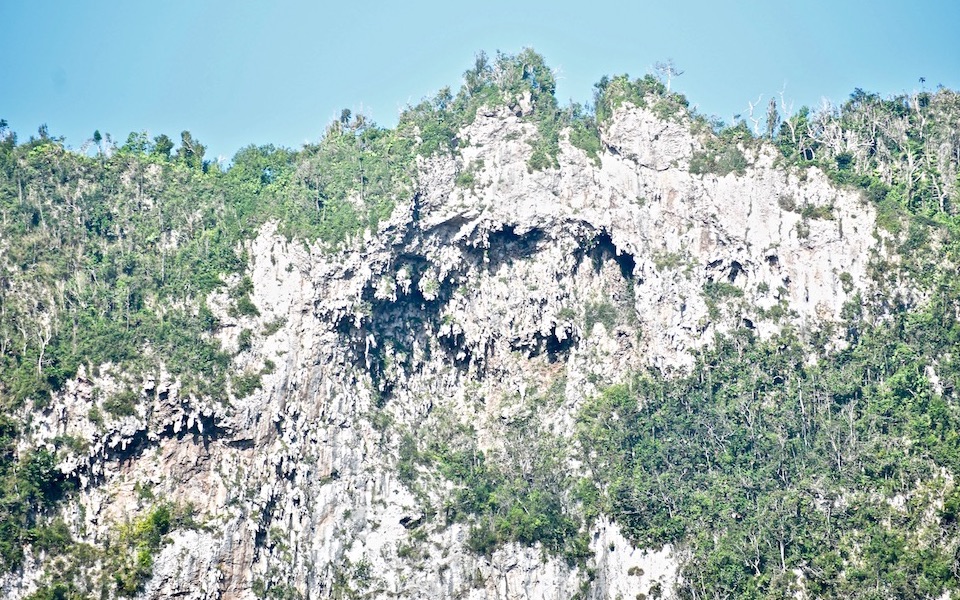 On both sides of the trail we see farms: cacao, coconut, mango trees… Among the flowers whose pollen is the source of the most sought-after varieties of honey, you can find the mango tree flowers and those of the júpiter tree (Gliricidia sepium), also known in Eastern Cuba as piñón florido. The following pictures show mango and júpiter flowers, respectively.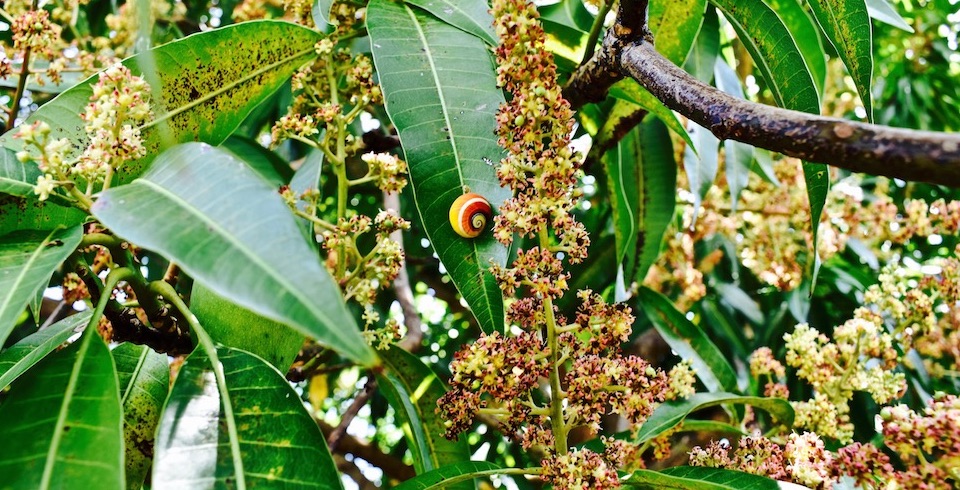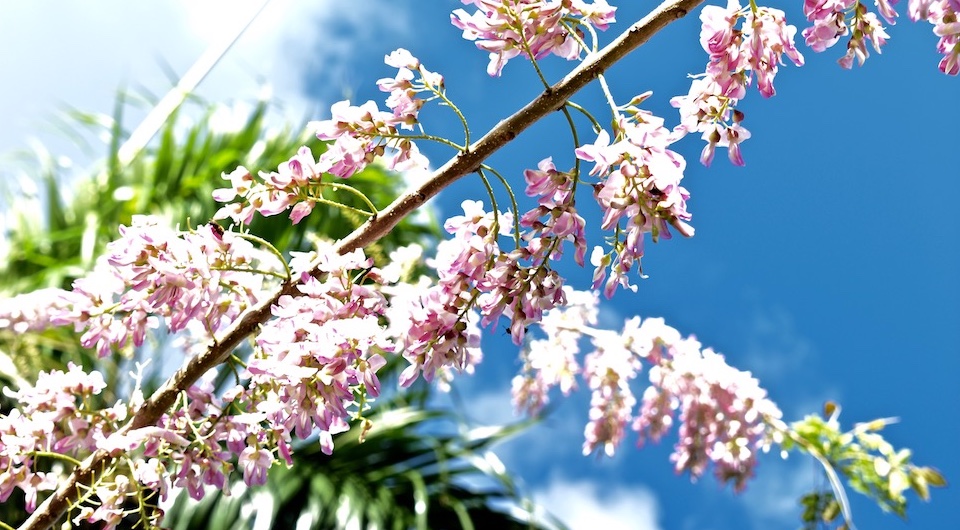 We can hear Cuban and West Indies endemic birds sing along as we hike. We were able to take pictures of a tocororo (Cuban Trogon, Priotelus temnurus), several guainubas (Cuban Orioles, Icterus melanopsis) and carpinteros jaba'os (West Indian Woodpeckers, Melanerpes superciliaris). But we also saw Cuban Green Woodpeckers (Xiphidiopicus percussus), Cuban Emeralds (Chlorostilbon ricordii), Smooth-billed Anis (Crotophaga ani)…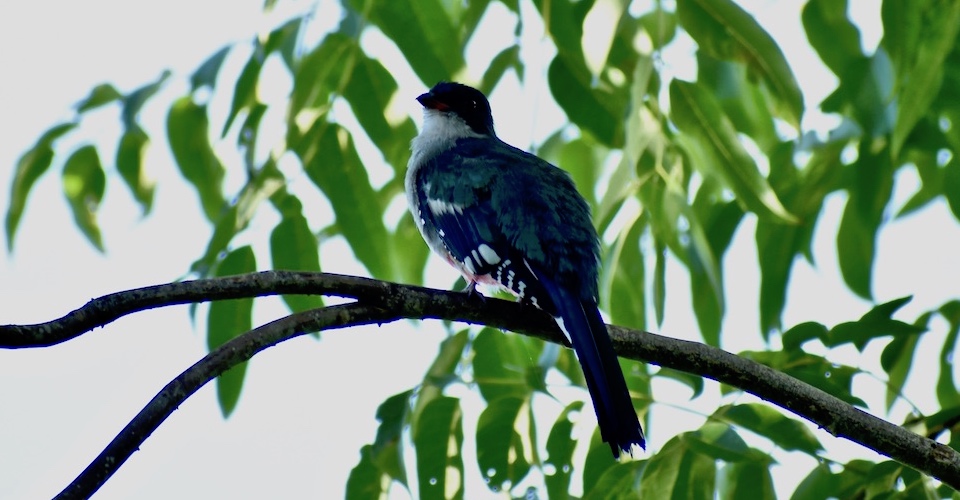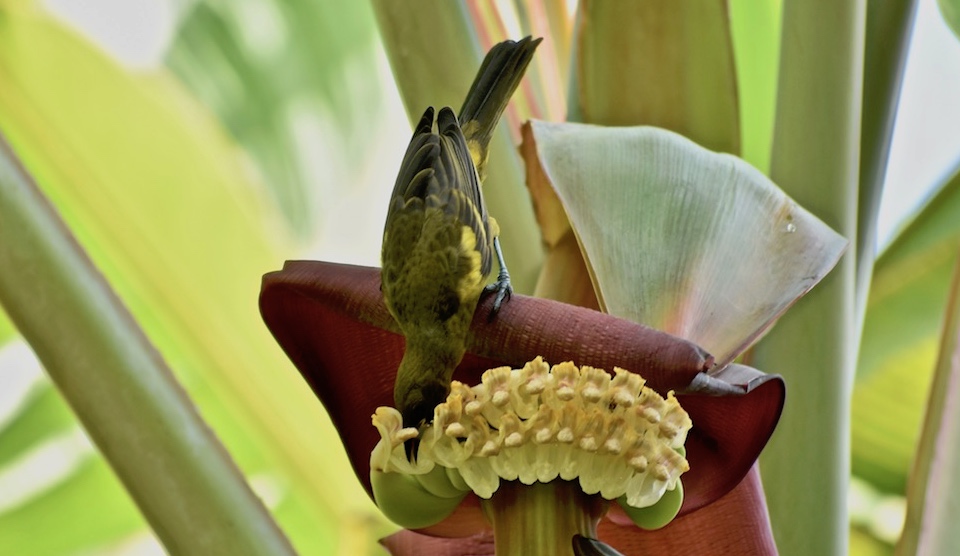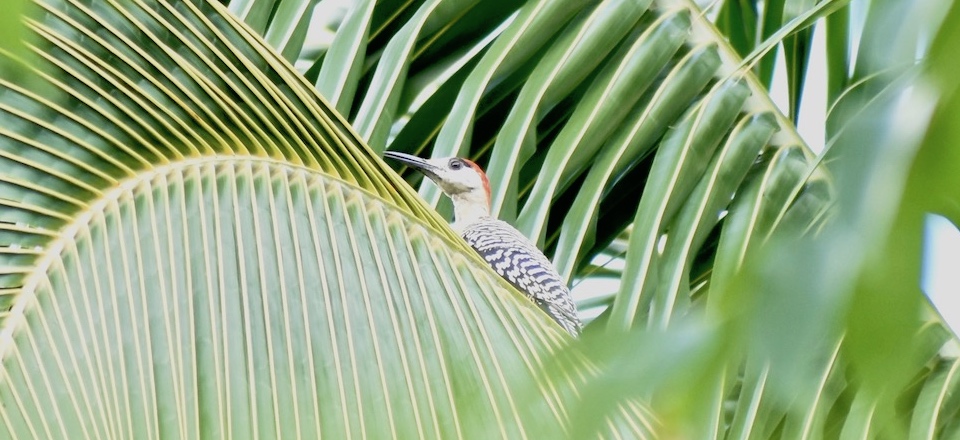 This trail also presents an historical and archaeological interest. As you approach Eriberto's farm you will notice, covered by the rich vegetation, the ruins of ancient coffee plantations that belonged to French immigrants who came from Haiti at the time of the revolt against slavery and the fight for independence.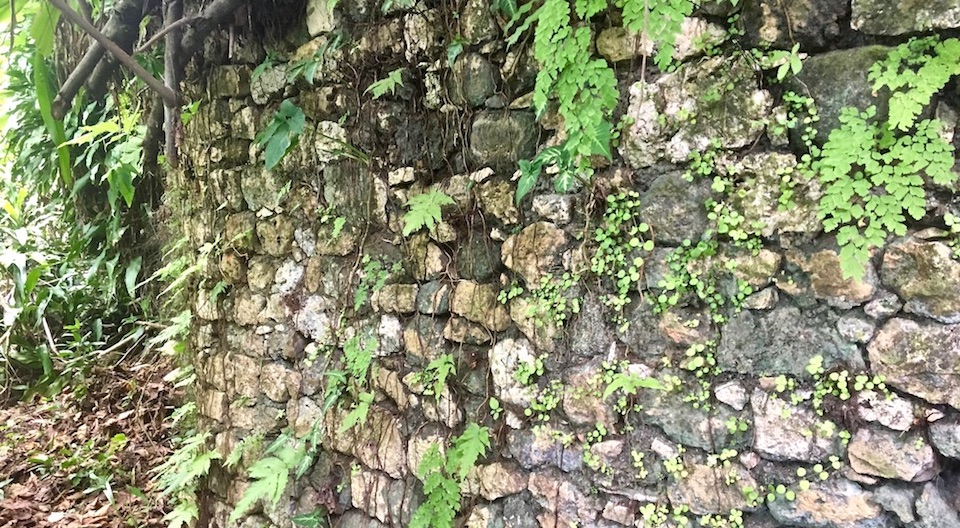 Eriberto Sourt – an experienced, unrelenting beekeeper
Covered in perspiration but stimulated by the whole experience, we finally arrive at the El Yunque apiary. One of Eriberto's daughters offers us an excellent juice made with the season's fruit and fresh spring water from the mount's limestone rocks.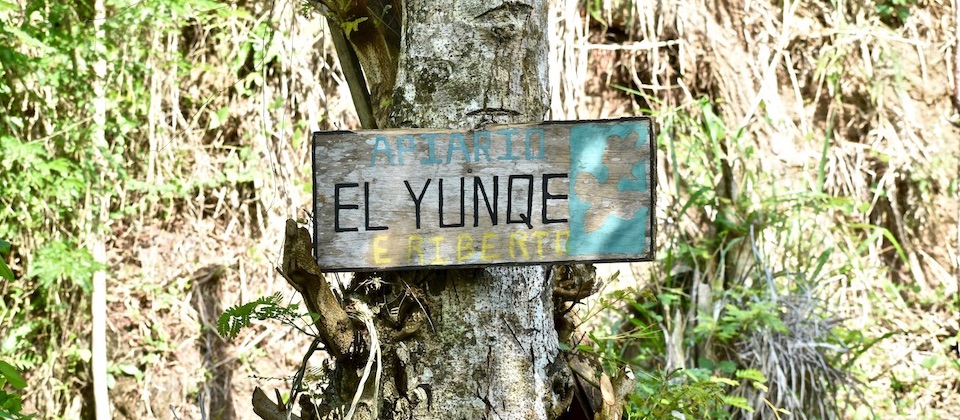 Only a few years ago, Eriberto had managed to own about a hundred hives. But on October 2016, hurricane Matthew obliterated everything… After great effort to get his operation up and going again, he now has around 45 hives.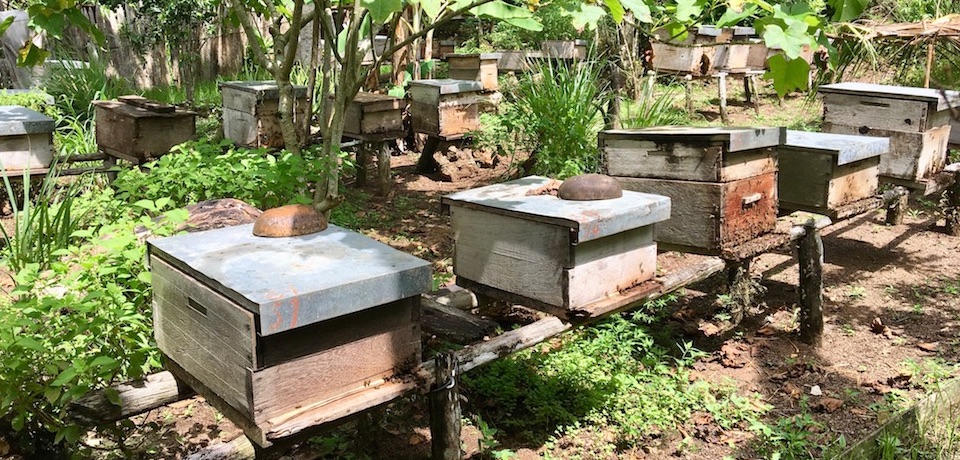 Eriberto is trained as a flora health technician. But it is his deep field knowledge that has earned him a reputation as a recognized expert. For instance, our friend Asunción asks him how he can identify the queen bee in the midst of a buzzing and restless swarm. Eriberto answers: "It's easy! It's just like when you see a crowd in a large plaza and, in the middle of all the people, you spot the president of the country!" We grasp the analogy, but we remain dazzled at Eriberto's simplicity and ease…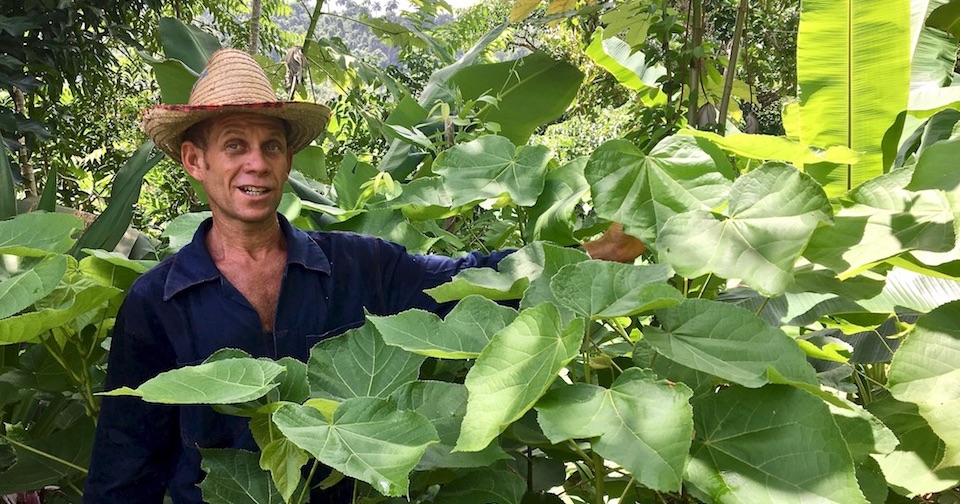 Eriberto's production model is a reference and has been disseminated in the Baracoa region. In his apiary he has, on the one hand, the standard hives for honey production and, on the other hand, what he calls an "auxiliary module": a set of more slender hives for the reproduction of his own queen bees on site.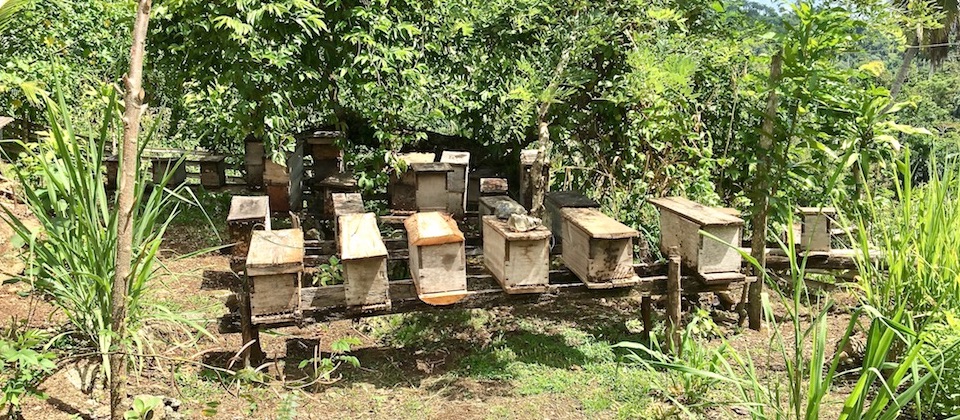 The apiary's maintenance demands a significant amount of effort. It takes time and ongoing observation. For instance, the bees from a hive may suddenly forsake it and fly to a high spot on a tree trunk. Eriberto must detect this type of movement very quickly and capture the queen bee to retain it in the hive, so that the working bees come back to it. Otherwise, the swarm will be gone for good…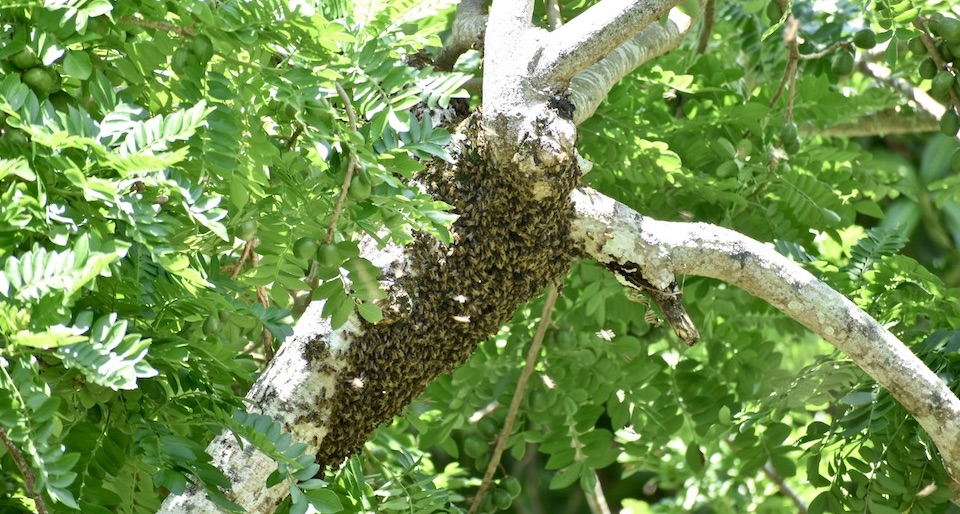 Thanks to Eriberto's stories, we will have understood that beekeeping is a demanding occupation for one individual alone (his children have left home to go study and live elsewhere in the region or the country) in a farm with other types of products as well: cacao, plantains, different kinds of beans…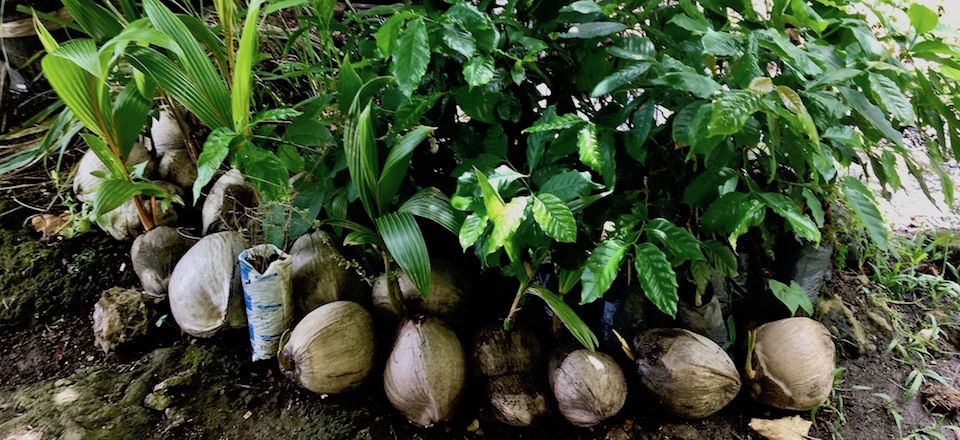 The beekeeper at work: a step-by-step demonstration
Watching Eriberto in action in his apiary is a pleasure and a unique learning opportunity. He begins by preparing a smoker used to calm down the bees. In Baracoa, producers favour the aromatic wood of the incienso (incense) tree. Incienso smoke helps fights illnesses that may affect the bees.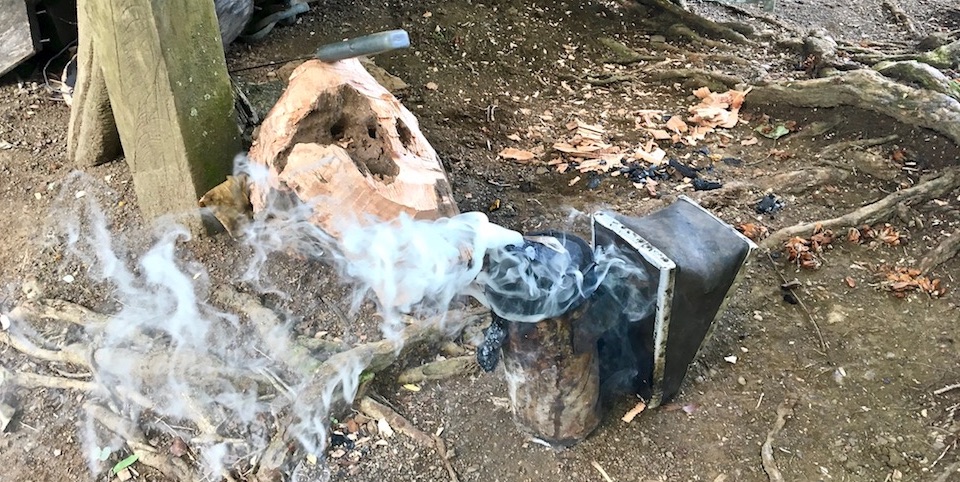 Our beekeeper friend then opens a hive and brushes away the bees on each side of the honeycomb plaques from which he intends to extract honey.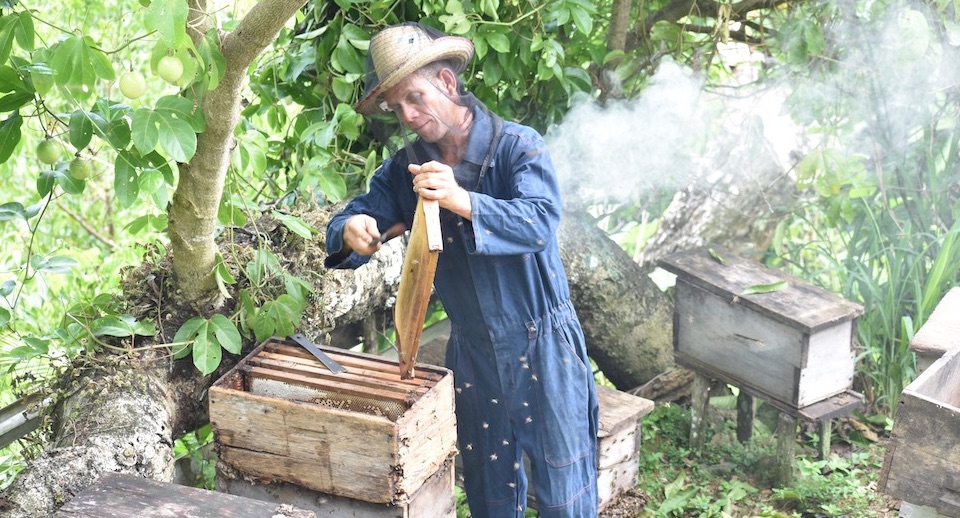 Then, he removes the excess wax that seals the cells and deposits these honey-drenched solids in a large metal container. His expert gesture uncovers a thick, translucid, deep amber-like liquid and our mouths start watering – it's a lovely sight to see, and the floral aroma invades us too!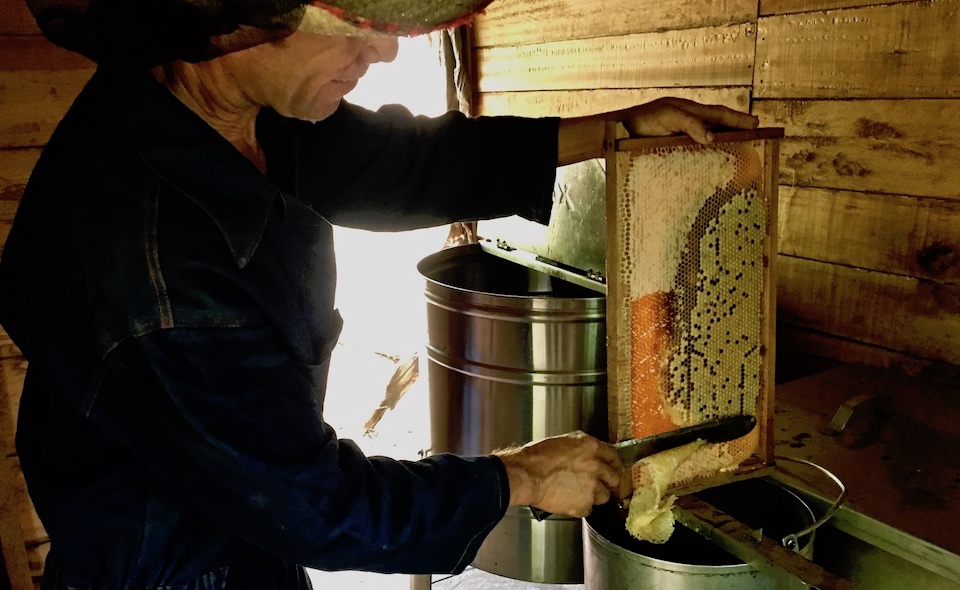 Next step: the honeycomb plaques go into a centrifuging machine. Eriberto has invested in new, stainless steel equipment, aligned to the European Union standards. Cuba intends to export increasing quantities of honey to Europe.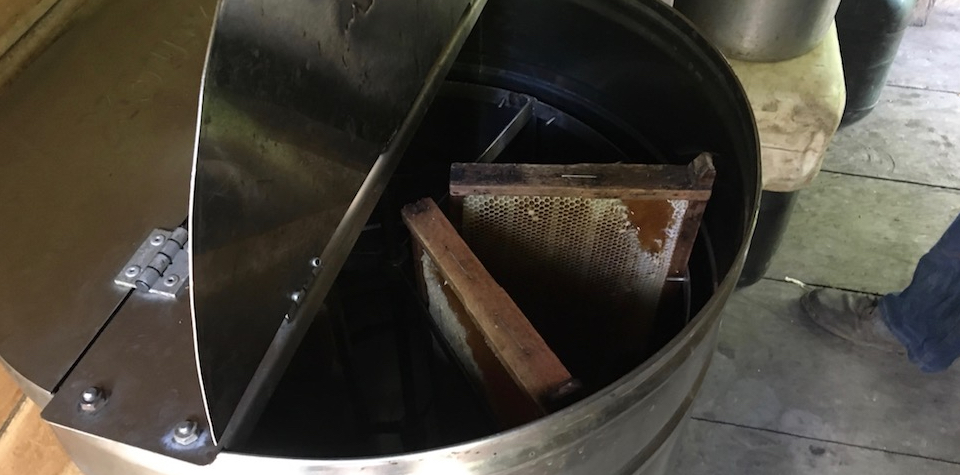 After that, we're ready to let the honey flow…
The moment we were waiting for: tasting this rich honey from the mountains
Eriberto gives us chunks of honey-drenched wax surplus that have just been removed from the hives.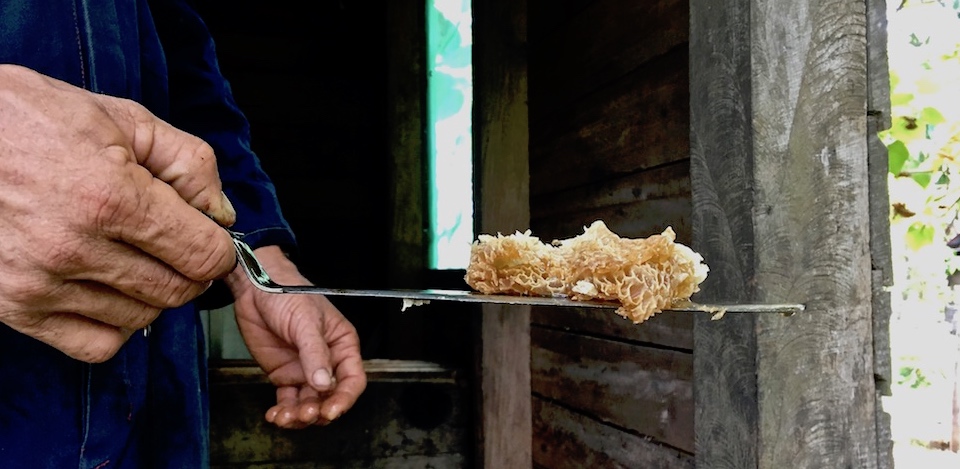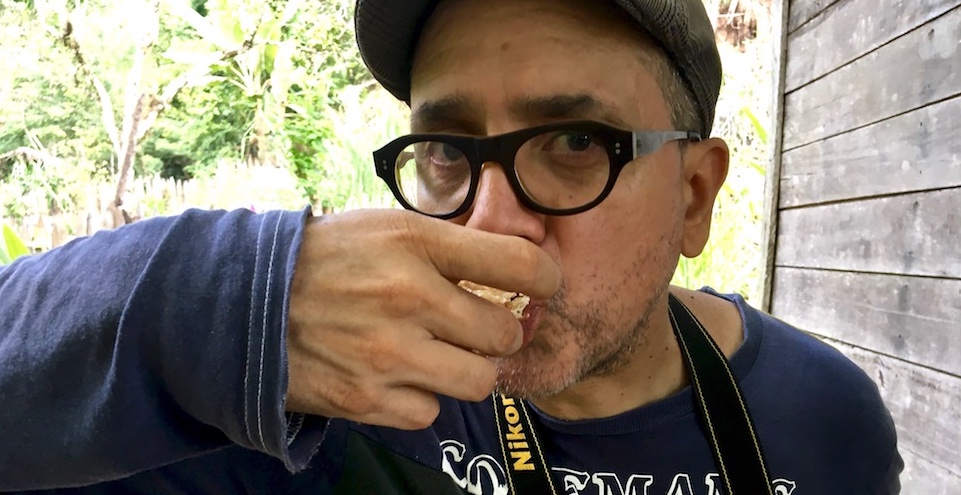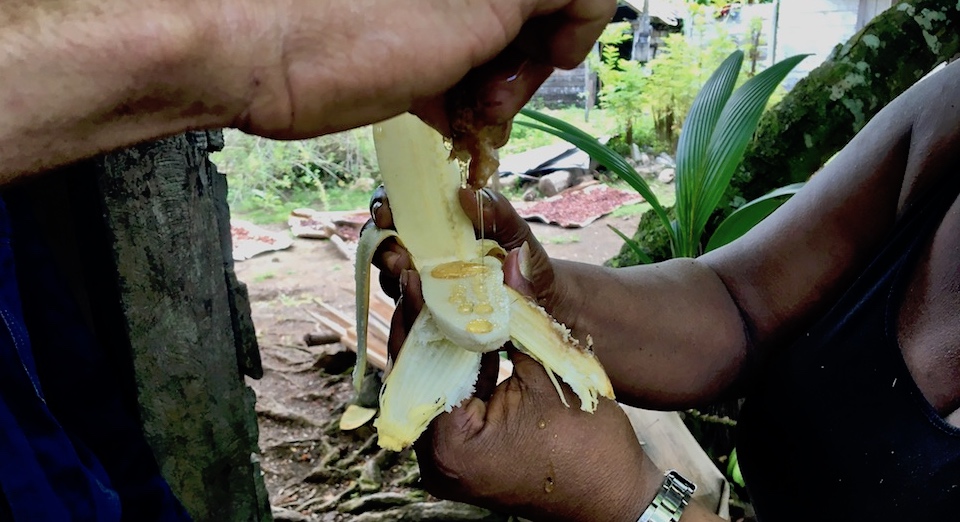 We also taste the honey in a wonderful ginger and cinnamon tea, made with freshly cropped ingredients from his farm. Here's a photo of his cinnamon tree.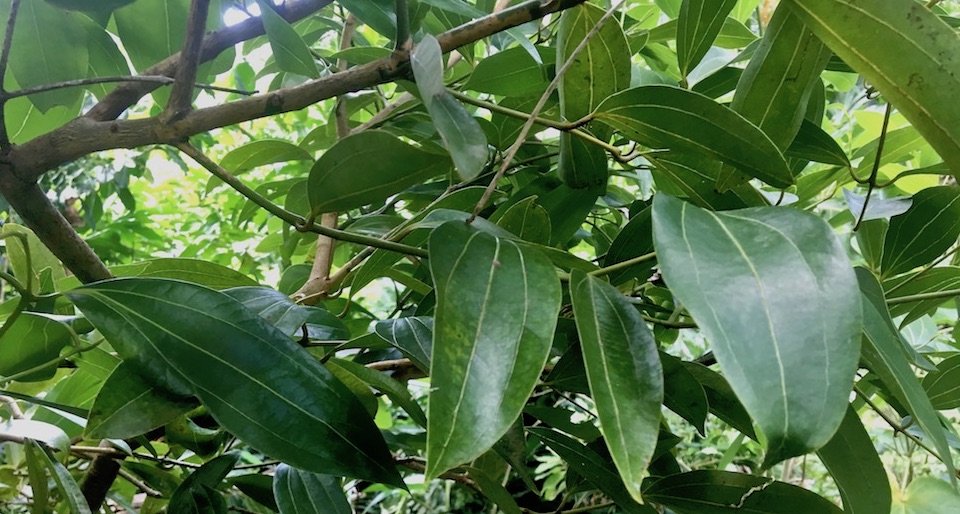 And then we tasted the fresh honey dripping over various seasonal fruits! On the photo, you can see in the middle the two halves of a coconut. The one on the right side contains honey, while the one on the left has passion fruit juice in it. We also tried a delicious shake with avocado, coconut water, lime juice and honey!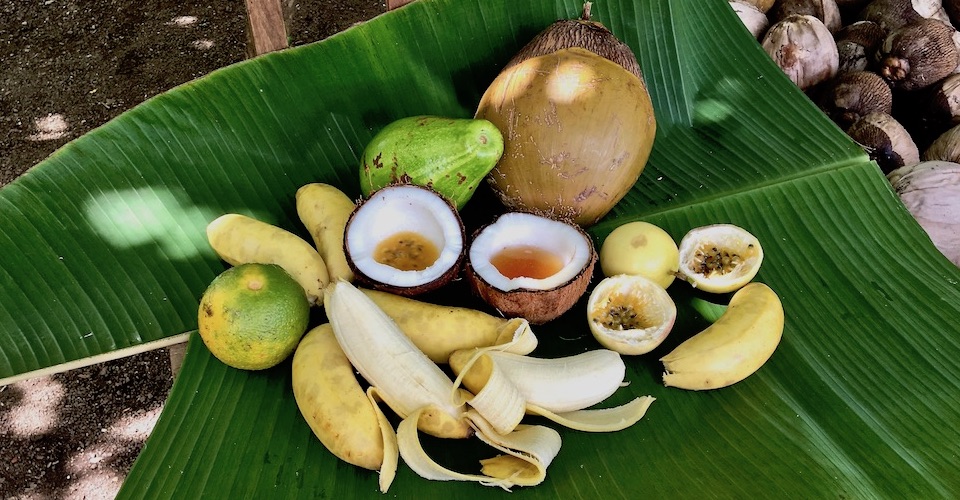 To conclude, we get to sample the countryside meal prepared by Eriberto's wife and mother-in-law: beans, rice and bacán perdido (small plantain dumplings with herbs, cooked in a coconut milk sauce! All of it cooked on wood fire in their traditional countryside kitchen…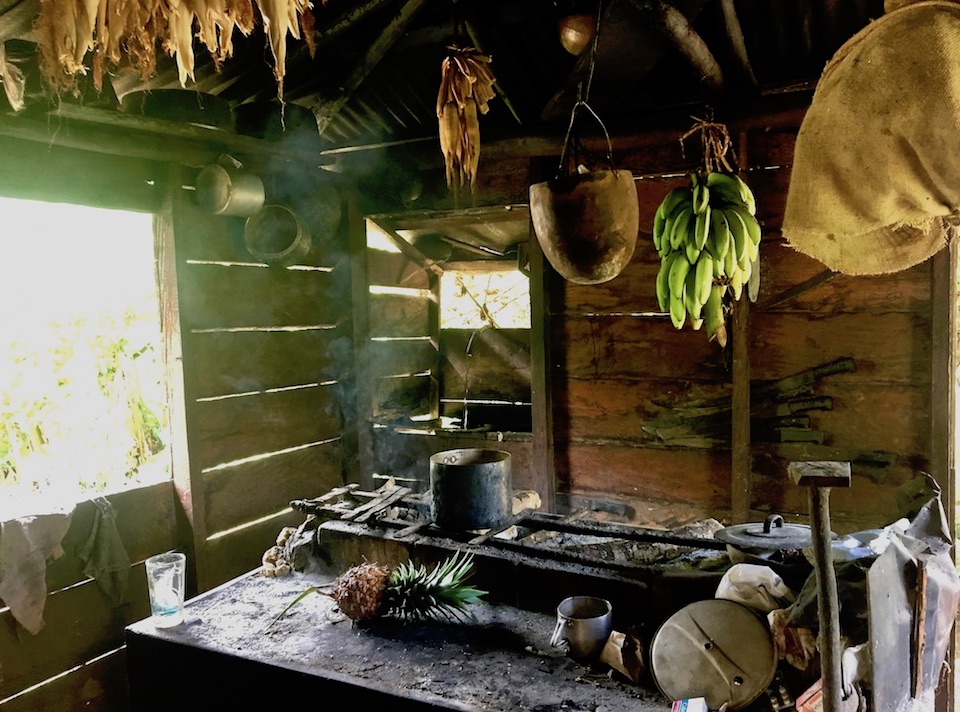 This visit to the El Yunque farm will remain memorable to us – the bucolic hike, the panoramic views, the warm welcome, the new things we learned and the new friends we made! We now have a clear sense of the efforts and hard work it takes to maintain a farm so far from everything, as well as the love that goes into producing this wonderful honey to please our senses and strengthen our health! Our gratitude goes to Eriberto and all the beekeepers in Cuba and the world!
After the apiary visit, where shall we spend the afternoon?
We hiked our way back to where we started this morning, then said goodbye to Asunción, who had to take care of ANAP matters in the area.
What shall we do with the rest of the day? Maybe drink some chilled coconut water by river Toaand take a boat tour near its delta? Or go bathe in the crystal-clear waters of river Duaba? Or just lie on the white sands and swim in the teal-hued waters at Playa Maguana? The options open up for us to decide!
---
Activities, Baracoa, Sustainable Tourism
Tags: Adventure Tourism, Agritourism, Culture, Ecology, Food, Hiking, Nature Tourism, Off the beaten path, Trails