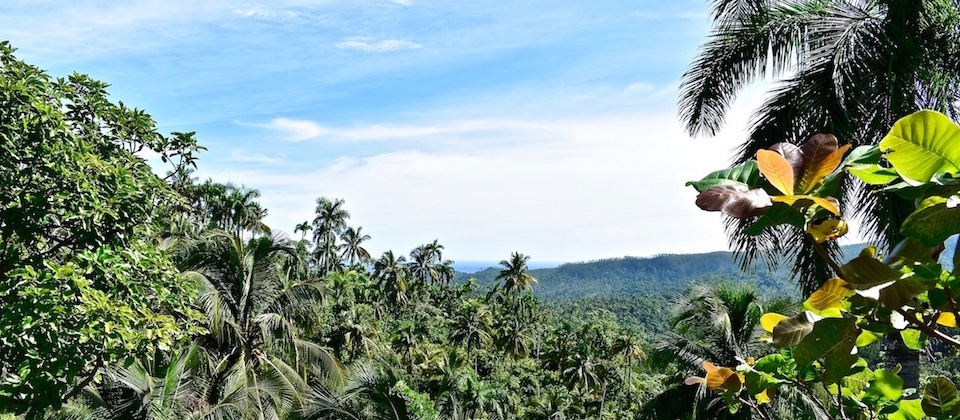 Published on 14 October, 2017.
---
With its various trails and a boat ride in Taco Bay, Alexander Humboldt National Park offers a range of options to those who would like to explore it. Declared by UNESCO a World Natural Heritage Site in 2001, the park is located within the Cuchillas del Toa Biosphere Reserve.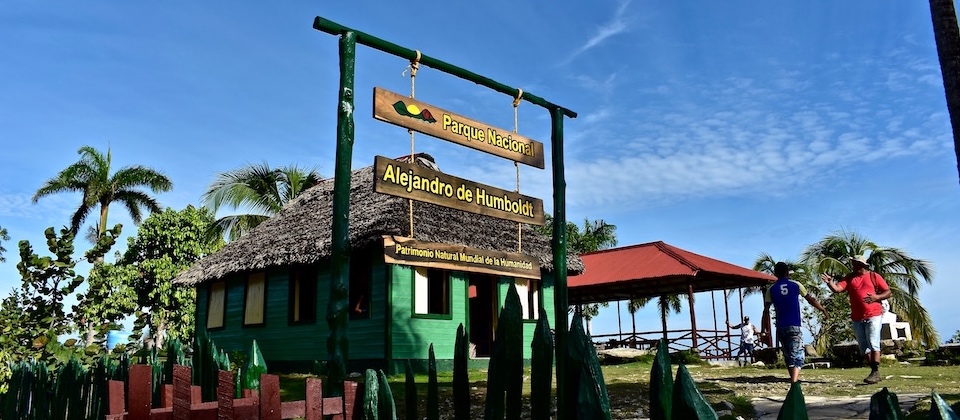 Biodiversity, endemism, fertility and abundance
Both Humboldt Park and the Cuchillas del Toa Reserve stand out in the insular Caribbean (and the world!) for their high levels of biodiversity and endemism. Between 70 and 80 % of local species are endemic.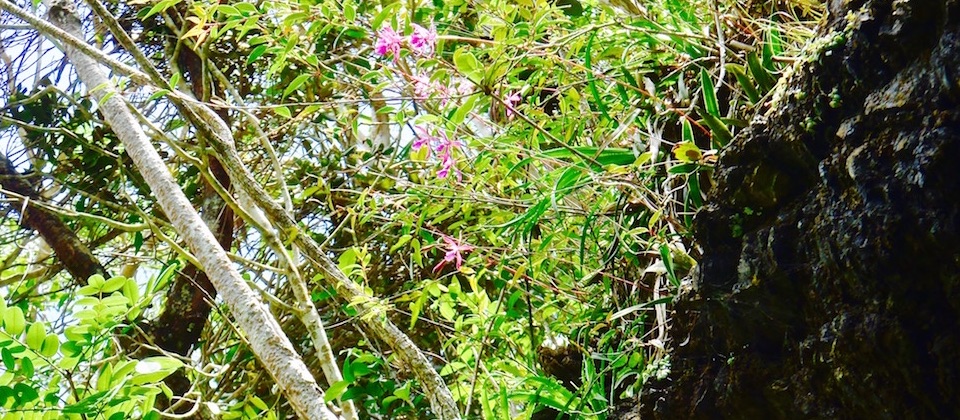 Humboldt Park's fertility and abundance are the result of the high levels of cloudiness and rainfall in the region. Roughly 25 rivers and 100 streams, all of them well preserved, bathe the park's lands.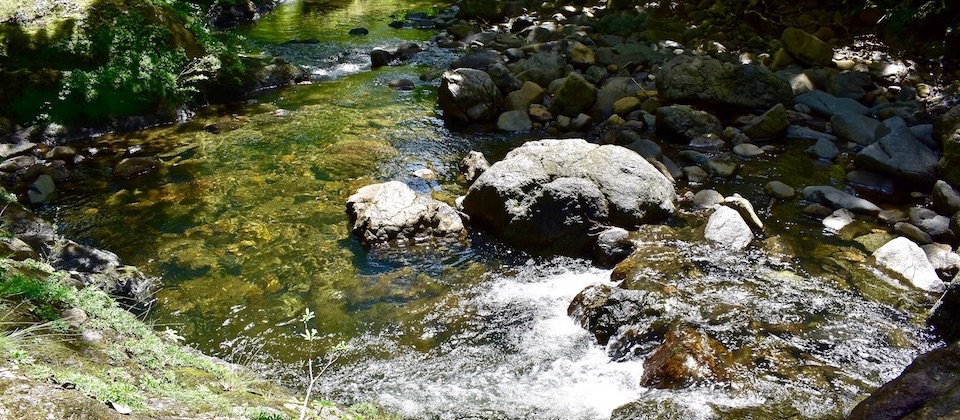 Alexander Humboldt National Park has several trails of various lengths as hiking options, as well as a rowing boat ride in the park's maritime area – Taco Bay. For all these options, visitors will benefit from a local community guide.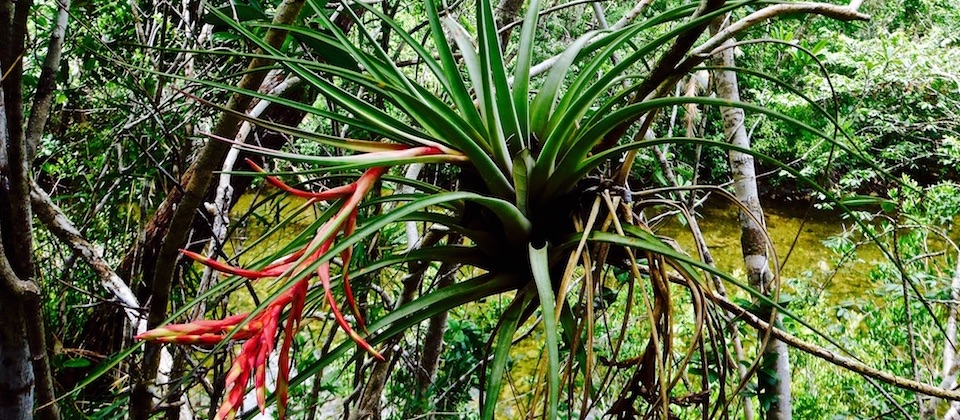 In Part 2 of this blog entry you can read more about the relation between local communities and the conservation of Alexander Humboldt National Park.
The flora in Humboldt Park – a variety of endemic species
Humboldt Park is home to around 900 flora species that are endemic to Cuba. Among them, 343 are exclusive to the region. And there are around 75 species of edible and traditional medicine plants which enhance the local population's nutrition and health.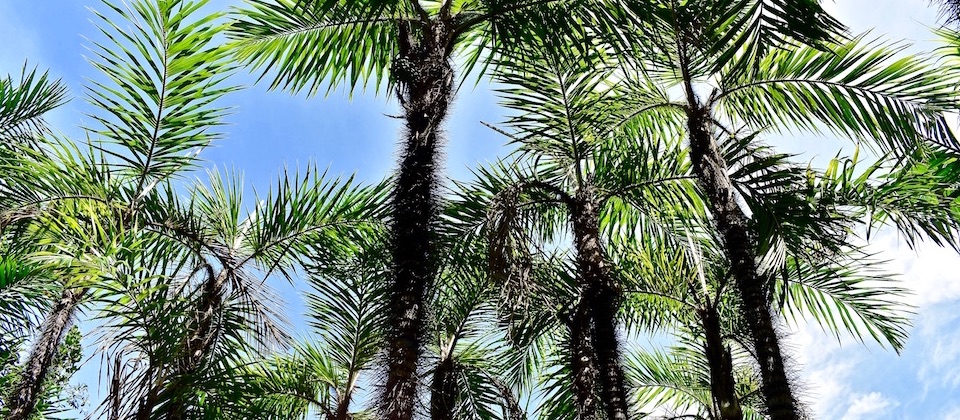 When you take a hike or the boat ride in Humboldt Park, you will be able to observe species such as the following:
Mayarí pine (Pinus cubensis)
Pajúa palm tree (Bactris cubensis)
Cuban dracaena (Dracaena cubensis)
Tree ferns (Cyatea arborea)
A variety of orchids and bromeliads
Red mangle (Rhizophora mangle) on Taco Bay's shores.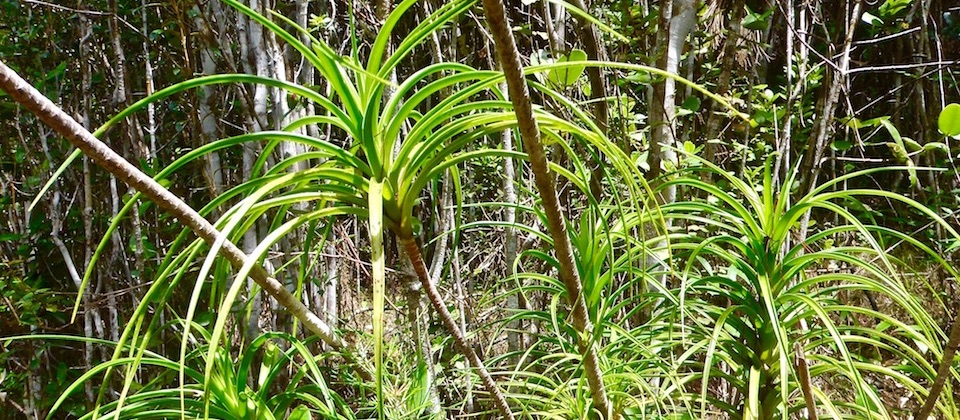 In Part 2 of this blog entry you can read about the fauna in Alexander Humboldt National Park.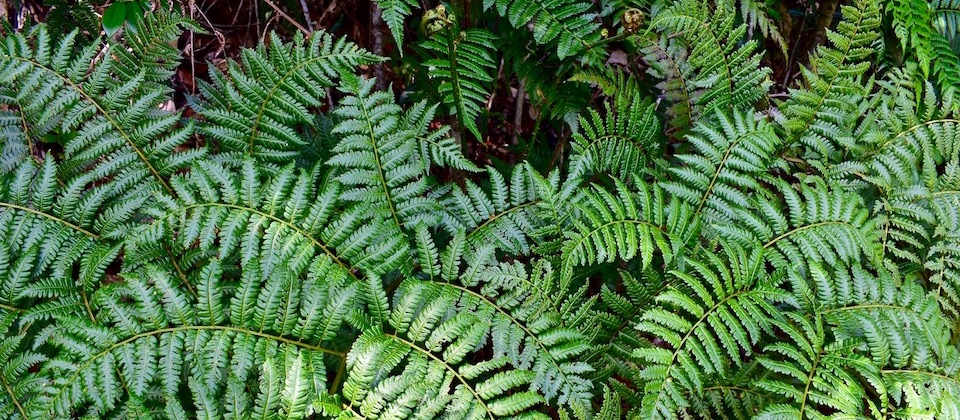 El Copal Trail
This trail is one of the shortest in Humboldt Park – only 2 km-long. At the onset, you pass through a small community and then you start ascending and enjoying panoramic views where human and natural elements interact beautifully.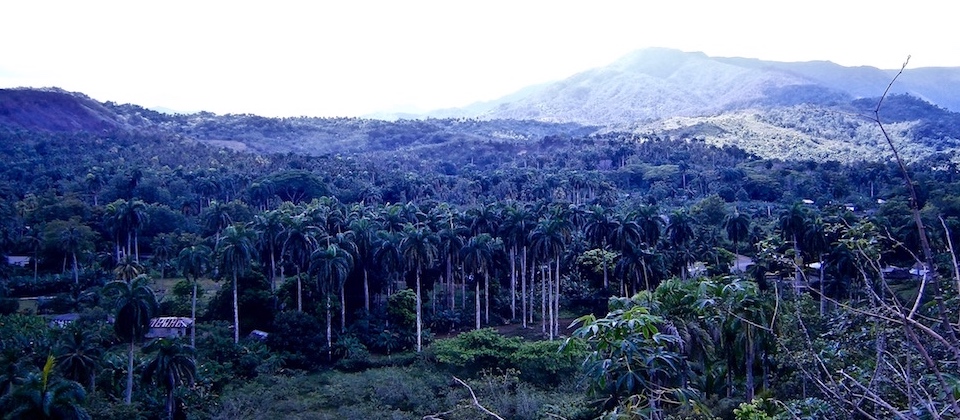 El Copal trail features various plant species used for traditional medicine, as well as ferns and endemic pines and palm trees, including Coccothrinax alexandrii, named after Alexander Humboldt himself.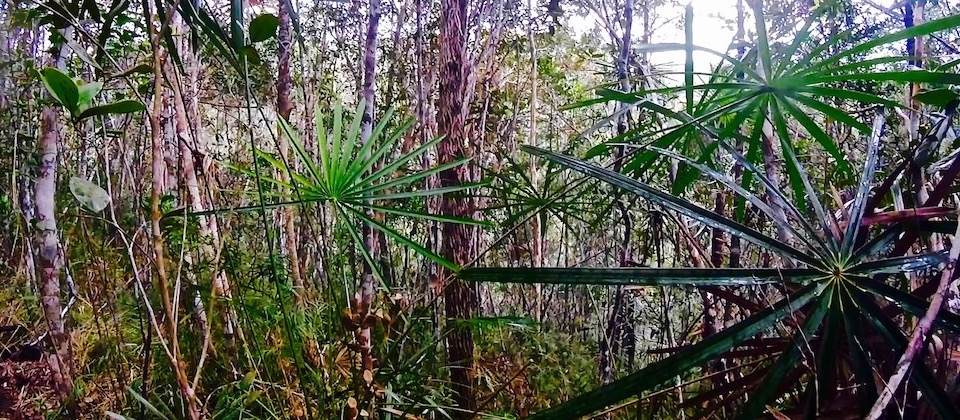 The exquisite climax of this trail can be experienced at El Copal waterfall, which forms a natural pool of pristine waters surrounded by black rock walls covered in bromeliads and delicate palm trees. Hikers can wade into it for a refreshing bath!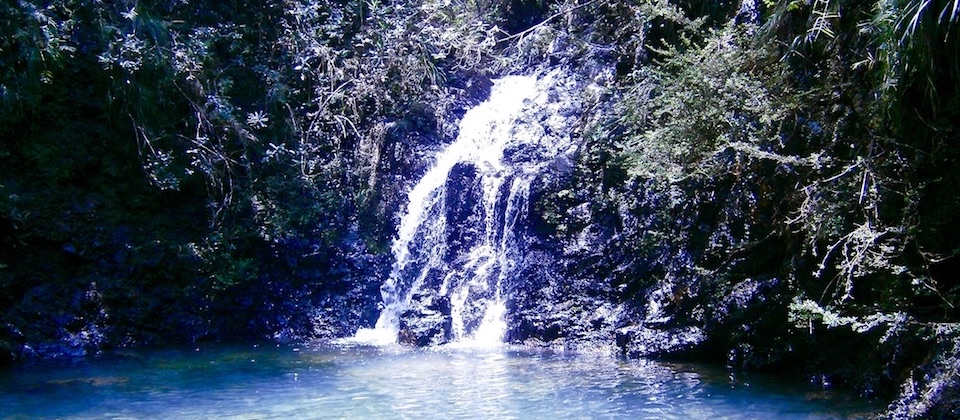 El Recreo Trail
Another moderate length trail is called El Recreo, which begins at the community of the same name near Taco Bay.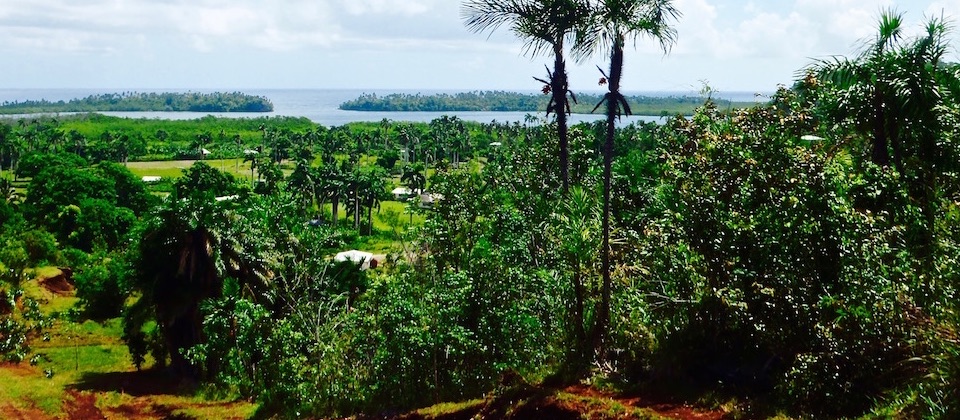 It is 3 km-long. You will start ascending a red dirt road, rich in iron, where you'll find a lookout point offering a nice view of the bay.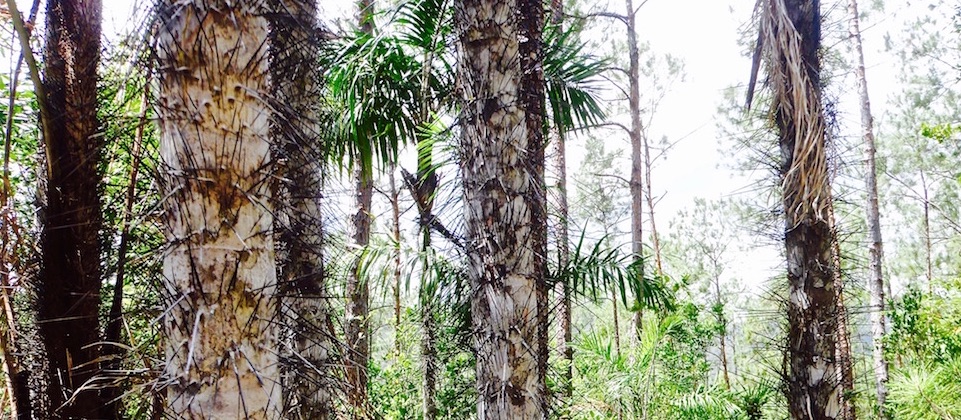 Besides pajúa palm trees (Bactris cubensis) and Mayarí pines (Pinus cubensis) you will be able to admire orchids, tree ferns (Cyatea arborea) and blooming bromeliads.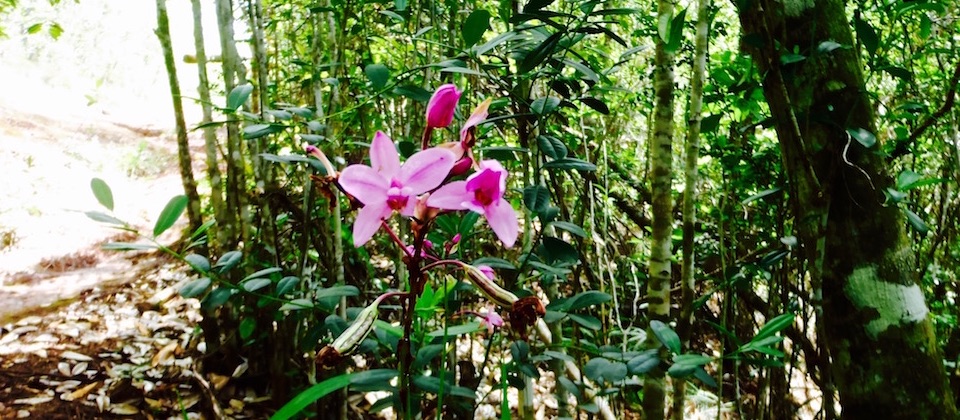 Once you start crossing through the more densely populated flora on this trail, you will be able to listen to diverse birds singing. Among them, you might get to experience the Cuban nightingale's ability to make a wide range of sounds, unparalleled in the island.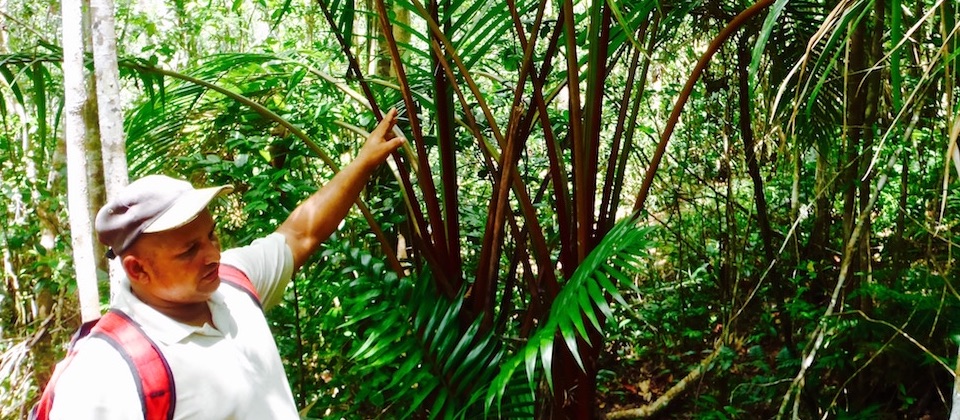 At the end of this trail, a nice bath in river El Recreo will be a nice way of cooling down.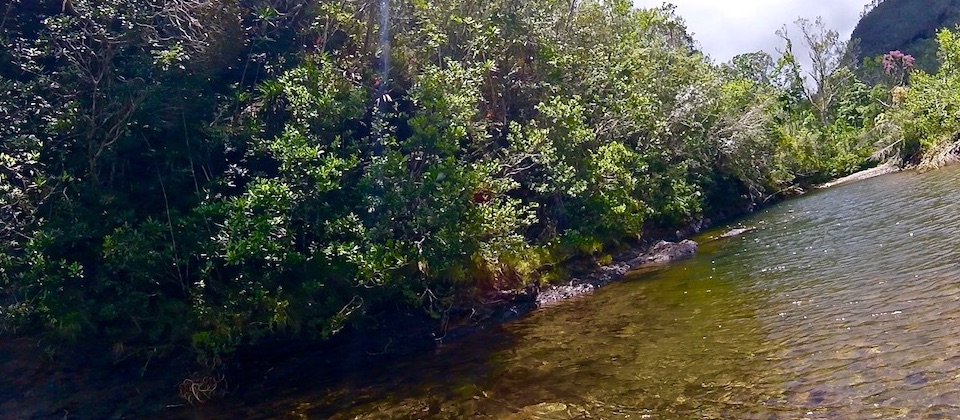 In Part 2 of this blog entry we tell you about the boat ride around Taco Bay and the Balcón de Iberia trail in Alexander Humboldt National Park.
How about a beautiful beach after Humboldt Park?
Numerous travelers combine a visit to Alexander Humboldt National Park with a bit of time at the beach. Two lovely options are available to you after exploring the Park: Maguana beach and Mapurisí beach.
If you go to Humboldt Park with the Ecotur agency, their organized excursion includes a stop at Maguana beach late in the afternoon (see more details at the bottom of this article). If you go to the Park on your own (rental car or taxi), you can discover the beautiful (and little known!) Mapurisí beach, at the Nibujón community next to Humboldt Park.
Did you know?
Alexander Humboldt National Park is one of the main nature tourism destinations in Cuba. Last September saw the Baracoa region host the 11th International Event on Nature Tourism (Turnat 2017). Humboldt Park was one of the main attractions discovered by the 150 tour operators from several countries that attended the event. The park will certainly continue to attract travelers, hikers and bird watchers who love this mode of sustainable tourism.
Practical information and budget tips
The various trails and the boat ride in Humboldt Park count on excellent guides who belong to local communities and who know these lands since their childhood. Their knowledge covers the history of the protected area, the flora and the fauna, the area's peasant culture and traditional medicine. They are really good at spotting the different plant and animal species that could otherwise go unnoticed by visitors were they to do the hiking on their own. Using a guide is compulsory – you cannot explore the park unaccompanied.
To access the National Park, you have to go through the facilities at the entrance, which have a Visitors Centre as well as washrooms.
Entrance to Humboldt Park is 1,230 CUP per person and that includes one trail, or a boat tour and the guide service. Loma de Piedra trail costs 1,845 CUP.
Ecotur agency runs excursions from Baracoa for a global price of 56 EUR or USD per person, which includes transportation (round), the entrance fee, the guide service and, on the way back, a one-hour stop at Maguana beach. For that price, you can do one of the trails or Taco Bay the boat ride.
If you'd rather get to the park on your own, a taxi for the day to Humboldt Park charges 50 EUR or USD (if you are four people, then it's 12.50 EUR or USD per person).
Don't forget to bring with you water to drink and a sandwich or other form of food.
We encourage you to offer your guide a tip, an always welcome extra bit of income for a local family. Likewise, we encourage you to buy from local women the sweets they offer to visitors (almond or peanut brittle, or the grated coconut cucuruchos typical of Baracoa). Such treats can be a good source of energy during the hike. And such little expenses help more local families benefit from a sustainable tourism.
We invite you to learn more about sustainable tourism in the Baracoa region.
Don't miss the photos and videos of Taco Bay and the Balcón de Iberia trail in Alexander Humboldt National Park in Part 2 of this blog entry.
---
Activities, Baracoa, Sustainable Tourism
Tags: Adventure Tourism, Beaches, Culture, Ecology, Forests, Hiking, Natural Medicine, Nature Tourism, Rivers