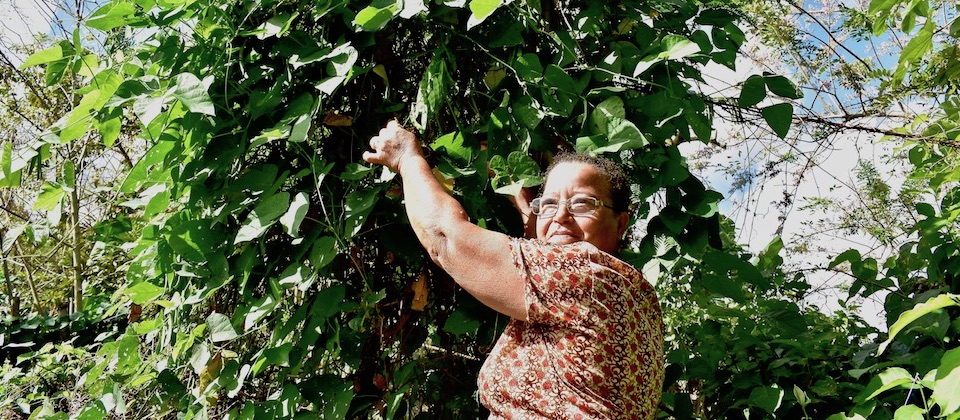 Published on 16 May, 2019.
---
If you're an adept of agrotourism*, rural tourism and farm-to-table experiences, you'll find an ideal destination in Baracoa, Cuba!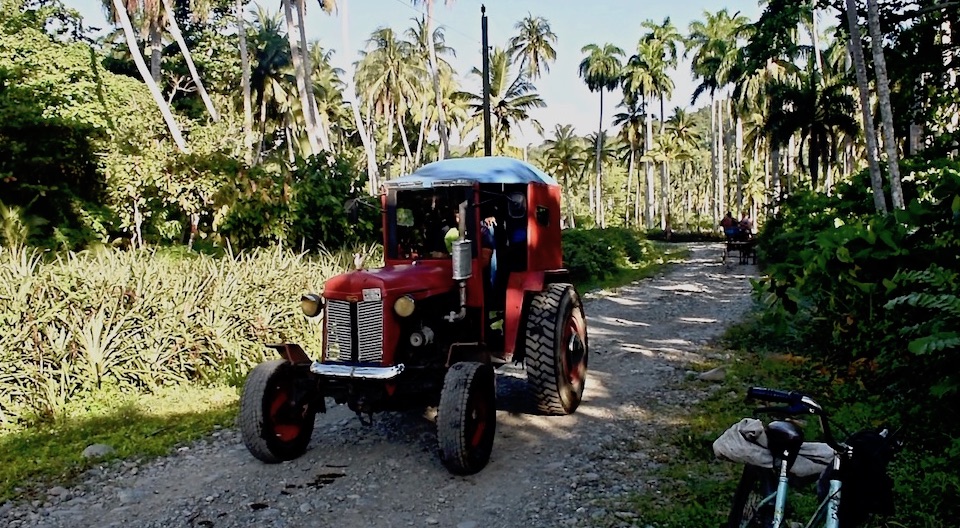 Visiting this deeply rural region in Eastern Cuba will allow you to get a good sense of Baracoan peasants and farmers' rich agricultural heritage and new practices. In Cuba, May 17th is the Day of the Cuban Peasant – and this blog post sets out to celebrate Baracoa's amazing peasant culture!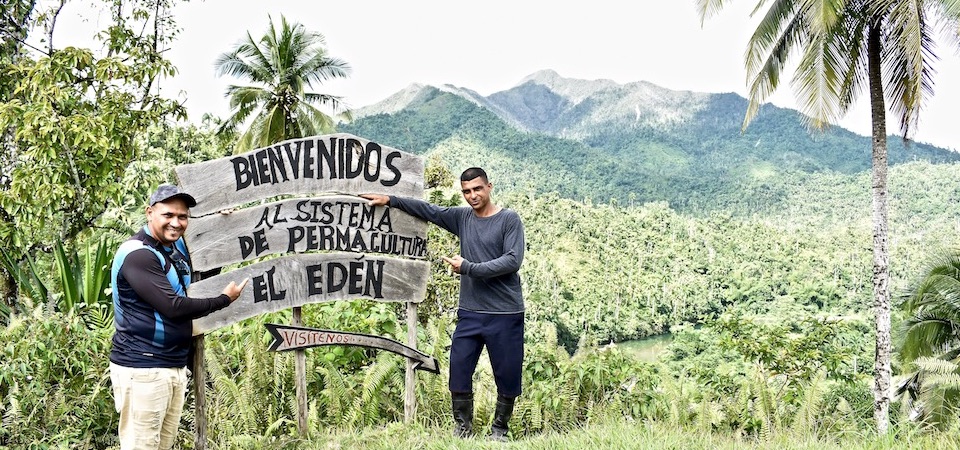 At every turn you'll bump into Baracoa's peasants
You can drive around Baracoa, you can explore it on a bicycle, you can hike discovering its various landscapes and habitats – everywhere you go, you'll come across our region's peasants and farmers.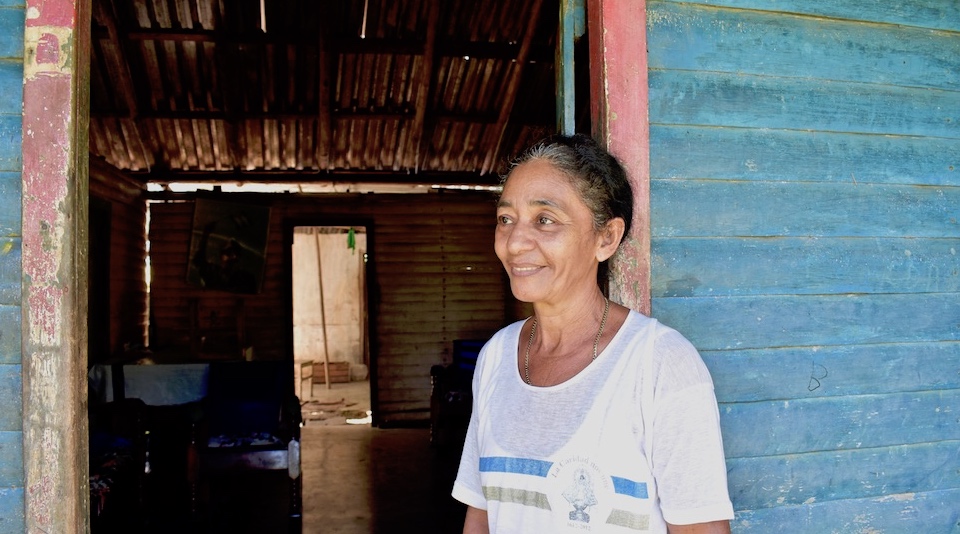 Any traveller who has met a Cuban peasant family will tell you – our country's peasants and farmers are wonderful, authentic, frank and joyful people… They'll have for you a genuine smile, a welcoming gesture, a spontaneous handshake – long-lasting memories!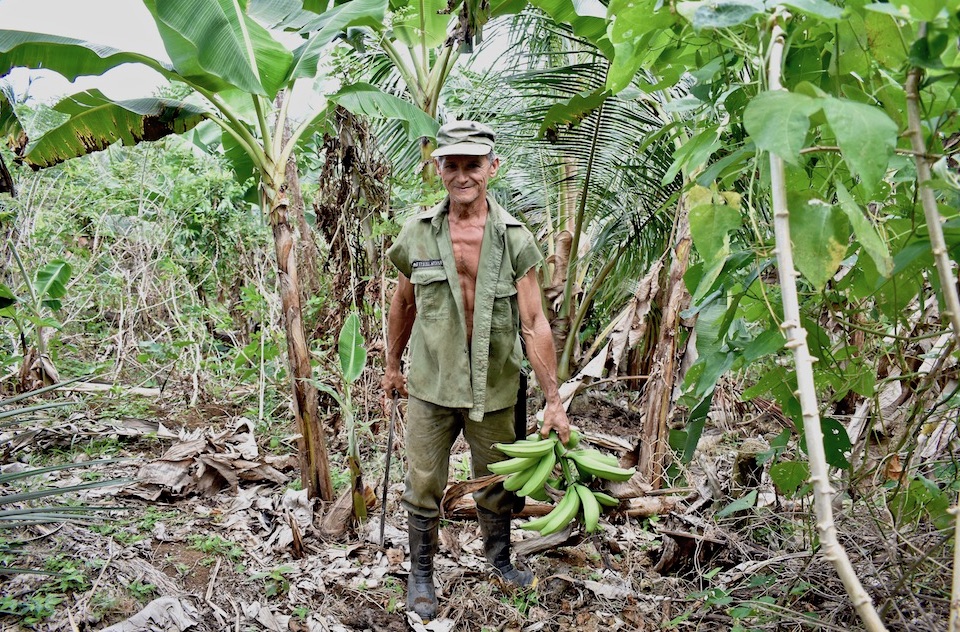 Cultivating fertile lands facing El Yunque
A few days ago we met Elia and Norge as they were harvesting frijol guandul – a type of bean that grows on small trees. Elia showed us her beautiful home and garden. She pointed to us the medicinal trees, plants and herbs that she grows.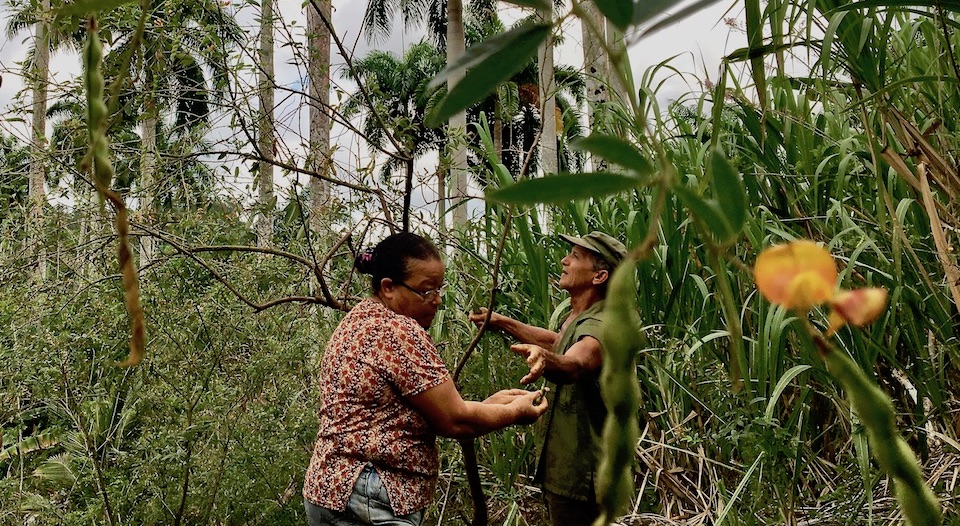 Sitting at Elia's porch and surrounded by tropical flowery vines and bushes, we talked about the state of the world today… Elia keeps herself informed and shares her analysis generously. You can tell how much she cares about the peoples of the world.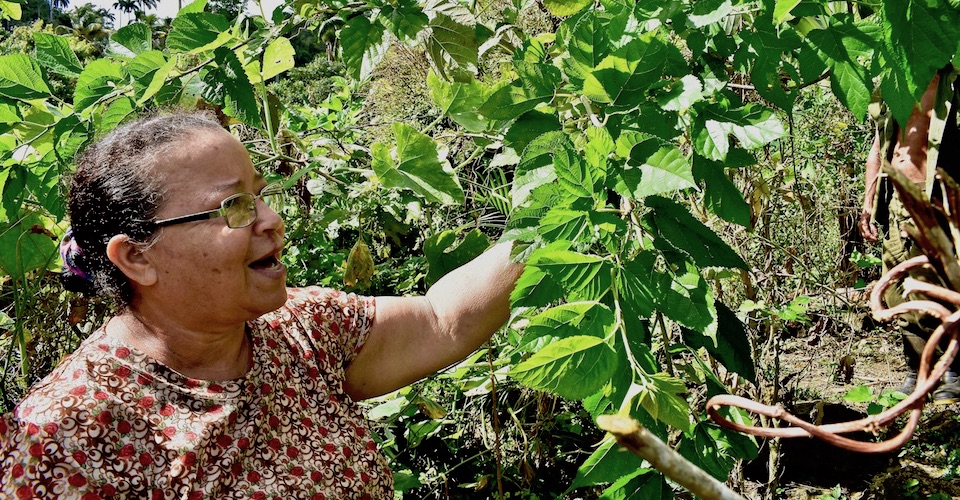 Norge invited us to walk through a simple yet amazing farm with great views of El Yunque mount. Mind you, the awesome views were not the most interesting aspect of this place!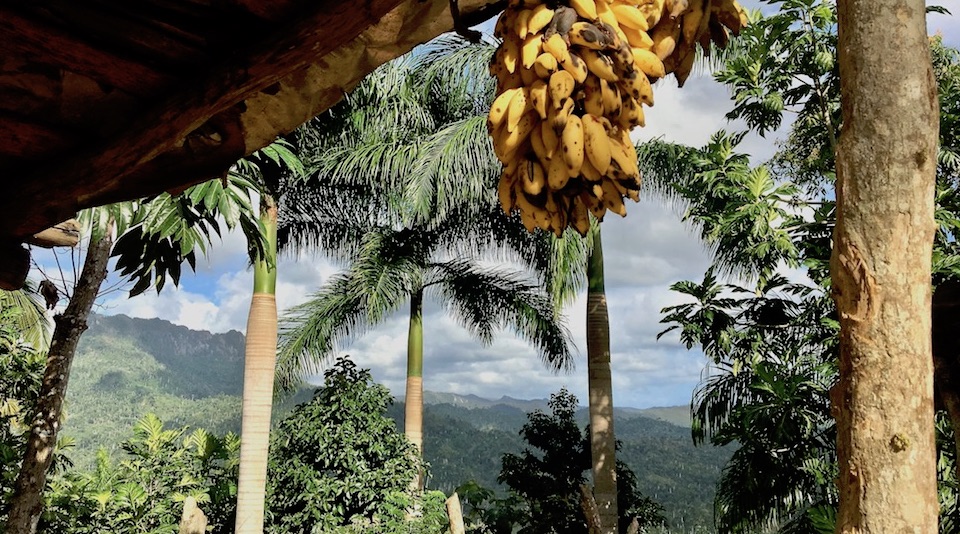 Norge told us about his special farming practices on this red soil hill. Underneath the myriad banana, plantain, guava, soursop and mango trees, he grows tomatoes, beans, taro, sweet potatoes, cassava, pineapples… Thus, he makes the most of the soil's potential in view of self-sustainability and contributing to the region's agricultural output.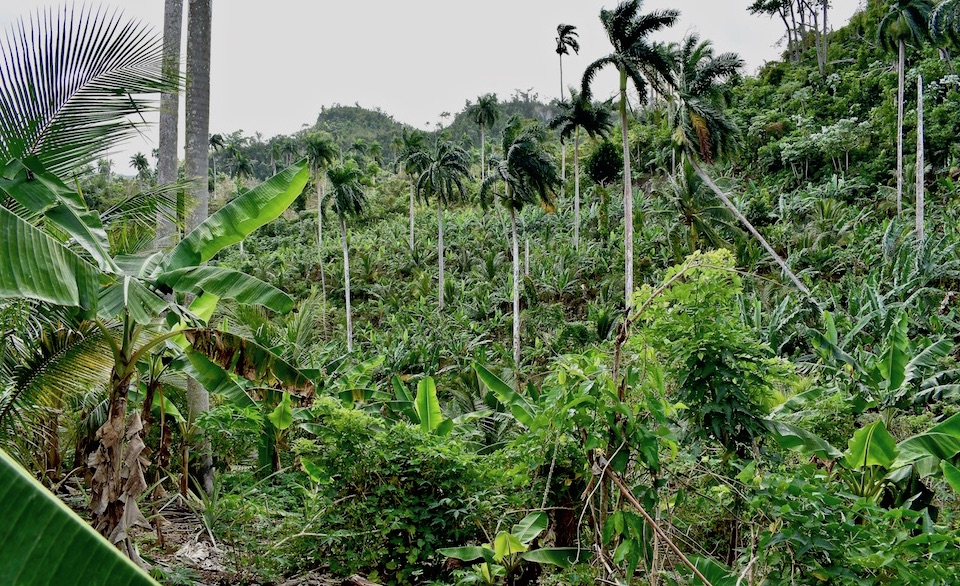 Baracoa's mountains – a rough and difficult environment for agriculture
Approximately 95 % of Baracoa's territory is composed of mountains with steep hills. This excludes the use of modern technologies for sowing, watering and harvesting farm products. Any local peasant will tell you what this means for their everyday work. On the gentle side of things, the Baracoa region gets the most rain and is the greenest in the country, with some of the most fertile lands in Cuba.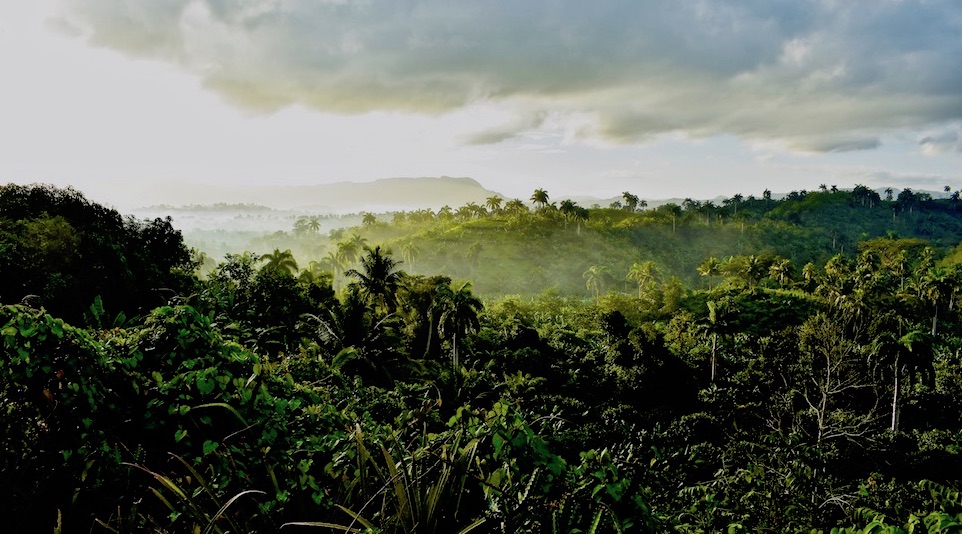 We also visited an old yet extremely strong couple who have been caring for decades for their cacao farm on a steep hill. They spontaneously offered us a nice cup of the excellent coffee they harvest, roast, grind and brew themselves. Delicious!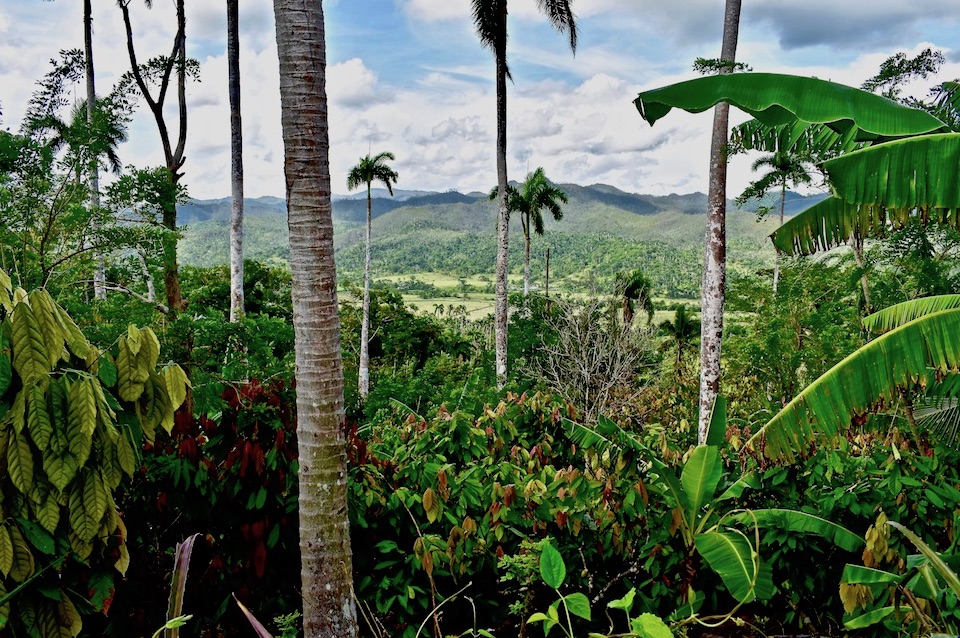 They own an ancient, traditional cacao and coffee drying system – a thatched structure sheltering a sliding drawer that remains protected when it rains and can be exposed to the sun when there's good weather. We wanted to get to know personally this type of artifact – not many of these are left in Baracoa. That's how they preserve and process coffee and cocoa for home consumption, as Baracoans have not lost the old tradition of drinking their famous chorote, a nutritious and delightful cocoa drink.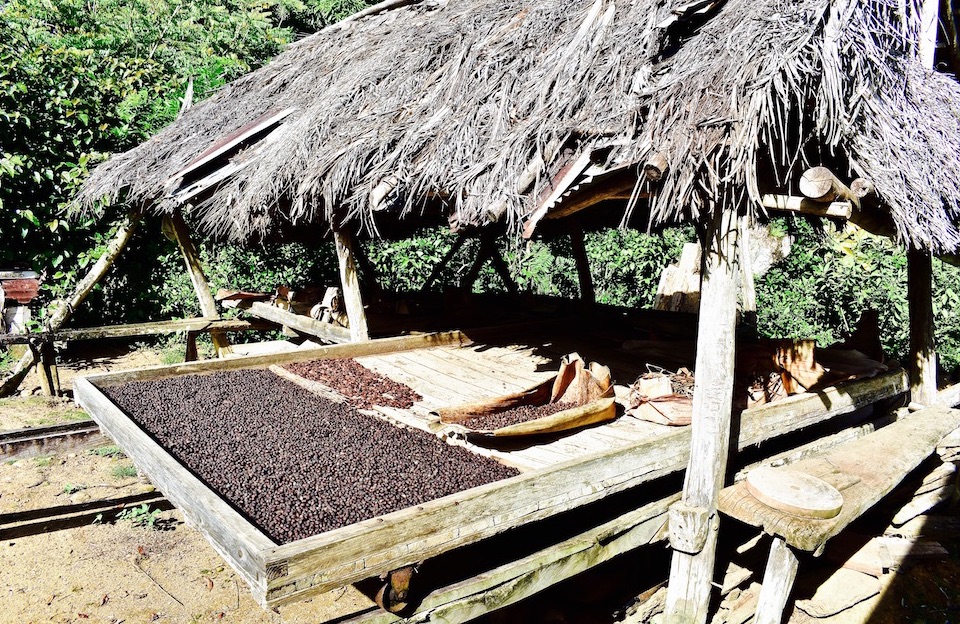 The couple's children are university-trained professionals and their grand-children did not stay in the countryside either. At 78 and 83 years of age, the two of them still take care of all the work in their farm, working up and down the hill every day.
Baracoa's beekeepers
Different from what's happening in other countries and continents, in Cuba the bees are in very good health and produce abundant honey. Baracoa's beekeepers dedicate the best of their time, talent and love to producing an exquisite honey.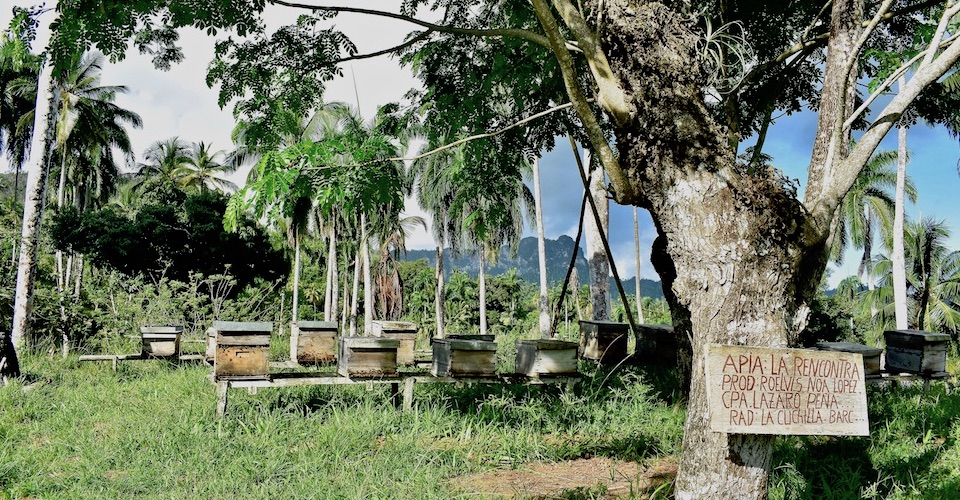 If you stop to say hi to one of these families, you'll be able to talk with them about beekeeping in Cuba – and get your fingers drenched in this delicious, pure honey with divine tropical flowers' aromas…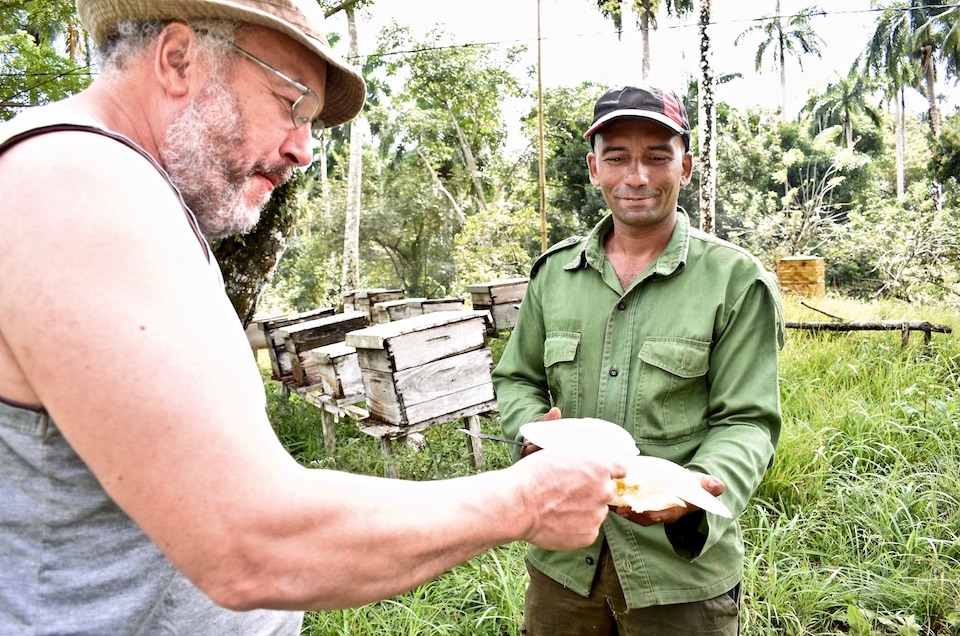 The cacao-growing family farms at El Güirito
Cacao is deeply linked to Baracoa's peasant identity. At the El Güirito hamlet, you can visit one of the local cacao family farms who welcome chocolate-loving travellers and offer them a talk and a tasting of the local, pure, organic, export-quality cocoa produced in their lands.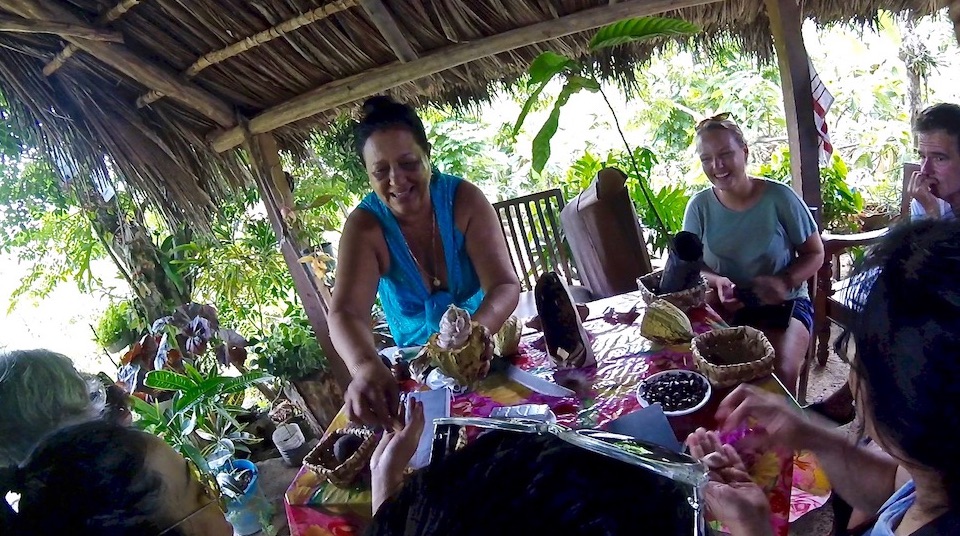 Eco farming and permaculture
In our region you can meet peasant families who practice eco farming and permaculture. Their way of living and projects are quite inspiring and their hospitality is unparalleled.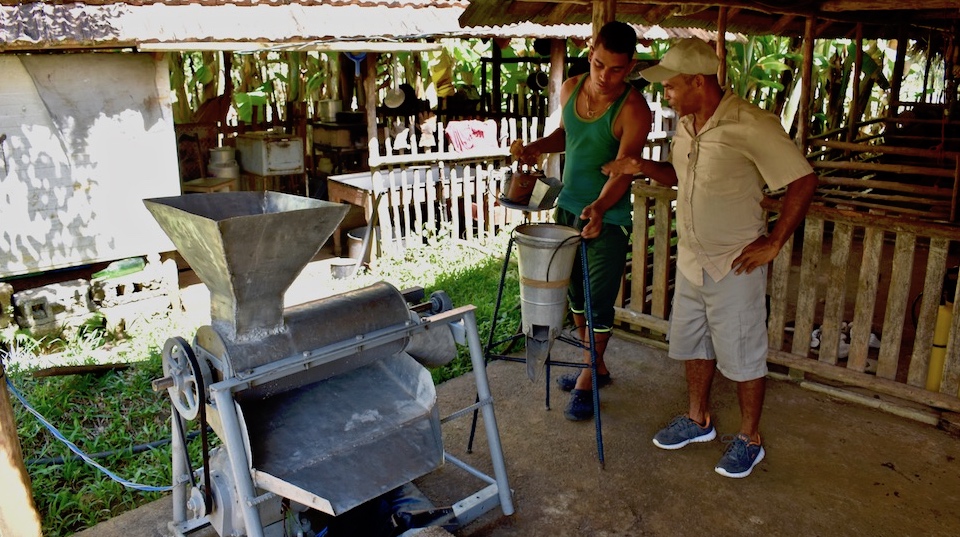 You can visit eco farms at Alexander Humboldt National Park and a permaculture farm in the Quibiján hamlet, within the Cuchillas del Toa Biosphere Reserve.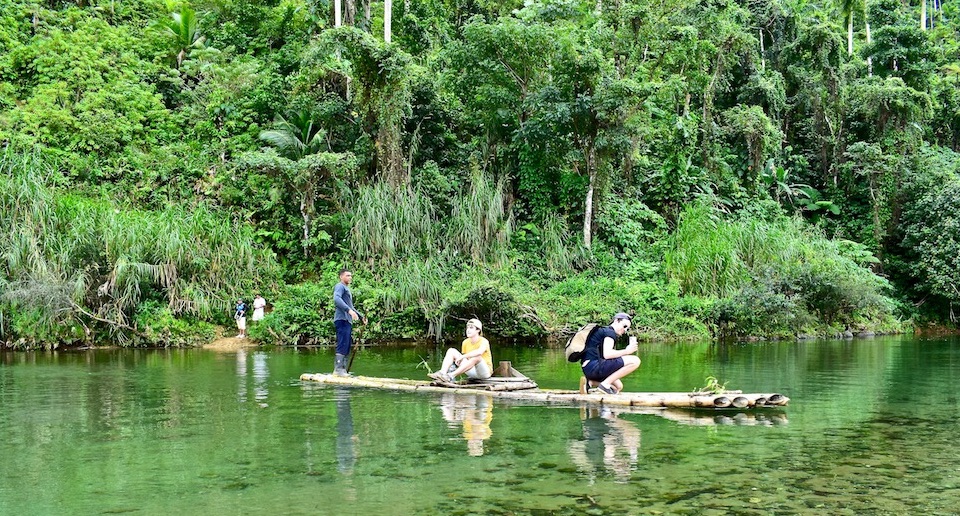 Cuban peasants – a long history of emancipation
Any Cuban peasant can tell you: before the triumph of the Cuban Revolution, life in the countryside was marked by exploitation, evictions, terror at the hands of the rural guards, illiteracy and misery.
Proclaimed on May 17th, 1959 by Commander in Chief Fidel Castro from the heights of the Sierra Maestra, the Agrarian Reform was one of the initial and most important measures that transformed our country. In 2019, we celebrate the 60th Anniversary of the first Agrarian Reform Act!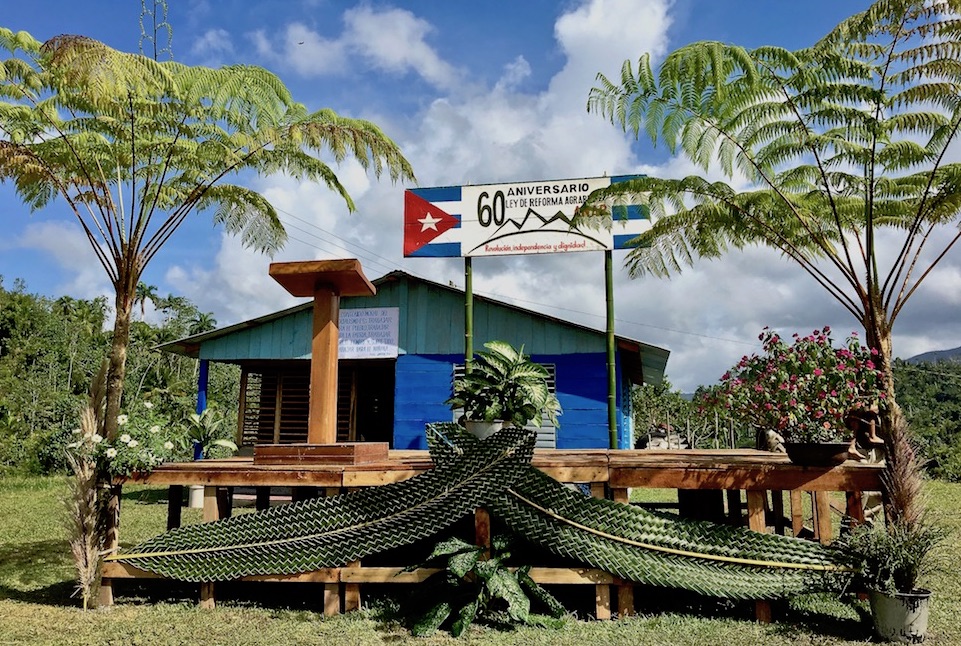 The very first property deed was handed in November that year to Engracia Blet, a peasant woman in the Naranjo del Toa hamlet, here in Baracoa. Nowadays, all Cuban peasant families, even those who live in the most remote areas in the mountains have access to education and health, with a network of schools and medical clinics you'll bump into anywhere you go.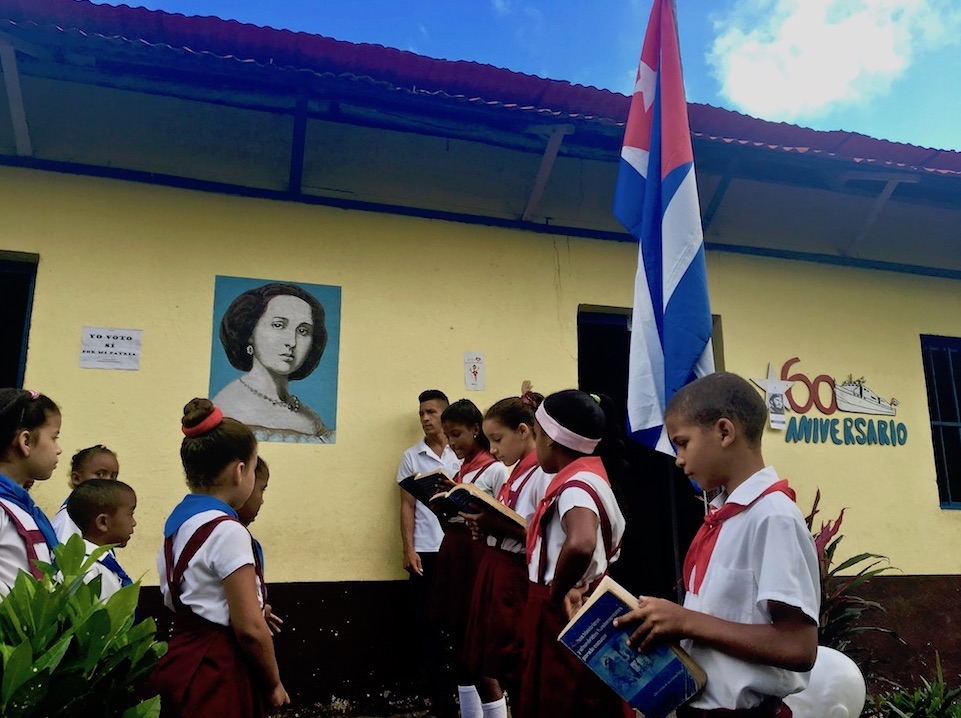 One of the main challenges facing Cuban agriculture is the negative impact of the U.S. blockade (the "embargo") against Cuba. The illegal blockade's measures prevent Cuba from purchasing equipment and technology with 10 % or more U.S.-made components. As well, merchant ships that dock at a Cuban port are subsequently forbidden from docking at a U.S. port for six months. And financial institutions the world over are not allowed to carry transactions with Cuban financial institutions in U.S. dollars. Those are only a few examples.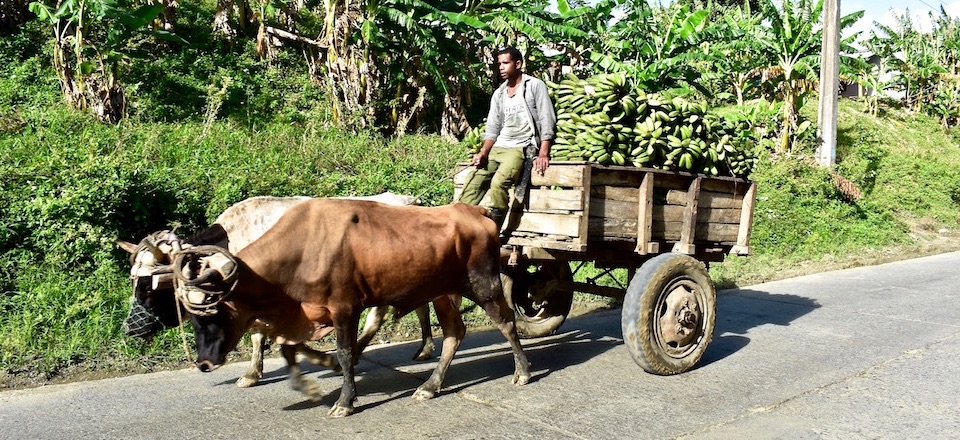 17th May – Day of the Cuban Peasant
On May 17th, 1946 peasant leader Niceto Pérez was murdered after refusing to sell his land to powerful landowners who wanted to take it over. And on May 17th, 1961 the Asociación Nacional de Agricultores Pequeños (ANAP, or National Small Agricultural Producers Association) was struck. Today, this large organization counts over 300,000 members across the country.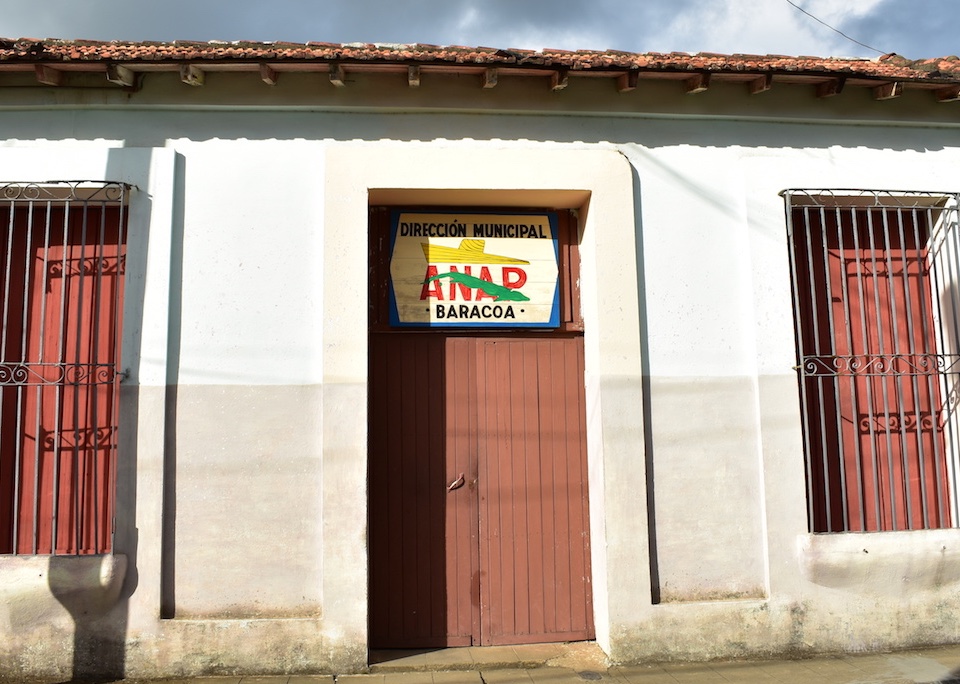 Every year on May 17th, Cubans mark the Day of Cuban Peasants. All over the country there are celebrations in local communities with messages of solidarity, awards to leading producers and other forms of recognition for Cuban peasants.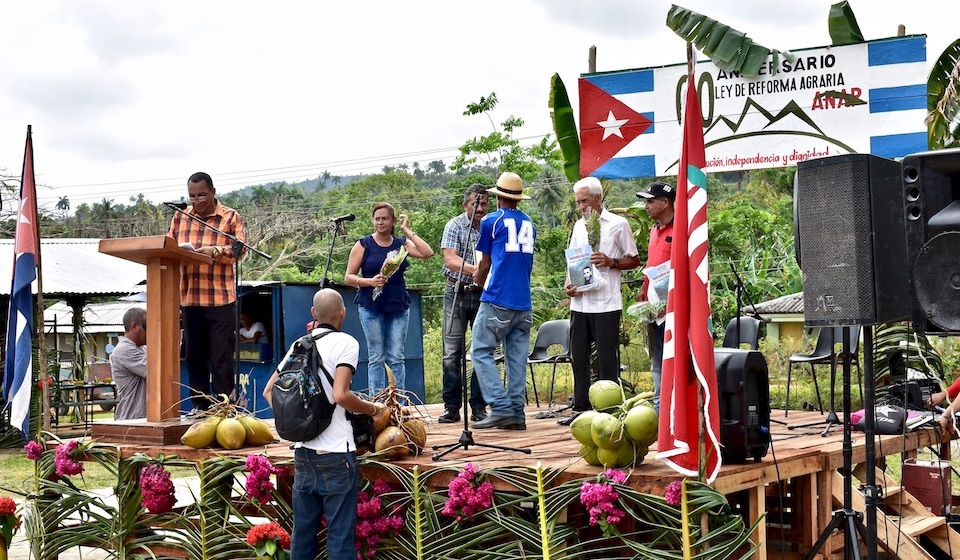 Peasant women are always at the heart of these celebrations and, most of all, at the core or rural work throughout the year. Their everyday contributions are tangible and essential for Cuba's rural and human development. They hold executive and leading duties and positions. Cuba's rural women have their own national day on October 15th every year.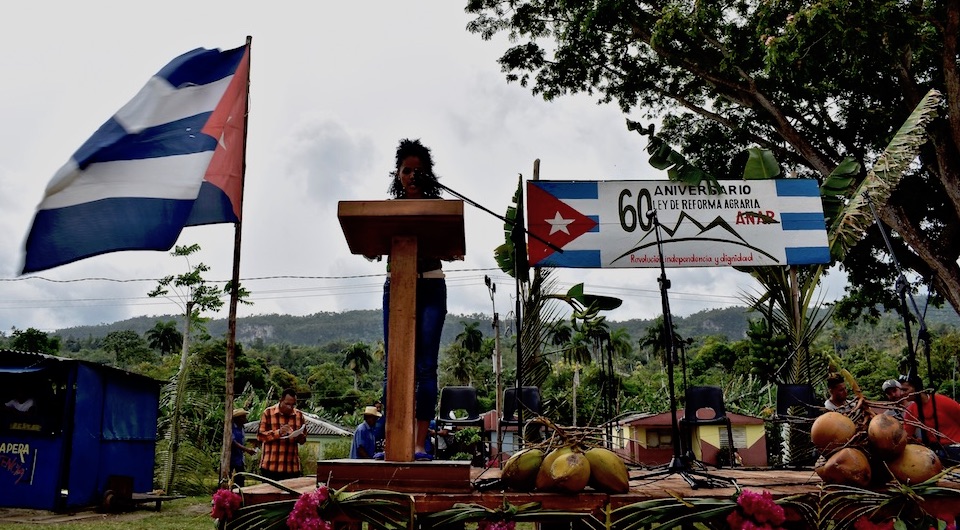 As is usually the case in Cuba, these dates and events combine solemnity and joy, with music bands, dance, food and fun. If you are in Baracoa around these dates, you'll certainly come across one of these celebrations and you'll be able to come and join in the party with our peasants and farmers!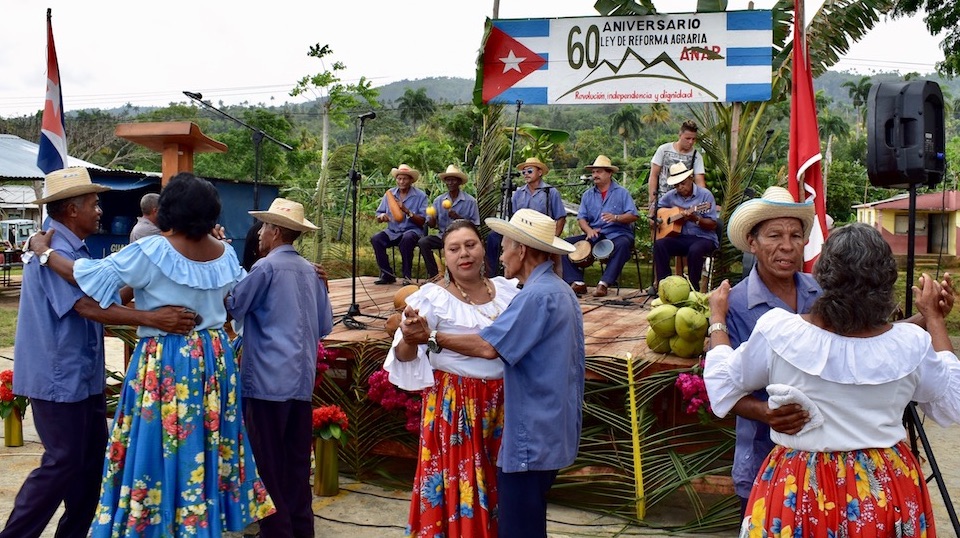 Did you know?
In Baracoa, an annual Forum on Eco Farming is held by local peasants and farmers. Participating cooperatives make presentations on various topics such as resources optimization, waste reutilization, income generation. They share experiences and practices in the areas of organic fertilizers, self-sustainability, etc. And they include children's participation through various activities.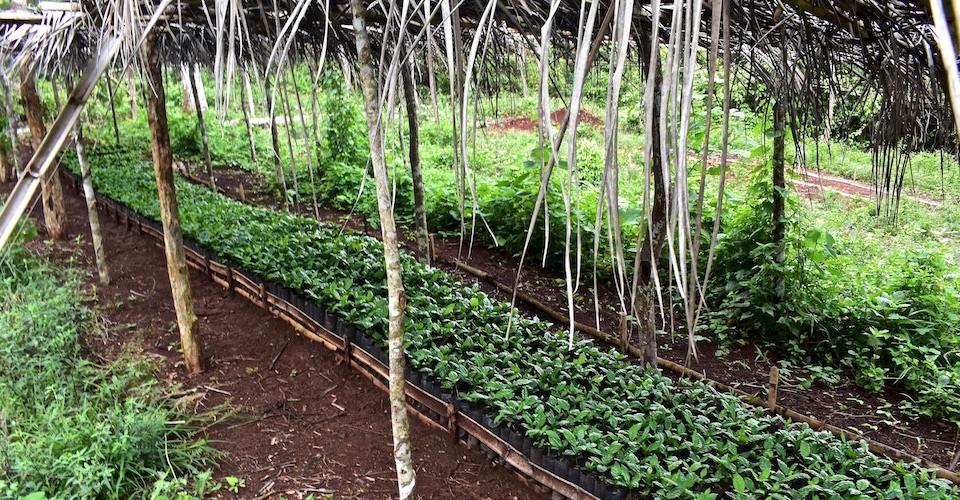 The Baracoa municipality has 65 peasant cooperatives. On May 17th, 2019 the Abel Santamaría cooperative, in the Guandao hamlet, was recognized as Vanguardia Nacional (national-level leaders) for economic planning and profitability achievement. This cooperative organization keeps a House of Peasant Traditions as well as a Campiña Pioneril (children's countryside programming) to ensure the new generations will carry the torch.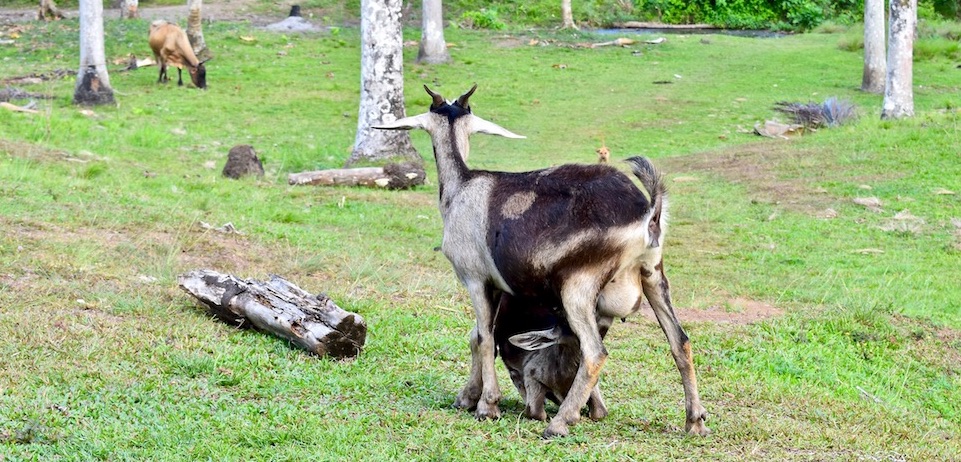 Cuban peasants cultivate a yearly tradition – donating a "basket" of goods to respond to the needs of peasant women who give natural birth to their baby on May 17th. Besides that, Cuban peasant organizations make ongoing donations to maternal homes, seniors' centres, and hospitals.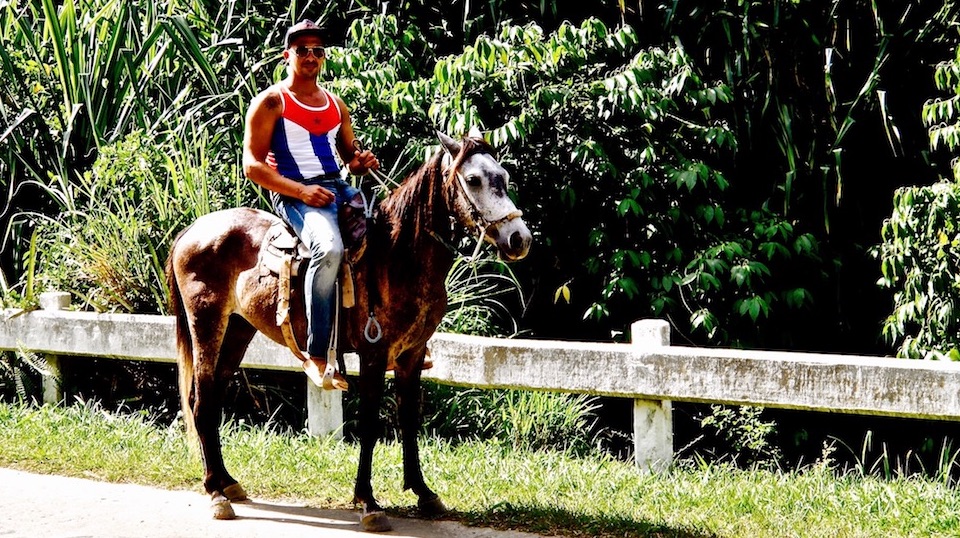 In the town of Baracoa itself you'll be able to meet urban farmers too. One of them, Orlando Frómeta, keeps an organic micro-farm on the Baracoa Bay shore. And in the area of the bridge over river Miel you will see the municipal organopónico.
May 17thalso sees Cuba mark the International Day Against Homophobia, Lesbophobia, Biphobia, Transphobia and Intersexphobia. This is another area of progress towards equality and justice in which our country has made significant accomplishments in recent years.
Acknowledgements
We thank ANAP, Ecotur and Alexander Humboldt National Park for their help to visit many of these peasants and farmers in view of writing this post. At ANAP, special thanks go to Asunción Garrido Navarro, who is in charge of the ideological sphere in the peasant sector in Baracoa and whose support was essential for this post.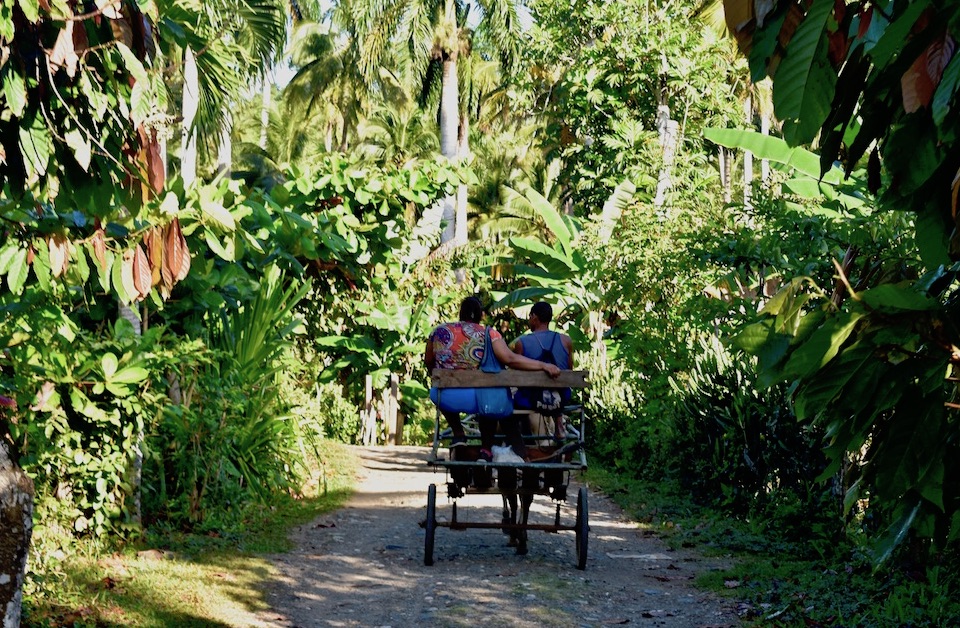 * Agrotourism practices and formats vary from one country to another, from one region to another. In the Baracoa region, some farms have many years of experience serving travellers from all over the world. Other peasants and farmers greet travellers and share time with them in a more simple and spontaneous manner. Visits can last anywhere between 30 minutes to several hours. The peasant/farmer families we mention in this post do not have accommodation facilities to offer.
---
Activities, Baracoa, Sustainable Tourism
Tags: Agritourism, Culture, Ecology, Food, History, Natural Medicine