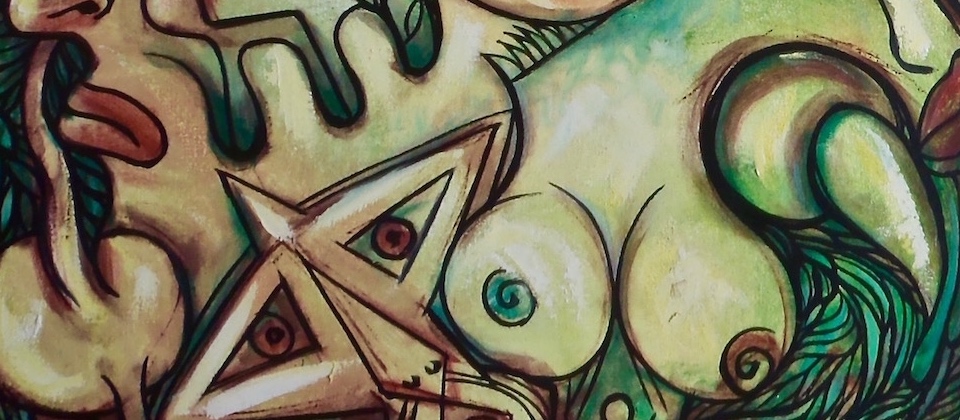 Published on 2 September, 2017.
---
Yes, nature is wonderful in Baracoa, yet the region's visual arts as well captivate travellers' aesthetic experience when they visit this hidden area of Cuba. Villa Paradiso is pleased to introduce you to three quintessentially Baracoan painters, some of whose paintings we proudly exhibit on our casa's walls.
Neo-Taíno art visions – Mildo Matos Carcassés
Mildo Matos Carcassés suggests we meet at Baracoa's Casa de la Cultura (House of Culture). We grab a seat at the central patio of this old colonial house located on El Bulevar, the city's pedestrian street, for a nice conversation.
An artist whose work has been exhibited in numerous countries in various continents and a member of Cuba's Union of Writers and Artists (Unión de Escritores y Artistas de Cuba, UNEAC), Mildo was born in Baracoa in 1962. His indigenous grandmother, with whom he shared a great affinity, exerted a significant influence on his sensibility and worldview.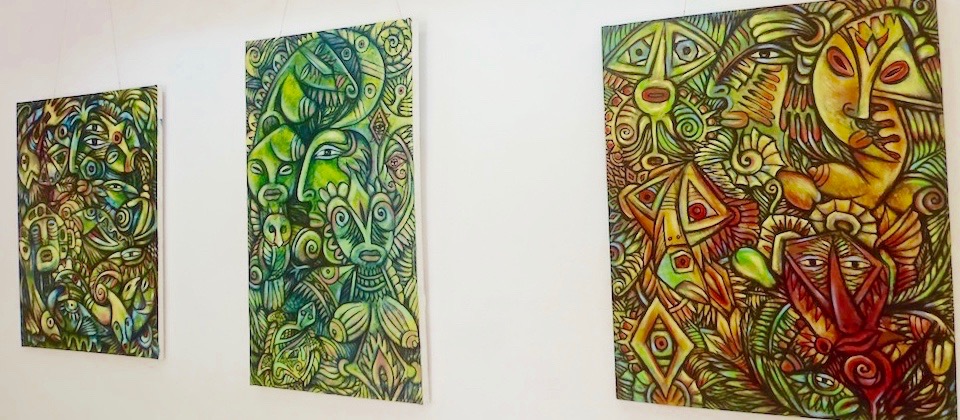 Mildo studied Arts Education at the Instituto Superior Pedagógico de Guantánamo. His art belongs within the neo-Taíno current, shared by other painters in various places in the Caribbean, including Puerto Rico and the Dominican Republic.
His paintings are visions of the Pacha Mama (Mother Earth), showing Taíno deities such as Atabey, Yayael and Toa, among others. Creation, eroticism and fertility are present in his compositions where the region's cacao pods are woman breasts and polimitas (polymita picta, the colourful tree snails endemic to Baracoa) represent the cosmos.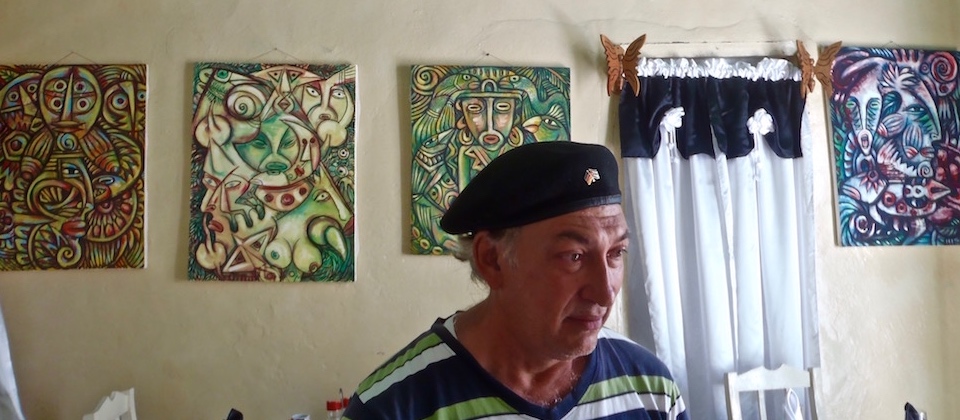 Mildo cites the artistic influences in his painterly language – baroque, cubism, expressionism and surrealism. Anyone who knows Wifredo Lam will certainly see an influence on Mildo's art. His love of mathematics and geometry shapes as well the elements, composition and proportions in his paintings.
While he considers himself a postmodern painter, Mildo indicates that the Taíno deities depicted in his work stick closely to the archaeological petroglyphs and paintings found in caves in the Baracoa region.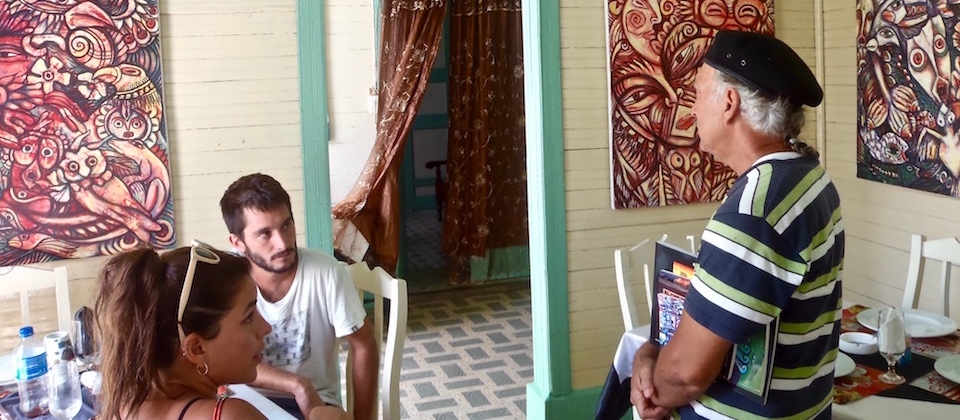 Just like other artists in Cuba, Mildo uses a range of media and supports – from the most modern ones such as acrylic and canvas to those recovered from the local environment: soil, mud, jute, palm frond and various types of cortex.
Mildo exhibits his work at "El Parque" cafeteria (also known as "Rumbos"), at Casa de la Cultura, at the Eliseo Osorio Art Gallery and mostly at his own home and restaurant.
Los Orishas Studio and the Yoruba Gods – Luis Eliades Rodríguez
Afro-Cuban art in Baracoa has in Luis Eliades Rodríguez a master painter. Known locally as Eliades, the painter welcomes us in his home and studio, called Los Orishas, for a nice conversation.
Born in 1941, he studied Fine Arts in Santiago the Cuba between 1965 and 1969, where he paints murals. Active in the plastic arts students' movement in Santiago, he was a founder of the Columna Juvenil de Escritores y Artistas de Oriente (Eastern Cuba's Young Writers and Artists Brigade).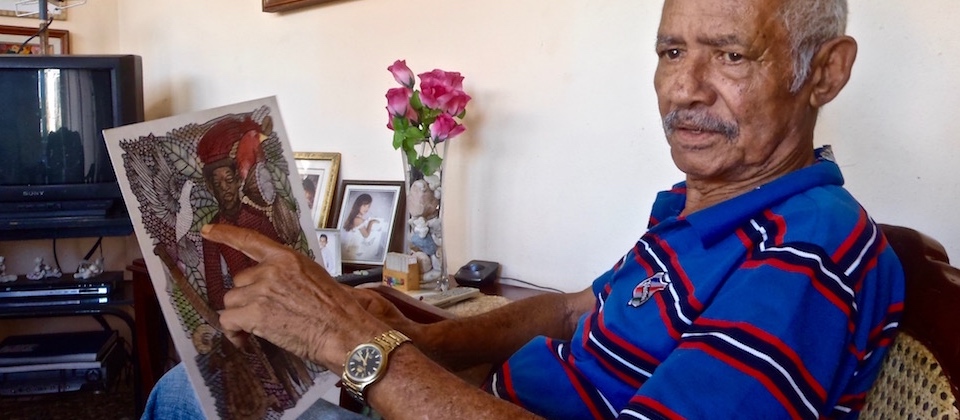 Eliades tells us that in his early stages he painted portraits and practised a form of art influenced by romanticism, including erotic art. At the time, he was influenced by Dali but also by the guantanamero poet and painter Regino Eladio Boti. He studies as well Afro-Cuban percussion, before deciding to dedicate entirely to the visual arts.
His later work has been influenced by surrealism, cubism and baroque. The orishas, or saints or deities in the Cuban Yoruba worldview, inhabit his paintings: Shango, Oshun, Yemoja, Eleggua… his works being marked by a particular approach to rhythm and light.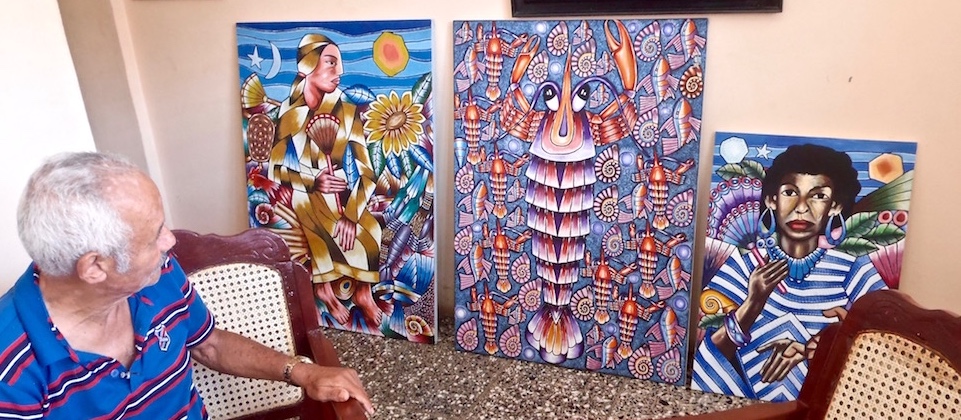 In 2008, one of his paintings denounced the predation of the polymita picta. He addresses then the topic of the environment and violence against it.
The main techniques used by Eliades are oil and acrylic. More recently, he delves into nib and ink, drawing for magazines but also creating individual works. He recently held an exhibition in Boston comprised exclusively of nib and ink drawings.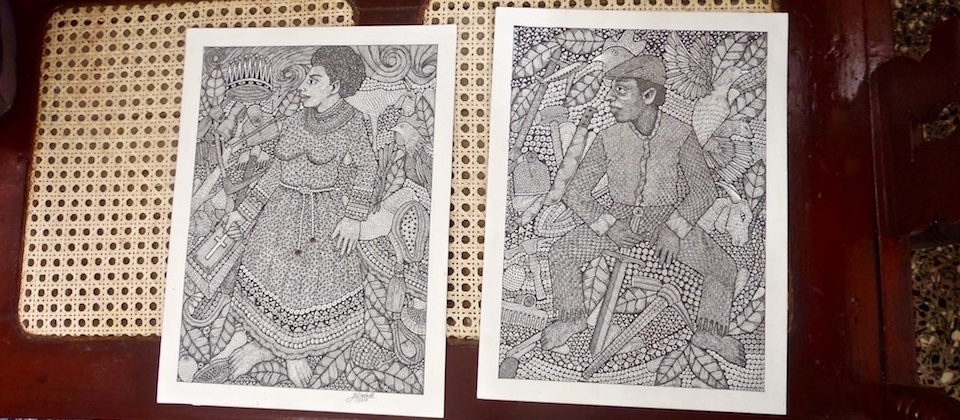 His works have been shown in both collective and individual exhibitions in Australia, Japan, several European countries and North America, where he has taught and spoken at conferences (Ohio, Colorado, Florida). Eliades too is a member of Cuba's Union of Writers and Artists (Unión de Escritores y Artistas de Cuba, UNEAC).
Baracoa's History and Present Under "Yoe" Rey Barroso's Critical Gaze
Rafael Joel Rey Barroso is known and signs his paintings as "Yoe". He receives us for a conversation at the Eliseo Osorio Art Gallery, facing Independencia Park right on Baracoa's city centre.
Born in 1964 in the neighbouring municipality of Maisí, he moves to Baracoa in 1977. He is an art teacher and instructor with a degree in Arts Education, a painter and researcher. Also a member of Cuba's Union of Writers and Artists (Unión de Escritores y Artistas de Cuba, UNEAC), he works the Eliseo Osorio Gallery since 1992 and he is currently its director.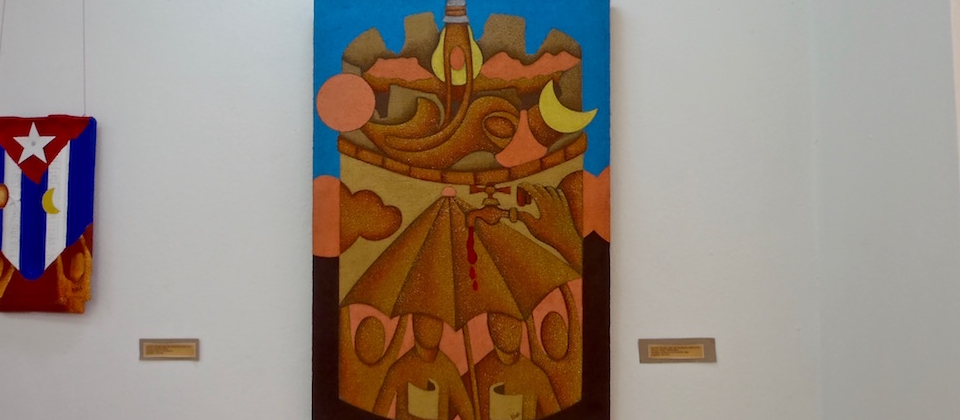 His paintings present Baracoa through references to iconic aspects of its nature and history – its rivers, for instance, and its defence system towers, built between 1739 and 1742… In this context, the regions' peasants and workers appear doing their everyday work, in their relations with their environment and with each other.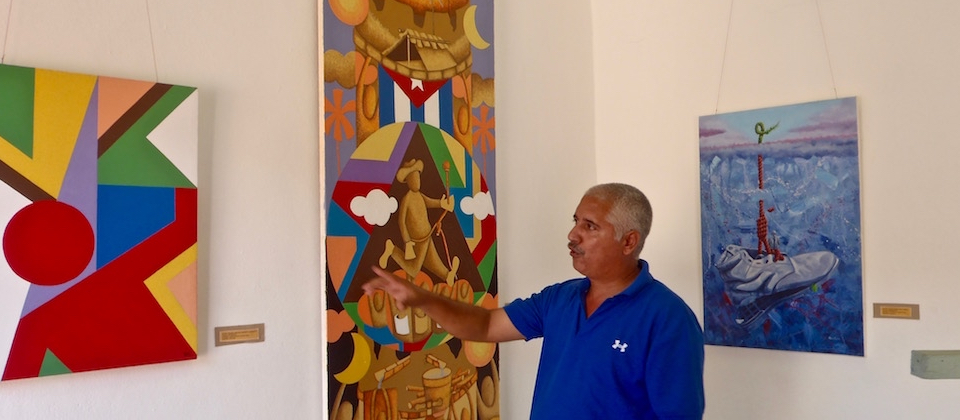 For years, "Yoe" has acted as a plastic arts teacher and instructor in various towns around Baracoa, working with children, youth and adults, some of whom have become handcrafts people, sculptors and painters too.
His participation as a member and founder of the plastic arts group "Tibaracón" saw him carrying projects in numerous rural communities in the region, where he has donated his works to peasants, to health clinics, to local and municipal institutions' facilities and the Communist Youth Union.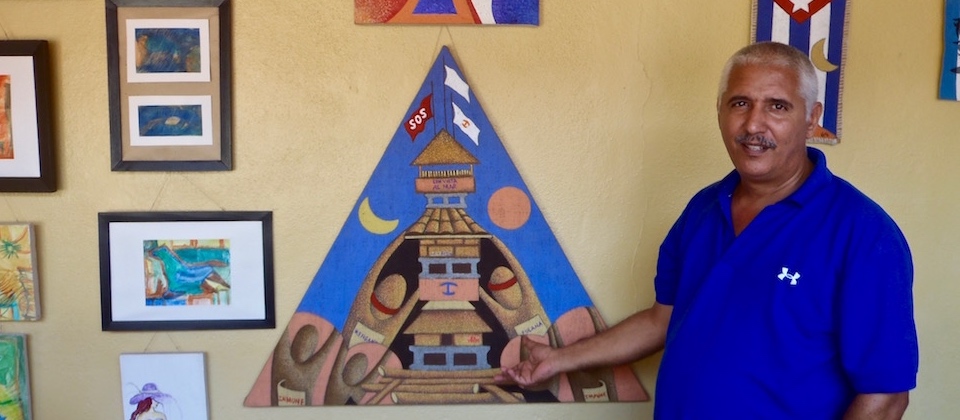 Just like Mildo and Eliades, "Yoe" enjoys talking about his work – and about his individual paintings. Some of his creations are bearers of a clear social critique sense.
Using various sorts of supports and materials, particularly jute canvas, his paintings have also been shown at individual and collective exhibitions in European and Latin American countries.
When in Baracoa, visit art galleries and painters' studios!
Another way of practising sustainable tourism consists in supporting artists in the places you visit. Villa Paradiso encourages you to explore not only Baracoa's natural areas, but also its various galleries and exhibition sites.
We offer our guests a complimentary, custom-made town map indicating the different places where you can enjoy local artists' aesthetic contributions.
Some of our guests have been quite happy to learn a bit about our region's art and, in several cases, to acquire a sample of Baracoa's art to take to friends, family or to show in their own homes!
---
Activities, Baracoa, Sustainable Tourism
Tags: Archaeology, Culture, History