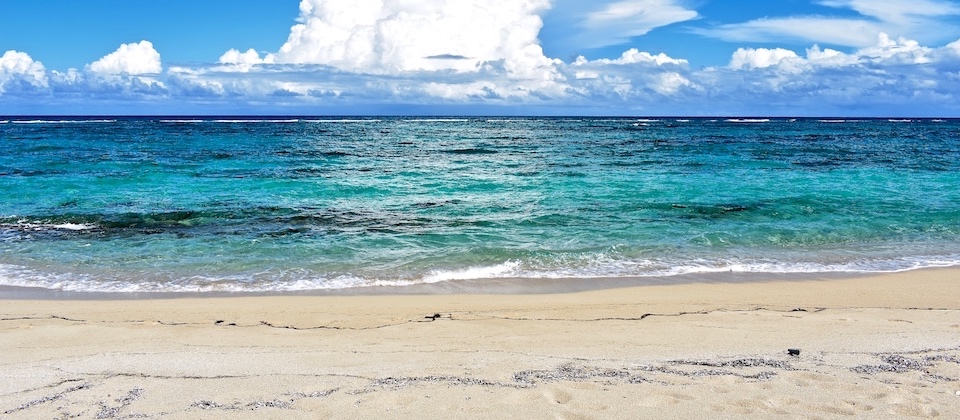 Published on 17 December, 2017.
---
This year our guests kept telling us they were extremely happy to have stayed at Villa Paradiso. We were fortunate to welcome wonderful solo travelers, couples, groups of friends and families and we are grateful for each and everyone's visit.

Several words come over and over again in the reviews posted by our guests: location, comfort, views, delicious food, great conversations about Cuban history and culture, awesome hosting… Folks – you make us blush! Seriously, it's really touching…
New bedrooms, new balcony, new large terrace
In 2017 we completed Villa Paradiso's upper floor. Three new bedrooms were finalized, all with access to a balcony or a terrace overlooking the town and the sea…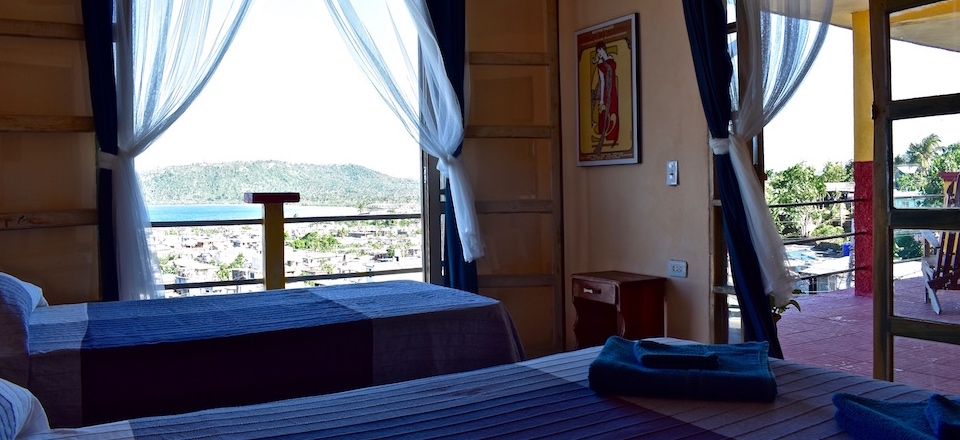 Comfortable mattresses, floor-to-ceiling crystal doors, large windows – such views and such delightful breeze passing through! Visitors enjoyed great sleep and rest between one day's adventure and the next.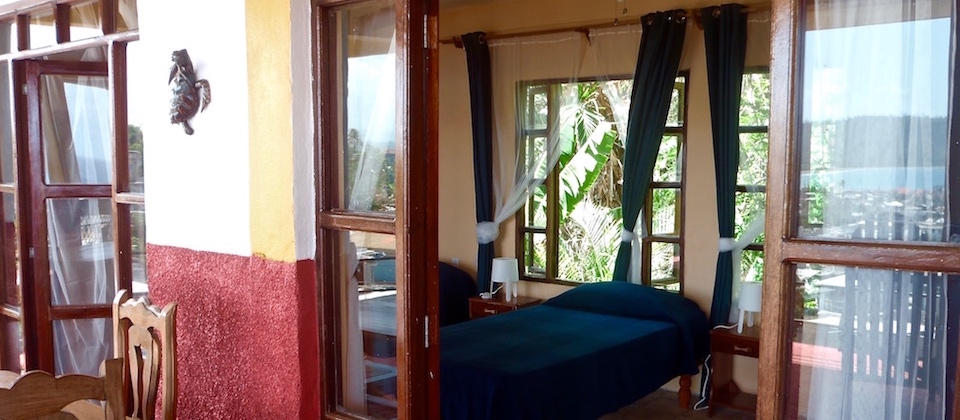 The bedrooms were decorated with a combination of classic Cuban movie posters and local painters' works. From the famous Cuban poster design school to Baracoa's masters of the visual arts, our guests commented on the taste and appreciated the authenticity of the spaces they sojourned in.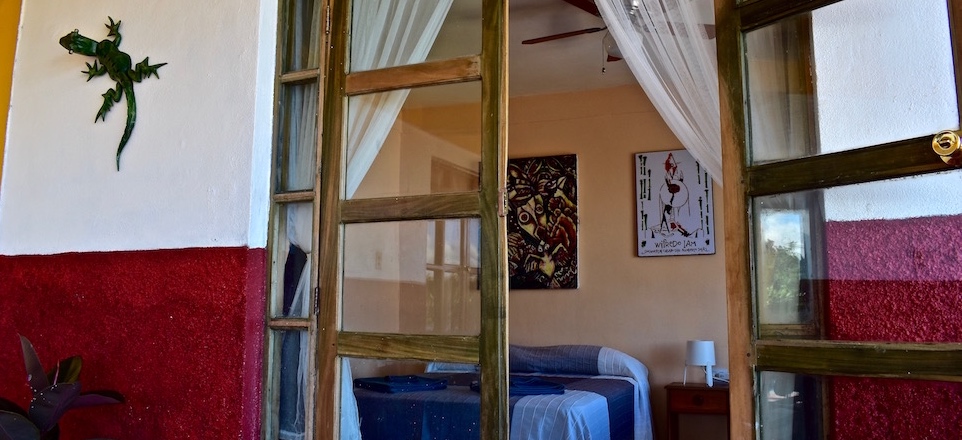 And, last but not least – in December we completed a new rustic gazebo and lookout at the top of our rocks and plants garden! The perfect spot to hang out, enjoy chilled drinks and take in the Miel Bay views…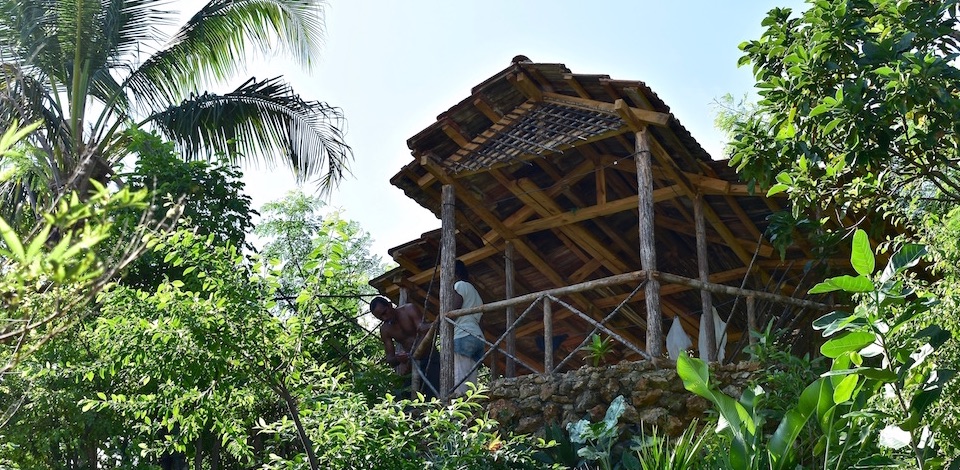 The internet talked about Villa Paradiso
Travel and adventure bloggers started talking about us in 2017. In February, Nottingham's Cadi Lambert, the amazing sportswoman (cyclist, rower, marathoner – you name it!) who pens An Adventurous Girl, undertook a 22-day, 1,000 km cycling tour of Eastern Cuba, and she stayed with us for 3 nights in Baracoa.
Cadi wrote about first arriving in Baracoa and Villa Paradiso: "A shout from a balcony tells us we have found our lovely casa. We couldn't have hoped for a warmer welcome. Our bikes are quickly stored and we are heartily greeted and fed. It feels as if we are being brought into a family."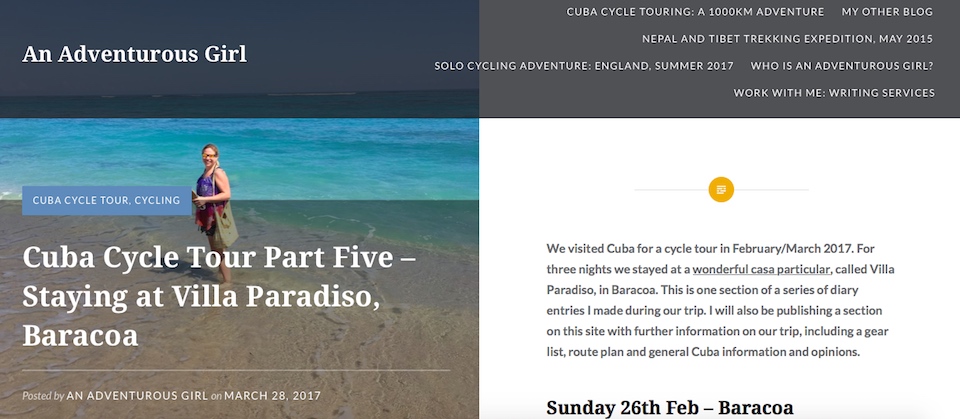 In the heart of the summer we welcomed France's Caroline Krauze and her family. Caroline is the wonderful family travel expert behind Voyage Family, a slick French blog with a large following in Europe and beyond. Caroline, along with her cheerful husband and two adventurous kids stayed with us for 4 nights.
Calling Baracoa "my own secret paradise in Cuba", Caroline wrote about arriving at Villa Paradiso: "we finally made it to our pretty house on the Baracoa heights (Oh, Villa Paradiso – you bear your name so well). With its two adorable hosts (Roberto et Manuel), sublime views, a parrot that one day landed from the skies and its little garden, Villa Paradiso is the best casa particular of our stay in Cuba. Nothing less."
The biggest surprise of the year came when Claire Boobbyer, an internationally recognized Cuba travel expert, recommended Villa Paradiso in her original piece for the UK's Wanderlust Travel Magazine, "25 Cuba Adventures".
Highlighting various unusual things to do in Baracoa, Claire recommended that you set aside several days to explore our rich natural region, and suggested you stay at Villa Paradiso, stressing that we can help you organize your cycling adventures and offer you complimentary cycling maps.
#Cuba adventure no. 12 – #Baracoa! @claireboobbyer & @wanderlustmag suggest you stay at @VParadisoBCA… 👉 https://t.co/CVkh6ezpqU #Adventure pic.twitter.com/JFgAanJZm4

— Villa Paradiso (@VParadisoBCA) September 28, 2017
Cycling maps, hiking maps for the people!
Indeed, in 2017 we worked closely with the incredible Jenn Johnston from Inspirit Cartographics who created custom made maps of the Baracoa region for those who love DIY exploration and adventure travel.
Originally conceived for cycling, our maps were utilized with equal satisfaction by our cyclist and hiker visitors.
The great thing with the Baracoa region is that it offers all sorts of excursions – different lengths, various degrees of difficulty, a range of geographical profiles for different tastes and different people.
Kids just loved Villa Paradiso – their parents loved it too!
Lucy* is an adorable 4 years old girl from New York City who visited us for a few days with her charming parents in early 2017. Lucy and Lola, our cheeky parrot, experienced love at first sight. Every morning we would see the two of them burst into talk, laughter and ruffled feathers for a few moments before breakfast and the day's excursion!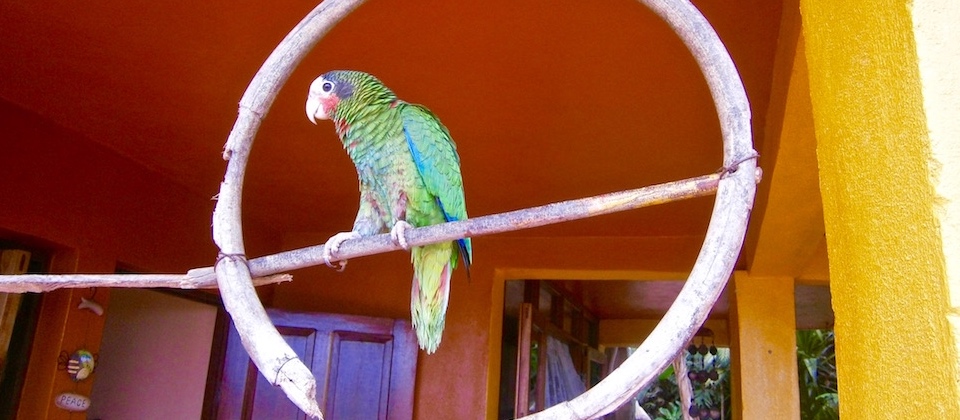 Rina is another wonderful little girl who came to stay with us with her lovely parents from Germany. Soon after setting foot in Villa Paradiso, Rina declared she felt at home here. Before departing back for Europe, she left us two beautiful drawings of Tato, our Havanese dog and Plinio, our tuxedo-wearing cat.
Visiting us from France with their friendly parents, charming Carl (6) and Rose (8) discovered (and browsed through) our BluRay library to find out we had the entire Ice Age, Madagascar, Rio, Little Mermaid and Finding Nemo collections. They were puzzled that we'd have such good taste when it comes to cinema!
Villa Paradiso at the number 1 spot on TripAdvisor
We put together our TripAdvisor profile in November 2016. Back then, there were 54 bed & breakfasts or inns on TripAdvisor's Baracoa section. We found ourselves at the bottom of the list. It took only a few months to take us to the top 10 – and soon we were among the 5 favourite guesthouses according to TripAdvisor's users choice.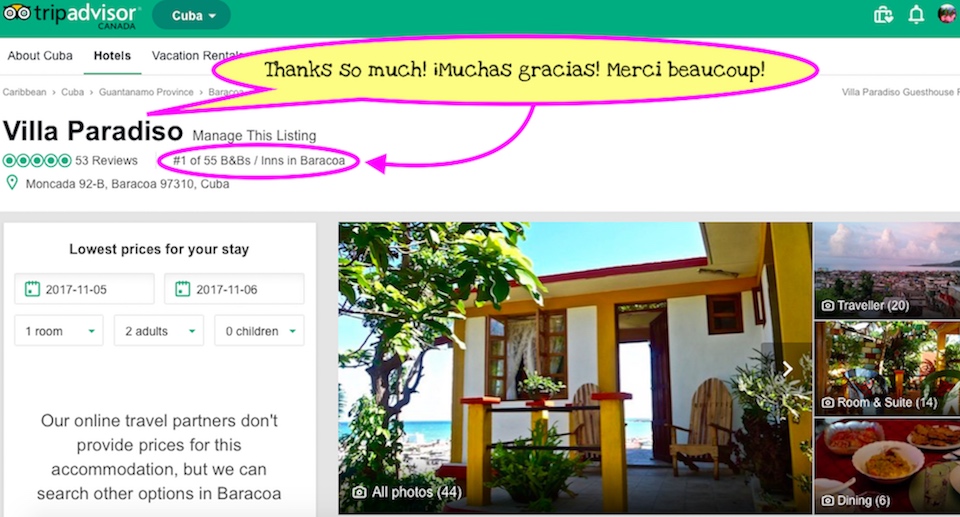 One morning in late October 2017, we woke up to find out we were at the top of TripAdvisor's Baracoa list! We couldn't believe it! Ever since, we keep "wrestling" two long-listed inns in our city for that coveted top spot in travelers' preference.
A pity, Mr. Trump… (It's the U.S. who are missing out)
The current president of the United States imposed regulations that trample on U.S. citizens' right to travel to Cuba in whatever manner they choose. Sadly, next year we will receive less U.S. citizens and make less new U.S. friends than we did over the past 12 months.
To @realDonaldTrump & @marcorubio we say: we're sorry US citizens' right to travel is trampled on. We'll host less US citizens & make less new US friends than last year – that's sad. But #Cuba will keep basking in the rest of the world's love & friendship! #UnBlockCuba now!!!

— Villa Paradiso (@VParadisoBCA) November 9, 2017
Both Mr. Trump and Senator Marco Rubio claim to be aiming at Cuba's government. The truth is that all the Cuban people are negatively impacted by their measures. And both U.S. politicians pretend to be doing this on behalf of Cuban small businesses. Sorry, Mr. Trump and Mr. Rubio – not in our name!
.@MarcoRubio R u serious?!?!? Who says we'll betray our hard-won social accomplishments as a result of your bully measures?!?!? #UnBlockCuba pic.twitter.com/hBRnNaXt0S

— Villa Paradiso (@VParadisoBCA) June 17, 2017
Hosting up a revolution!
Some of our visitors were the bearers of international solidarity towards the Cuban Revolution. We were delighted to share insights and perspectives with those who came to Cuba to support our people and learn more about our country's history and accomplishments. They came from Québec, Sweden, Germany, the Philippines, Greece, France, Spain, Chile…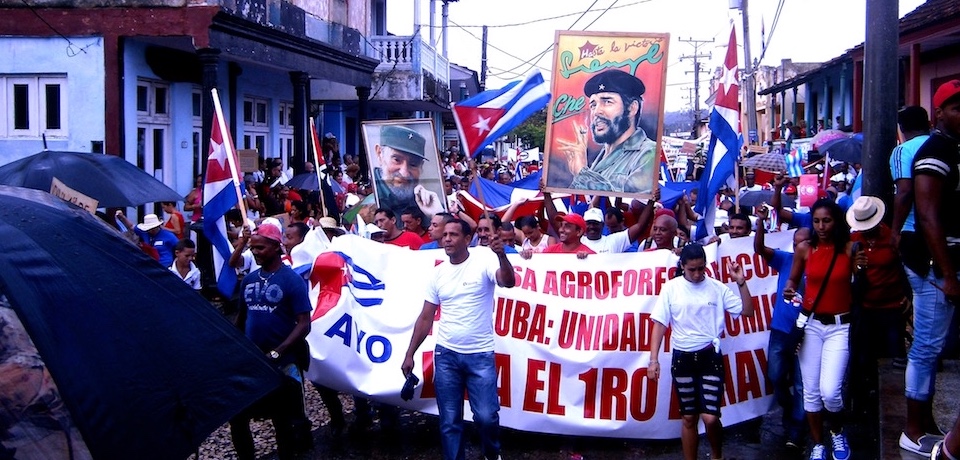 We were also able to learn more about other peoples' struggles and our parallel and common efforts on the road to a more just world.
The whole world says: #UnblockCuba Now!
In November 2017, the United Nations General Assembly voted almost unanimously, one more time, in support of Cuba's resolution demanding an end to the U.S. economic, commercial and financial blockade (the so called "embargo") imposed on Cuba for almost 60 years now. Over 190 countries in all continents voted with Cuba, with only two countries voting against – the United States and Israel.
🇨🇺#UNGA72 Board today during vote of Resolution vs blockade #UnblockCuba pic.twitter.com/F1D0n5sLOV

— CUBAONU (@CUBAONU) November 1, 2017
The United States government remains isolated when it comes to the blockade but it refuses to change its stance. Not surprising. But Cubans have resisted for decades and our resilience will prevail.
Looking forward to 2018!
One expression summarizes our feelings about the year that's coming to an end – thank you! Thank you to all our visitors – we felt the love!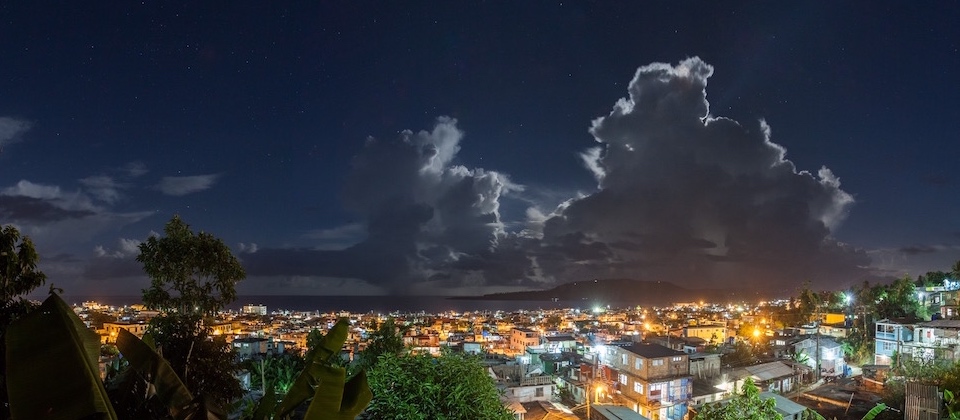 Shout outs and huge thanks to Méla and Yoe (Je pars à Cuba) and Caroline Krauze (Voyage Family) in France, our new friends at Hôtels Francophones dans le Monde, The Cuban Window in New York City, Claire Boobbyer, Becky Harris (Travel Kinship) and Cadi Lambert (An Adventurous Girl) in the UK, Inspirit Cartographics in Canada, Narcís Ribas Noguer & Mireia in Spain, the excellent Eliannes and Indira at Ecotur Baracoa and the always kind Joiset at Infotur, our friends at the agro-ecological casa particular La Quinta de Santiago de Cuba, as well as our website designer Roninsoft. You guys rock our world and we wish you all the best in life in 2018!
Our deepest homage to the people of Baracoa: the people who work hard to make these lands a peerless place in our beautiful country day after day. Those who grow coconut, cocoa, bananas… Those who take care of forests and work closely with local communities to build up a culture of environment conservancy and ensure the sustainability of our way of living.
We thank the Baracoan people who provide us with organic coffee, fruit and vegetables. The fishermen. For us it's always a pleasure to buy your products and services thus transferring a part of the tourism revenue that passes through this house.
To our work team here at Villa Paradiso, our deepest and most heartfelt recognition and thanks.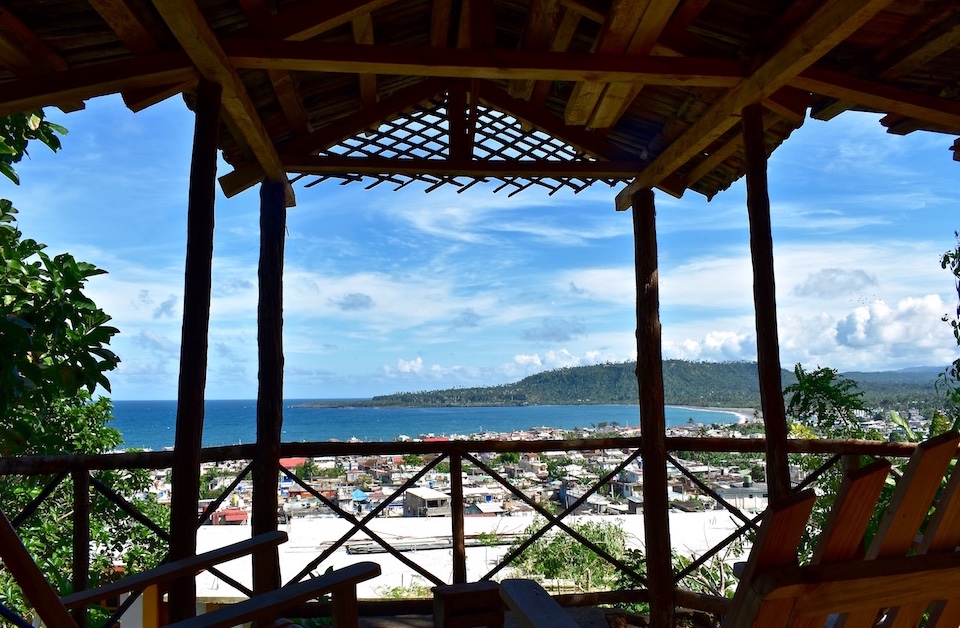 * We avoided using the children's real name, to protect their privacy.
---
Baracoa, Sustainable Tourism, Villa Paradiso
Tags: Adventure Tourism, Culture, Cyclotourism, Ecology, Nature Tourism